Posted on 8/11/2023
You've heard of taxis, but have you ever traveled by water taxi? If not, it's definitely time to give it a try.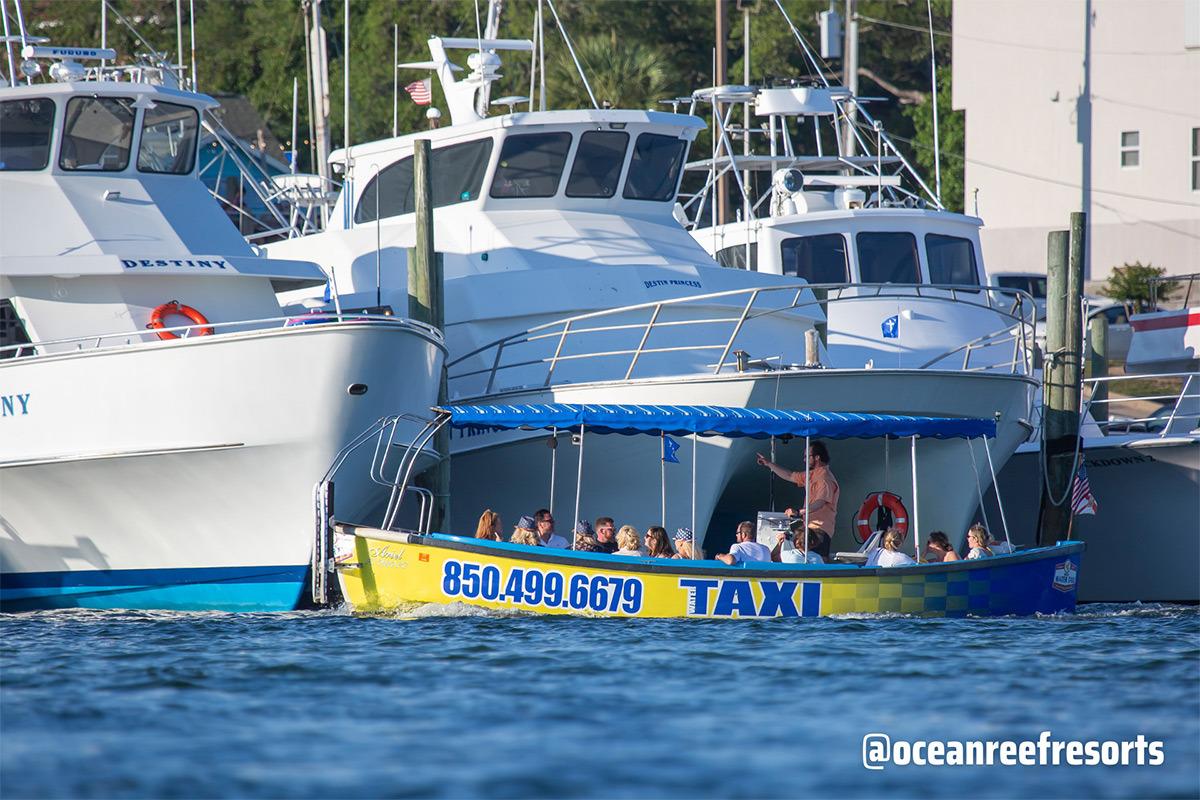 The Destin Water Taxi is a fun way to travel around the Destin Harbor while on vacation. Because this locally owned method of transportation uses waterways instead of the streets, it is the fastest and most scenic way to explore Destin Harbor. It's like the Venice travel experience—but on the Emerald Coast! You don't have to worry about traffic, crowds, parking, or driving—all you have to do is sit back and enjoy the ride.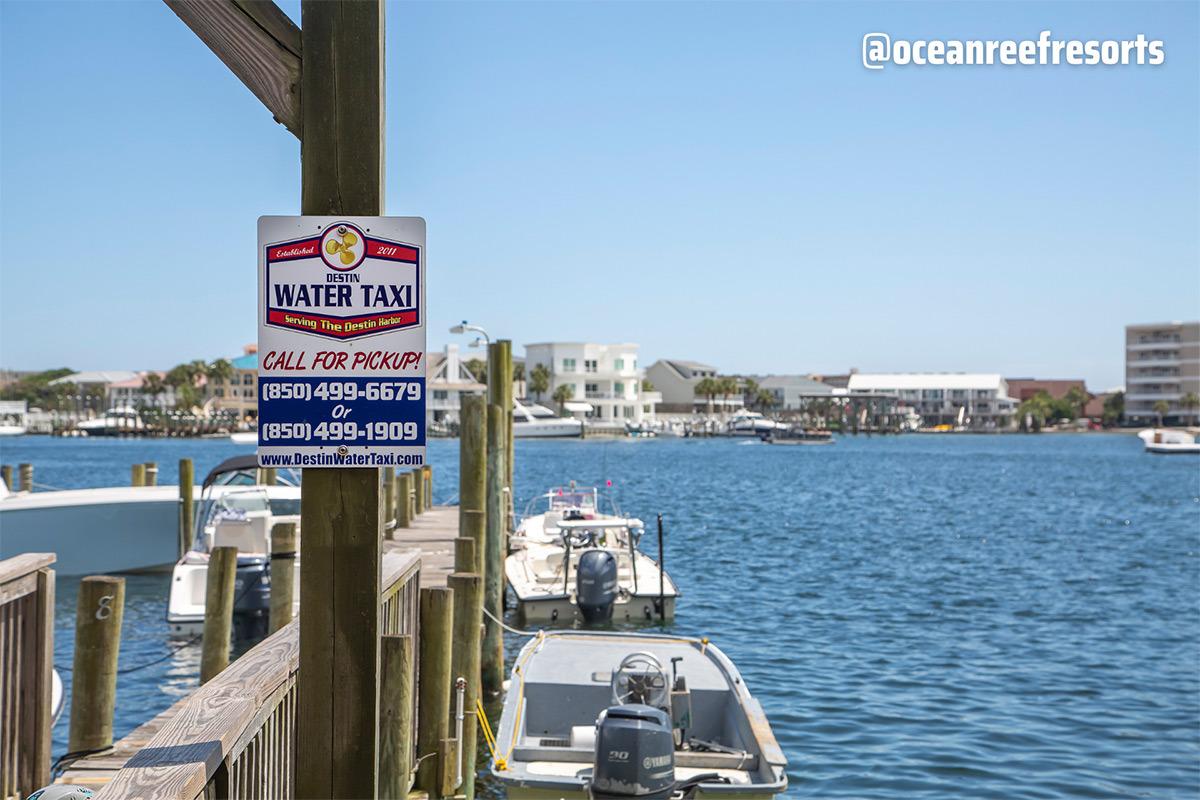 In addition to avoiding the hassles of driving, one of the best parts about taking the water taxi is the experience. You might catch a gorgeous sunset on your way to dinner. You might even see dolphins and sea turtles along the way. If you happen to catch a firework show during your ride, even better! And who knows, maybe you'll even make some new beach-loving friends!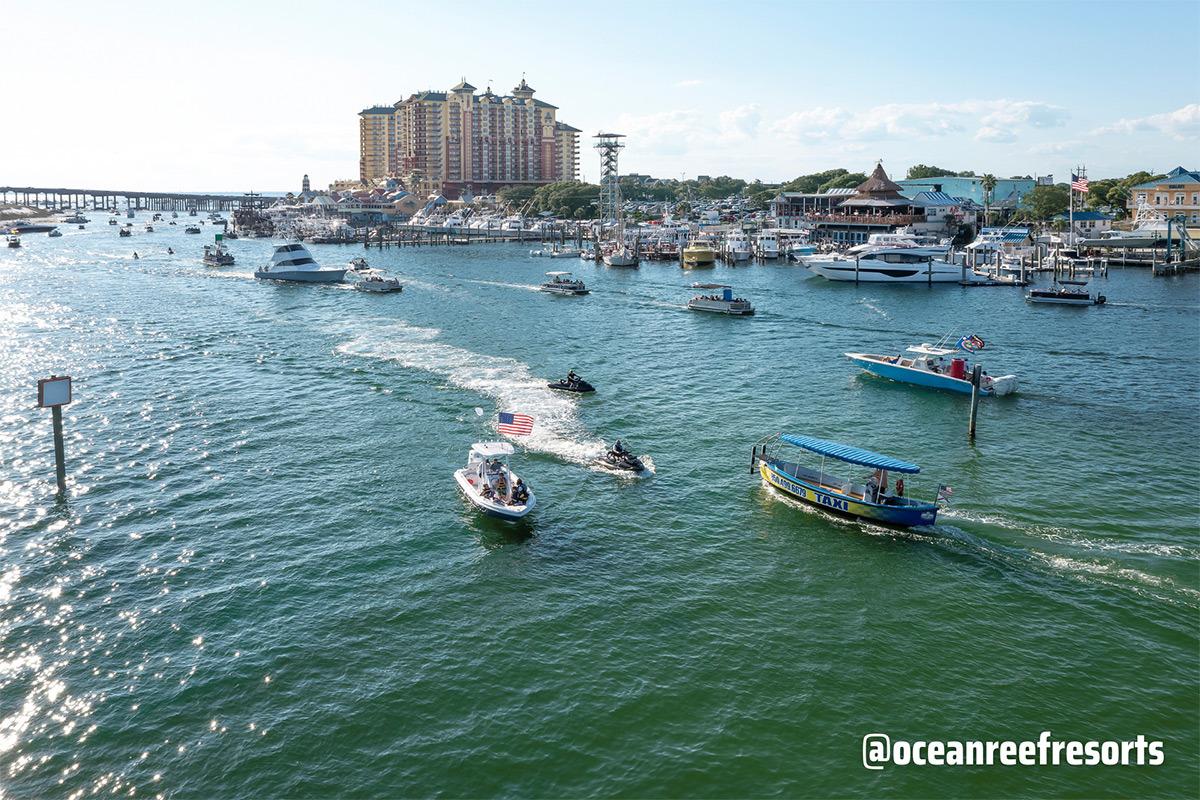 What are the water taxi's operation hours?
Operation hours vary seasonally and depend on the weather. So, plan accordingly! If it's raining or the winds are too strong, the Destin Water Taxi will not operate.
March-July: 11 am -11 pm (Sun-Thurs), 11am-midnight (Fri-Sat).
August-October 21st: 3 pm - 11 pm (Sun-Thurs), 11 am-11 pm (Fri-Sat)
Winter season: Closed
How many passengers can the water taxi accommodate?
Each taxi boat can carry up to 16 passengers at a time.
How much does the water taxi cost?
Water taxi rates depend on passenger age:
Adults (9+ years): $8/one-way and $16/round-trip
Children (3-8 years): $5 flat rate
Infants (2 years and under): Free
And, of course, don't forget to tip your taxi driver!
What is the water taxi schedule?
The Destin Water Taxi doesn't have a set schedule. While there are official taxi stops along the Boardwalk you can look out for, calling ahead is a good way to make sure you can get a ride. Be sure to call ahead for same-day pickups or to pre-schedule pickups for larger groups. Those with reservations will be prioritized for pickup; however, reservations are not required.
How long are taxi wait times?
Taxi wait times can range from 5 to 45 minutes or even longer on holiday weekends, depending on how busy the taxi is at a particular time. Because of this, the taxi is perfect if you've planned a relaxed, no-rush day, but it may not be the best option if you're in a time crunch.
Where does the water taxi go?
Perhaps the most important question of all—where will the water taxi take you?
The Destin Water Taxi features pickup and drop-off locations throughout the harbor. It serves Holiday Isle's condos and beach house rentals, as well as any waterfront properties. If you've booked a stay on the water on the harborside, then the taxi is the perfect way to get around! The Destin Water Taxi also stops at various locations along HarborWalk Village and beyond, including local and favorite visitor restaurants like Boshamps Seafood and Oyster Bar, Louisiana Lagniappe, and Harbor Docks. You can find the full destination list here. Also be aware that the water taxi does not go to Crab Island.
Because the taxi can take you pretty much anywhere in the harbor, it might be hard to choose where to go. So, we've compiled a short list (from West to East) of a few places you might want to check out when taking the Destin Water Taxi.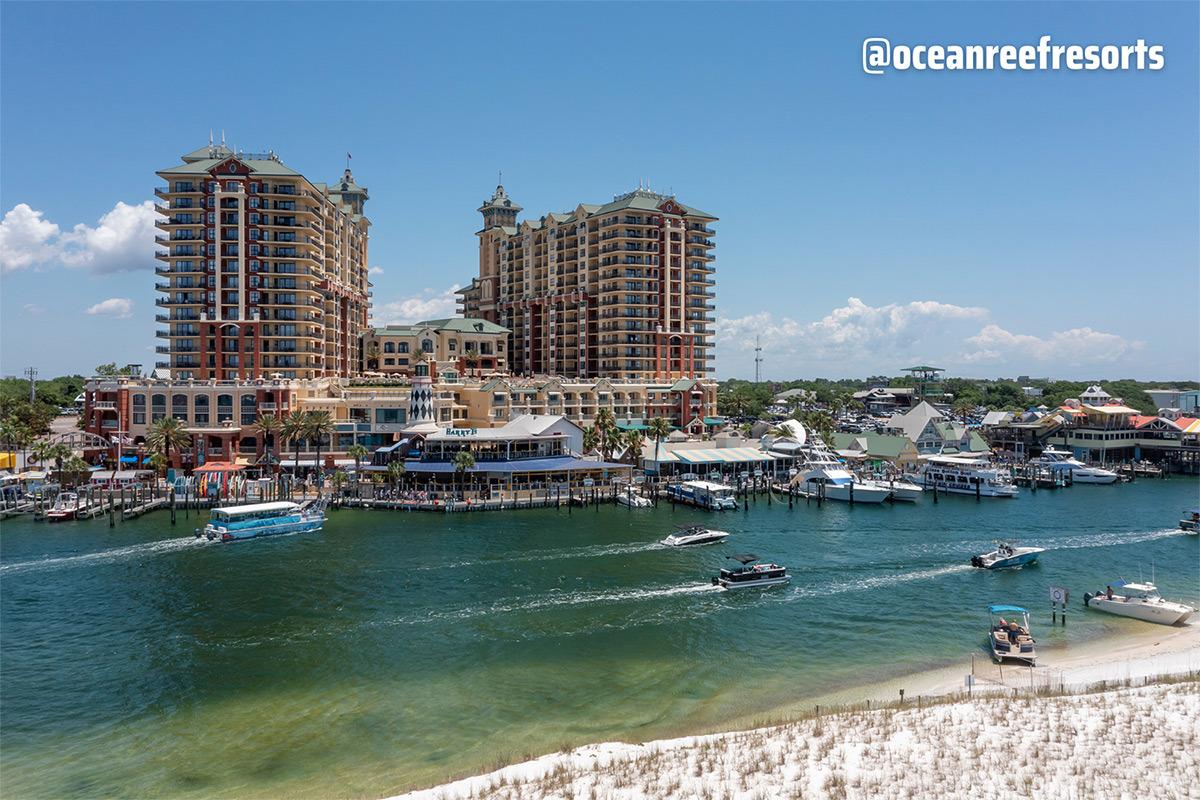 HarborWalk Village is the Emerald Coast's waterfront entertainment hub and a popular stop for those arriving via the Destin Water Taxi. It features a variety of restaurants, family-friendly activities, fun shops, and live entertainment. Here, you will find all kinds of fun amusements, including a climbing wall, zipline, bungee trampolines, an ax-throwing house, escape room, village train, mirror maze, and much more. Two popular restaurants are Harry T's Lighthouse and East Pass Seafood & Oyster House. You can shop for apparel, jewelry, accessories, recreation rentals, and more. Water activities are another favorite, from parasailing to pirate cruises to inshore fishing.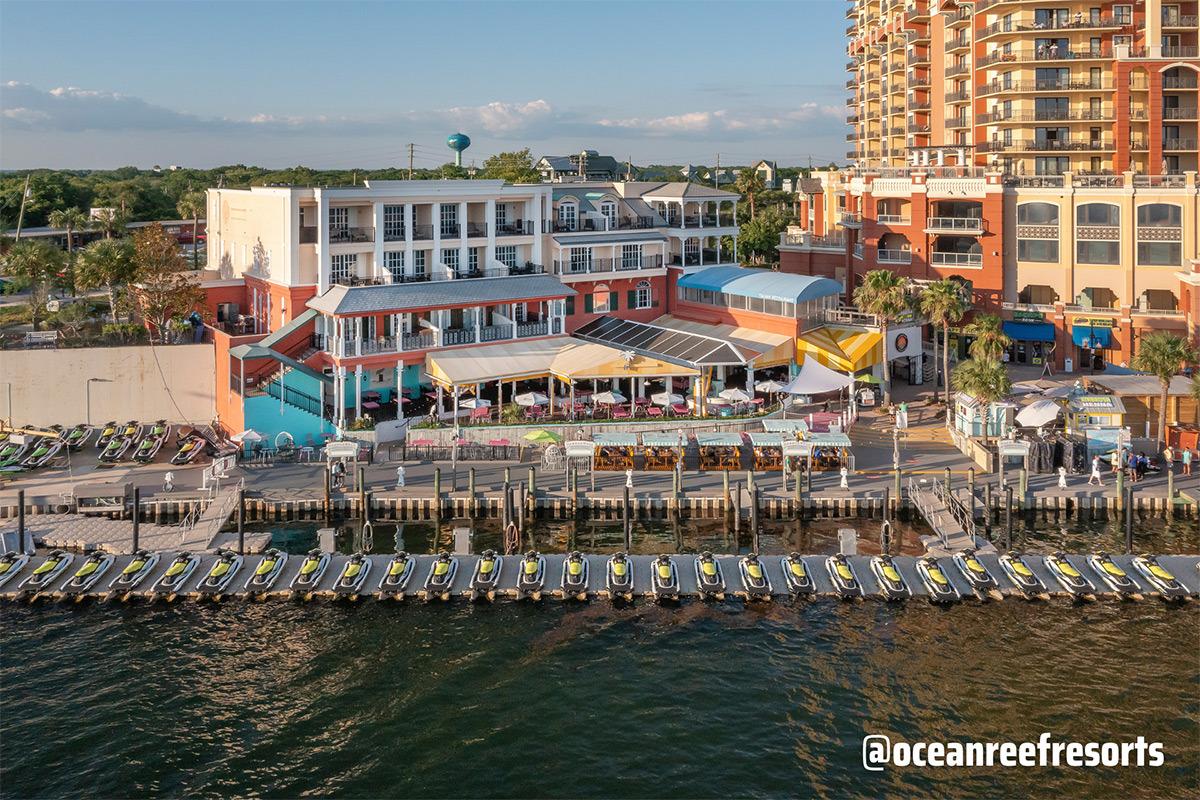 This island grill is located at the western edge of HarborWalk Village, a convenient stop for those traveling by Destin Water Taxi. Rhumcay is known for its "Floribbean" cuisine, which combines southern Florida and Caribbean Islands flavors and style. The restaurant features live, interactive entertainment, so you get to enjoy dinner and a show after a scenic water taxi ride. All in all, the vibe is laidback, fun, and exciting—exactly what you want on a beach vacation.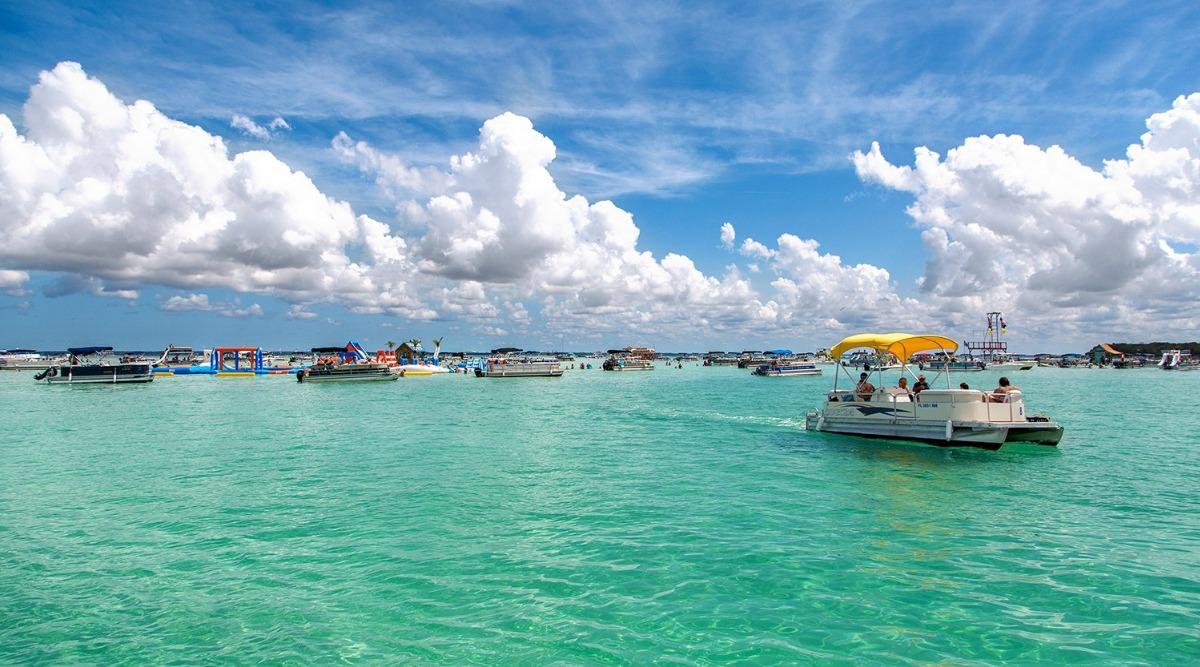 Questions regarding Crab Island abound as word has gotten out about how much fun it is to be here! Some vacationers who are "not in the know" and perhaps visiting Destin for the first time want to know what it is, where it is, how to get there, how much it costs, when to go, as well as why it is so popular.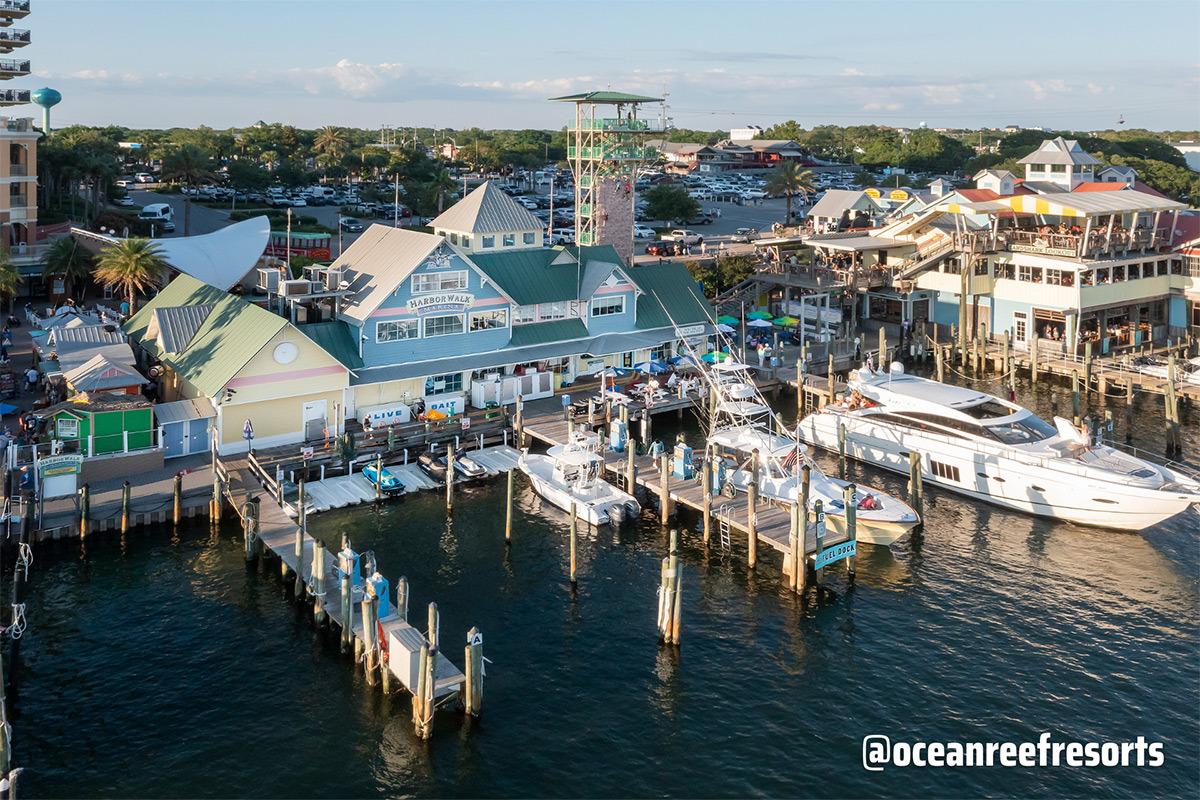 At the HarborWalk Marina, you will find waterfront shopping, activities, seasonal festivals, live entertainment, weekly fireworks, and more. From spring through fall, there are food trucks and art vendors that make an appearance, so you'll definitely want to check out what they have to offer. Arriving by Destin Water Taxi adds a touch of excitement and convenience, making it a favored way to explore the Marina's vibrant offerings.
Jimmy Buffett's Margaritaville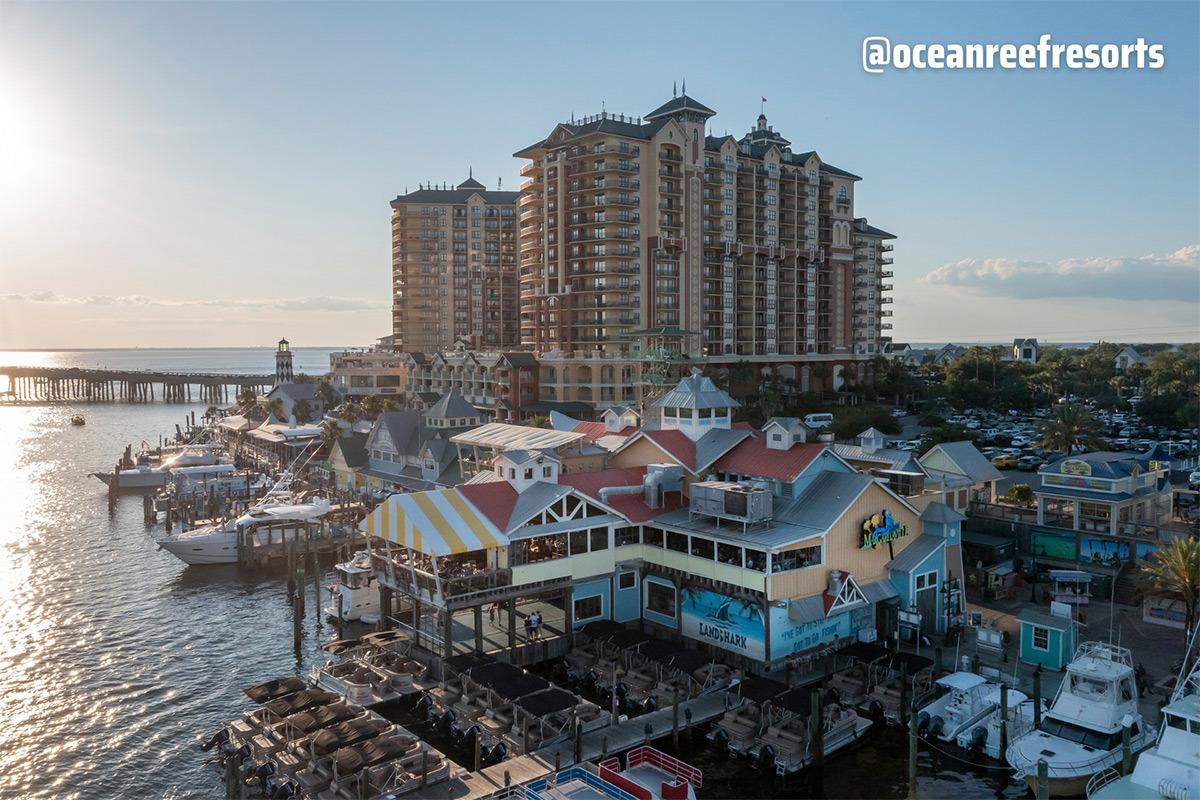 It's always 5 o'clock at Jimmy Buffett's Margaritaville in Destin, and arriving by Destin Water Taxi only adds to the tropical experience. The family-friendly restaurant has a menu that features fish tacos, burgers, seafood, and everything in between. Obviously, you can also choose from a large selection of margaritas, as well as moonshine favorites, boat drinks, frozen concoctions, and good ol' beer. The water taxi makes it easy to indulge in the island vibes without worrying about transportation back to your vacation rental.
AJ's Seafood and Oyster Bar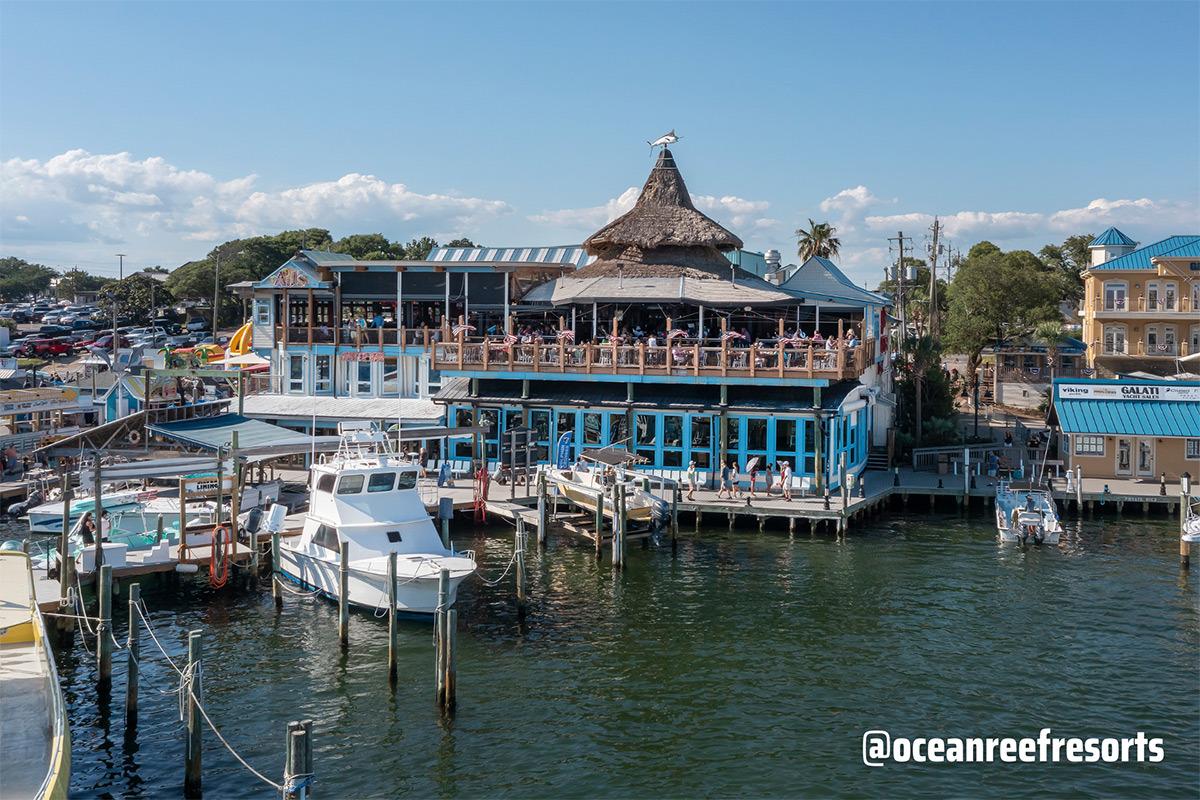 AJ's Seafood and Oyster Bar in Destin is the place to dine during the day and party at night! This restaurant boasts great seafood combined with a lively atmosphere. Arriving by Destin Water Taxi, you can step right into the action without the hassle of parking. With many evening and night-time events, and the added convenience of water taxi access, it's definitely a destination worth checking out.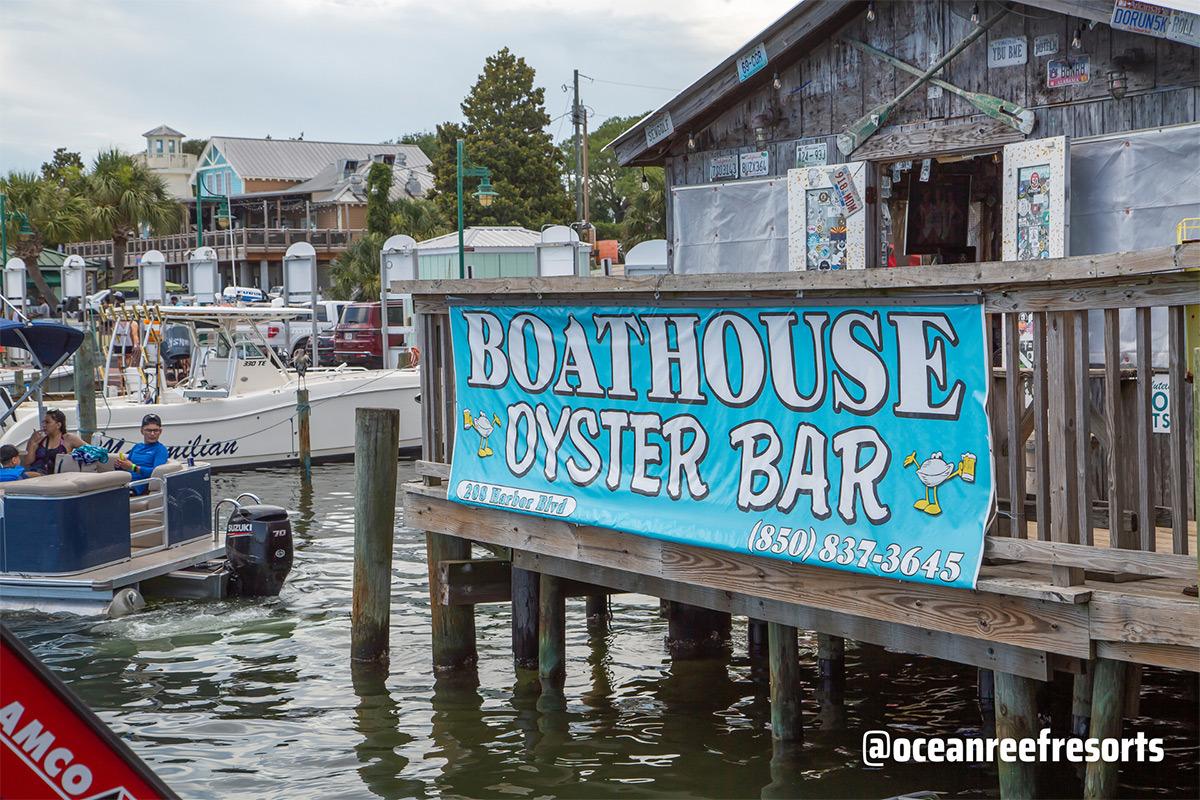 Perched on the eastern end of the Destin Marina, the Boathouse Oyster Bar is a seafood joint with a funky, chill vibe and live music. This spot is a local's favorite, and arriving by the Destin Water Taxi gives you a chance to mix with the locals and enjoy the authentic harbor atmosphere. Having been voted as having the best oysters and gumbo for decades, it's a place where you can truly experience Destin's culinary culture in a laid-back setting.
Boshamps Seafood and Oyster House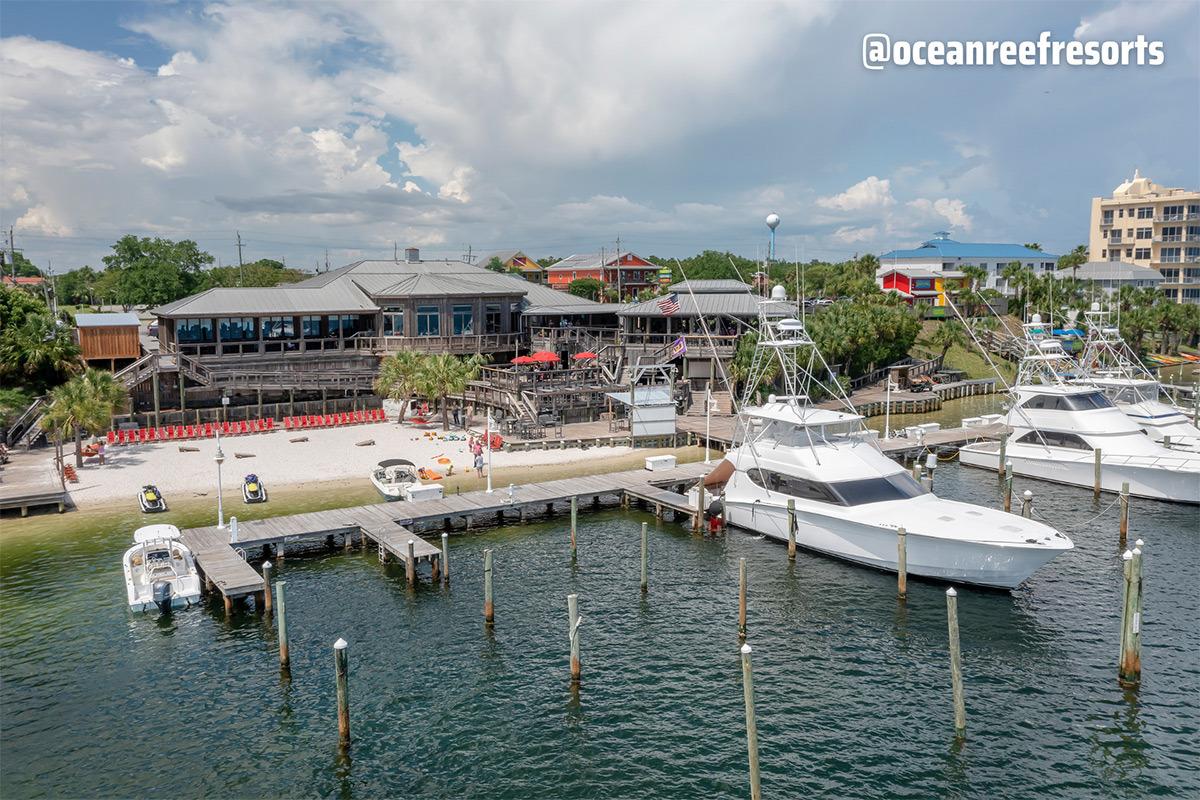 When you dine at Boshamps, you get to indulge in fresh Gulf seafood, a lively atmosphere, live entertainment, and a family-friendly environment. It's even fun when you're waiting to be seated! The restaurant has a waterfront sandy beach with cornhole, hammocks, and toys—perfect for lounging and keeping both the kids and adults entertained while they wait. Because Boshamps is one of the most popular restaurants in Destin, its parking lot is almost always full, making the Destin Water Taxi not only a convenient, no-hassle option but also an exciting and scenic way to arrive for dinner.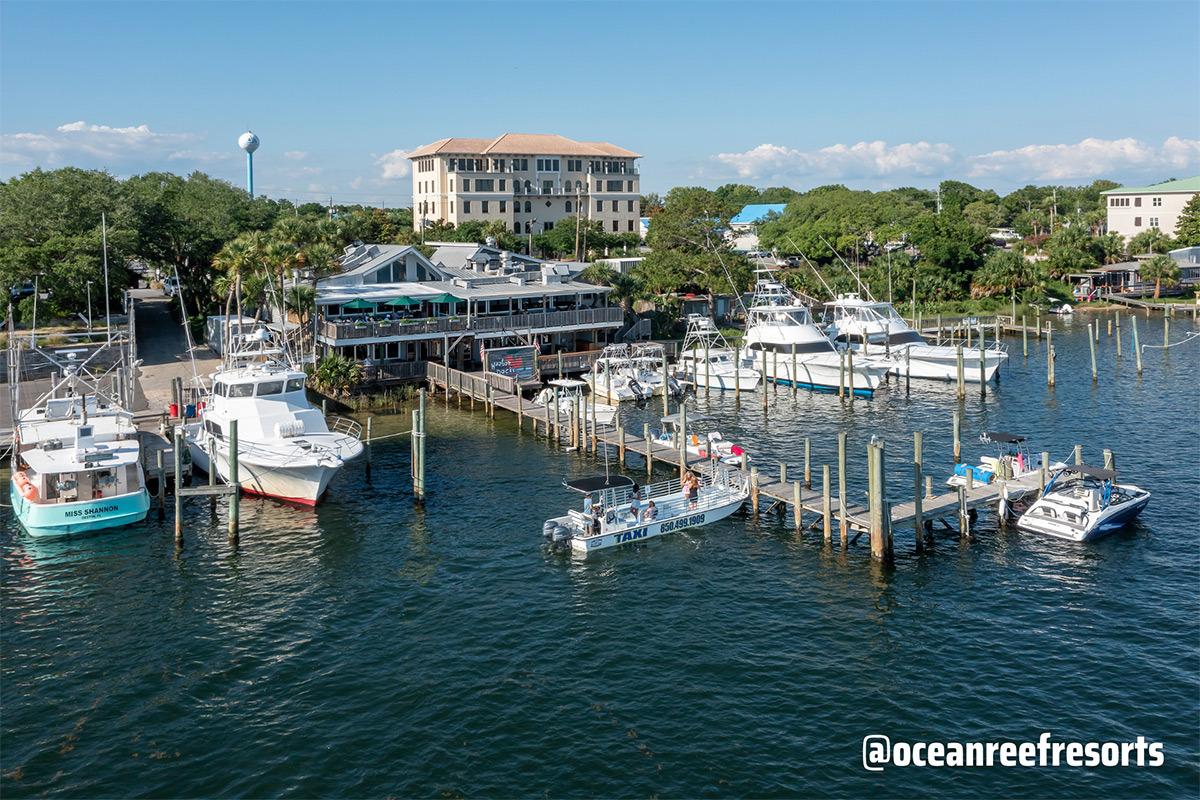 Harbor Docks restaurant dates back to 1979, so it knows and serves the freshest of the fresh seafood. Menu dishes are made from scratch, with the seafood coming from its very own wholesale market and produce coming from local produce growers when possible. Situated near the water's edge, the restaurant's location offers a perfect opportunity to arrive via Destin Water Taxi, adding a touch of maritime charm to your dining experience. It's a unique and enjoyable way to enhance your meal with a scenic trip along the harbor.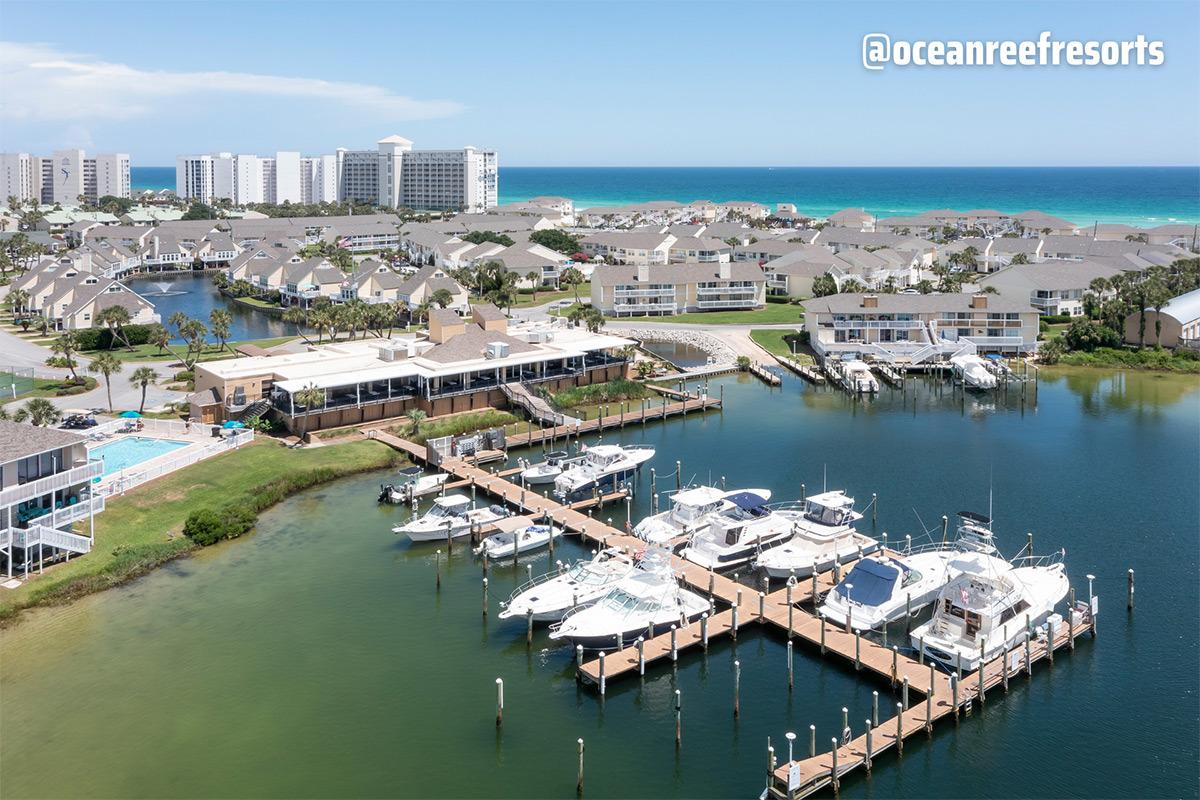 Located at Sandpiper Cove on the eastern edge of the Destin Harbor, Louisiana Lagniappe serves fresh seafood with a Creole flair. Arriving via the Destin Water Taxi, you can add a unique and delightful twist to your dining experience. The upscale-meets-casual restaurant provides a family-friendly atmosphere with food choices that everyone can enjoy. It consistently ranks as one of Destin's Top 10 restaurants on TripAdvisor, so you know that people love this local joint. The convenience of the water taxi combined with the restaurant's renowned dishes makes for an unforgettable experience!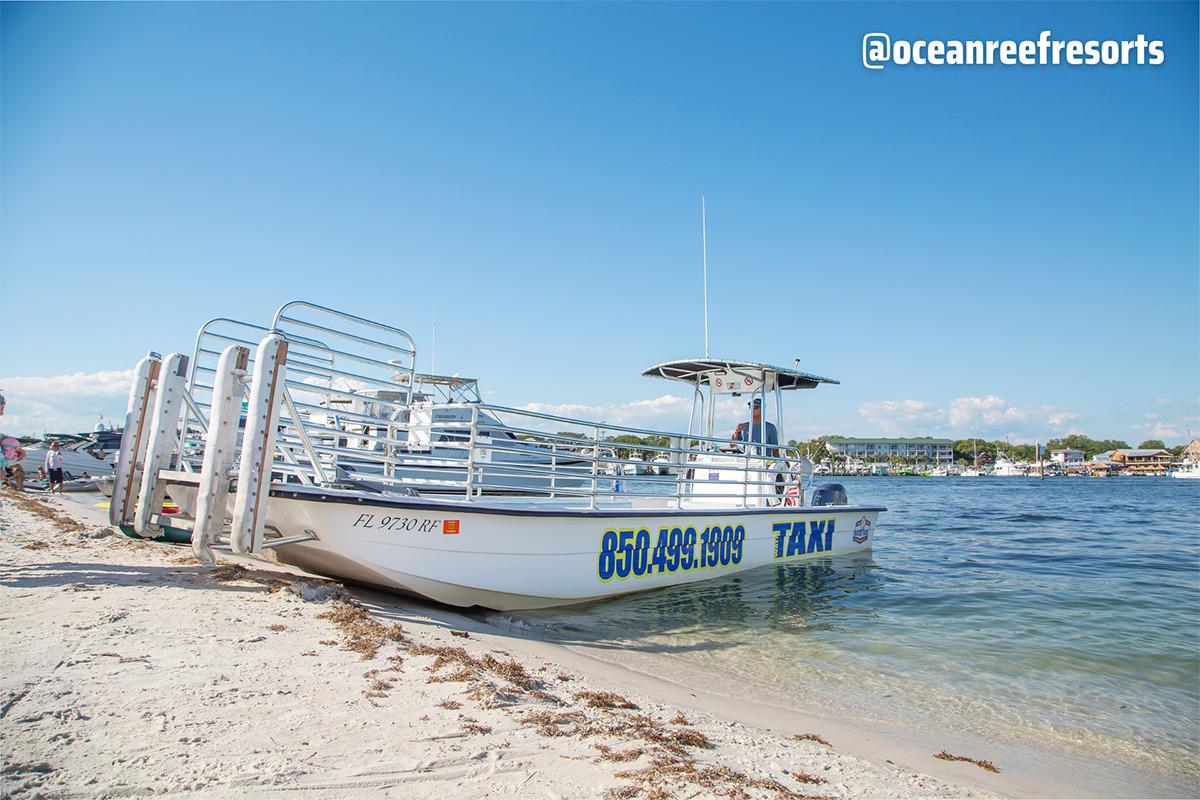 We told you—lots of places to see and things to do when you take the Destin Water Taxi. A few other notes about the taxi before you head off on your Destin adventure.
Dogs are welcome as long as everyone on the boat approves and no one has allergies.
Legal adults can bring and drink alcoholic beverages on the boat as long as they do so responsibly!
Strollers and bikes can be accommodated as long as there is room on the boat.
The Destin Water Taxi is available for private charter, depending on the day and time.
Credit cards are accepted.
What do you think… are you going to use the Destin Water Taxi next time you're in town? We definitely recommend it! Not only is it a convenient way to explore the harbor, but it also offers a unique vacation experience. Besides, how awesome would it be to simply catch the taxi from the waterfront edge of your Ocean Reef Destin vacation rental? Pretty cool, that's for sure! If you haven't yet booked your stay, browse our properties to find the best harborside vacation home that meets your needs.