Posted on 1/3/2020
Let's face it. Our dogs are more than just pets – they're part of the family! When it comes to planning a vacation, leaving these furry members of the family behind is the most heartbreaking. You don't like it; they don't like it. So, what if you could have your cake and eat it, too? Or, in this case, have your vacation and bring your dog.
The pet-friendly nature of Destin and 30A is one of the most unique aspects of this tourist destination, and one of the reasons visitors come back year after year. In addition to the beach, of course! Here on the Emerald Coast, we are dog people. From pet-friendly hiking trails to restaurants that set out water dishes, so your four-legged companions don't get thirsty - we support your decision to travel with your sweet doggos.
What we're saying is, if you're planning a vacation to the Emerald Coast, don't forget your pup! The weather is perfect for enjoying some outdoor adventures along the many wonderful hiking trails in the area. Giving your dogs plenty of exercise during the day will almost always guarantee a tired pooch at night so you can take advantage of the fabulous eateries in town.
Nancy Brown, CPT-KA and founder of Dog Harmony, is back with more insider tips for bringing your furry friends on your Emerald Coast vacation. Previously, Nancy provided us with some helpful hints for traveling with your dog in our article, Destin Pet-Friendly Fall Travel Tips. Now, she's here to share her insights on Destin and 30A dog-friendly hikes that you (and your pup) need to know about, as well as what to bring with you on your outdoor excursions.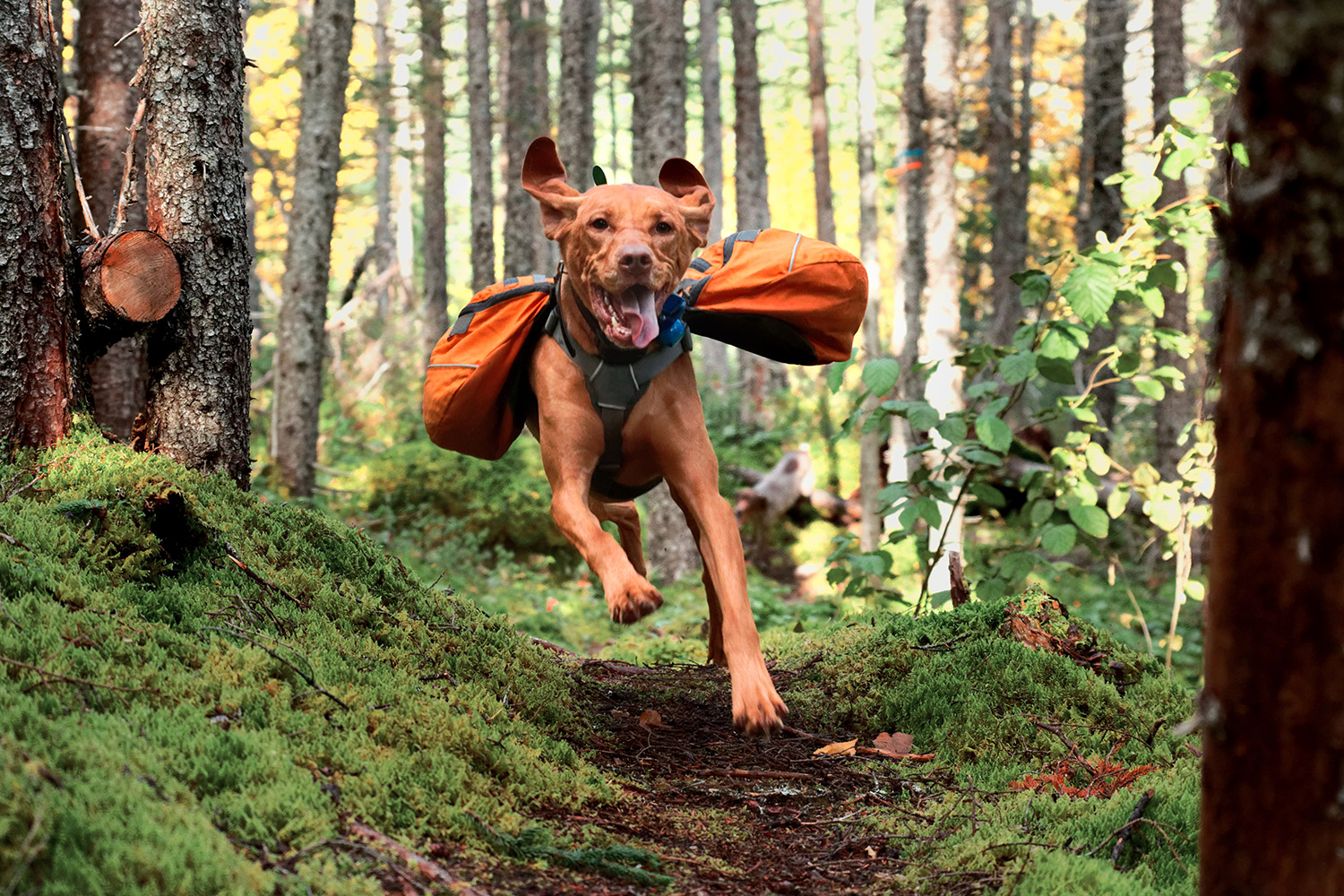 First thing is first. Before you plan your hiking trip, hone some of your basic skills. According to Nancy, having a strong recall command is imperative before you go on a hike. "Leashes are required on our trails; however, accidents do happen. If your dog slips out of its collar or leash, he will be distracted by the many new smells and wildlife. A strong recall will ensure you won't spend the rest of your vacation searching for your dog." Because nothing puts a damper on a vacation like a lost puppy!
Nancy also says that it is important that your dog learns to stop on a dime when you do. Nature can be unpredictable, and this skill will prevent him from stepping on a hazard or give you time to analyze a situation before you proceed. Sitting calmly by your side is also important for letting other hikers pass.
Here are some of Nancy's other recommendations for hiking with your pup:
Ensure All Information is Up-to-Date: Be sure your cute furball's flea and tick preventatives are up to date, microchip information is current, and that they have an accurate ID tag. All of this ensures the safety of your pup, allowing you to rest easy and enjoy the vacation with your dog by your side.
,
Be Aware: When on the trail, scan for other hikers, wanderers, and bikers. This includes what is behind you. Always move your dog to the side of the trail and have them sit beside you to let others pass. Being courteous to other adventurers helps maintain the integrity of our trails and preserve the joyful experience of being outdoors in Destin and 30A.
,
Leave no Trace: If you love the outdoors, chances are you've heard this one before! Please do not disturb the wildlife and always clean up after your dog. This way, all of our visitors can continue to enjoy the pristine beauty and wildlife of our South Walton hiking trails. Additionally, packing water in BPA-free water bottles for a break during the hike is not only a good way for you and your companion to stay hydrated but also better for the environment.
,
Bring a Blanket for Afterwards: After the hike, a blanket or towel will protect your car from any dirt, grime, water, or anything else your dog may have inadvertently picked up on the hike. You may also want to consider a dry shampoo for quick clean-ups and dog smells.
,
Feeling prepared? Good! Now, you and your dog can start planning a hike on one (or many) of the beautiful trails in the area. As over 40% of South Walton's land is protected, it's no wonder we've got some great spots for exploring the untouched scenery. Some of our favorite hiking spots include Topsail Hill Preserve State Park, Point Washington State Forest, and Henderson Beach State Park.
Topsail Hill Preserve State Park
Located on the west end of Scenic Highway 30A, Topsail Hill Preserve offers over 10 miles of trails that meander through iconic white sand dunes, quiet forests, and near rare coastal dune lakes. These trails are the perfect way to experience the flora and fauna that is unique to this coastal area. Some trails are paved, while others are more rugged. It's up to you to decide what kind of experience you and your furry adventure buddy are looking for! While on your hike, be sure to remain calm and quiet for the chance to catch a glimpse of the wildlife. Hiking trails to choose from include: Beach Tram Trail, Campbell Lake Bike Trail, No Name Lake Trail, Turpentine Trail, Deer Track Trail, and Old Growth Trail.
Point Washington State Forest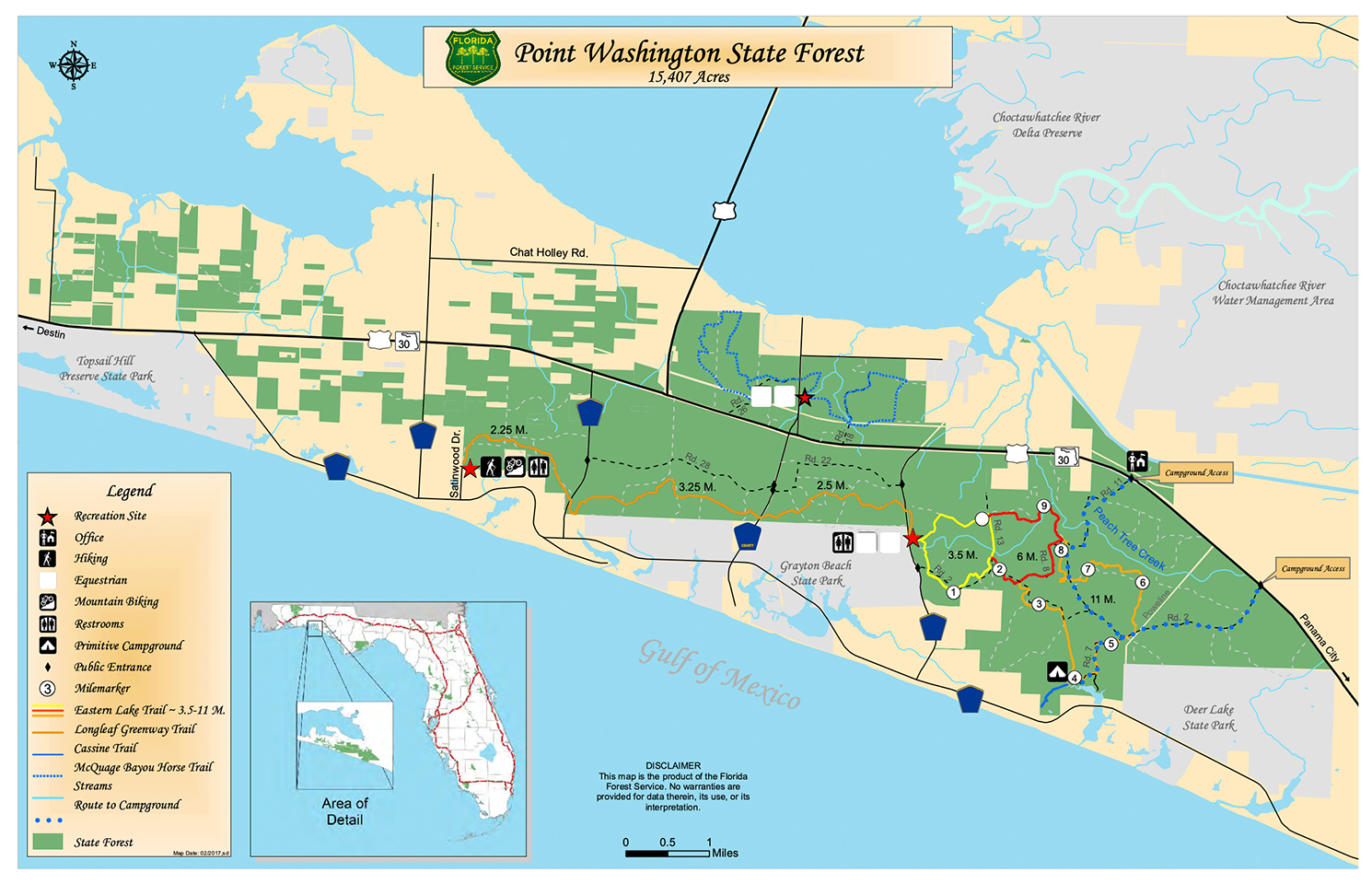 Point Washington State Forest boasts over 15,000 acres of forest and unique ecosystems. The hiking trails in this state forest allow you to see it all – from cypress swamps to sandhill to wet prairie. For those hiking with their pets, be sure to check out the Eastern Lake Trail System. As this trail system includes 3.5-, 5, and 10-mile loops, it is great for hikers of all levels and can accommodate any time constraints. No matter what you choose, you are sure to enjoy the peaceful atmosphere, unspoiled views, and the unique plant and wildlife. Make sure to keep an eye out for some of the threatened or endangered species in the area, like the Gopher tortoise or Flatwoods salamander, for a real treat.
Henderson Beach State Park
Looking for a way to experience the incredible coastal sand dunes that characterize this stretch of the Gulf Coast? Henderson Beach State Park provides a way to enjoy the scenery without harming these fragile ecosystems. With a 3/4-mile hiking trail that takes you through and over the dunes, you and your pup can observe the distinctive, natural habitat in all its glory. Be aware that stepping onto the dunes is strictly off-limits, so it is important that your dog is leashed and has good recall. Other sites you'll get to see include myrtle oaks, Choctawhatchee sand pines, gopher tortoises, and more!
What do you think - are you "doggone" excited to get out into nature with your dog? Our trails are an incredible way for you to enjoy the coastal area, and a great way for your dog to join you. Just remember Nancy's tips when you bring your pet along for your Destin and 30A hiking adventure. Starting planning your trip now by viewing our Pet Freindly Vacation Rentals.  Happy hiking!