Posted on 6/30/2023
Welcome to Ocean Reef Resorts, the gateway to the stunning white sands and emerald waters of Scenic 30A and Destin's award-winning beaches. As you take in the captivating vistas and heart-stirring sunsets, you will understand why Destin, the crown jewel of Northwest Florida's Emerald Coast, draws beach lovers from all corners of the globe. The magic of our sugar-white sands and the dance of emerald and sapphire waves truly sets Destin apart.
However, to fully appreciate the beauty and serenity of our beaches, it's important to be informed and prepared. In this article, we provide essential beach safety information, covering the beach safety flag system, rip currents, general guidelines, and frequently asked questions. But remember, beach safety starts with awareness. Before you dive into your beach adventure, check the flag system, observe the wave patterns, and feel free to chat with our friendly lifeguards. While we are excited to share the wonders of Destin your safety and enjoyment remain our top priority. Let's make your visit to Destin a treasure trove of happy, safe memories!
In this article we cover:

Beach Flag System
Dive into the Beach Safety Flag System of Destin, your essential guide to understanding the changing moods of the sea and ensuring a safe, enjoyable beach experience.
Rip Current Safety
Unravel the mysteries of rip currents, their effects on coastal swimmers, and the crucial survival strategies you need to master for a safe gulf experience.
Beach Guidelines
Get ready to learn the crucial beach guidelines, from protecting sand dunes and sea turtles to adhering to legal restrictions, that ensure your safety and help preserve the breathtaking natural beauty of Destin's Gulf beaches.
Destin FAQs
Get answers to your burning questions about visiting Destin's beaches, from understanding safety measures and respecting local wildlife, to staying updated with beach conditions and ensuring the beaches remain pristine for all to enjoy.
In Destin, while most days are blessed with sunshine and serene, crystal-clear waters, the gulf can sometimes be unpredictable. On occasion, we may encounter periods of rough weather or unstable marine conditions. To ensure visitor safety, a Beach Safety Flag System has been put in place. This system provides a visual indicator of water conditions at beach access points and assists in preparing our guests for the water conditions they may encounter. The color-coded flags serve as a quick reference for understanding the current beach environment:
Green Flag
Safe conditions, ideal for swimming and water activities

Caution advised, due to slightly rough conditions.

Extreme caution required, as strong currents or rough surf are present.

Swimming is strictly prohibited due to dangerous water conditions.

Alongside these flags, a purple flag is flown when dangerous marine life - such as jellyfish or stingrays - have been sighted in the vicinity. While swimming isn't prohibited during a purple flag alert, beachgoers should exercise extra caution and remain vigilant of their surroundings to avoid unwanted encounters with these creatures.
The flag colors correspond to globally recognized safety signals, thus offering an immediate understanding of the beach conditions to visitors.
The Beach Safety Flag System serves as a vital guide to beach safety, encouraging visitors to make informed decisions, respect the gulf's power, and have a safe, enjoyable time at Destin's beautiful beaches.
Rip currents pose the most significant risk to swimmers along the coast. These are caused by the erosion of underwater sandbars due to heavy wave action. Water accumulated on the shore side can pour out rapidly through breaks in the sandbar, creating a fast-moving stream that pulls swimmers away from the shore.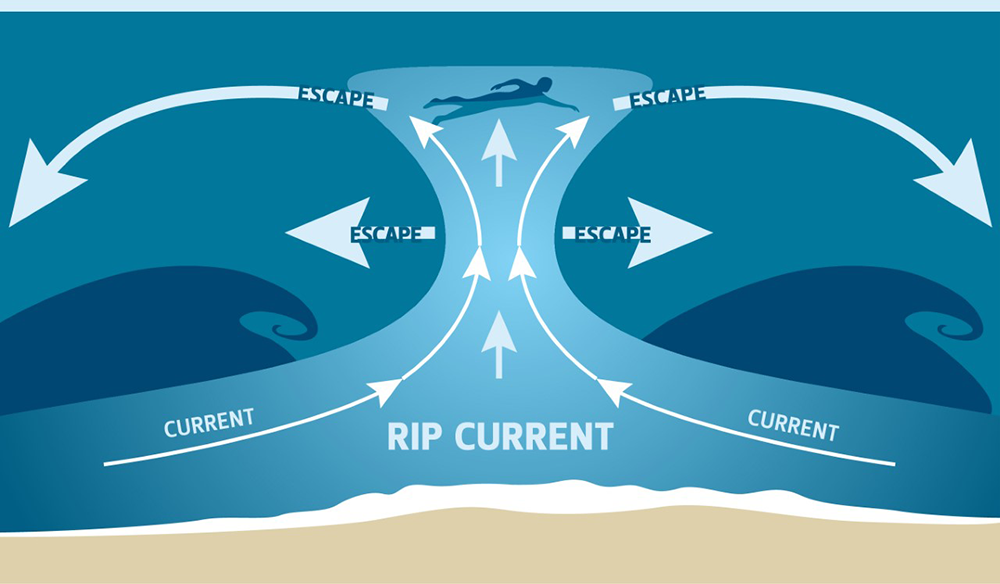 However, rip currents do not pull swimmers under the water or draw them too far from the shore. They typically halt about fifty to seventy-five yards offshore. If you find yourself caught in a rip current, it's crucial not to panic. Begin to swim parallel to the shore until you escape the flow. If you are unable to swim out of the flow, remain calm, stay afloat, and wait for the current to stop, typically less than 100 yards from the shore.
While enjoying Destin's beaches, follow other safety guidelines for a fun and safe experience. Always supervise small children near the water, as even minor waves can knock them over. Those not confident in their swimming abilities, especially in rip current conditions, should wear life preservers.
Remember to protect yourself from the sun, which can be more intense here than in other parts of the country. Use sunscreen with a Sun Protection Factor (SPF) of at least 15, or even 30, 50, or 60 for those with fair skin or if you plan on being at the beach for an extended period. Clouds do not entirely block the sun's rays, so even on overcast days, remember to apply sun protection.
While visiting our pristine beaches, kindly adhere to the following guidelines to ensure your safety and the preservation of our beautiful natural environment:
Protecting Sand Dunes
Please refrain from walking on the sand dunes. Human and vehicle traffic, as well as construction activities, can destroy the vegetation that holds the dunes in place. Sand dunes serve as crucial barriers against winds and waves, protecting residential and commercial properties. Hence, preserving sand dunes is essential. Instead of walking through the sand dunes and sea oats, please use the public beach walkovers provided.
Safeguarding Sea Turtles
The Gulf beaches of Destin serve as nesting grounds for sea turtles between May and November. These creatures are threatened with extinction due to human exploration and habitat destruction. Female turtles usually come ashore at night to lay their eggs in the sand. It's important to avoid disturbing these turtles and their nests. Avoid shining lights in their eyes or taking flash photographs, which can disorient them.
Legal Protection for Sea Turtles
Under the US Endangered Species Act and Florida State Law, all sea turtles are legally protected. Killing, harming, or disturbing sea turtles or their nests is illegal, with violations potentially leading to hefty fines or imprisonment.
Prohibition of Glass Bottles
Glass bottles are not permitted on any Destin area beaches. As per the City of Destin Ordinance, first-time offenders caught with glass on the beach face a $50 fine, with penalties increasing for repeat offenses.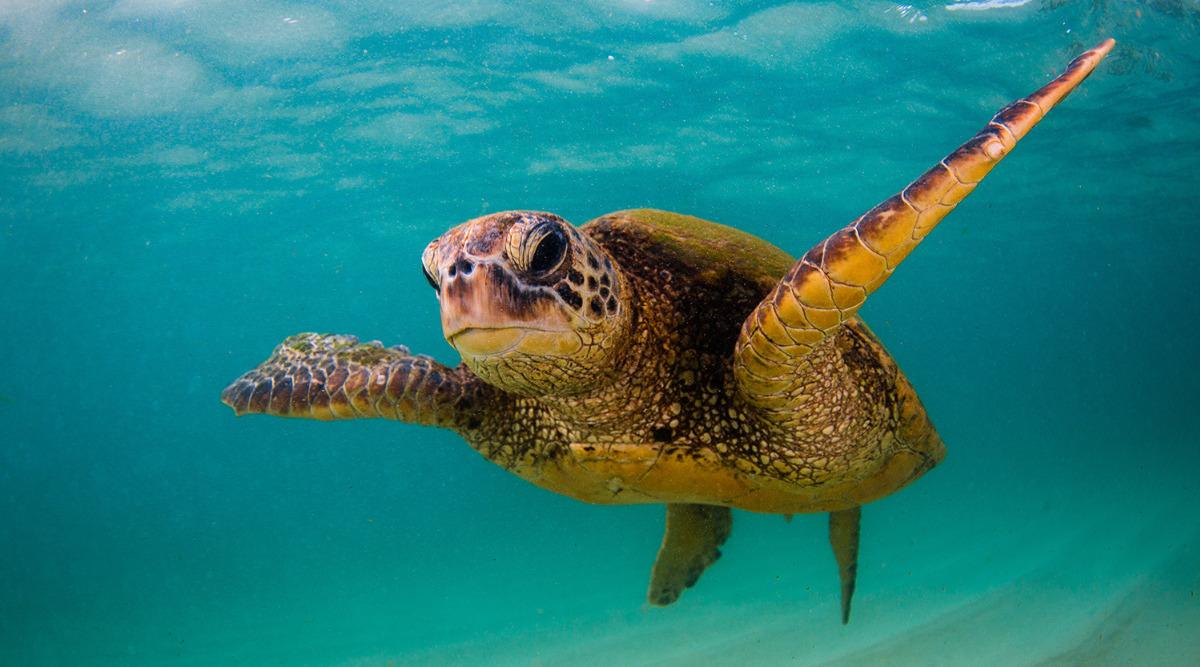 Uncover the intriguing life of sea turtles and their key nesting rituals on the Emerald Coast, from laying up to 100 eggs in the sugary sand to hatchlings embarking on their journey into the gulf.

Frequently Asked Questions
We understand that you may have many questions while planning your visit to the stunning Destin beaches. Below are some common queries we receive from guests:
Is Destin beach safe to swim in?
Yes, Destin beach is generally safe to swim in, provided you adhere to the Beach Safety Flag System that indicates the current safety conditions of the water. Rip currents can pose a danger, especially during or after periods of heavy wave activity, but with awareness and caution, these can be safely navigated. Lifeguards are stationed at many popular beach locations during peak times for added safety.
Can you walk on the Destin beach at night?
Yes, you can walk on Destin beach at night. However, between May and November, please be cautious and respectful of sea turtles who come ashore to nest during the night. Bright lights and flash photography can disturb these protected creatures, so we ask you to avoid using these on the beach after dark.
What are the flags at Destin Beach today?
For the most current beach conditions, including the flag status, we recommend checking the local beach patrol or lifeguard station's website or social media platforms, which are updated daily. Remember to always respect the flag system when visiting the beach for your safety and the safety of others.
Is Destin a clean beach?
Yes, Destin's beaches are recognized for their cleanliness and beauty, with pristine, white sands and clear, emerald-hued waters. We do ask that all visitors help maintain this cleanliness by following all beach rules, including disposing of trash properly and not bringing glass bottles onto the beach.
Our Commitment to Your Safety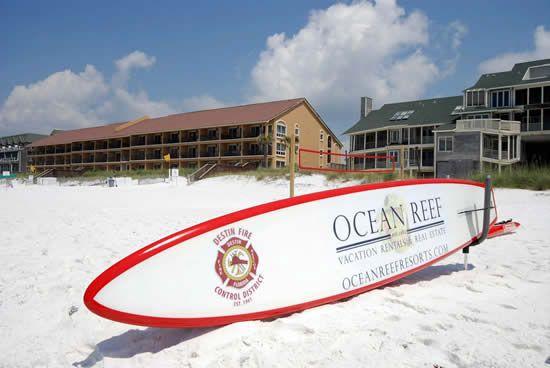 As champions of beach safety, Ocean Reef Resorts is proud to have joined forces with local lifeguards, co-sponsoring a state-of-the-art Water Board for our coastal haven. For over four decades, we have been committed to curating extraordinary vacation experiences in Destin, creating memories that last a lifetime in our exclusive rentals.
As we welcome you to join our ever-growing family of beach lovers, we want you to savor the unforgettable moments without worry. All we ask of you is to bring your sense of adventure and enthusiasm and be mindful of the safety measures. So, are you ready to explore the breathtaking beaches of Destin? Make sure to pack your sunscreen, gear up for a memorable beach vacation experience, and leave the rest to us!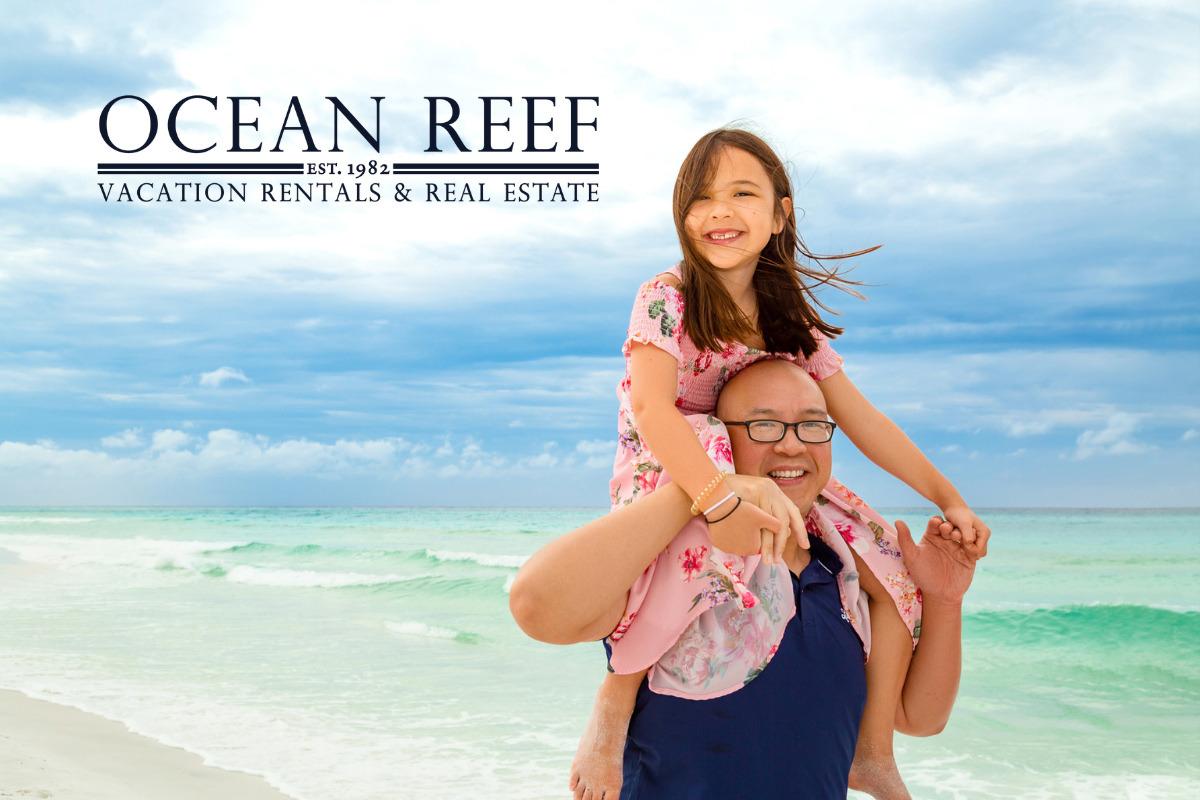 Remember: Your safety is our priority, your enjoyment our aspiration. We encourage you to follow all safety guidelines and remain vigilant at all times. Let the enchanting beauty of Destin's beaches become a cherished memory. Book your Destin vacation with Ocean Reef Resorts today - we eagerly await your arrival in our vibrant coastal community!