Posted on 7/14/2017
As many of our Ocean Reef Resorts guests will tell you, Rosemary Beach is absolutely charming. Although this exquisitely planned coastal village was completed in recent years, it looks like it has been around for a couple of hundred years. This is due to the enchanting Dutch Colonial architectural style of the homes and buildings there that were made to look like they are right out of the tropical West Indies. The village's prominent position high upon a sugary dune at the far eastern end of South Walton's Scenic 30A provides a spectacular setting. Main Street meanders down the dune from Barrett Square in the town center to Western Green on the gulf. Besides the enchanting architecture, the village planners used this awesome location as an artistic pallet for their work, which includes long lush lawns, town squares, and gardens for community pleasure. These provide public places for seasonal festivals and interesting fun events.
One of their most popular and long lasting events includes the Rosemary Beach Sculpture Exhibition, which has occurred here every year since its inception. The dates for this year's public exhibition go from May 26th thru October 7th.  Each year noted sculptures from around the nation are personally invited to exhibit a precious piece of their work for public display. These sensational sculptures are exhibited for over four months and also available for sale. The works of creative sculpture created this year use materials that include chrome, stainless steel, cast aluminum, cast bronze, fiber glass, resin, fabric and welded sheet metal. There are a dozen of them beautifully dispersed throughout the village on squares, parks and gardens.  An exhibition map is available on line and a free "Otocast" Smart Phone app is provided providing verbal narratives by the artists for each piece while you take this lovely outdoor tour strolling around the village. Brochures and an exhibition catalogue include a site map, which is available at the Village Hall, the Rosemary Beach post office and from many of the town merchants. You'll be happy to know that there are plenty of little patio bistros, restaurants and casual bars located around Rosemary Beach to quench your thirst and satisfy your appetite while on your tour.
The sculptures available in Rosemary Beach on this tour include the following: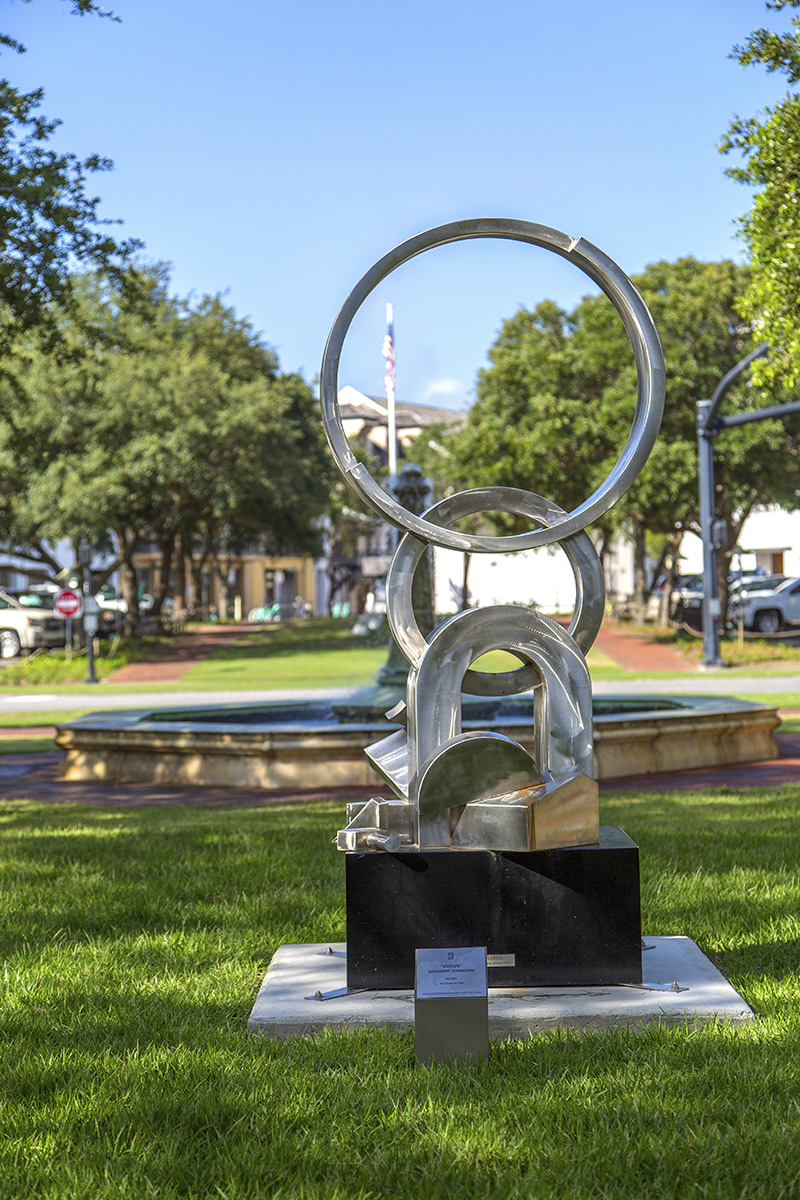 Votive: A stainless steel structure that measures 60' x 36" x 24" by artist Gregory Johnson of Cumming, Georgia. This sculpture has "soft elegant arcs that emulate a waterfall of wave that inspires relaxation."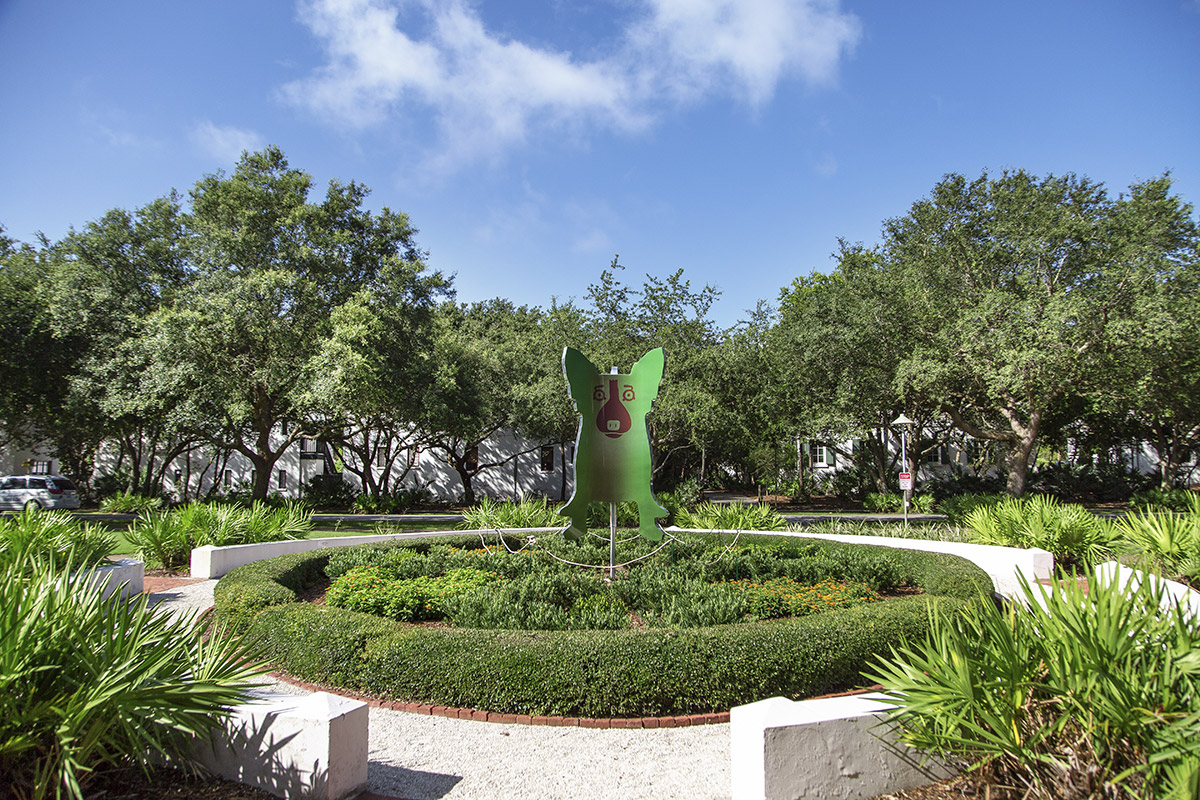 Colors of My Mind: A sculpture made of shimmering chrome, aluminum and stainless steel that stands almost six feet tall created by the nationally famed and recently deceased New Orleans artist George Rodrigue. Rodrigue is renowned for his famous "Blue Dog" paintings and this graceful design is used to form a multi-sided blue dog.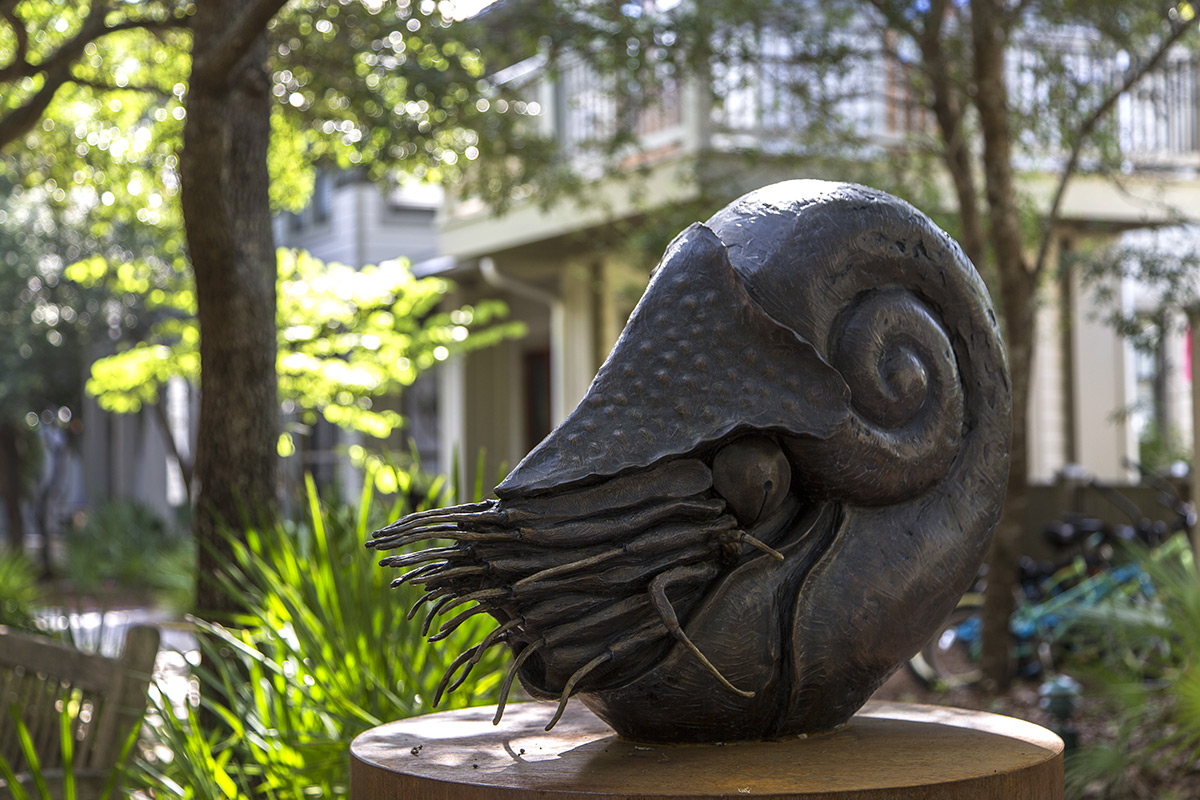 Sea Beast: A sculpture of a prehistoric Nautilus shell made from handsome cast bronze and steel that measures 62" x 34" x 26" by Dave Richardson from Collins, Colorado. The artist said that he has always been amazed by the "architecture of the Nautilus shell" that "lends itself to shape and beauty."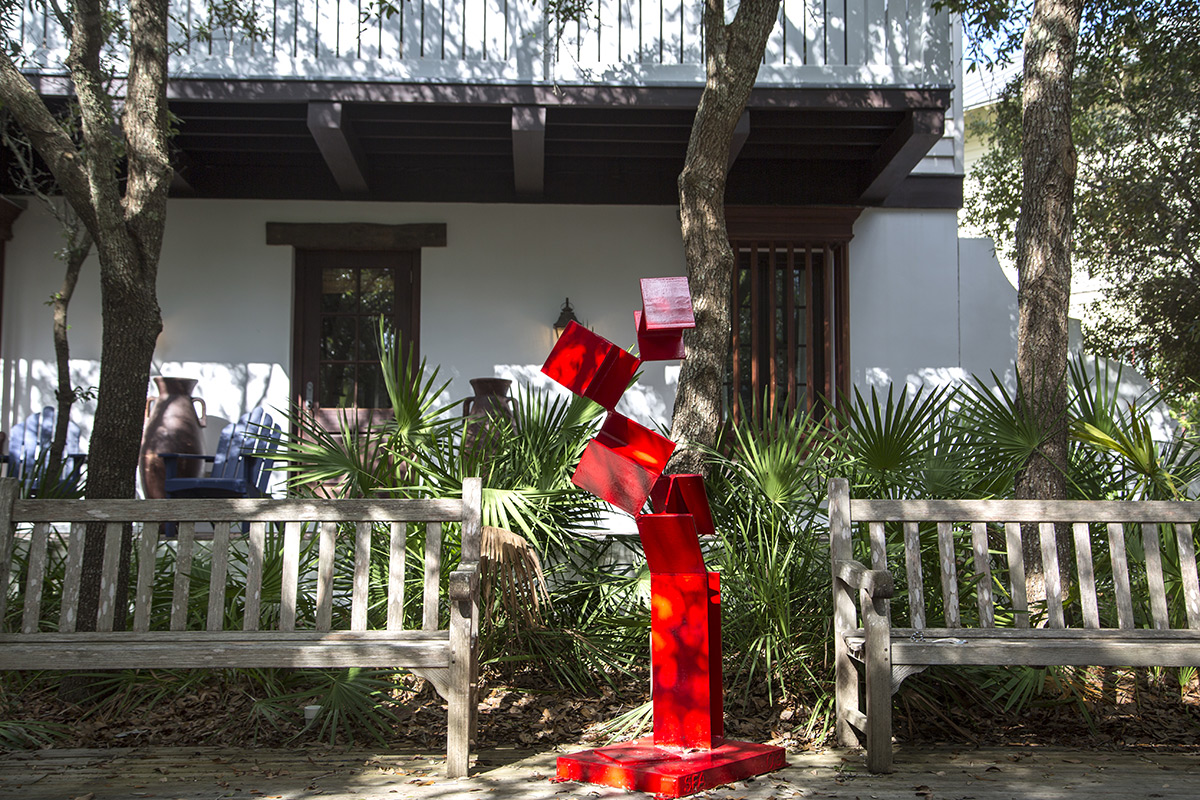 Sunbeam II: A modern abstract painted steel sculpture that is 5'5" tall by Sydney Atkinson of Monticello, Florida which he describes as "a rigid beam (that) represents strength, breaking and dancing upward, lyrical and vulnerable as it ascends."
SIncendiary: A colorful, graceful sculpture made from painted steel that swirls up to eight feet in height by Luke Achterberg from Lexington, Kentucky. Achterberg uses a free motion balance to create an aesthetic design that he calls "Super Sleek."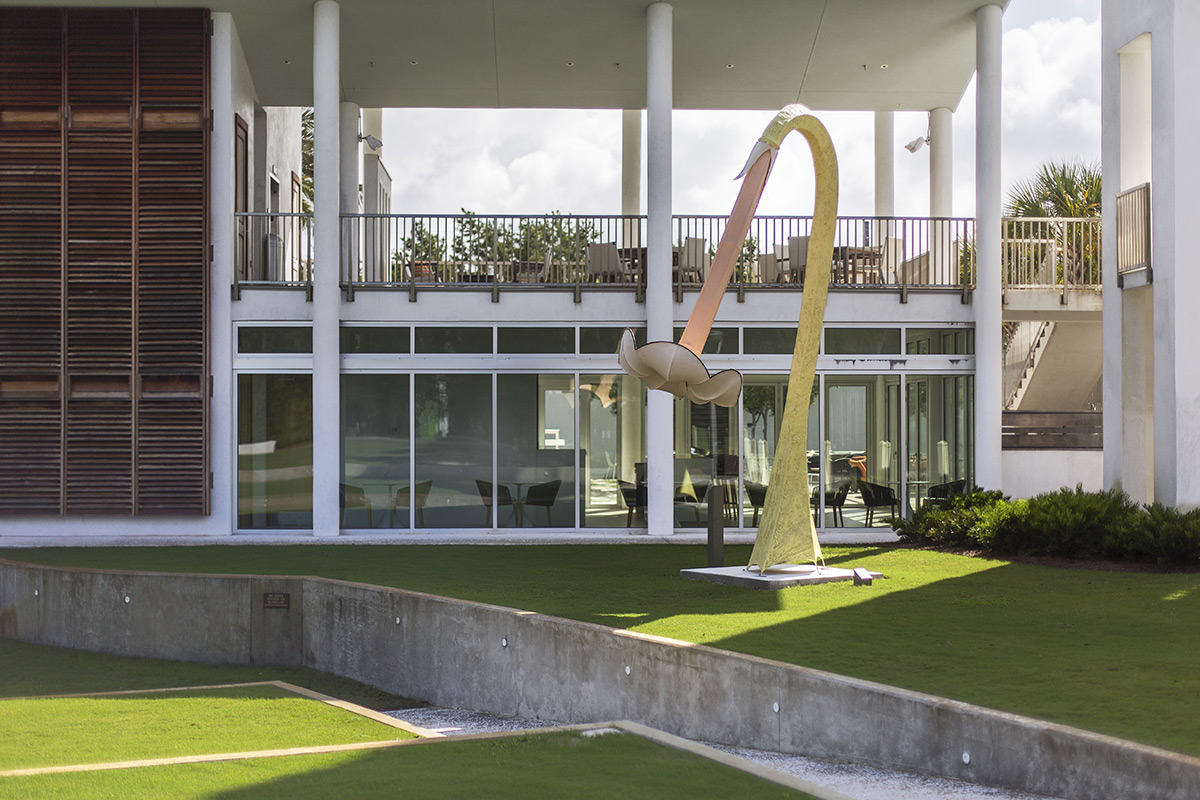 LLiana: A seventeen foot tall sculpture made of steel, resin, fiberglass, lace fabric and silicon by Joni Younkins-Herzog of Athens, Georgia. It is a giant representation of an Angel Trumpet flower inspired by the artist's "passion for nature and tropical plants."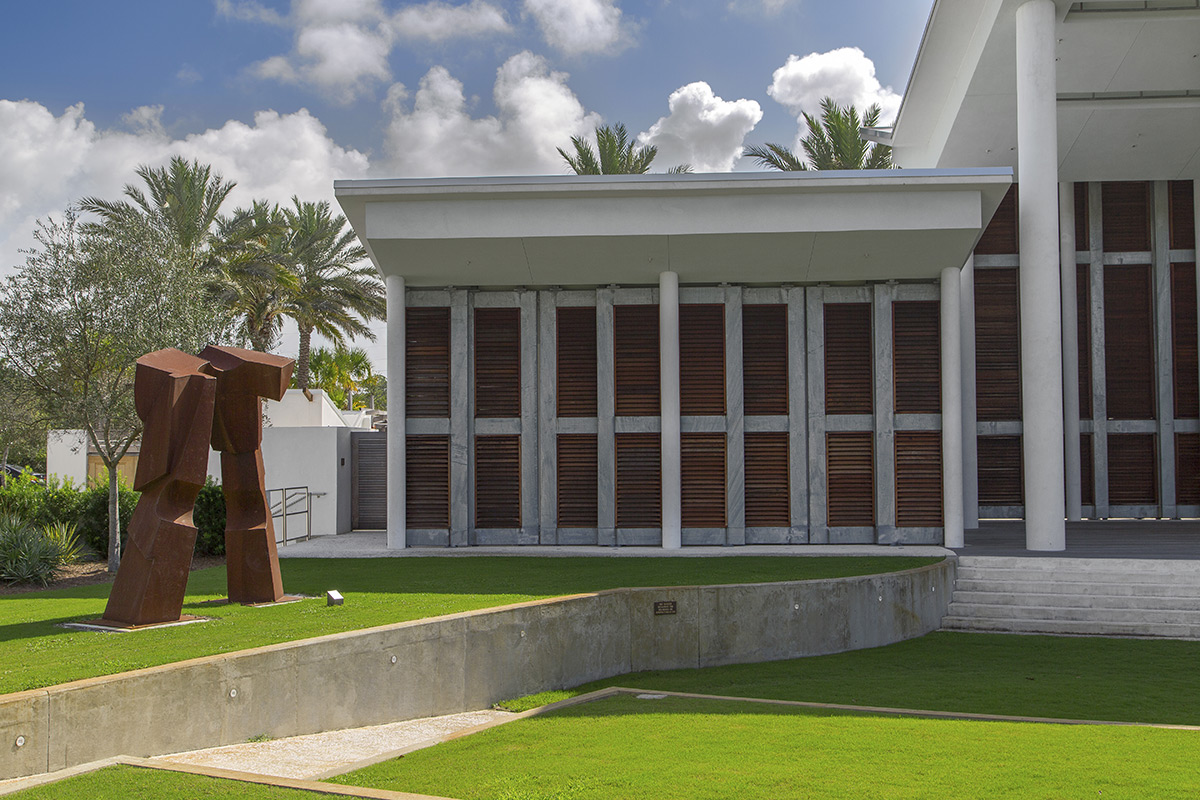 Flint Hills Dreamer: A ten foot tall double pillar type sculpture adjoined at the top made from Cor-Ten Steel by James K. Johnson from Charleston, Illinois. The artist's inspiration came from exploring sand dunes in Kansas with friends.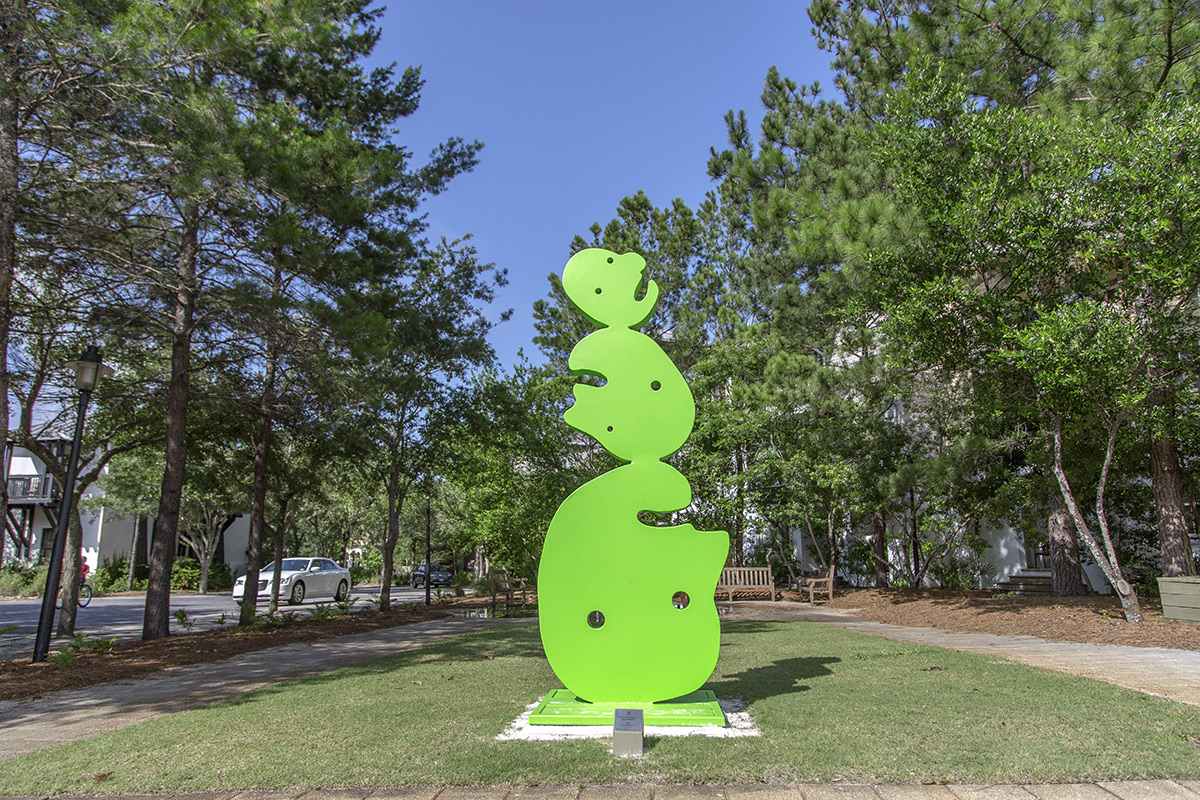 Pity the Monsters: A unique abstract steel sculpture with a serious message that stands ten feet tall by Jeffie Brewer of Nacogdoches, Texas. The artist uses this piece "bringing attention to Dementia and Alzheimer's and the struggle for loved ones."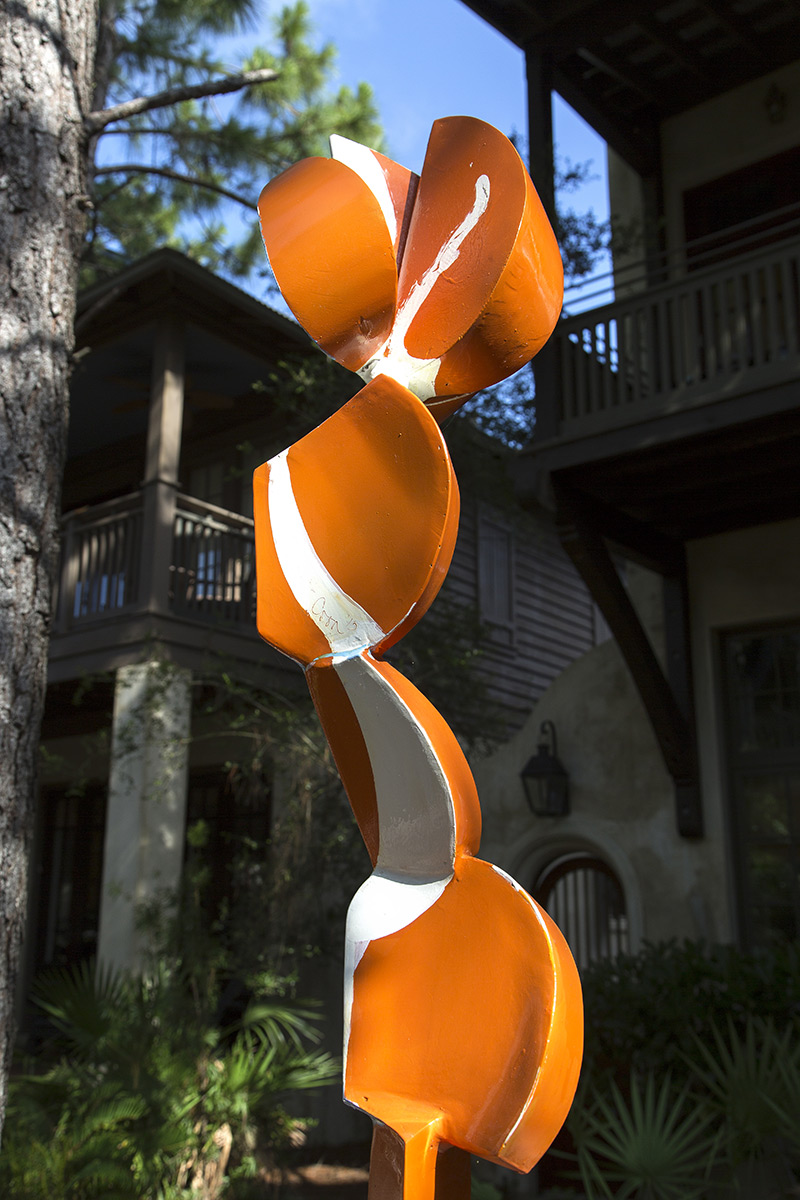 Creamsicle: A whimsical eight foot tall sculpture made from fabricated and welded sheet metal painted with vibrant color created by Robert L. Coon of Vero Beach, Florida. The artist was inspired by his favorite childhood popsicle treat.
Seahorse: A giant wire steel sculpture that measures 11'4" x 7' by Key West, Florida artist Crag Gray. He says the sculpture explores "the external dimensions and inner soul of the animal we call the horse."
Union: An interesting sculpture made of fabricated and cast aluminum that measures 72" x 111" x 48" by Deborah La Grasse from Tallahassee, Florida. It is "the conjunction of opposites formed in the union of two transparent cones" with a long "S" curve at its base.
Orpheus: An interesting steel and cast bronze sculpture of large musical lyre with creative accents by Charles Pilkey from Mint Hill, North Carolina who calls this a "metaphor for the creative journey of the artist.
This wonderful exhibition will go on through early October and more information is available at rosemarybeachsculpture.com. Make your plans now to make reservations at one of our distinctive 30A Vacation Rentals so you may begin your own delightful artistic adventure!
Insider Tips: Visit during late afternoon when the temperatures cool, bring bug spray, pack a picnic or make plans to visit one of the cafes, extra parking can be found near the tennis center, and be patient with the Otocast app.