Posted on 9/19/2023
Immerse yourself in the paradise that is Crystal Beach in Destin. With its name reflecting the sparkling "crystal" sand pristine "beach" that kisses the gleaming waters of the Gulf, this location is more than just a destination - it's an experience. For guests of Ocean Reef Resorts, the allure doesn't end at the shoreline. Nestled in an ideal spot, Crystal Beach places you just moments away from a spectrum of conveniences: from essential grocery stores to vibrant gulf-front eateries, chic beach bars, and enticing shopping locales.
In just a five-minute jaunt, you'll discover the charm of Destin Commons, an architectural masterpiece boasting Mediterranean-inspired towers, children-friendly water geysers, and an array of dining and entertainment options. Not to mention the nostalgic HarborWalk Village, pulsating with life from its concerts, festivals, and exhilarating marine adventures.
Crystal Beach Communities
In the heart of Crystal Beach, moments transcend mere vacationing; they become vibrant memories. As the waves softly serenade the shores, Ocean Reef Resorts invites you to embark on a journey that encapsulates the timeless charm and grandeur of Destin's most enchanting locale. From the storybook charm of Crystal Beach Cottages, the unbridled luxury of Crystal Shores, to the serene vistas of Kokomo Kove, our communities are more than just accommodations; they are chapters in a tale of coastal splendor. Here, the nostalgic embrace of cozy cottages melds seamlessly with the majesty of opulent mansions, crafting experiences that are as diverse as they are memorable. Dive into the unique essence of each community and discover a world where every corner holds a new story, every breeze whispers of adventure, and every sunset promises tomorrow's dreams.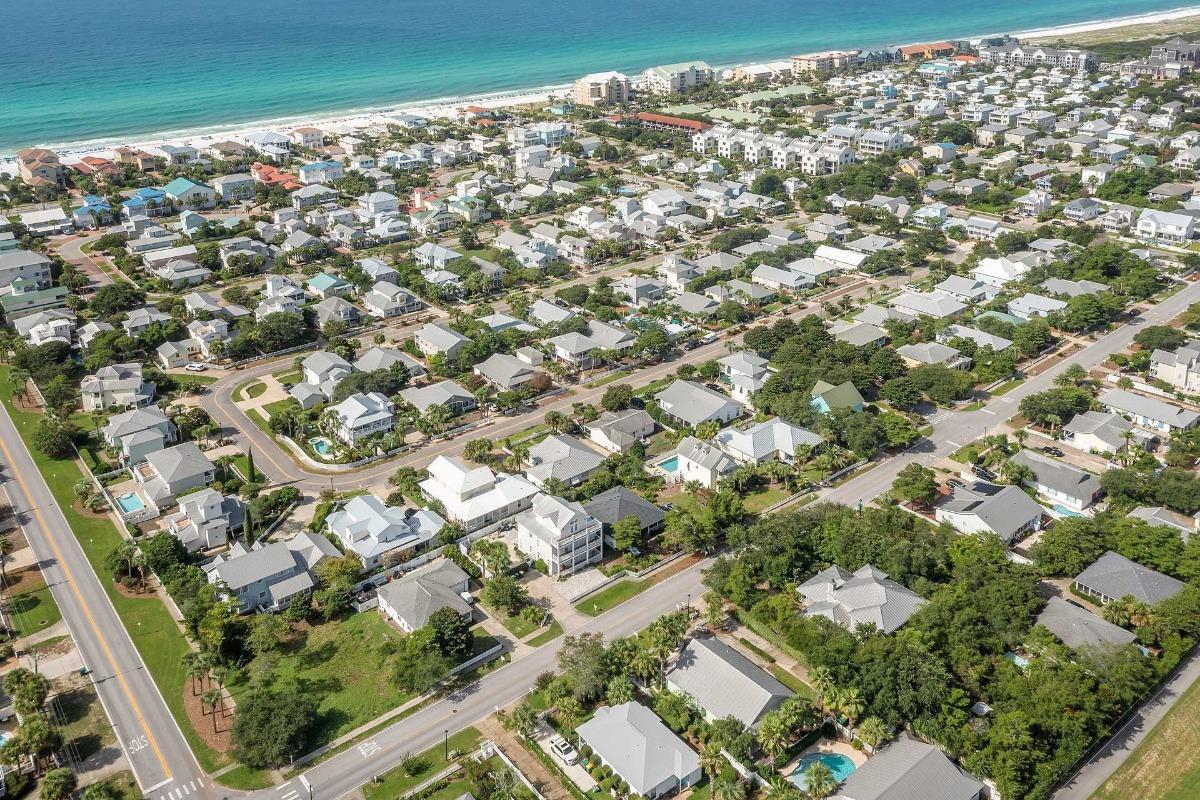 Crystal Beach Cottages is a quaint Destin community that is a nostalgic nod to the golden days of yesteryear. Characterized by classic Florida designs, these cottages transport you to a world of gentle breezes wafting through expansive balconies, white picket fences, and verandas embraced by lush tropical foliage. Situated moments from the pristine shoreline and a community pool, many of these homes also boast their own private oasis of swimming pools to indulge in.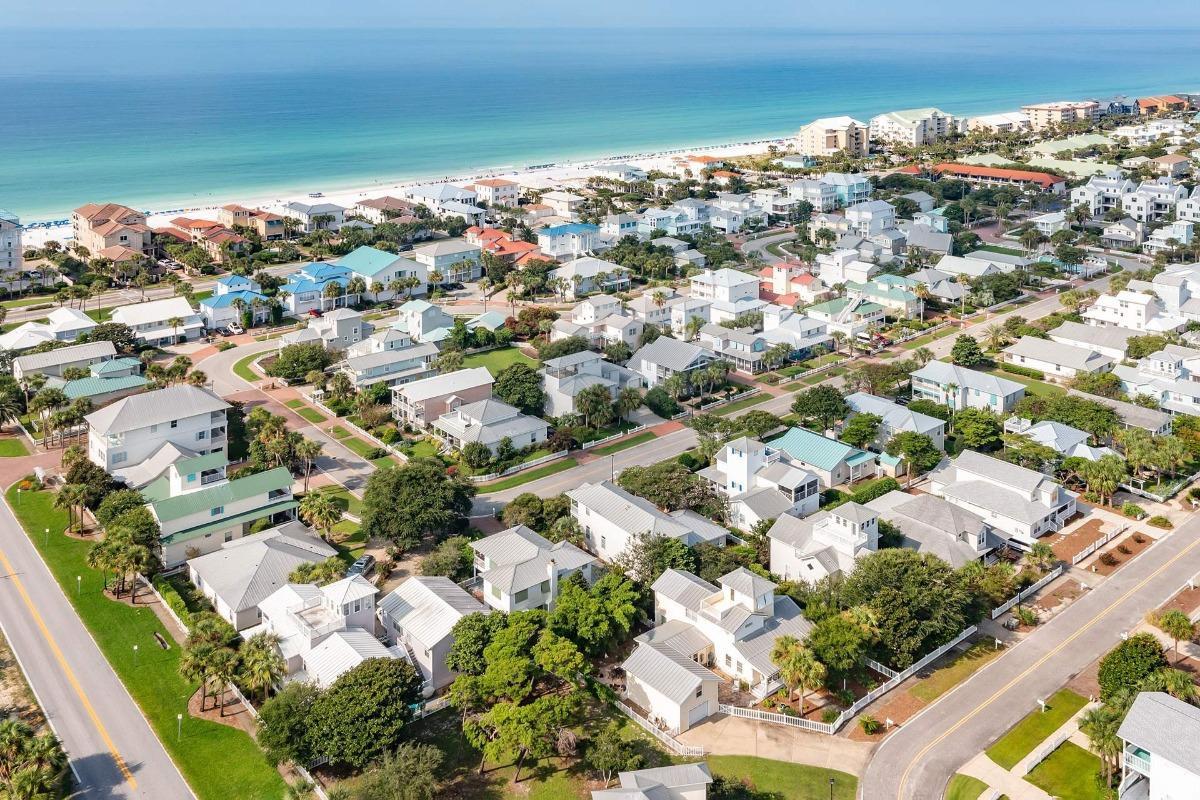 Epitomizing prestige and luxury, this community is nestled on Ocean View Drive, a heartbeat away from Scenic Highway 98 and the glistening white sand beach. With exclusive access at either end of Crystal Shores, one steps into a verdant paradise dotted with grand homes. Each rental residence here whispers tales of elegance, from spacious columned verandas to sunlit upper-floor balconies. Tailored for grand celebrations and beach reunions, these Crystal Beach vacation homes can graciously host twelve to twenty-four guests, with many featuring expansive pools and sun patios for that perfect poolside soirée.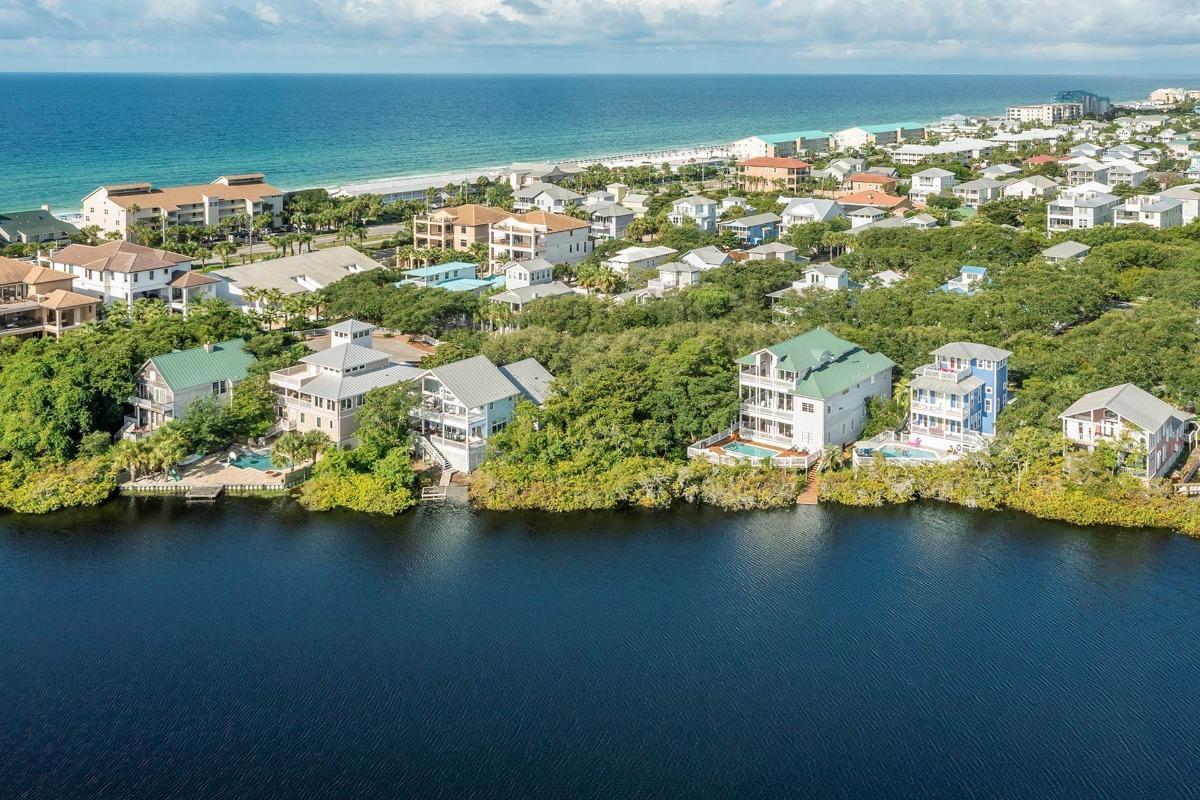 A canvas painted with nature's finest hues, this Crystal Beach enclave flanks the serene Sunset Lake, offering an idyllic walk to the shimmering white beach. Limited to a dozen holiday homes, guests of Kokomo Kove are promised an intimate experience of luxury and privacy. The Coastal Dune Lake nearby is nature's masterpiece, teeming with diverse wildlife. From two-story residences to sprawling three-story homes, each offers lavish furnishings, and most feature their very own private pools and picturesque lake-view patios.
Additionally, Crystal Beach is home to fourteen other mesmerizing Ocean Reef Resorts vacation homes, ranging from snug cottages to majestic mansions. With architectural brilliance spanning classic Mediterranean, Greek Revival, Victorian, and timeless Old Florida designs, there's a home for every dreamer. Whether you're a group of ten or a grand party of twenty-three, every Crystal Beach home promises proximity to the enchanting shore with many offering private pools and some even indulgent hot tubs to melt your worries away.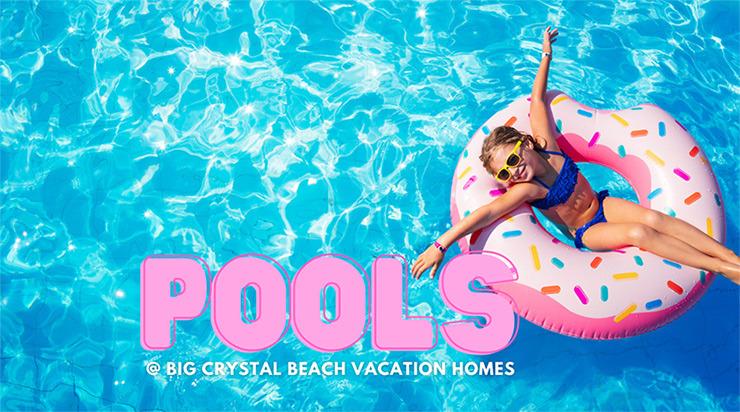 hese large spacious homes in Destin's Crystal Beach are very close to the sugary shore and come with a beautiful bonus …they all have their own private swimming pools! Here is a brief look at each of these Crystal Beach vacation rentals, presented from largest to smallest.
Nestled along the pristine coastline of the Gulf, where mornings are marked by the rhythmic serenade of waves, lies the picturesque community of Crystal Beach. Within its bounds, our premier condominiums stand ready to embrace guests seeking the quintessential beach getaway. From the intimate charm of the Coral Reef Club, the opulent allure of Crystal Dunes, to the vibrant heartbeat of the Grand Caribbean, our offerings in Crystal Beach are diverse and exceptional. As we delve deeper into each property's unique experience, envision more than just a stay; anticipate a harmonious blend of luxury, comfort, and nature's undisturbed beauty. Allow us to guide you through each enchanting corner of our Crystal Beach condominiums, where every location promises a story waiting to be written. Welcome to your coastal sanctuary.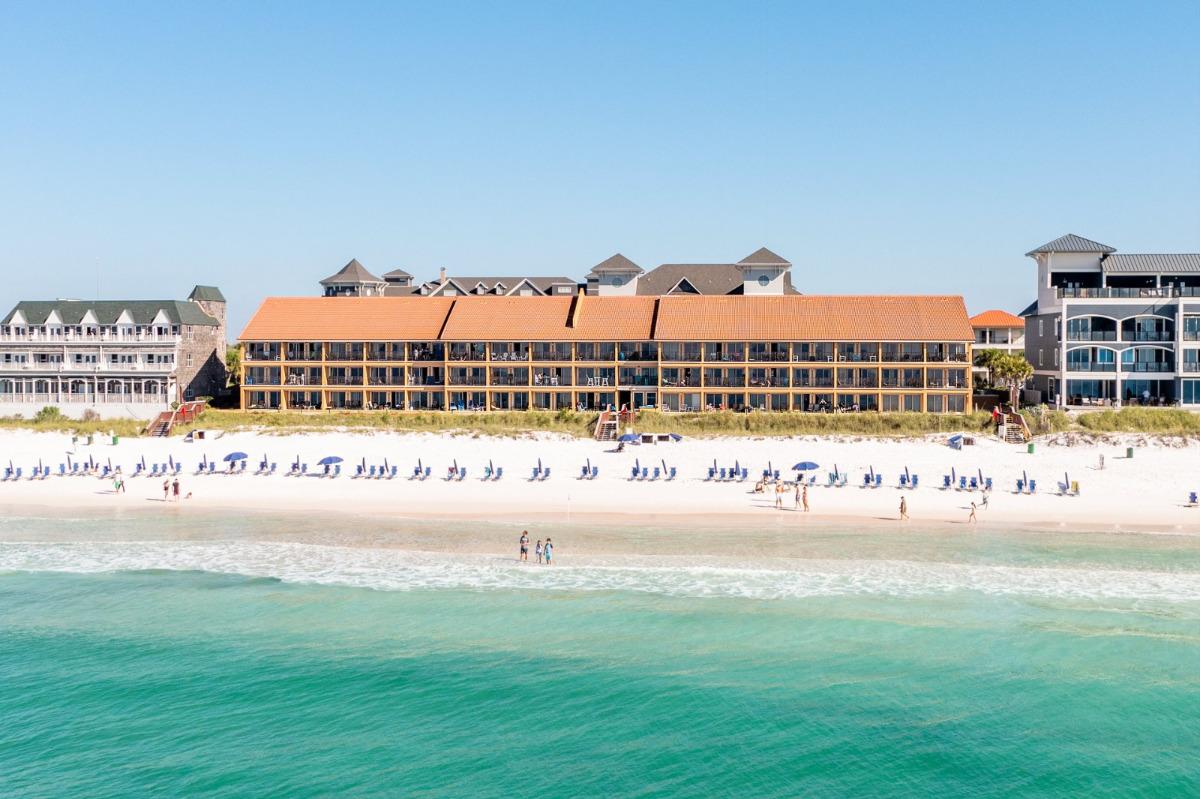 Elegantly standing three stories tall, Coral Reef Club is a beachfront condominium housing single-level one-bedroom condos that offer ground-floor patios or upper-level balconies, giving guests an uninterrupted view of the magnificent Gulf. Perfect for a small family retreat, these Crystal Beach condos can comfortably host up to six guests using convenient bunk beds and queen-sized sleeper sofas. Beyond the allure of the sandy shores, there's a lagoon-shaped swimming pool, seasonally heated to ensure comfort, complemented by an outdoor grill area and a classic shuffleboard court.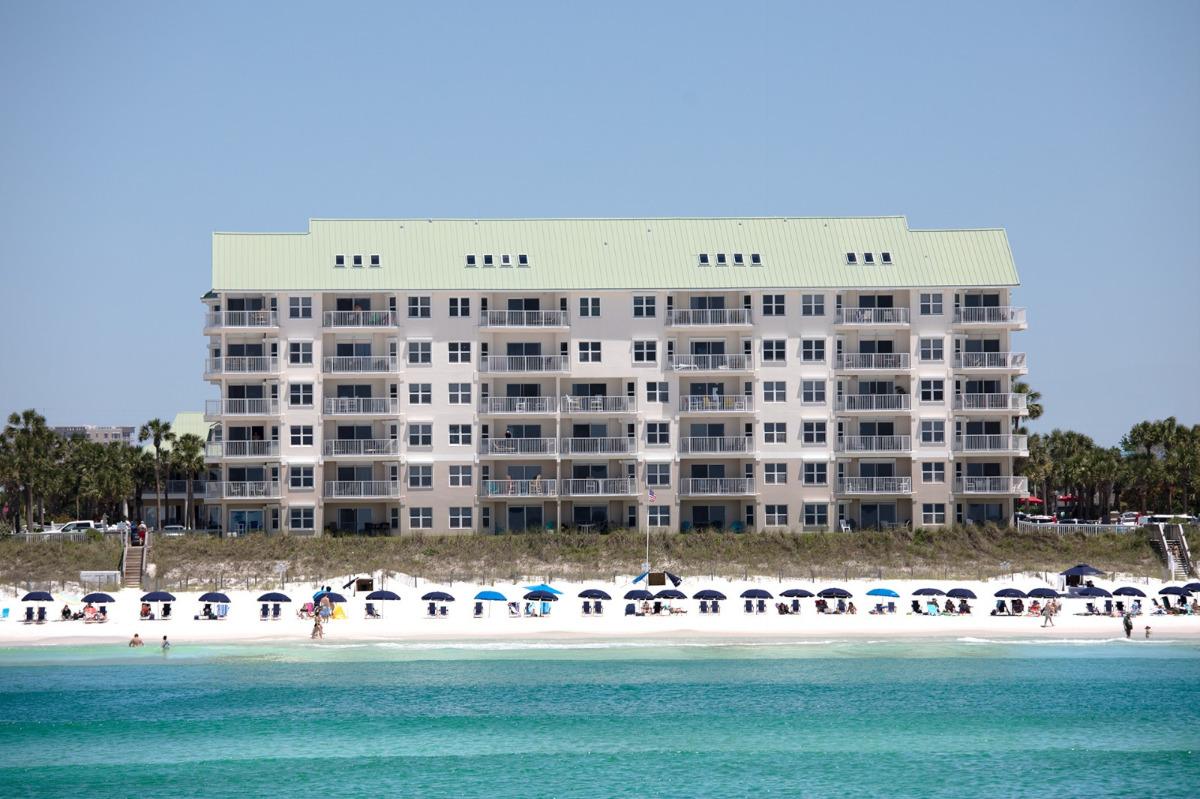 This is luxury personified. Standing tall behind its exclusive gates, this six-story beachfront Crystal Beach building is surrounded by lush palm trees and offers a breathtaking view of the Gulf. The three-bedroom properties, adorned with chic coastal furnishings, can provide a tranquil escape for up to ten guests. Adding to its opulence, Crystal Dunes Destin boasts a tropically-themed patio complete with a lagoon-shaped pool, a soothing hot tub, and a dedicated grill area.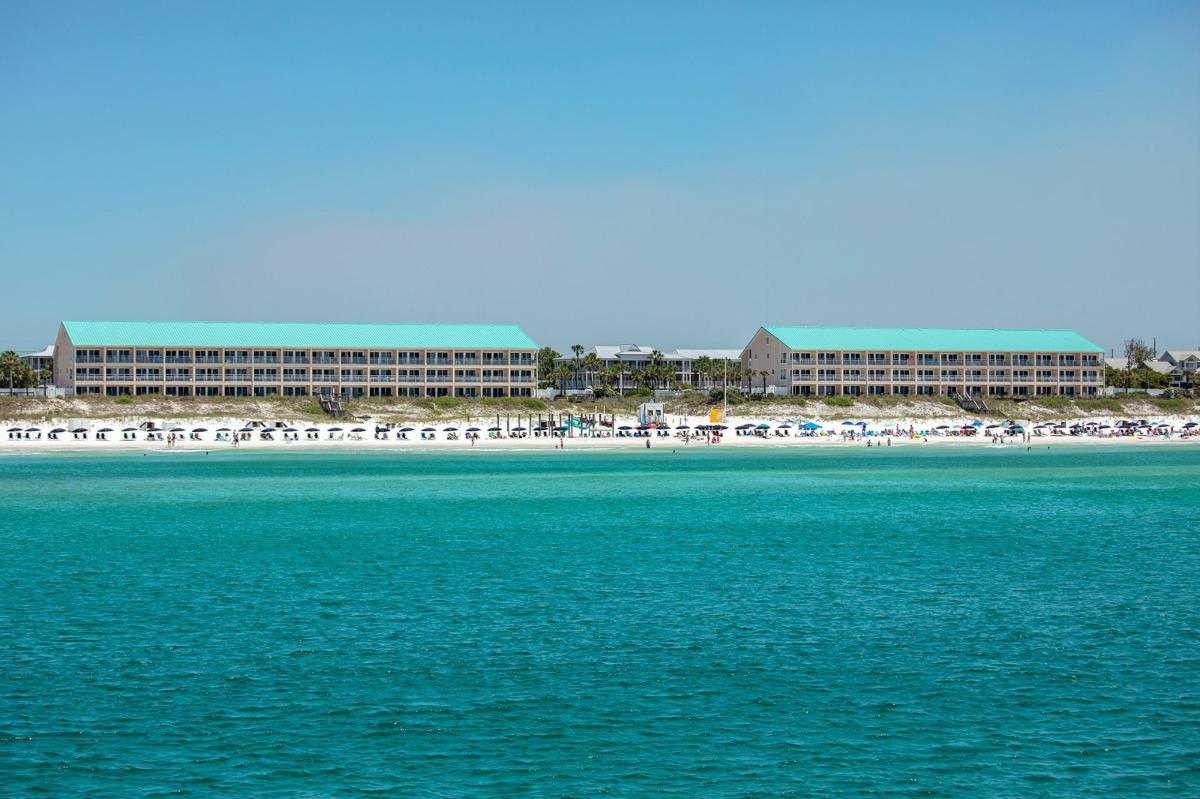 These dual three-story Crystal Beach buildings stand as sentinels overlooking a wide stretch of shoreline, with choices ranging from one to two-bedroom accommodations. While one-bedroom rentals on a single level can host six guests, the two-bedroom properties spanning two levels can welcome eight to ten sun-chasers. All units at Crystal Sands offer sweeping Gulf-front views from their balconies or patios. For added luxury, there's a seasonally heated pool and a dedicated grill area facing the azure waters.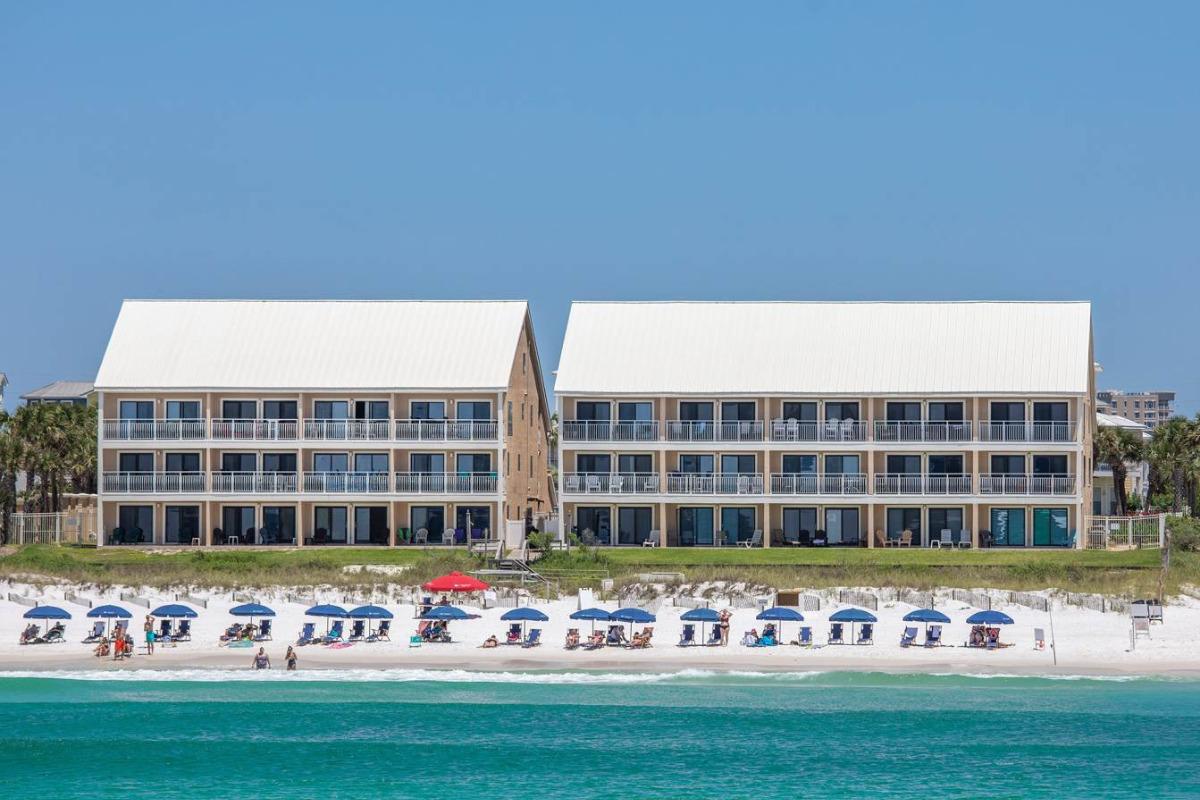 This Crystal Beach condo community consists of twin beachfront buildings, both three stories tall, offering a range of one to three-bedroom vacation rentals. Depending on the unit, they can comfortably sleep between six to ten beach enthusiasts. Facilities at Crystal Villas include a welcoming swimming pool, a convenient grill area, and direct access to the sandy shoreline, complete with complimentary seasonal beach service to ensure your comfort.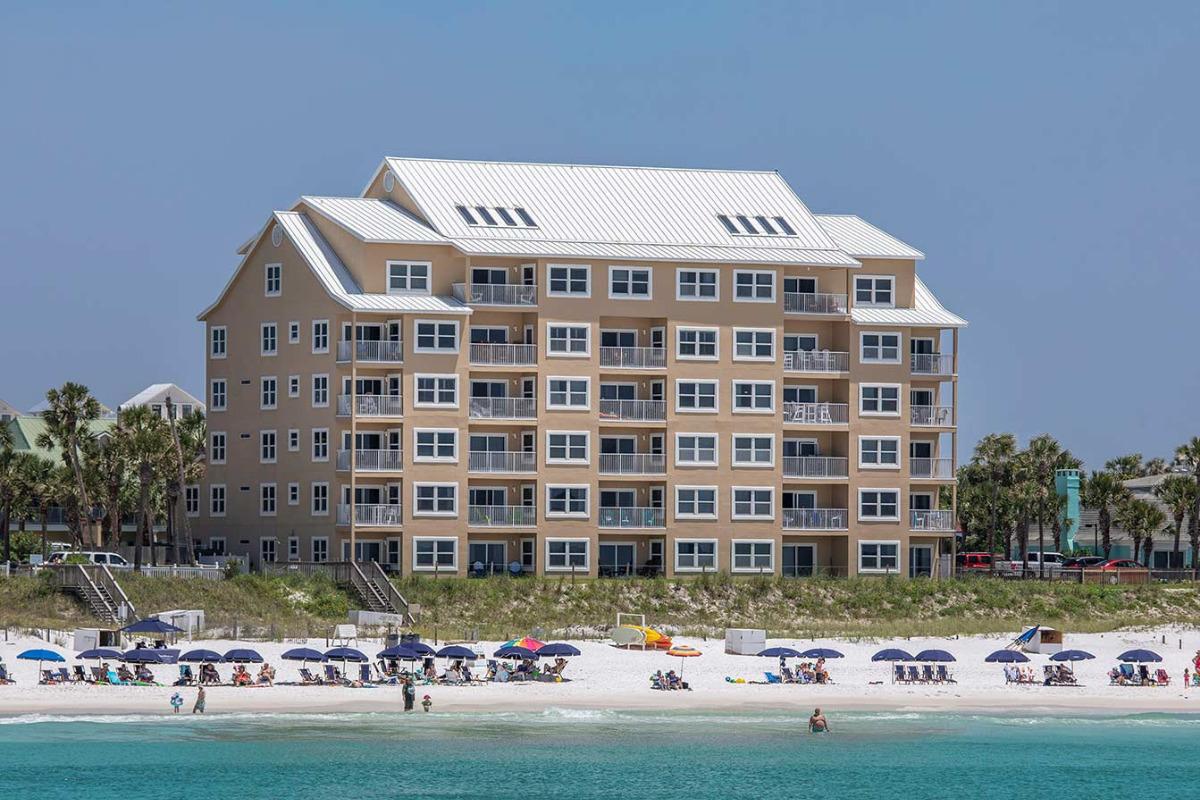 Majestically standing beachfront on a dune, this six-story building gazes over the emerald shades of the Gulf. Boasting tastefully furnished two and three-bedroom vacation rentals, Emerald Dunes can comfortably house between six to eight guests. Its strategic Crystal Beach location near Henderson Beach State Park promises miles of untouched shoreline. Amenities include a private beach, a seasonally heated pool, a hot tub, and a gas grill area for memorable cookouts.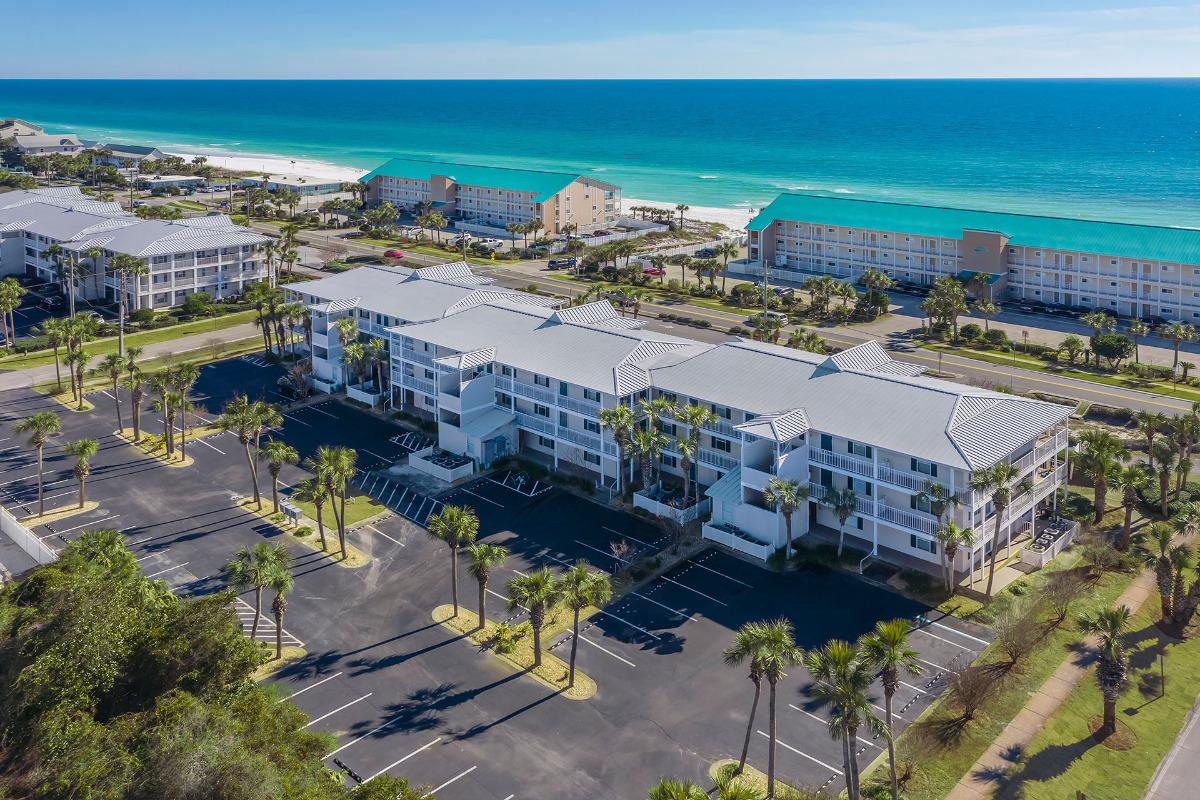 Merely a breath away from the glimmering Crystal Beach shoreline, this three-story architectural beauty houses well-appointed one-bedroom vacation rentals that can comfortably accommodate up to six guests. The upper floors of Grand Caribbean come with breezy balconies offering tantalizing glimpses of the Gulf. The palm-fringed surroundings are home to a gated, seasonally heated swimming pool, a comforting hot tub, and a grill area.
Townhomes at Crystal Beach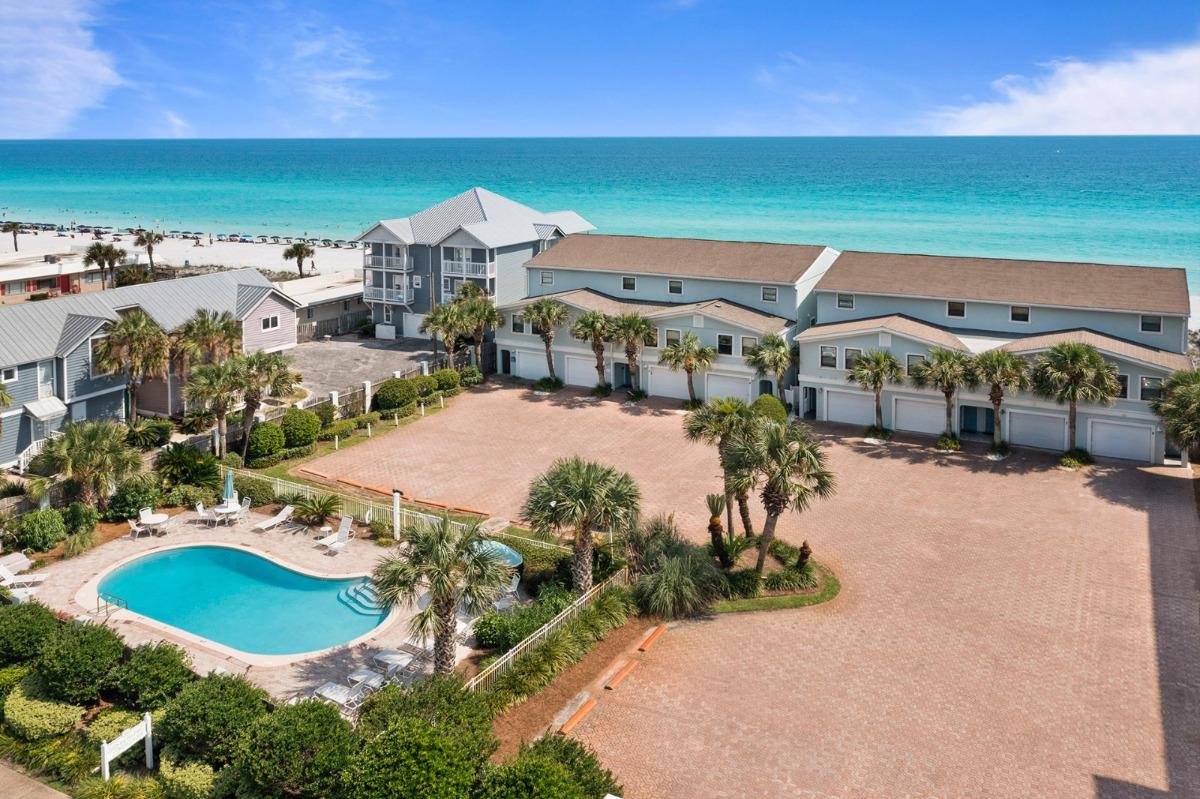 Exclusivity is the hallmark here. With only eight properties in this Gulf-facing community, it promises unparalleled luxury and privacy. These spacious Townhomes at Crystal Beach sprawl across three levels, boasting four bedrooms each, and can accommodate up to twelve lucky beachgoers. Every vacation rental offers two furnished upper-floor balconies and a lower-level veranda opening to a sun deck that gazes upon the mesmerizing Gulf waters. Complimentary seasonal beach service and a seasonally heated swimming pool complete this paradisaical offering.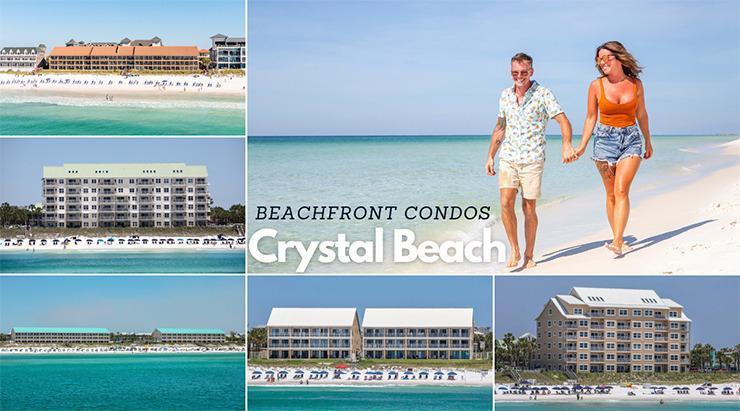 Ocean Reef Resorts is delighted to showcase a collection of exquisite, privately-owned beachfront condos in prime destinations in Crystal Beach, lining Scenic 98 in Destin.
Crystal Beach with Ocean Reef
In the embrace of Crystal Beach's sunlit shores and the rhythm of its waves, every moment becomes a cherished memory. Through the tapestry of our luxurious Crystal Beach homes and condos, Ocean Reef Resorts invites you to weave your own stories, bathed in the golden hues of sunsets and the soft whispers of sea breezes. But memories and experiences like these await your action. Dive deep into the myriad offerings of Crystal Beach, where dreams resonate with reality, and the horizon beckons with endless possibilities. Don't just dream about this paradise; make it a reality. Reserve your spot online today, and let the sands of time craft unforgettable tales for you at Crystal Beach. Welcome, where the Gulf meets your soul – and your next unforgettable journey begins.