Posted on 7/7/2023
Looking for an exceptional spot for your romantic getaway or a cozy family retreat? Allow us to introduce Bahia, Sandestin's best-kept secret. Nestled amidst the world-class Sandestin Golf & Beach Resort, this hidden treasure is a contemporary luxury residential tower and is only a short stroll away from the charming Village of Baytowne Wharf.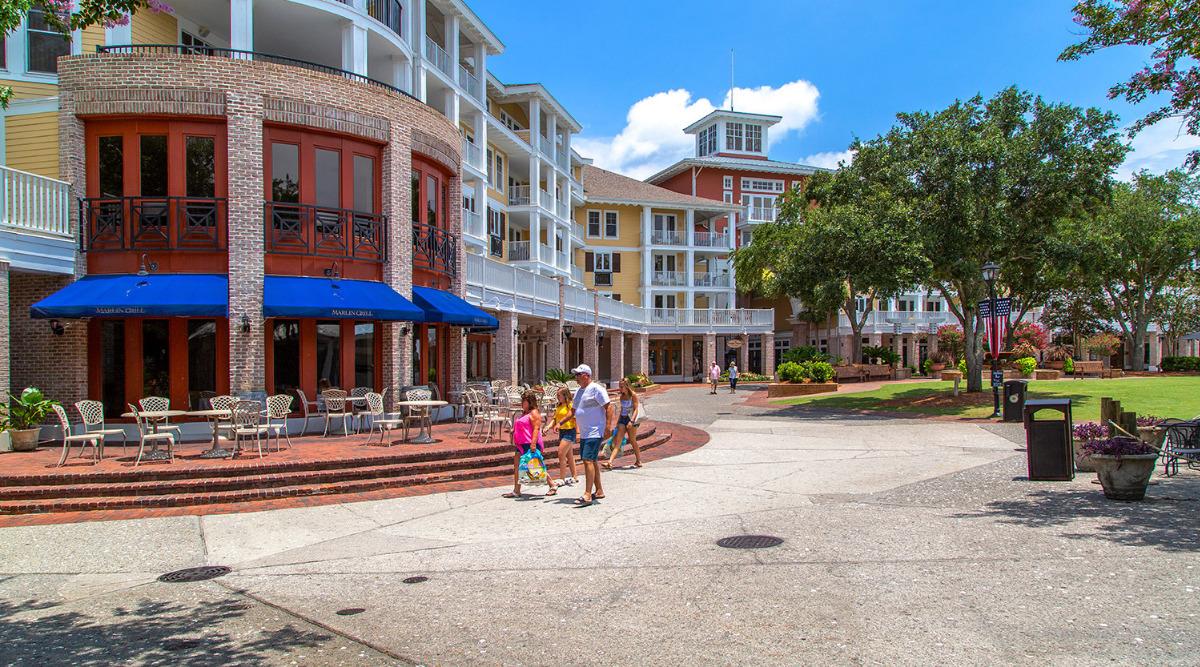 Imagine staying right in the heart of a picturesque village, an architectural nod to the French Quarter of New Orleans. With a partially forested lagoon as its backdrop and a wharf offering breathtaking sunsets over the bay, the Village of Baytowne Wharf is truly a feast for the senses. Vibrant festivals, delightful restaurants, lively bars, and unique amusements fill your days and nights with endless entertainment.
Just minutes away, Sandestin's swank town center, Grand Boulevard, awaits you. Stroll down the boulevard adorned with towering Royal Palm trees, dine at friendly bars and top-tier restaurants, or indulge in a little retail therapy at fashion boutiques, fine clothiers, and art galleries. And if you're a movie buff, the state-of-the-art Multiplex Theater promises an unforgettable cinematic experience.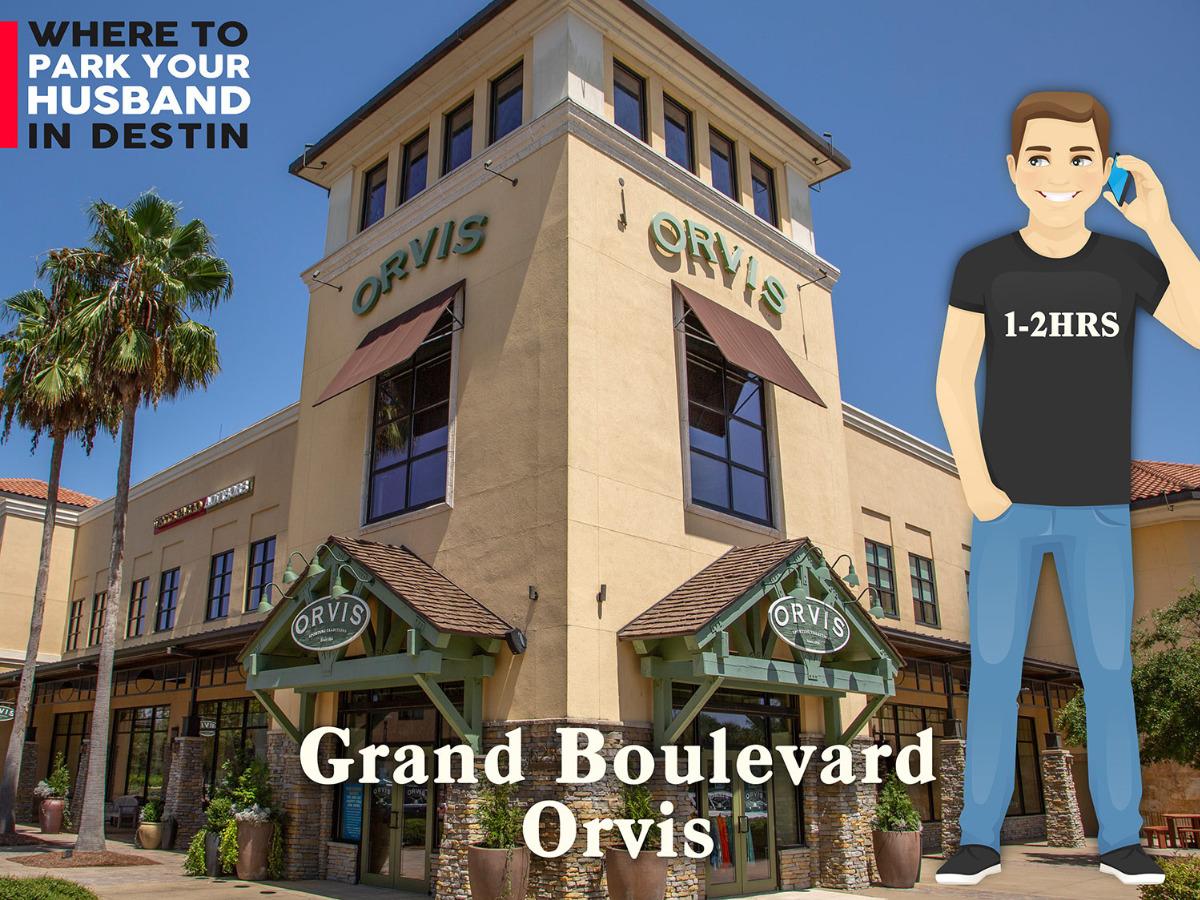 Looking for the perfect "man-cation" spots in Destin while you enjoy your shopping spree? Dive into our latest blog post, "Where To Park Your Husband In Destin," and discover an array of activities, from outdoor adventures at BassPro Shops to the bustling Destin Harbor, that will keep your better half entertained. .
But that's not all. A complimentary beach tram can whisk you across the lush resort grounds from Bahia to the pristine shoreline in a heartbeat, adding a dash of adventure to your stay.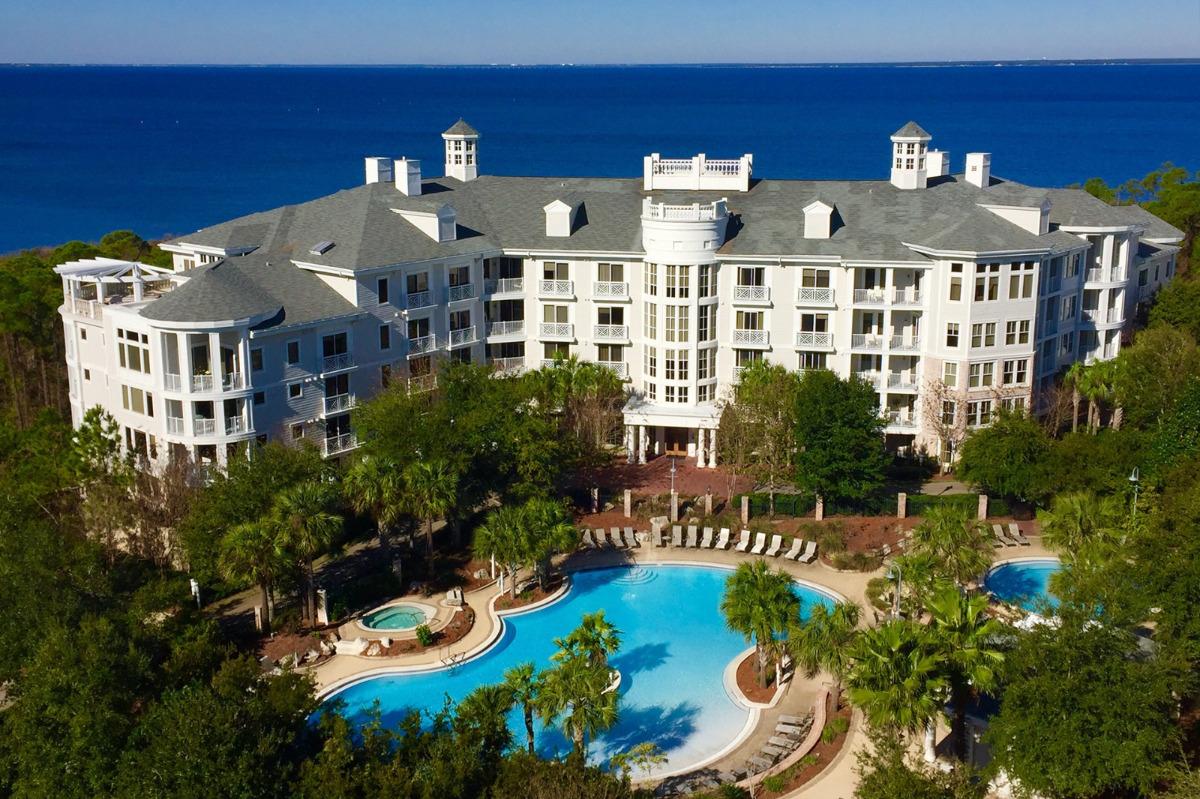 Bahia's regal, Americana-styled, five-story residential building is your haven of comfort and luxury. The cream-colored exteriors evoke the charm of a seaside hotel from the late 1800s, while the interiors brim with 21st Century comforts. Whether you're a couple seeking a romantic escape or a small family on vacation, the beautifully furnished studio and one-bedroom vacation rentals, complete with queen-size sleeper sofas, offer an inviting, cozy space.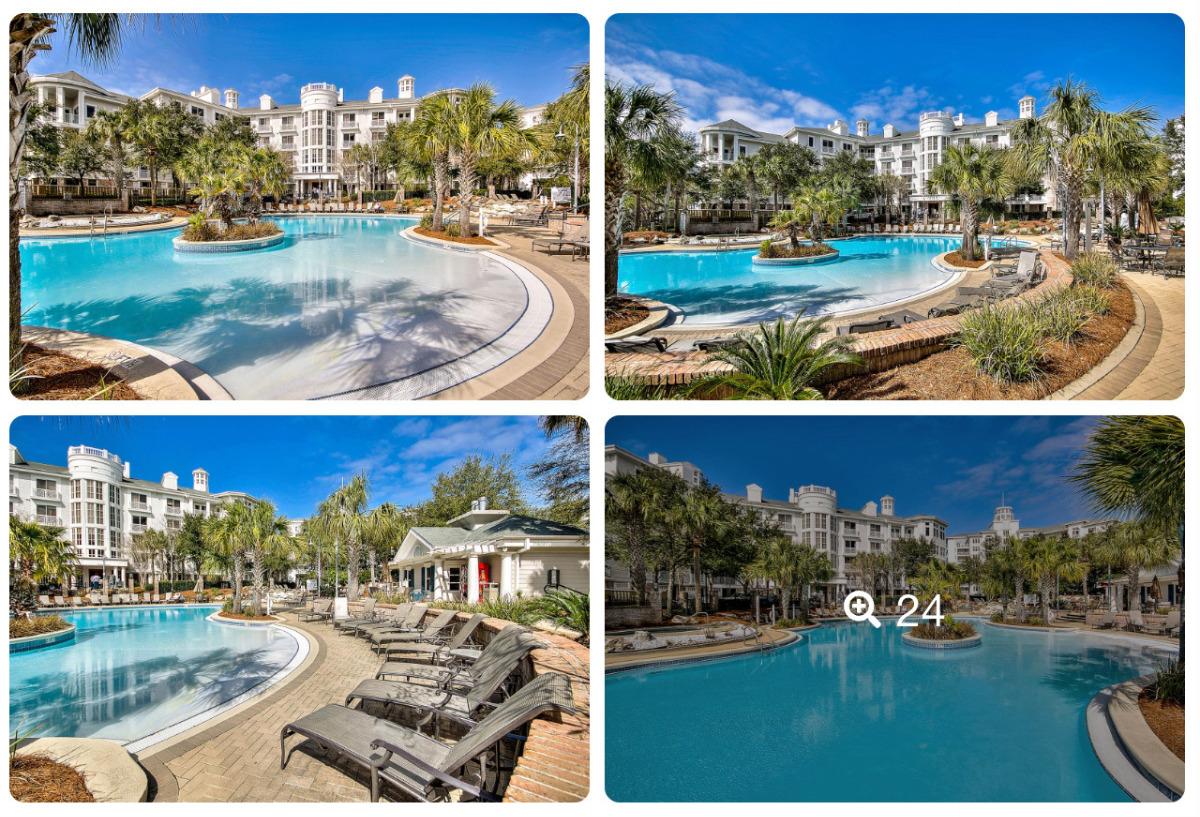 The Bahia experience is more than just a stay—it's a luxurious lifestyle. Bask in the sun on the spacious patio by the lovely lagoon-shaped pool, or unwind in the secluded hot tub. There's also a lovely round-wading pool just for the kids.
Let's delve into the three fabulous vacation rental residences that Ocean Reef Resorts offers at Bahia:
1 Bedroom / 1 Bathroom / 4 Guests
Bahia 4329 is more than just a residence - it's a dreamy coastal retreat. As you enter, natural light streams through a wall of windows, casting a warm, inviting glow over everything. The decor is distinctly upscale coastal, a sophisticated blend of comfort and style. The open living area invites relaxation with a white, slip-covered couch and two high-backed cushioned chairs facing a large flat-screen TV for your entertainment.
Adjacent to this is the dining area with a honey-toned hardwood table, around which six charming white cottage-style chairs are placed. A unique, straw-woven light fixture adds an air of seaside whimsy. Beyond this, step out onto the breezy balcony through sliding glass doors. Outfitted with tropical straw chairs and a table, it's the perfect spot to enjoy your morning coffee or a nightcap, all while taking in the breathtaking bay views.
Cooking enthusiasts will love the stylish kitchen, where sleek black appliances contrast beautifully with the wallpaper adorned with dark palm frond pattern silhouettes. From pre-dinner appetizers to midnight snacks, this kitchen has you covered.
Don't miss out on this beauty! From the moment you walk in you'll just be in awe of this amazing place. It's so peaceful & relaxing. It was a perfect little getaway for me to take some time alone. I definitely will be back to stay here.
Bahia 4329 Review from Tonja A. - Blountstown, FL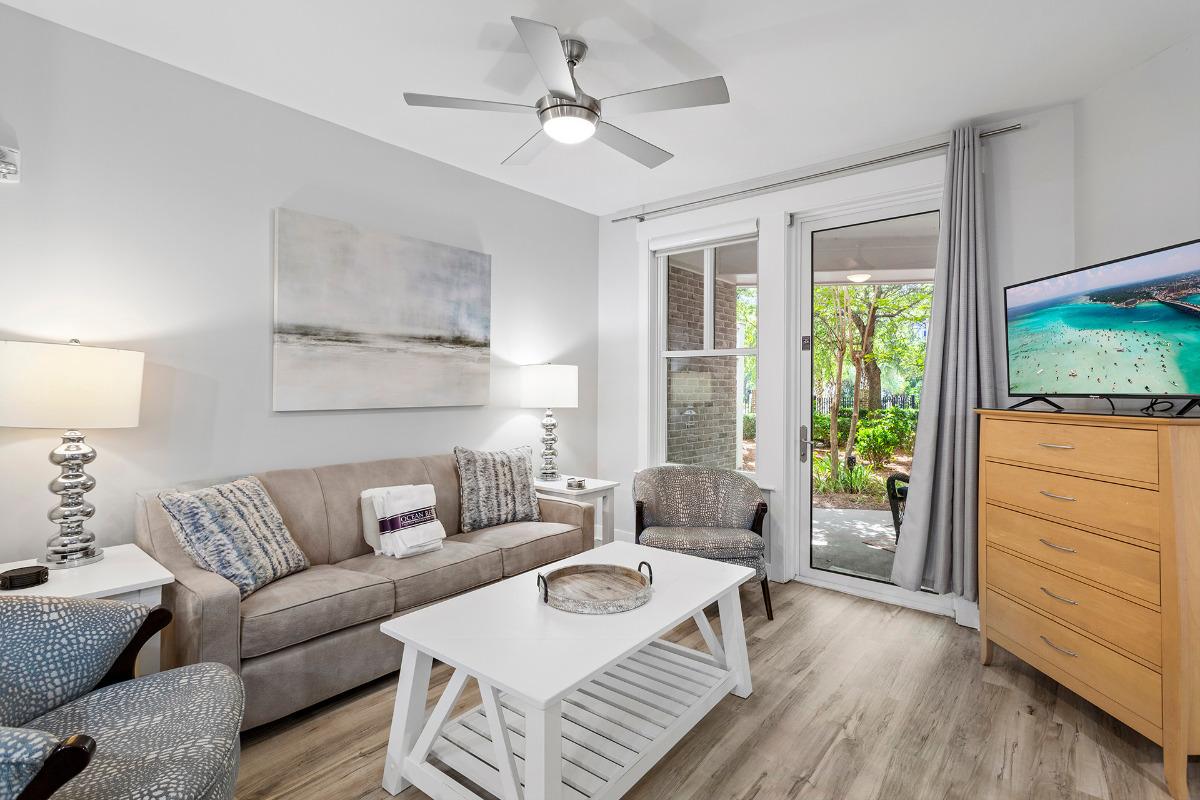 1 Bedroom / 1 Bathroom / 4 Guests
Bahia 4109 charms you with its comforting and chic appeal. The living area is adorned with a plush tan couch beneath an abstract painting of a misty seascape, flanked by stylish armchairs, offering a perfect spot to unwind. The ensemble circles around a beachy white cocktail table facing a flat-screen TV mounted on a hardwood cabinet. Perfect for those relaxing nights in.
Step through the sliding glass doors onto the covered patio. With two wicker chairs facing the tranquil garden area, it's an ideal spot for quiet moments or intimate conversations. The kitchen is another highlight, featuring handsome black appliances set against golden hardwood cabinetry. It's more than equipped for those fun nights when you decide to dine in.
Plenty to do shops restaurants and entertainment. Great location, close to the pool, short walk to Baytowne Wharf.
Bahia 4109 Review from Mike B. - Celina, OH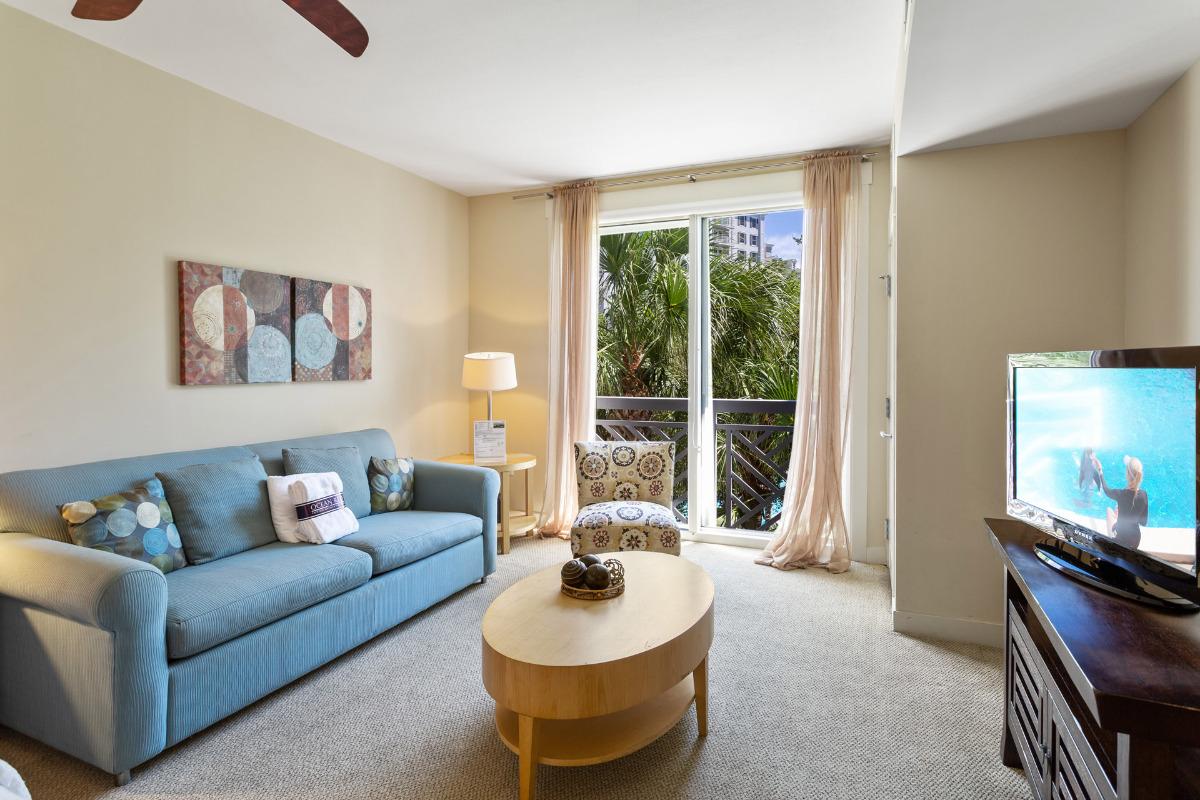 Studio / 1 Bathroom / 4 Guests
Bahia 4311 embodies the intimacy of a boutique hotel suite with all the conveniences of modern living. The open studio features a queen-sized bed facing a large flat-screen TV, perfect for those cozy nights in. The living area boasts a sky-blue couch that doubles as a queen-size sleeper sofa and a retro-patterned accent chair, creating an inviting and comfortable space.
The elegance continues in the stylish bath, with a suspended vanity with a raised white porcelain sink and a tub-shower combination with ceramic tile adornment. Adjacent to this is the kitchenette, with sleek granite countertops, golden custom cabinetry, a small refrigerator, and a wet bar. This suite allows for intimate in-room entertainment, whether sipping on your favorite drinks or enjoying a light meal before exploring the village.
This is the second year in a row that we have stayed in this particular property. It is so close to beaches, shopping and dining. The pool was conveniently located and Baytowne was within walking distance. Checking in and out was easily completed on our phone. We will be staying her again.
Bahia 4311 Review from Michelle P. - Brentwood, TN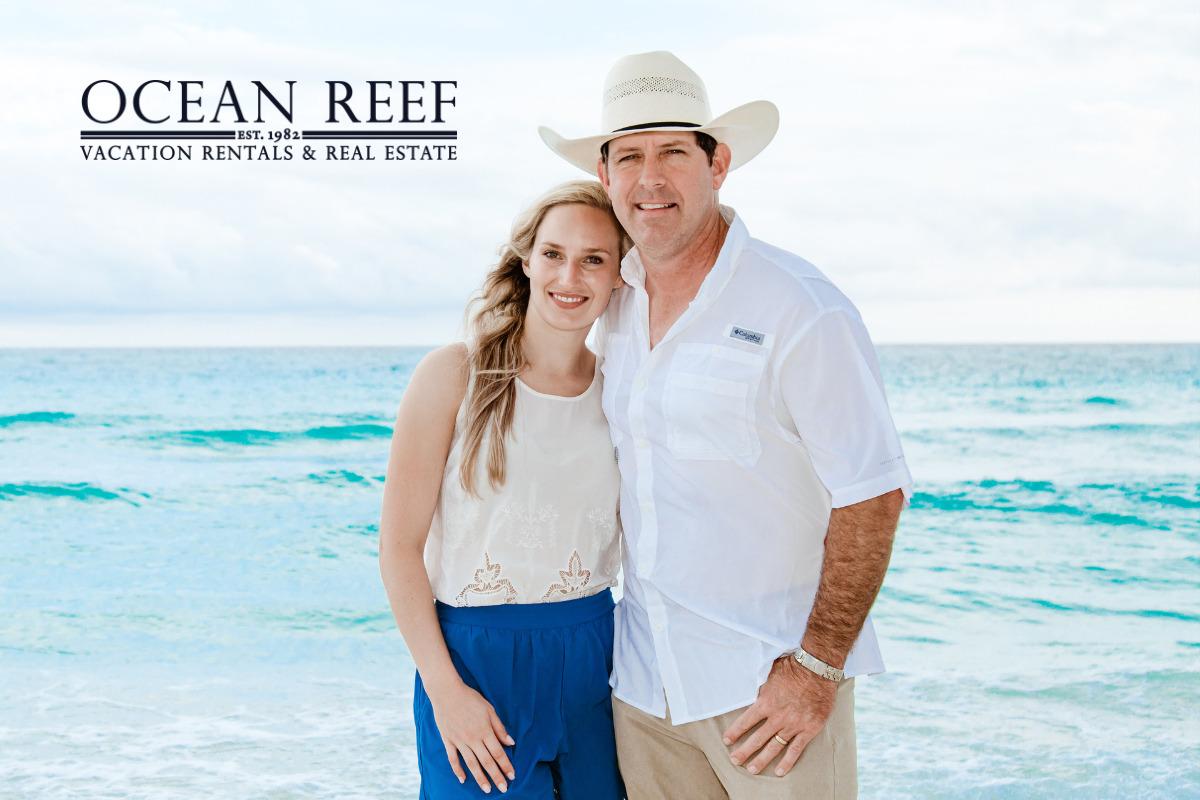 Ready to escape to your dream vacation? Browse through the stunning images, detailed descriptions, and check the availability of these exceptional vacation rentals here on the Ocean Reef Resorts website today. Don't just dream it; live it - these sumptuous retreats are a click away, waiting to transport you into a world of relaxation, adventure, and unforgettable memories. Hurry, your perfect Bahia stay is only available until someone else discovers Sandestin's best-kept secret!