Posted on 11/14/2023
South Walton's Scenic Highway 30A isn't just a destination; it's an experience brimming with adventures. From the thrill of surfing and paddleboarding to the tranquility of sunbathing on pristine beaches, 30A offers an array of activities to delight every visitor. Biking along nature trails, kayaking through serene waters, hiking amidst lush landscapes, and fishing in the abundant waters are just the beginning. And for those seeking an unforgettable underwater adventure, scuba diving is a standout experience. Dive into the jewel-toned waters of 30A, where crystal sands and diverse marine wildlife create an underwater spectacle not to be missed.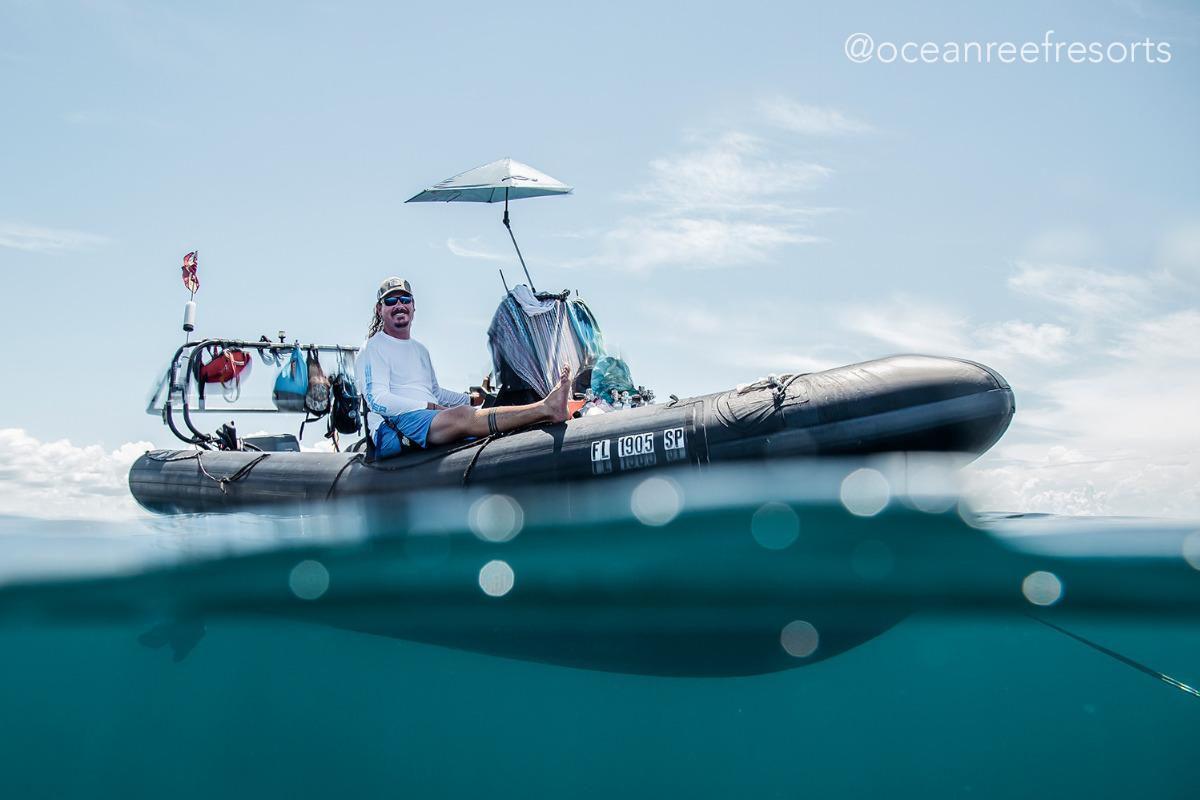 So, what's it like scuba diving on 30A? We sat down with local diver Walt Hartley, owner of Dive30A in Grayton Beach, to get the underwater details!
Hartley grew up on 30A and has been diving our local waters for 20 years. When Hartley first moved to Seagrove as a kid, he wasn't immediately sold on the long stretches of beach and salty water. It wasn't long, however, before he found an old beat-up surfboard and discovered a world of possibilities among the waves. Hartley earned his diver certification at 12 years old and has since been fortunate enough to dive all over the world.
Despite diving in incredible locations across the globe, this little spot in the Florida Panhandle will always be special to Hartley. With the Gulf of Mexico to the south and amazing freshwater springs and intricate underwater cave systems to the north, Northwest Florida boasts an incredible variety of ecosystems. For Hartley, this is what makes this little slice of paradise truly exceptional.
In addition to owning Dive30A, Hartley is also a member of the South Walton Artificial Reef Association (SWARA) board. SWARA focuses on marine conservation and education in part by developing and maintaining "an extensive artificial reef system offering divers, snorkelers, fishermen, and researchers near-shore access to a thriving ecosystem." With all of his experience as a diver, business owner, and SWARA board member, it's safe to say that Hartley is a bit of an expert when it comes to diving on the coast!
We were lucky to get a peek into his extensive knowledge during a recent interview, so read on to learn everything you could ever want to know about diving on 30A.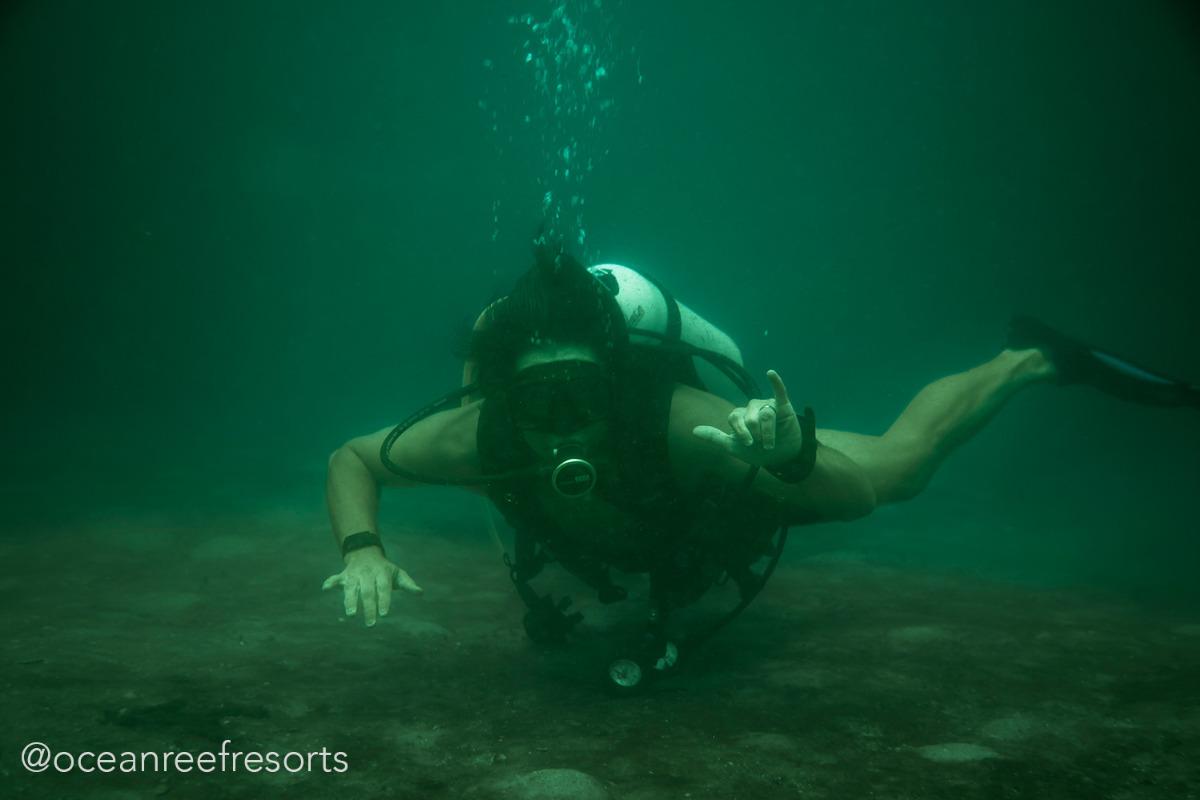 The underwater landscape along 30A offers a variety of structures to explore for divers. This includes both the natural landscape and ecosystem, as well as artificial reefs and statues. According to Hartley, when talking about the natural reefs and hard bottom, we're looking at large swathes of exposed limestone on the seabed. The limestone is like Swiss cheese with all the holes, nooks, and crannies. There are also long cracks, fissures, and even ledges and moderate overhangs. While not quite like the Keys or the Caribbean where you're swimming through coral canyon, these spots still hold a wide variety of diverse marine life.
When it comes to artificial reefs, there are those that were implemented 15-20+ years ago, and more recent structures developed by SWARA. The older structures include chicken coops, small sailboats, the Walton Hopper Barge, and various concrete material like old culverts, bridge joists, and other rubble.
The SWARA reefs are newer. Approximately 700 artificial reef structures at 16 sites along the Emerald Coast have been deployed since 2015. Snorkel reefs sit about 10-20 feet beneath the surface, and typically include eco-towers made of concrete and limestone disc shelves attached to a fiberglass pylon that is jetted into the sand. Fish and dive reefs are located at a depth of 60+ feet. These reefs include a few main structures. For example, there are grouper boxes with eco-towers/disc shelves on top. There are also tetrahedrons and/or "FLA Special" that is an 8-foot tall, 3-sided pyramid with windows on the side, plus a recessed turtle escape on the top. "Super Reefs" and/or "Super Pyramids" are the same as the tetrahedrons/FLA Special, but at a much larger scale at 25-feet tall.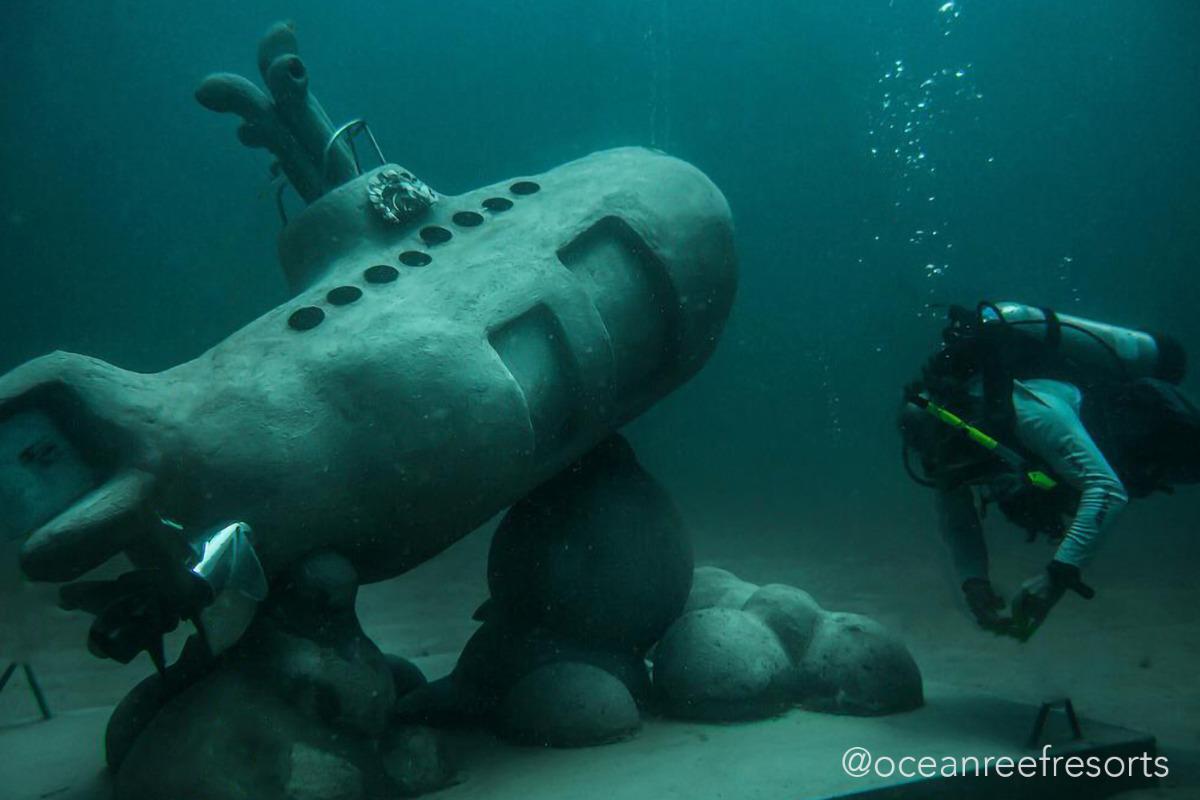 The Underwater Museum of Art (UMA) is a permanent underwater sculpture gallery about a mile off the coast of Grayton Beach. There are currently 40 sculptures hidden beneath the blue-green waves. Artists from around the world create these incredible works of art, and new jury-selected pieces are installed each year.
When asked about the UMA, Hartley mentioned that each sculpture becomes a new, permanent marine habitat over time. He went into detail, saying:
The structures offer a surface out of the sand for basic marine growth, which in turn provides food for various invertebrates and smaller fish, as well as a shelter and protection, gradually attracting larger fish that feed on the smaller fish, and so forth. It's been incredible to watch how particular species are attracted to particular sculptures, perhaps for their shape or texture. We regularly see all kinds of colorful reef fish, game species like snapper and grouper, plus sharks, sea turtles, lobster, and even octopus at different times of year!
When it comes to diving at the UMA, Hartley stated that it is a really unique and special dive. The art is amazing to see, and some even have interactive features. For example, there is a genie's lamp that you can blow bubbles out of, making it look like the genie is coming out. There is also a whale rib cage you can swim through. Awesome photo ops abound—you just have to your favorite sculptures.
Between the natural landscape, artificial reef structures, and unique variety of underwater statues, there is certainly a lot to explore on the coast!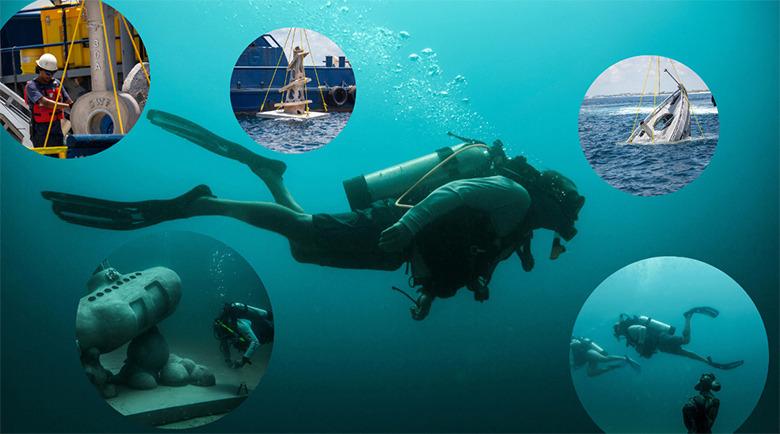 Every year, the CAA and SWARA select a variety of sculpture designs from artists around the world to be added to the underwater museum. These sculptures not only show off the amazing talent of artists worldwide, but also ...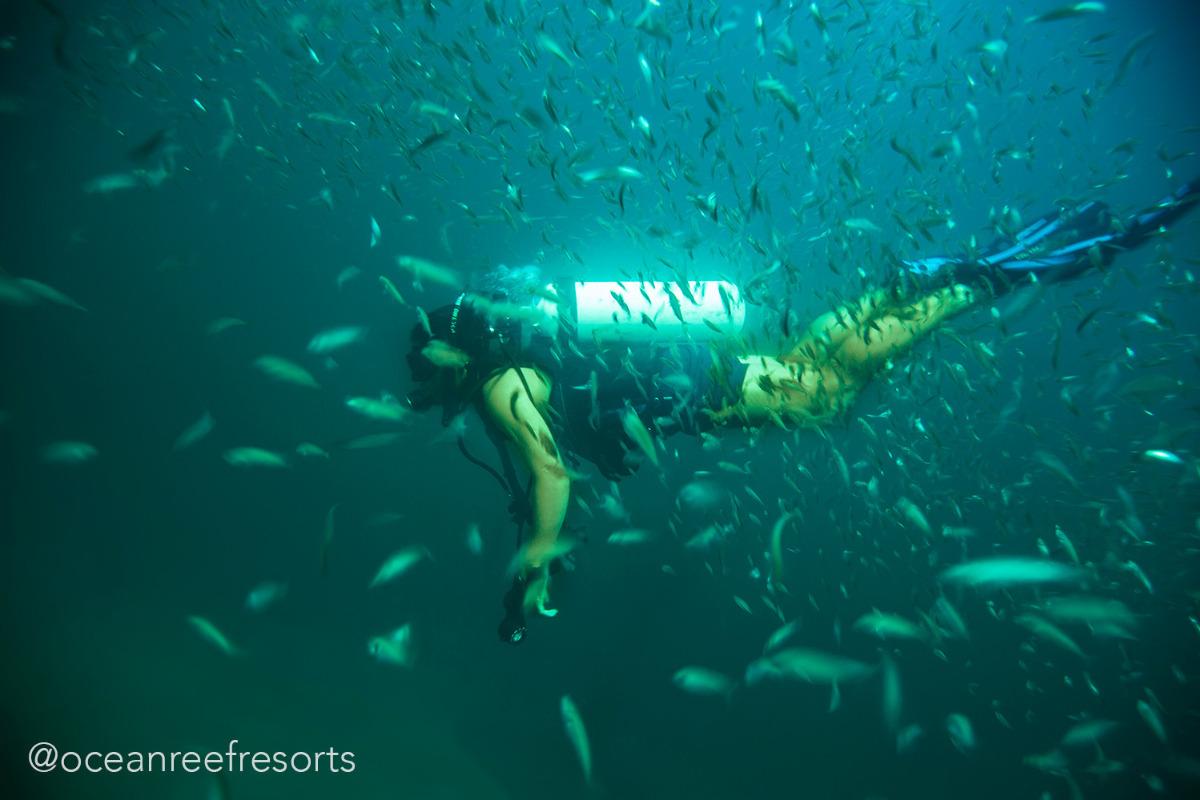 If you're interested in diving on 30A, it's important to know that best time to visit for the ultimate dive experience! Fortunately, here in the northern Gulf diving is a year-round activity, as long as you have the proper exposure protection, such as a wet-suit.
Water temperatures on the Gulf Coast do fluctuate throughout the seasons. They can get into the mid-80s during the summer, even at the bottom. In the winter, temperatures can dip into the high 50s and low 60s. Hartley personally prefers not to dive in the Gulf in January and February because the air temperatures are cold, making the experience a little less enjoyable. However, that's not to say there aren't any divers go out in the winter.
If you're looking for the optimal dive conditions in the Gulf, though, Hartley says summer through fall are the best times to go. At this time, divers on the coast "enjoy great visibility, relatively calm conditions, and very comfortable water temps." While winter and spring are certainly doable, the weather tends to fluctuate a bit more. The local marine life seems to be the most active and abundant when the water is on the warmer side, as well.
While summer and fall might be the best time of year to dive, we also wanted to know the best time of day to dive. So, of course, we were sure to ask our dive expert! According to Hartley, earlier in the day is typically better. The wind usually kicks up in the afternoon, often worsening the sea conditions, making the waters choppy, and adding a wind-driven surface current. All in all, it's usually calmer in the mornings—but always be sure to check the weather for the days you plan to dive, just in case!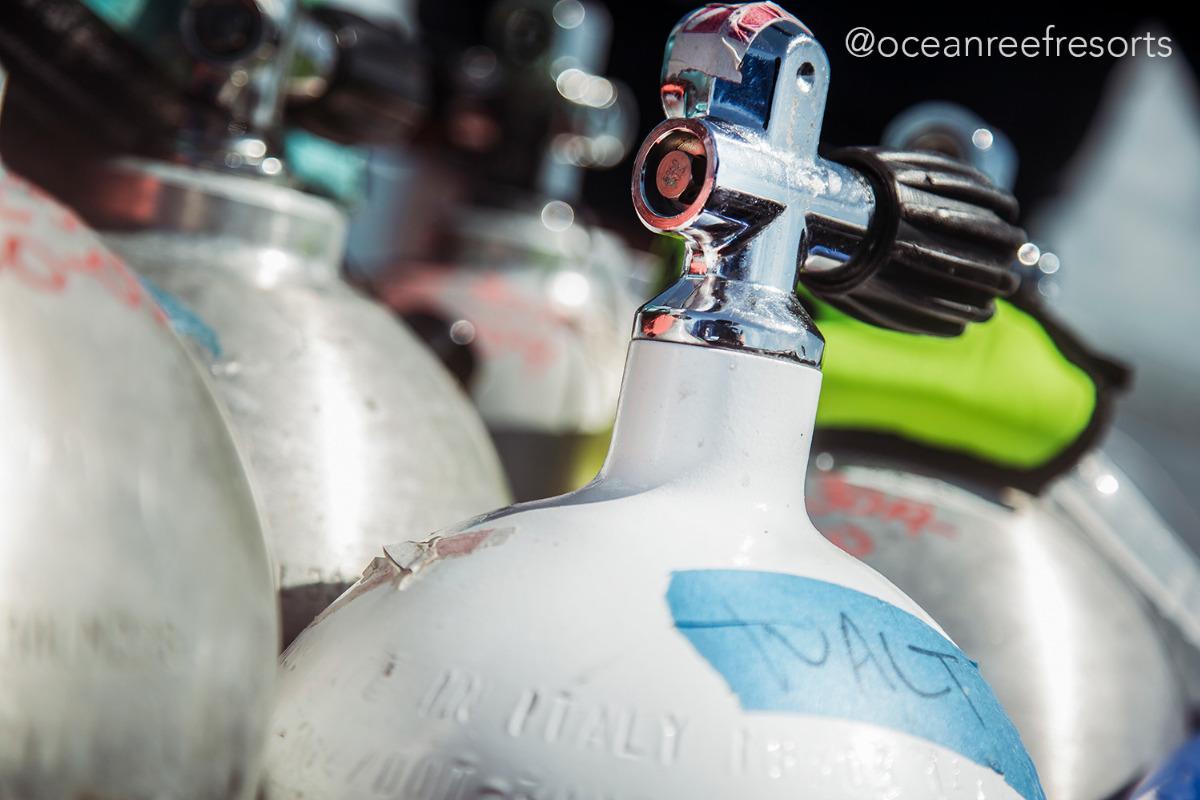 If you're going to dive on 30A, it's always good to be aware of any safety considerations to ensure a fun and safe experience. 30A is a safe place to dive, and folks have been diving here for decades. But, as Hartley told us, there are certain factors to consider to maintain safe and responsible diving practices: "Weather and sea conditions can change very quickly here. And unless you're coming from Destin or Panama City Beach, we don't really have the luxury of running larger boats that can stand up to rougher conditions. It's really important to know the marine forecast and have the necessary gear and experience to deal with the conditions you're going out in, or may encounter."
All that said, 30A still provides some incredible diving days. Hartley said, "When it's sunny, flat, calm, glassy with just a light breeze, and the water is super clear…those are the days we dream of! Sometimes we can see the bottom 60-70 feet down from the surface. If that's not great visibility, I don't know what is!"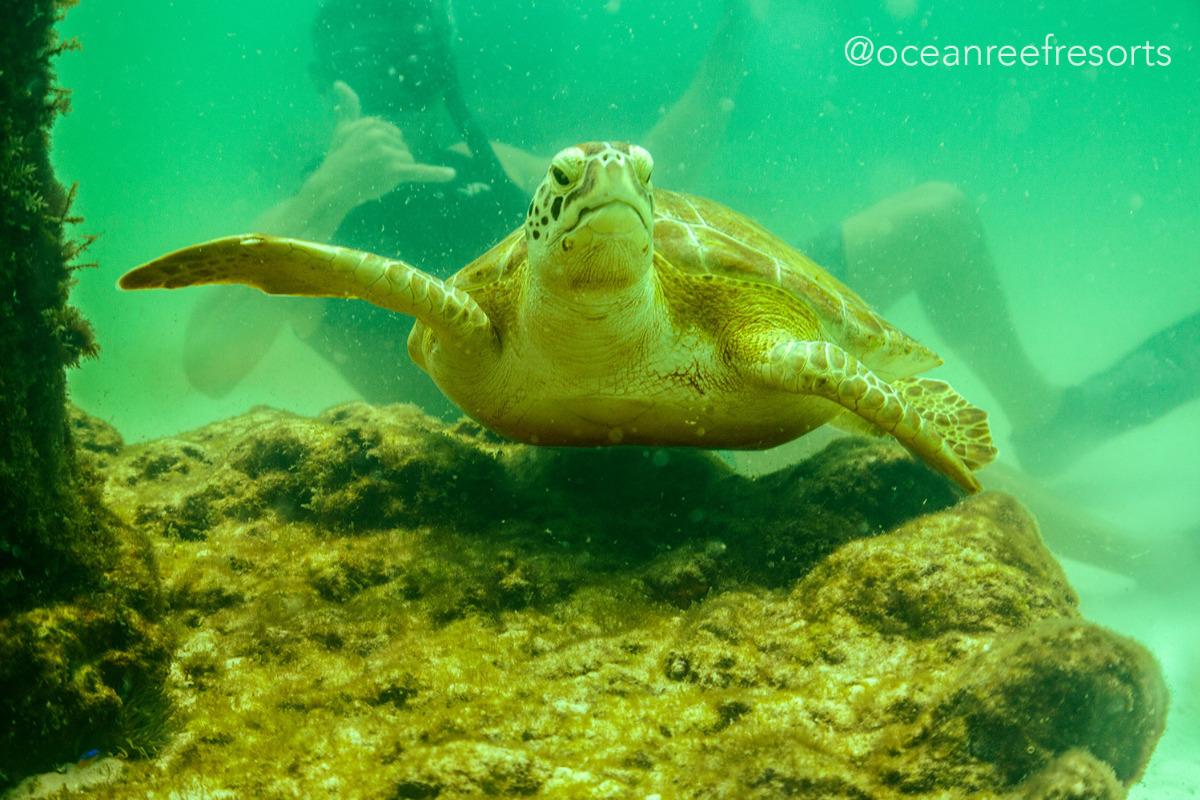 Finally, before going on a dive to explore the amazing Gulf Coast ecosystem, you need to be sure to have the appropriate certifications.
For local dive sites, you will need an Open Water Diver certification from an accredited SCUBA training agency (e.g., PADI, SDI, SSI, NAUI, etc.). There are some deeper spots, that may require more experience and/or an Advanced Diver certification. If this is the case, it should be addressed directly with your dive operator to ensure you have the correct certification for the type of dive you are attempting.
Getting your Open Water certification is simple—contact the nearest dive shop/dive operator to get signed up for a class. Classes are generally divided into three stages: eLearning, Confined Water, and Open Water. Confined water is diving in more controlled environment like a pool or local freshwater springs. Open water is where you will perform real dives under direct supervision of your instructor to apply everything you've learned in real-world, real-dive settings.
Hartley emphasized that "it's super important to choose an instructor that you trust and feel comfortable with. Which agency you go with is pretty much moot these days—all the major agencies/C-cards are accepted worldwide." Having an instructor that you're comfortable with will make the training easier and the dive experience that much more enjoyable.
If diving isn't your thing, don't worry! If you're unable to or simply not interested in doing the Open Water certification, there are still plenty of great opportunities to experience our local underwater wonders. Just check out the SWARA Snorkel Reefs! There are no required certifications, but you do need to be able to swim and be comfortable in the water. And all you need is some snorkel gear!
There are four total Snorkel Reefs in South Walton: Inlet Beach Grouper Reef, Grayton Turtle Reef, Topsail Seahorse Reef, and Miramar Beach Dolphin Reef. Each of these are located 250-300 yds offshore straight out from public beach accesses. There are pairs of yellow navigation poles located at the toe of the dunes at each site. The idea is that you line these up so it looks like one pole, and that points you out to the Snorkel Reef. It is super user-friendly with convenient access points, and great for anyone who wants a dive-like experience without the actual diving.
Thanks, Walt Hartley, for sharing your knowledge with us to show how amazing diving on 30A can be!
If you're planning a visit to Scenic Highway 30A, don't miss the opportunity to explore the underwater wonders through scuba diving. For an unforgettable diving experience, consider visiting Dive30A in Grayton Beach, where local expert Walt Hartley and his team can guide you through the mesmerizing underwater landscapes. After your diving adventure, unwind in one of our comfortable 30A vacation rentals. Many of our properties are conveniently located on or within a short walk to the beach, perfectly positioning you for your next dive exploration. Book your stay with us and dive into the beauty of 30A's underwater world!