Posted on 2/19/2016
Well here at Ocean Reef Resorts along the dazzling Emerald Coast of Northwest Florida, the short answer to this question is Destin, Miramar Beach and all along Scenic 30A in South Walton. We are blessed by spectacular sugary white finely ground quartz crystal sand that's considered to be the best in the nation. The sparkling sand here is so fine that it literally squeaks beneath your feet and due to its reflective quality it radiates the sun's heat away from the surface the beach and it doesn't burn your feet. In fact this "summer snow", as some people call it, is so brilliantly bright that sunglasses are not only a fashion option here but also a real necessity!
This powdery white sand beach was created about 20,000 years ago at the end of the last Ice Age with the arrival of pure white quartz crystals washed down from the Appalachian Mountains. Tidal action over thousands of years ground them down into the white sugar like shore that exists today. The fine powder of quartz silica is actually microscopic pieces of crystal glass that even radiates sunlight underwater. The sun's rays reflect upward through the clear water through tiny natural algae near the white sandy bottom that provides an enchanting luminescent glow. This creates an awesome array of jeweled tones in the shimmering water that provides a pallet ranging from pastel peridots to dazzling dark emerald greens in color. This is why this now famous special part of paradise is known as The Emerald Coast. However there are a few other wonderful worldwide contenders that also offer white sand beaches… but are a lot farther away! They include Antigua in the southern Caribbean, Bora Bora in Tahiti and White Beach Boracay in The Philippines.
Antigua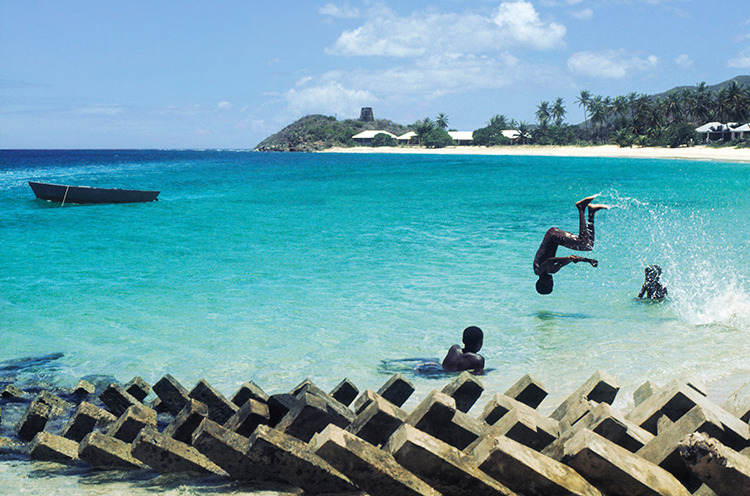 Antigua is in a straight line of about 1,800 miles southeast of Atlanta, Georgia located south of Puerto Rico. Average flight time is a little over four hours away from that location. It was discovered by Christopher Columbus in 1493 but inhabited by natives who paddled over from nearby Venezuela. This West Indies island country was once a British Sugar Colony and the charming capital is the old city of St. Johns. Agriculture was originally its economy, which has been replaced by tourism since it is accessible by a number of major airlines and cruise ships. Tourists are attracted by the white sand beaches, luxury hotels, coral reefs, picturesque harbors and a rolling jungle like terrain. The waters are primarily turquoise in color.
Bora Bora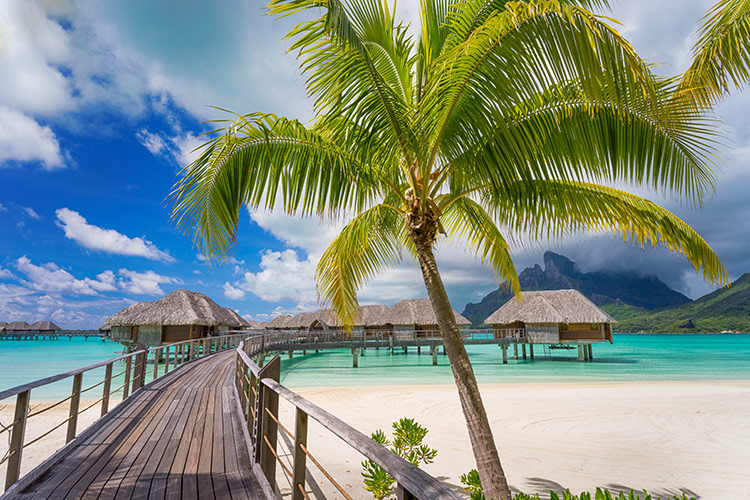 Bora Bora in Tahiti is centered in the middle of the southern Pacific Ocean 4,127 miles southwest of Los Angeles, which is about an eight-hour flight from that location. Another one-hour flight from Tahiti itself takes you to the island of Bora Bora, which is part of French Polynesia where you are transported on a short boat ride to your final destination. It is a classic tropical paradise complete with towering mountains, jungle shores, white sandy beaches and brilliant blue waters. Many accommodations are thatched roof bungalows directly above water. Some feature parts of glass floors so you can witness the sensational sea life below. Although rather difficult to get to, it has become a premier international destination for honeymoons due to its stunning exotic locale.
White Beach Boracay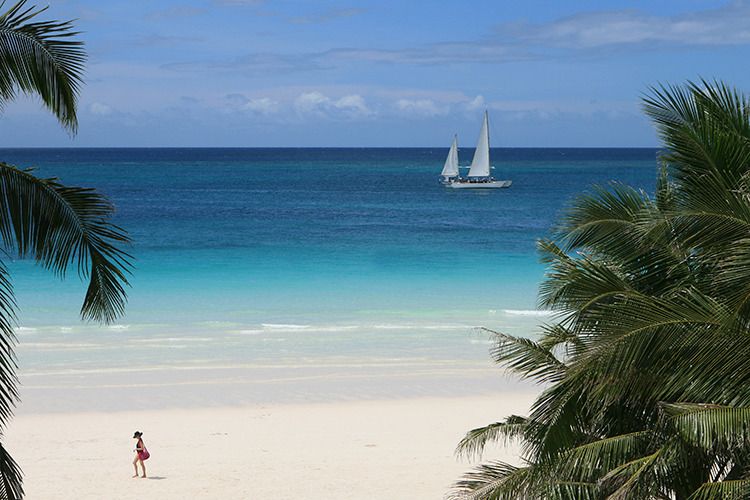 White Beach Boracay is located in The Philippines near Asia and 7,367 miles southwest of Los Angeles, which about a twenty-hour flight from that location since it is literally on the other side of the world. This small island south of the capital of Manila has won quite a few awards due to part of its white sandy beaches and tranquil clear azure waters that are usually bathwater warm. The white sand consists of ground up coral that ranges from a powder like consistency to a more granular texture. The beach is divided into three stations, which equate to the quality of the sand at each and accommodations that range from "Budget" to "Middle" to "Luxury" with a shore as well as a price to match. It received an esteemed Traveler's Choice Award for 2015 on TripAdvisor and gets a 4.5 Star Rating among 3,100 reviews.
The Emerald Coast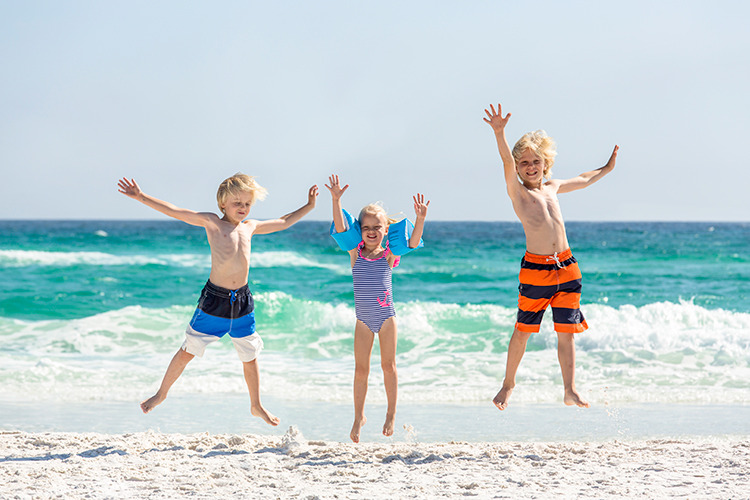 Of course The Emerald Coast is much closer since it is only about a five-hour drive from Atlanta and flights from that location can get to Destin or Panama City in about an hour. Most of our "homegrown" paradise stretches along 26 miles of Gulf Coast between Destin & Panama City Beach known as Scenic 30A. This sensational pastoral route meanders along the shores of the forested Emerald Coast with breathtaking views of shimmering sands and the translucent jewel toned waters. The route crosses through the charming beach side communities of Dune Allen, Santa Rosa Beach, Blue Mountain Beach, Grayton Beach, Watercolor, Seaside, Seagrove Beach, Seacrest and Rosemary Beach. Almost every picture perfect town was carefully preplanned to offer its own unique personality with individual architectural features and lifestyles. Scenic 30A travels beside shores that are designated as a "Blue Wave Beach" which is the nation's highest honor for cleanliness and beauty. There are numerous public access points along the way to the crystalline white beaches many of which are below sand dunes that rise up from the edge of the glistening green gulf in our own special part of the world.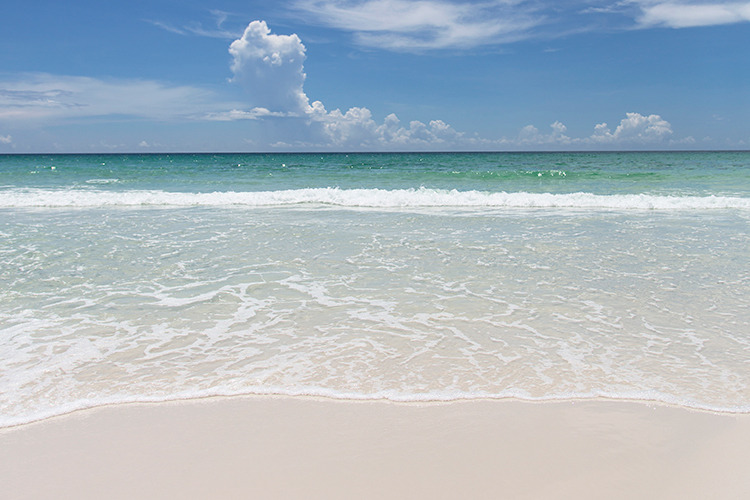 Its readers throughout the southeast have consistently rated the Emerald Coast in Southern Living Magazine as "The Number One Beach Destination" for many years. It has also touted these shores as a perfect place to have beach weddings which have become ever more increasingly popular. After all a beautiful white gowned wedding bride on a pristine sugary quartz crystal beach with emerald green waters in the background is hard to beat and exceedingly romantic. World renowned Frommer's, an established source of on line and print travel guide periodicals often names the Destin area beaches as among the "Most Beautiful Beaches in the World". Portions of The Emerald Coast are also named among the Top Ten Most Beautiful Beaches in the Nation by Dr. Beach and TripAdvisor. A few short years ago Destin was named as among the "Most Beautiful PLACE in America" in a nationwide survey televised on the Good Morning America news program.
Ocean Reef Resorts has been providing fine distinctive vacation rentals to happily accommodated appreciative guests for almost 35 years. Take a peek at some of the images on our website to pick a beautiful beach for yourself. And don't forget to bring your sunglasses!