Posted on 7/14/2023
As the golden rays of summer stretch into August, Destin retains its charm as a sought-after Floridian paradise. While the city remains pleasantly buzzing, the pace slows down just enough to offer visitors a unique perspective on this coastal gem. August in Destin serves up the perfect blend of vibrancy and tranquility. This month may not be the traditional peak of our summer season, but savvy travelers know that this can be an advantage in itself.
Picture this: your vacation costs reduced without sacrificing the quality of your stay. Shores are still echoing with life, yet now with a dash more room for your beach towels. The inviting Gulf waters at their finest temperatures. The chance to experience the legendary Crab Island during one of its prime months. And finally, an opportunity to seize one more summer adventure before the school bell rings again.
Reasons to Visit Destin in August

Affordable Luxury
Enjoy Lower Rates in August
Embrace Spacious Serenity
More Room to Relax on the Beach
Dive into Bliss
The Gulf's Perfect Temperature in August
Prime Time at Crab Island
Why August is a Top Choice
Savor Summer's Grand Finale
The Perfect Pre-School Getaway
Don't Miss Out
Secure Your August Adventure Today
Intrigued? Well, buckle up for an exploration of why August in Destin is more than just a time slot on the calendar—it's a unique chance to create unforgettable memories. We'll delve into these enticing reasons and more, revealing why you should consider making August your month to discover and relish all the riches Destin has to offer.
Affordable Luxury:

Enjoy Lower Rates in August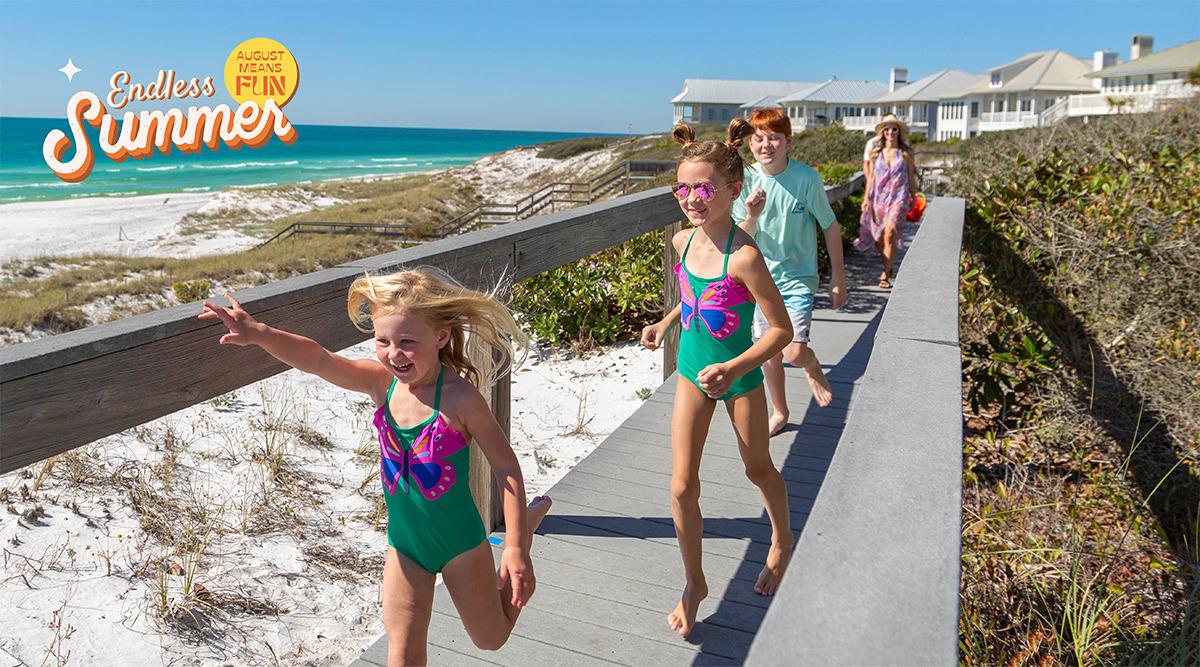 One of the most appealing aspects of visiting Destin in August is the potential vacation rental savings, which increase as the month progresses. The further into August you venture, the more your vacation budget expands. Imagine, the same sun-soaked shoreline, the same azure Gulf waters, the same delicious local seafood—all experienced at a more affordable price.
But that's not all. This year, we're excited to announce a new level of flexibility that's designed with the modern traveler in mind. We understand that not everyone can block out an entire week or two for a summer getaway, so we've made most of our Destin & 30A vacation rentals available for shorter stays.
Whether you can only escape for a long weekend, or you want to break up your summer with a series of shorter trips, we've got you covered. This flexibility means you can design a vacation schedule that aligns perfectly with your needs and preferences without feeling constrained by a one-size-fits-all approach.
When you pair this increased adaptability with the reduced rates available in August, the result is an inviting recipe for an unforgettable, tailored, and more affordable beach vacation. In other words, August in Destin offers you the luxury of a summer getaway at a price that won't break the bank.
So, why wait? Dive into the delights of Destin and discover the joy of an August vacation that's as easy on the soul as it is on the wallet.
Embrace Spacious Serenity:

More Room to Relax on the Beach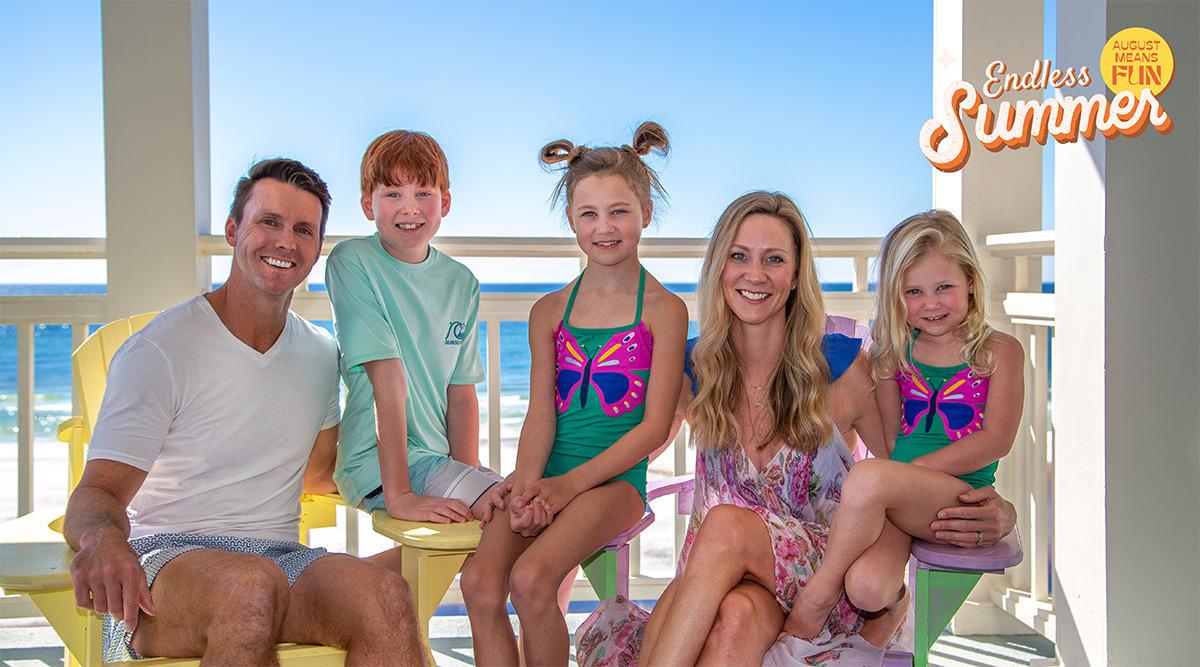 While Destin's beaches are known for their vibrant energy and festive atmosphere, an August visit provides a slightly different experience—one that many find even more rewarding. As the summer season gently eases, the beaches of Destin begin to breathe a bit more, offering guests additional room to unwind and soak up the sun.
Visiting Destin in August means less time jostling for the perfect spot near the water's edge and more time enjoying the sensation of warm sand between your toes. Imagine being able to spread out your beach towels, plant your umbrella, and set up your beach games without needing to worry about encroaching on someone else's sandy patch.
Whether you're a solo traveler seeking solitude, a couple looking for a romantic retreat, or a family wanting enough space for the little ones to play freely, August presents you with a luxury that's as refreshing as the sea breeze—the luxury of space.
An August day on the beach in Destin offers you more than just a day out—it's a personal paradise where the hustle and bustle of everyday life seem miles away. Here, you'll find your own slice of the beach where you can breathe, unwind, and simply be, surrounded by the natural beauty of Destin.
So come and claim your generous piece of Destin's renowned beaches. Feel the magic of an August day, where the spacious beach becomes your own, where every wave feels like it's breaking just for you. Dive in, stretch out, and discover a whole new way to enjoy the beach when you visit Destin in August.
Dive into Bliss:

The Gulf's Perfect Temperature in August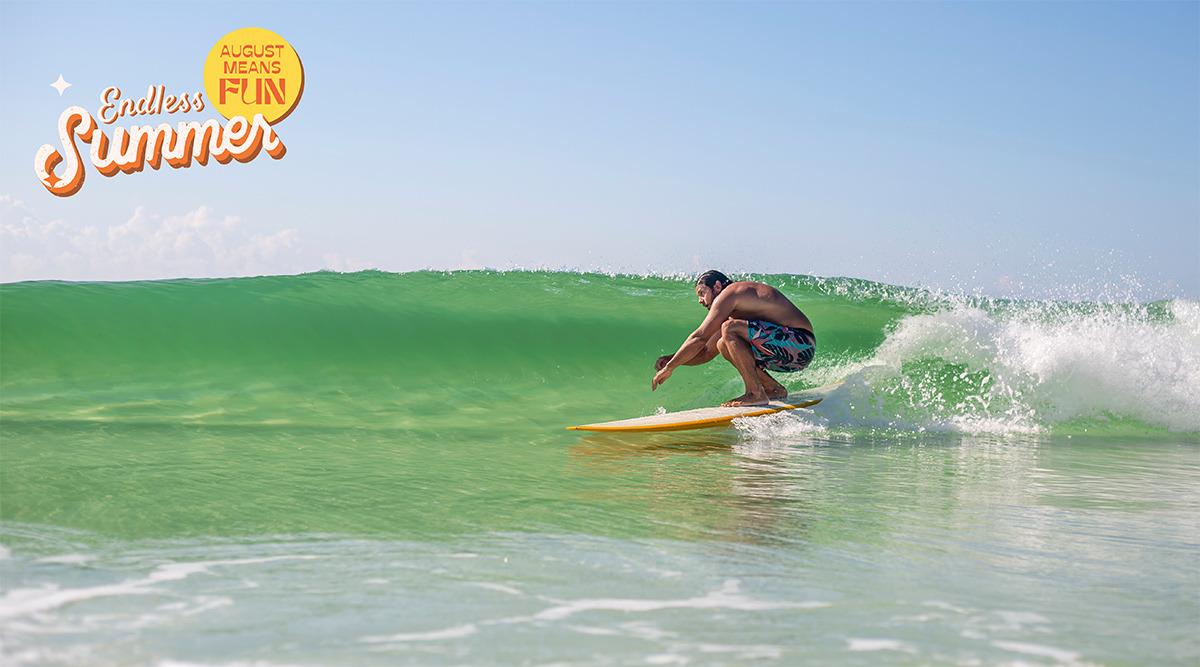 August in Destin is synonymous with endless sunshine and warm temperatures, making it the quintessential beach month. Visitors can expect highs averaging around 89°F (32°C) during the day, with evening temperatures cooling down to a comfortable 75°F (24°C). The Gulf waters are incredibly inviting, reaching a balmy 82°F (28°C), perfect for swimming, snorkeling, and various water sports.
By this time of year, the Gulf has had a chance to soak up the full glory of the summer sun, resulting in an almost spa-like warmth that is both invigorating and soothing. Whether you're a swimmer slicing through the gentle waves, a surfer catching the perfect ride, or a relaxed floater enjoying the undulating rhythm of the sea, the Gulf's warmth in August is simply unbeatable. It is a caress rather than a shock, a warm welcome that invites you to dive in and linger, not just to cool off, but to become one with the gentle, rhythmical pulse of the sea
This isn't just about swimming. The Gulf's incredible temperature also makes all water activities more enjoyable. Whether you're into paddleboarding, wakesurfing, jet-skiing, or just wading with the tiny shore break curling around your toes, everything is more pleasurable when the water is as warm and welcoming as a gentle embrace.
And let's not forget the magical moments when the sun begins to set, painting the sky with strokes of orange and pink. As the day's heat subsides, the Gulf maintains its warmth, providing a stunning contrast to the evening air and offering the perfect setting for a late-night dip under the stars.
In August, the Gulf truly becomes a huge, natural heated pool, presenting a tantalizing invitation to immerse yourself in its sublime warmth. So come and take the plunge—experience the wonder of the Gulf in August and discover a new level of connection with the sea.
Prime Time at Crab Island:

Why August is a Top Choice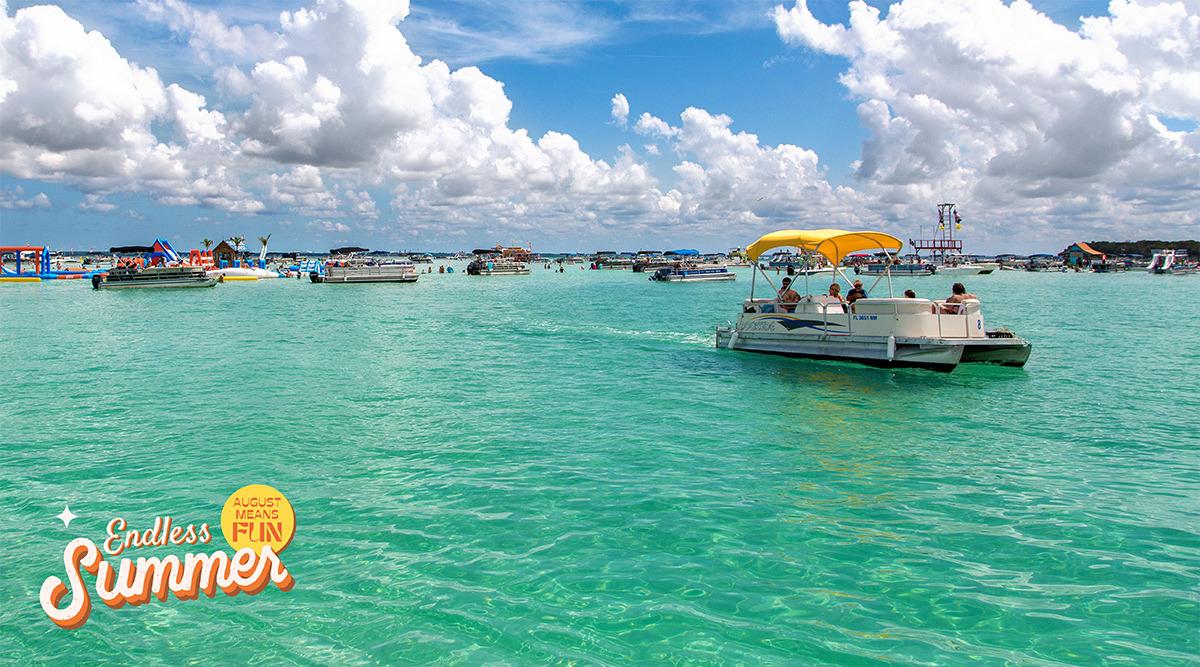 Crab Island, an underwater sandbar turned popular water park attraction, is a must-visit on any trip to Destin. But did you know that August might just be one of the best times to experience this unique destination? In August, the already inviting Gulf waters around Crab Island take on an even more enchanting quality, warmed to perfection by the summer sun. This makes for a delightful day of swimming, snorkeling, or simply floating on an inflatable, drink in hand, as you watch the boats glide by.
The reduced crowd size in August means you'll also enjoy more space to explore the island's offerings. Whether you're maneuvering a paddleboard, trying your hand at water volleyball, or just navigating between the floating food vendors, you'll appreciate the extra elbow room.
Moreover, the local marine life seems to appreciate the serenity of August as well. Don't be surprised if you spot a friendly dolphin or a school of colorful fish passing by, adding an extra dash of magic to your Crab Island experience.
It's also worth noting that the calmer pace of August often leads to shorter wait times at the island's famed floating food and drink vendors. Whether you're craving a fresh seafood snack or a cool tropical drink, you'll spend less time waiting and more time savoring.
August at Crab Island is a blend of tranquility, adventure, and indulgence. It's a place where you can let your worries drift away on the gentle currents, replaced by laughter, joy, and the unforgettable experience of Destin's most iconic summer spot. Dive in and discover why August might just become your favorite time to enjoy all that Crab Island has to offer.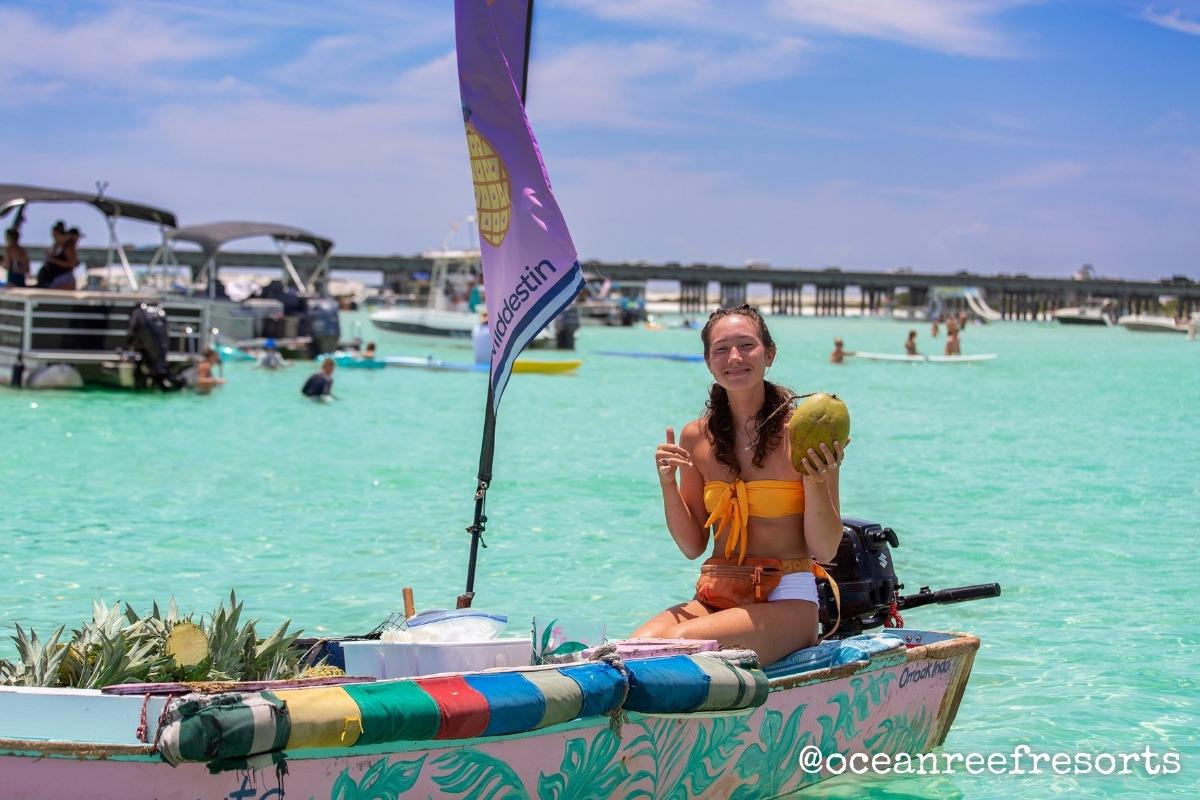 We go nuts for coconuts! There's nothing like fresh coconuts on the water to remind you that you're in paradise. Fortunately, the Crab Island Wild Coconut girls have you covered. These girls deliver fresh coconuts and pineapples right off their boat in Destin Harbor, creating an immersive tropical experience.
Savor Summer's Grand Finale:

The Perfect Pre-School Getaway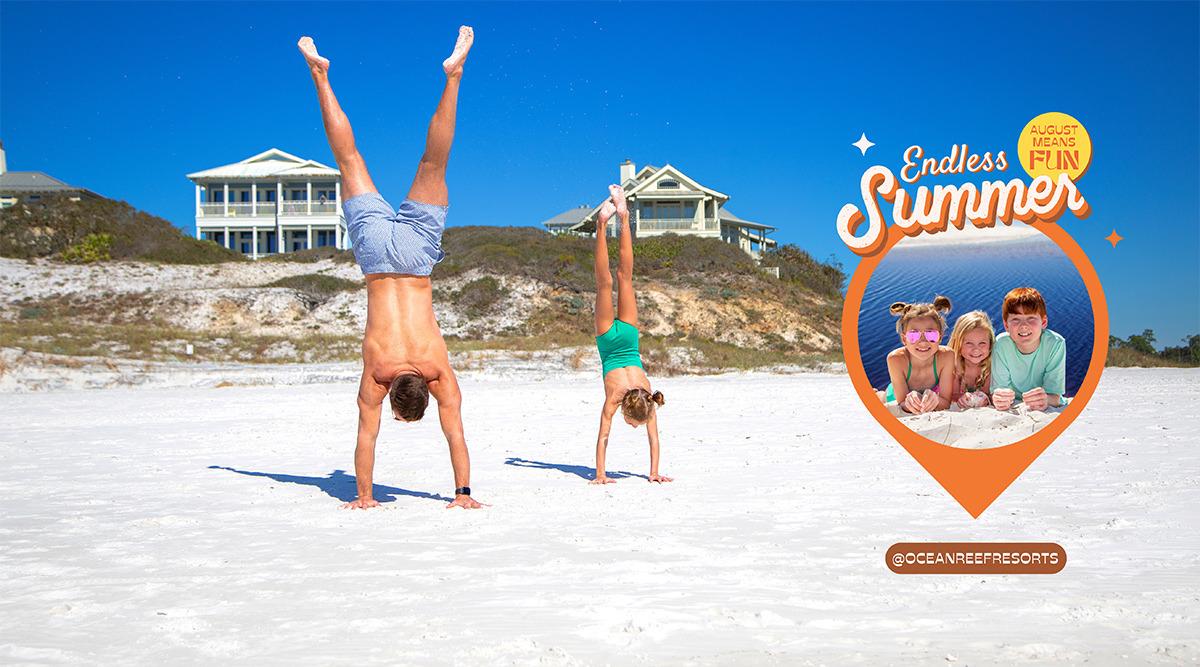 As summer draws to a close and the start of a new school year looms on the horizon, it's more important than ever to make the most of the remaining days of freedom. An August trip to Destin is the perfect way to do just that—it's a chance to hit the pause button on life's obligations and savor summer's grand finale in the best way possible.
Whether it's the last hurrah before your kids head off to school or a final respite before your own work or school responsibilities resume, there's something special about squeezing in that one last vacation. It's an opportunity to soak up the sun, relish the relaxed rhythm of beach life, and create a bank of happy memories that will keep you warm through the colder months to come.
Destin in August is like a perfectly ripe summer fruit, ready to be enjoyed before the season changes. It's an invitation to enjoy lazy mornings free from alarm clocks, afternoons spent exploring or lounging on the beach, and evenings watching the sunset over the Gulf, ice cream in hand.
Perhaps the most precious aspect of a pre-school vacation is the time it affords for family and friends. It's a chance to reconnect, to talk and laugh without glancing at the clock, and to make memories that will be reminisced over long after summer tans have faded.
So why not seize the moment and make the most of the waning summer days? An August vacation in Destin is more than just a trip—it's an opportunity to live the last pages of your summer story in full color, with the sand between your toes, the sun on your skin, and the melody of the Gulf in your ears. Give summer the send-off it deserves and start the school year refreshed and brimming with unforgettable memories.
Don't Miss Out:

Secure Your August Adventure Today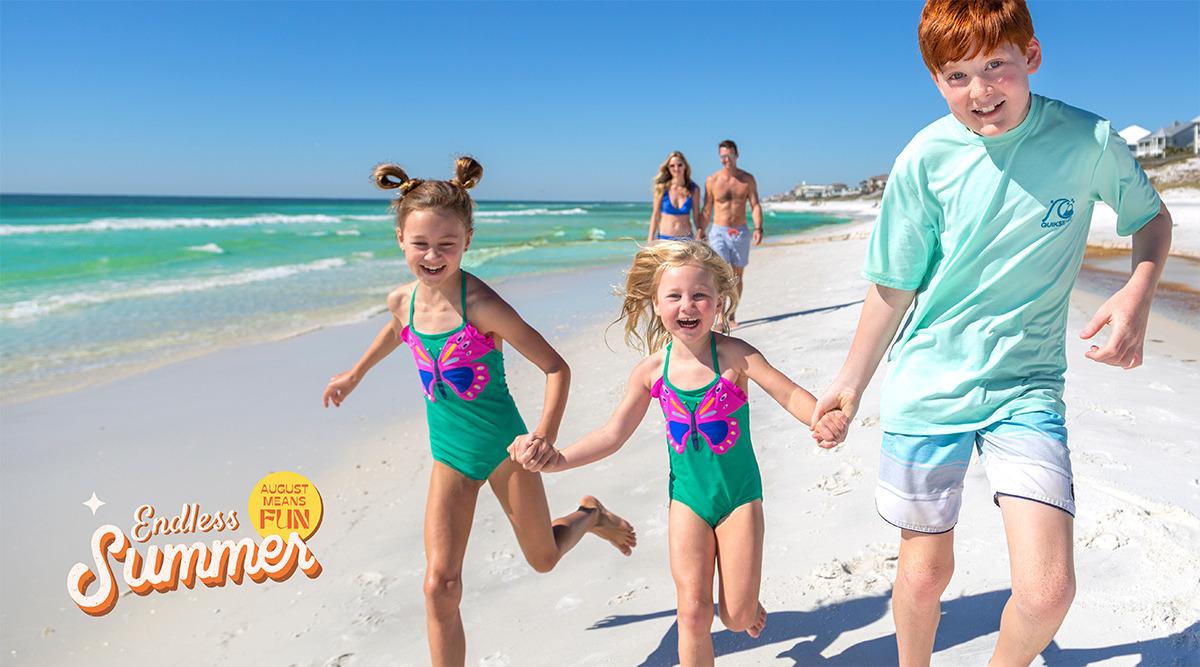 In the heart of Florida's Emerald Coast, Destin is a sun-drenched dream in August. Whether you've been swayed by the allure of lower rates, the promise of spacious beaches, the inviting warmth of the Gulf, the unique charm of Crab Island, or the chance to savor one last summer adventure before school begins, there's no denying that August in Destin has something for everyone.
With all these delights at your fingertips, the only thing left to do is to take that decisive step and secure your August adventure. We offer an enticing array of Destin vacation rental homes and condos, all designed to cater to your comfort and convenience, ensuring that your Destin experience is as unforgettable as the sunsets that grace our shores.
Each of our properties provides a unique blend of homely charm and luxurious amenities, setting the scene for a vacation that's as relaxing or as adventurous as you desire. What's more, they're all positioned to grant you easy access to the best of what Destin has to offer, ensuring that you're never far from your next memorable moment.
So why not turn your dream of an August getaway into a reality? Browse our selection of available Destin vacation rentals and find your perfect fit. Whether you're looking for a cozy beachfront condo for two or a spacious family home with a private pool, we have the ideal vacation spot waiting for you.
Don't let the opportunity pass you by. Let Destin's August charm enchant you. Book your stay today and prepare to make memories that will sparkle as brightly as the sun on the Gulf's turquoise waters. After all, the only thing better than dreaming about a Destin vacation is living it.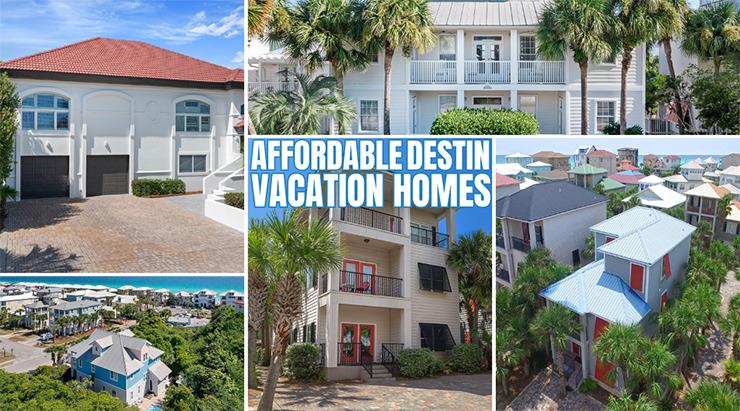 Is bigger always better? Absolutely, when you're planning a memorable beach reunion with friends and family! Large vacation homes are a hot commodity at Ocean Reef Resorts. Not only can they comfortably accommodate everyone in your group, but they also offer the advantage ...