Posted on 1/3/2023
Looking for the ultimate beach vacation? Look no further! These 10 Ocean Reef Vacation Rentals have got you covered and offer the best of both worlds - a private swimming pool AND the beautiful beach just minutes away (or seconds, depending on the property). Imagine enjoying swimming in a sparkling freshwater pool, then heading to the crystal clear waters of the Gulf of Mexico to soak up the sun. You can have it all with these special Destin vacation homes with remarkable pools! So why wait? Start planning your dream beach getaway today.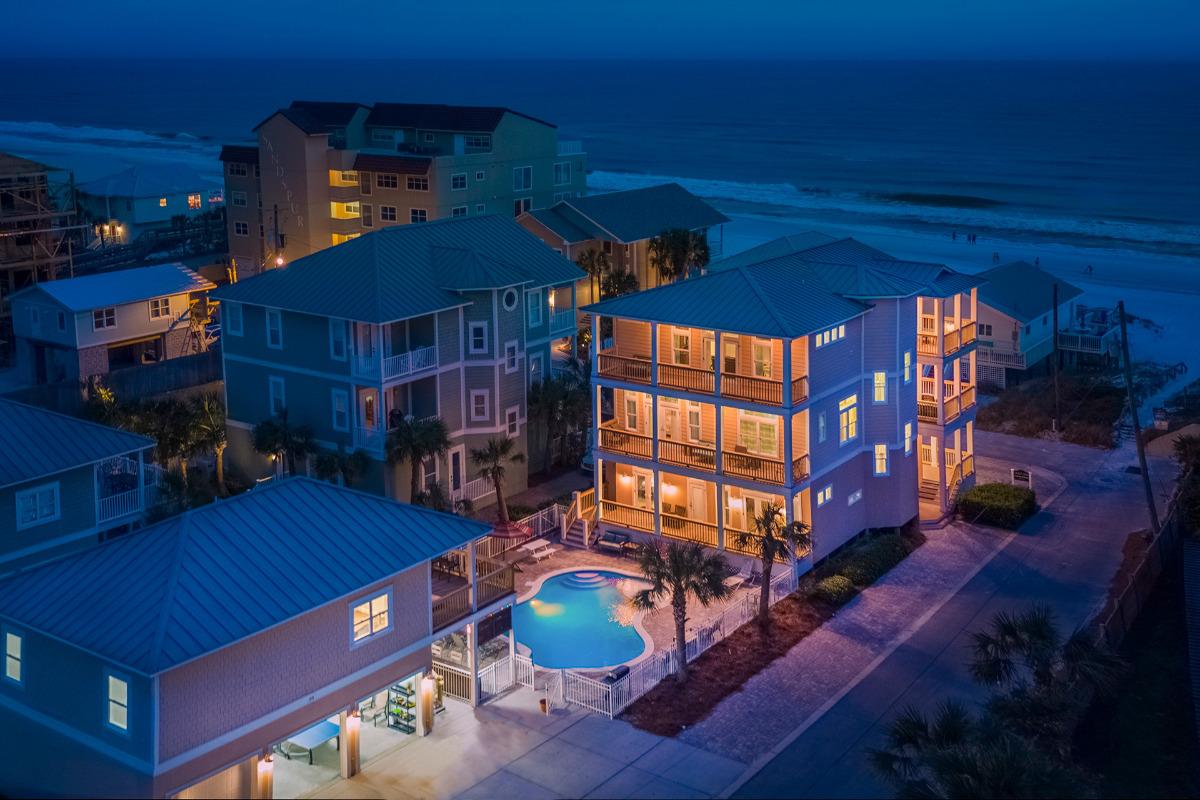 9 Bedrooms / 7 Full & 2 Half Bathrooms / 28 Guests
Tackle Box has you covered! With space for up to 28 beachgoers, this rental has it all - 6 bedrooms in the main house, 2 kitchens on separate levels, additional bedrooms in the guest house with its own kitchen, and a large, seasonally heated swimming pool with an expansive paver patio for relaxation (not to mention the game room!). Plus, the multiple sunny windows, balconies, and outdoor bar offer stunning views of the Gulf of Mexico and plenty of opportunities for leisure and enjoyment. You won't know where to spend your time - poolside, on the balcony, or on the beach - with so many enticements to choose from.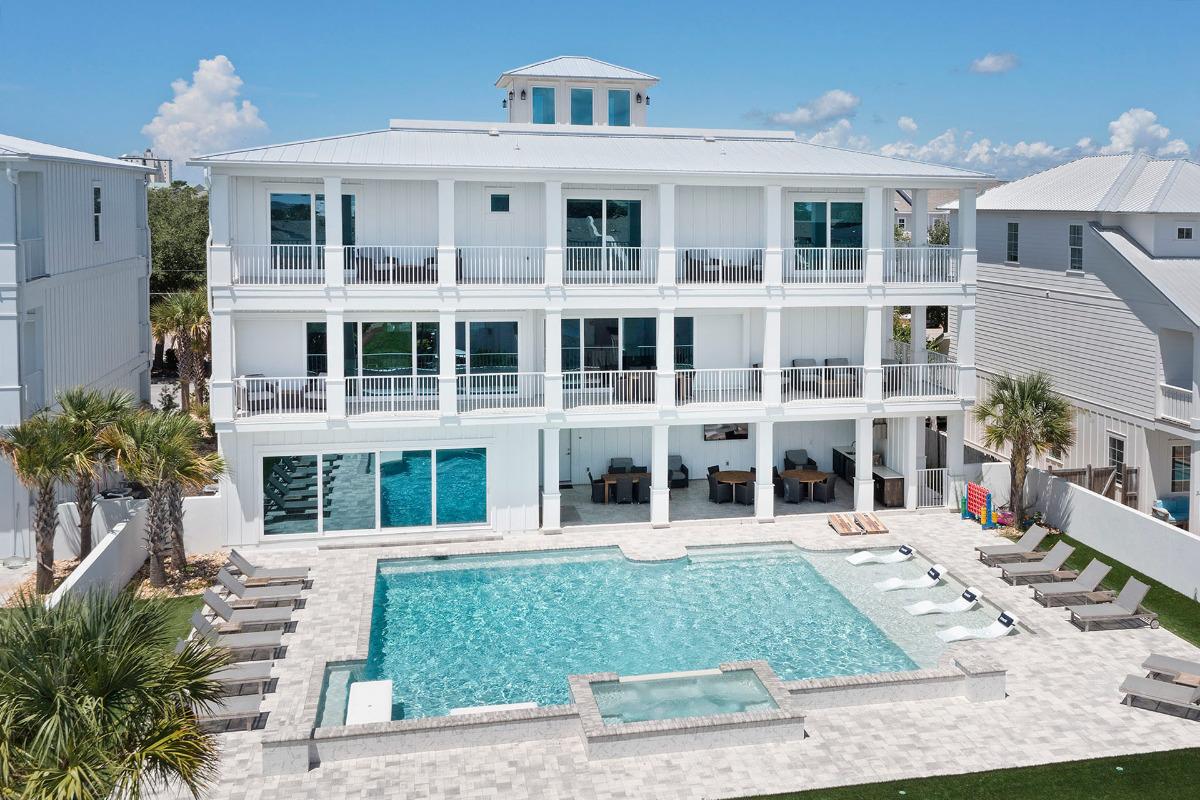 8 Bedrooms / 9 Full & 1 Half Bathrooms / 30 Guests
Hypnautic is located in the heart of Miramar Beach, and is a beach vacationer's dream! A remarkable 30 guests can stay in this grand home with 8 bedrooms! Walk to the beach or jump in the 6-seater golf cart or take the complimentary bikes; this place has EVERYTHING. Outdoor spaces are celebrated in this home. A dining area and large kitchen sit on the porch, looking out over the massive, almost square pool. With over a dozen loungers, you will love hanging out around this pool as much as swimming in it! Your large clan will love this Destin home!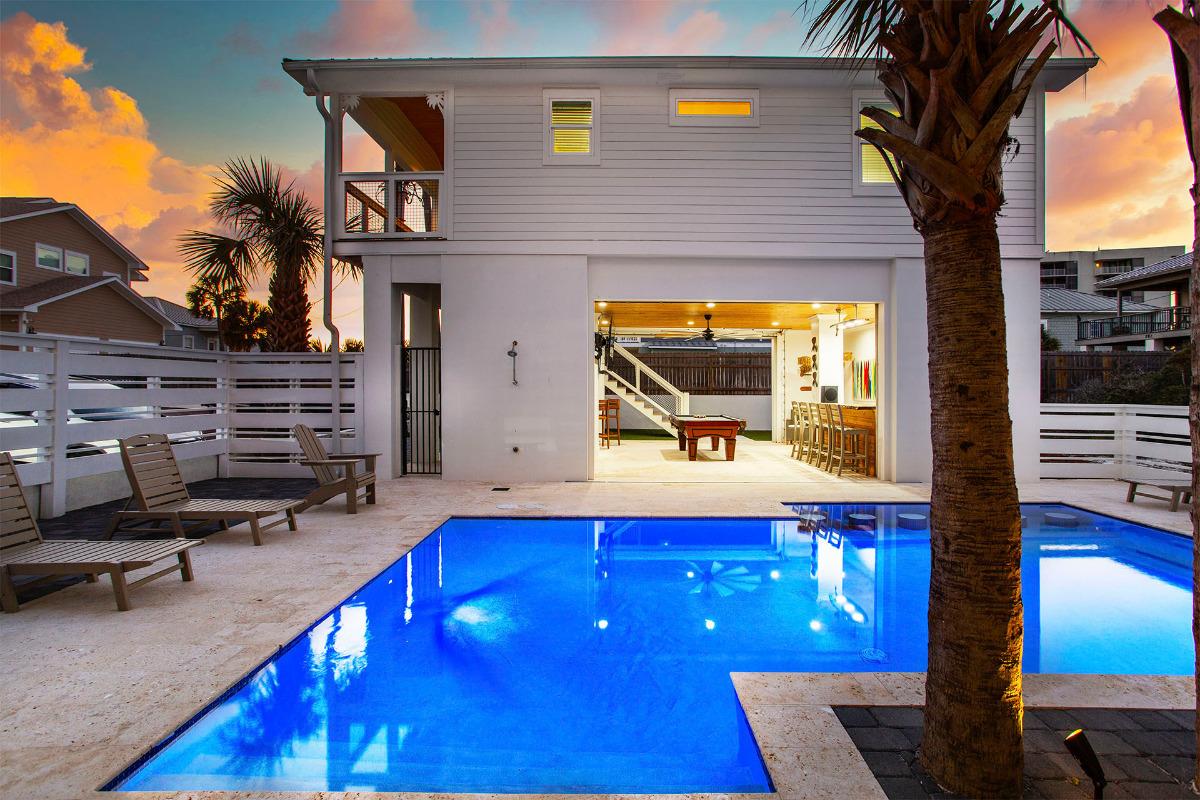 8 Bedrooms / 7 Full & 3 Half Bathrooms / 26 Guests
Off the Hook is a massive beach house made up of intricate, intimate spaces. The bedrooms, there are 8 of them, give one the sense of a quaint beach cottage, as do the large kitchens and living spaces. High atop the already raised 3rd floor is a rooftop deck that looks out over most of Miramar Beach, the guest house, and the large pool. The palm-lined pool area is as perfect for entertaining as the pool is for cooling off. Taking a dip here is relaxing and centrally located between the main home and the guest house.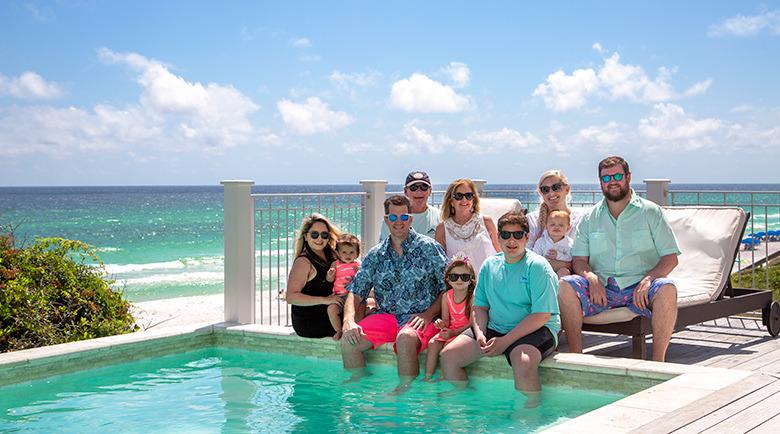 Yes, the beach and the sparkling emerald-hued gulf are abundant and available to all, but staying right on the shore affords you an experience like no other.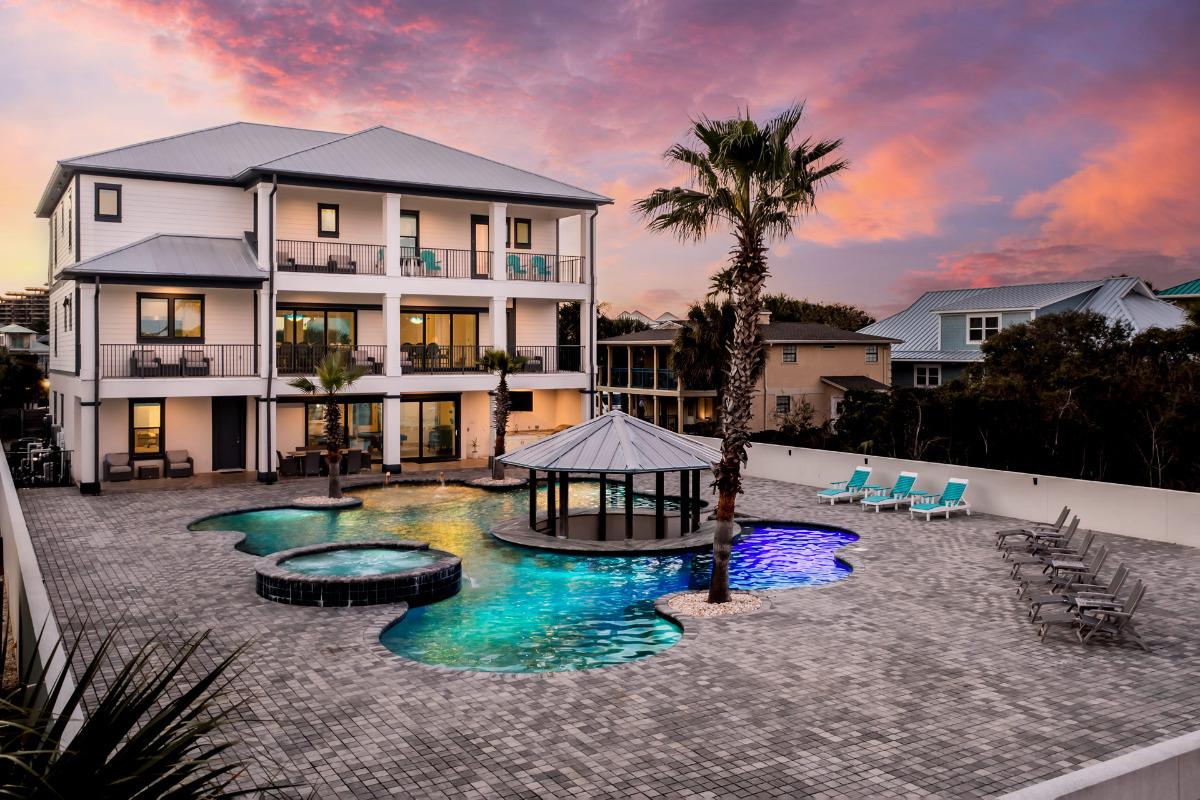 8 Bedrooms / 8 Full & 2 Half Bathrooms / 25 Guests
This freshly completed 8-bedroom rental home in Miramar Beach features everything you could dream of while on your beach vacation! Atlantis sleeps up to twenty-five guests on three levels; entertaining each one under the Florida sunshine is easy with the large outdoor kitchen, grill, patio, and massive lagoon pool. At night it is lighted with underwater tropical color patterns. This Destin home is perfect for your large friend group or multi-family reunion. Best of all, it is just a short stroll from the shore and close to the best shopping and dining around!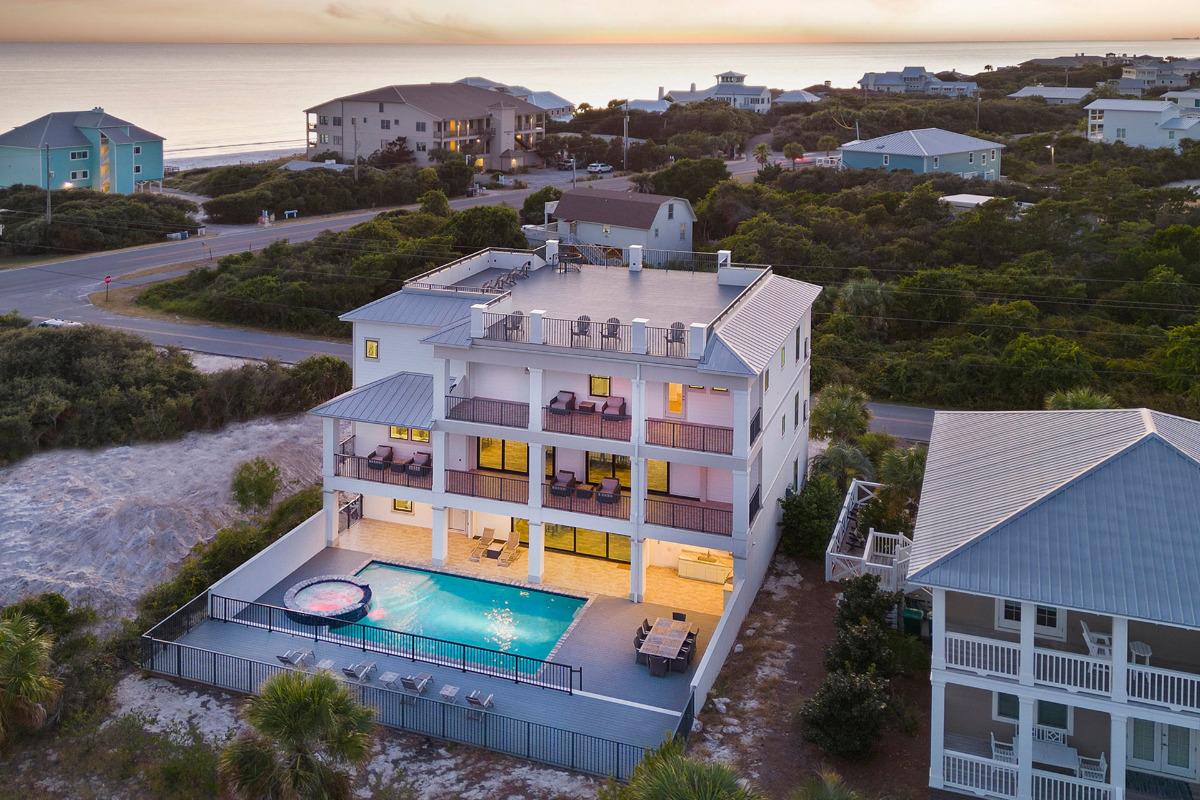 8 Bedrooms / 8 Full & 2 Half Bathrooms / 24 Guests
The west side of Scenic 30A is home to a place called Dune Allen. It is one of the most nature-rich areas around, thanks to the massive Topsail Hill Preserve State Park nearby. Soleil All Day is three stories of modern luxury; crisp architectural lines create a distinct style. This 8-bedroom property can sleep up to 24 guests in comfort, but this home's use of outdoor space sets it apart from the crowd. It features wide balconies on every level, and the backyard on the ground floor takes the cake. A large outdoor kitchen kicks things off, overlooking the patio and pool deck. The pool has very clean lines, finished in slate tile. It is modern, quite large, and connects to the raised hot tub that every guest here enjoys.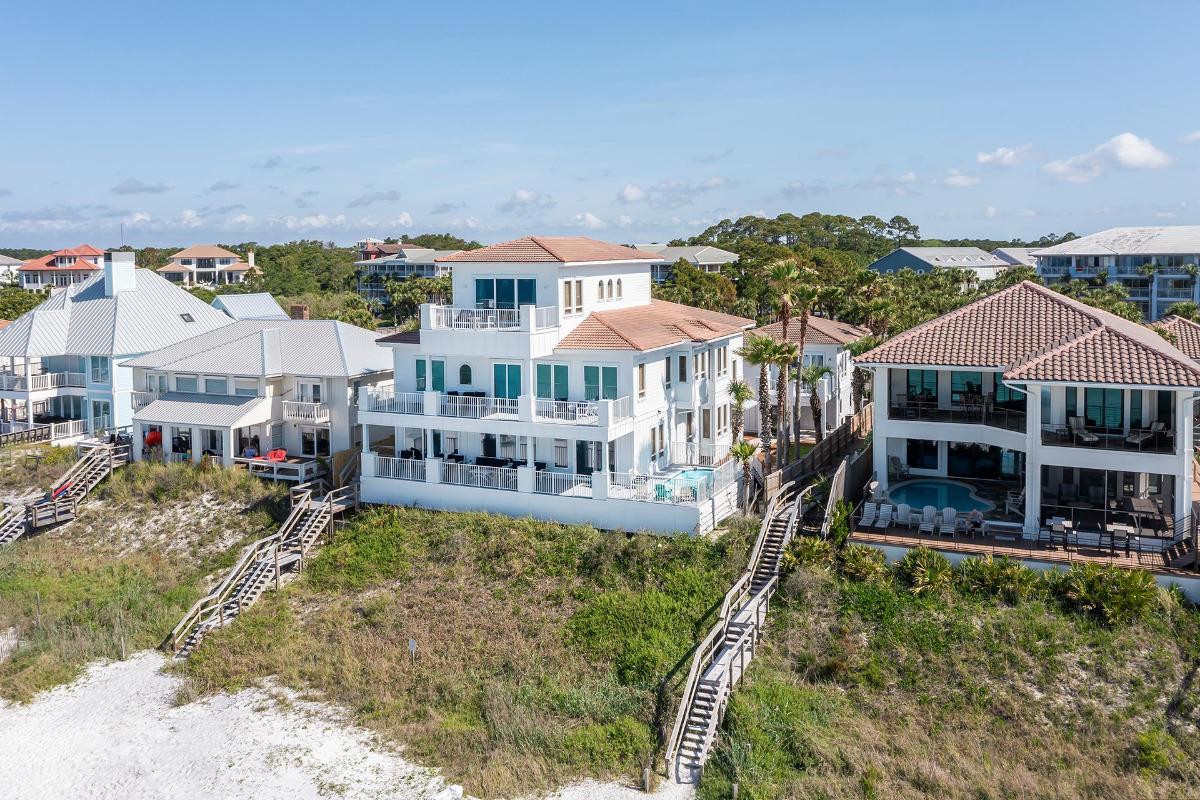 7 Bedrooms / 8 Full Bathrooms / 28 Guests
Beachfront in South Walton! Does it get any better than that? Casablanca answers that question with a simple YES! With the ability to sleep up to 28 guests, this 7-bedroom beachfront home does everything a little better than the rest; it's something of an all-star. From the grand entranceway to the primary bedrooms, this place has style in spades. The deck outside is a great place to take in a sunset or pause for a dip in the built-in splash pool. It's the perfect place to cool off during the day and equally suited for star gazing at night!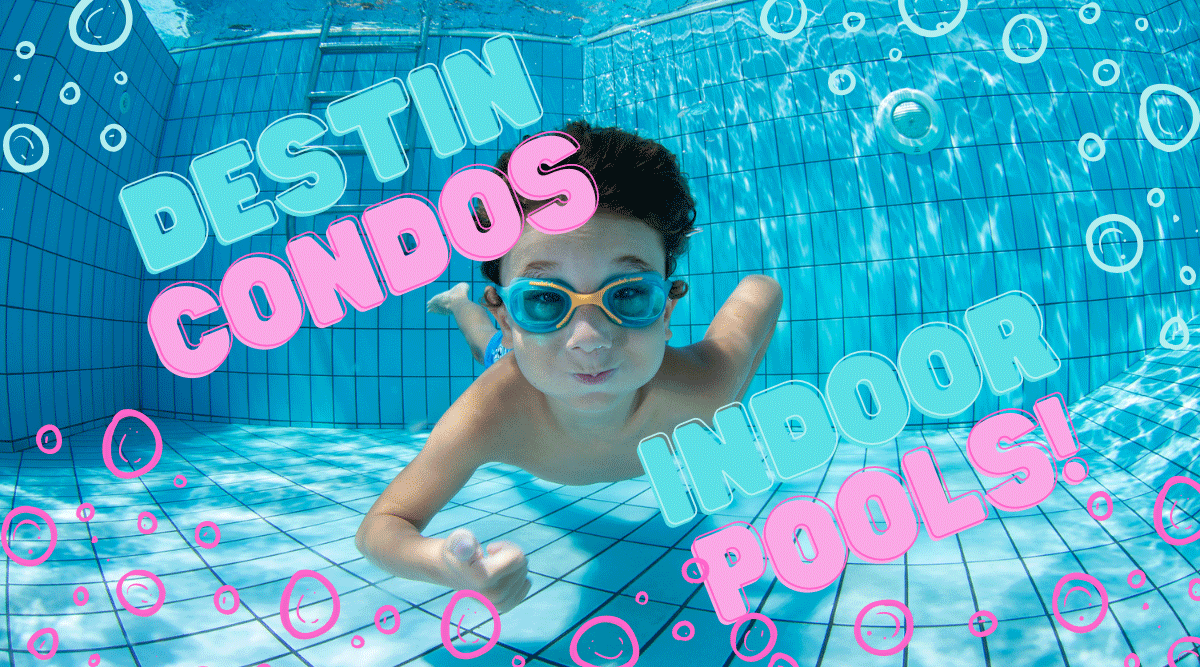 Here are three wonderful resort properties we have available that do indeed have indoor swimming pools in addition to another one outside.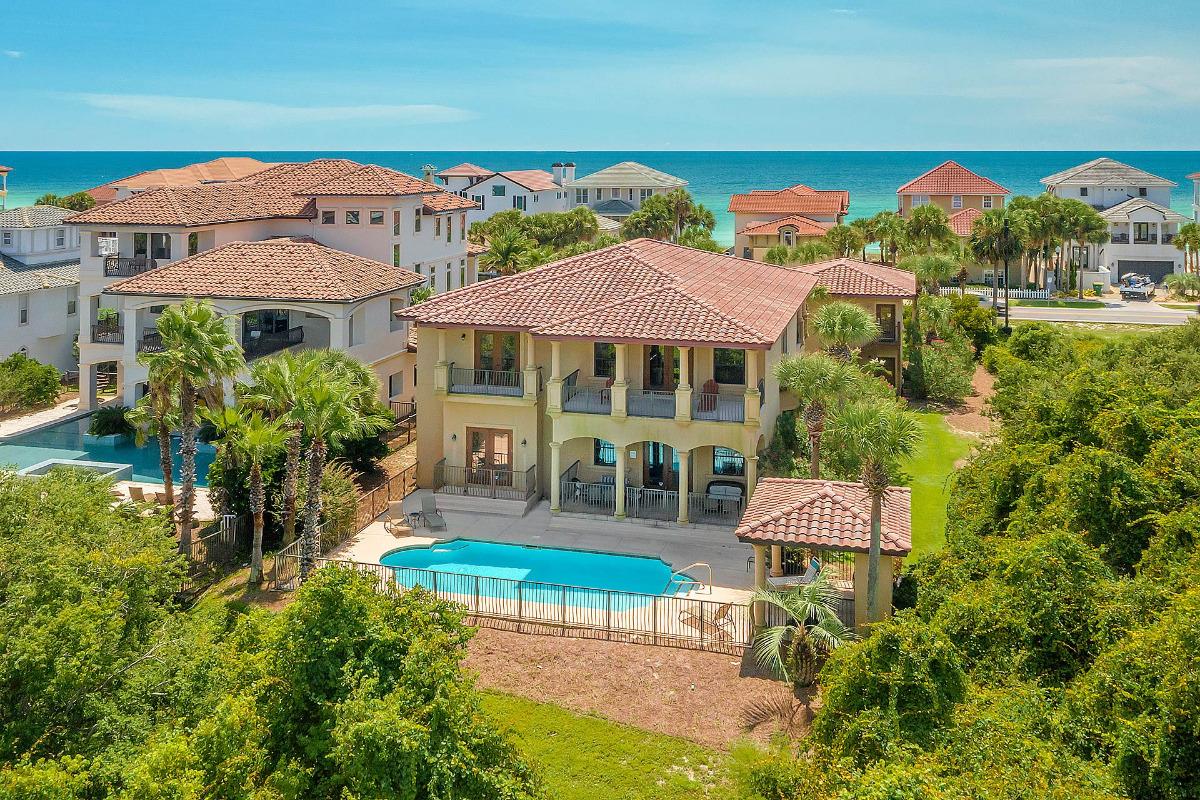 7 Bedrooms / 6 Full Bathrooms / 22 Guests
Along Scenic 98, just west of the Crab Trap in the luxurious community of Destiny, we find Sandcastle Dreams. This place truly is a dream maker; with high ceilings and opulent appointments, it's a great place to take your ultimate beach vacation! Comfortably accommodating up to 22 beachy guests, it boasts 7 large bedrooms and 6 baths. Beyond the beach, which is just steps away, there is a great family game room, a detached guest house, several large porches that look out over the grounds, and one very private, private pool. The classic patio is graced by this splashy place, perfect for sun-kissed family shenanigans or quiet romantic nights toasting champagne under the stars. The pool is framed by the home and the low trees of the dune forests, so the only thing you'll catch out here is sun rays!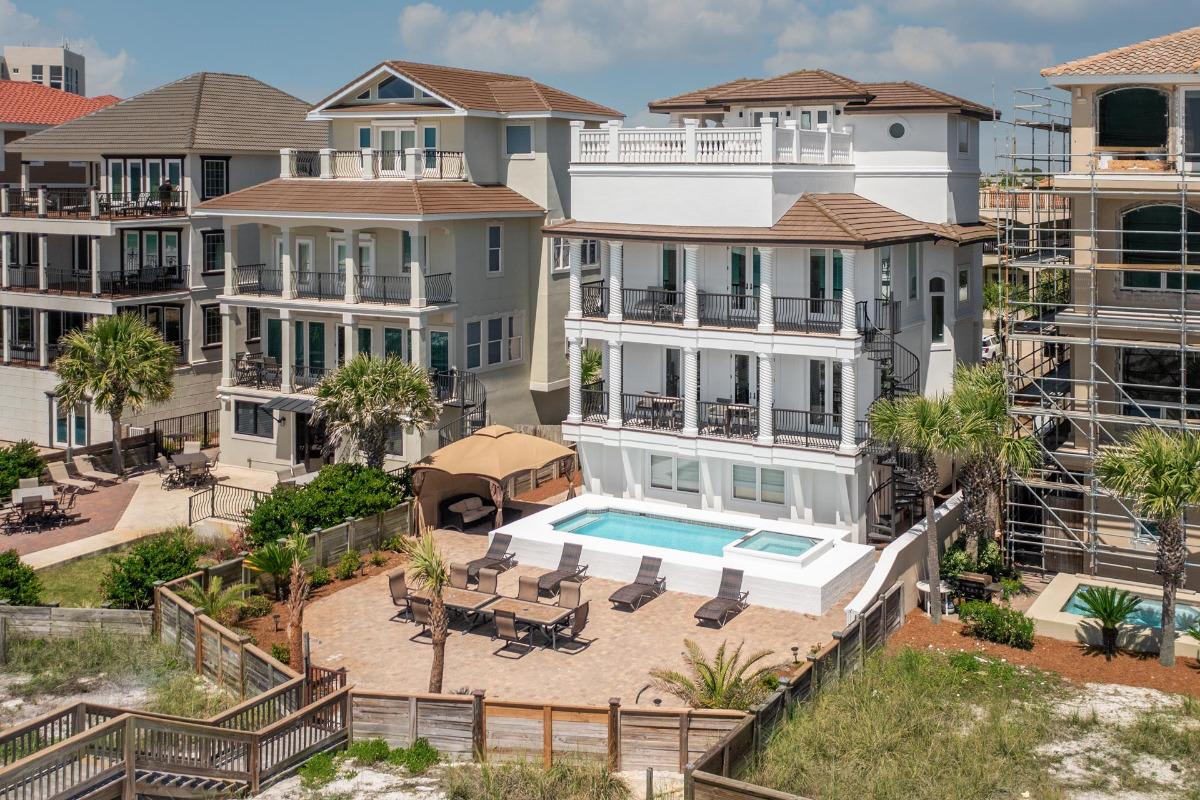 5 Bedrooms / 4 Full Bathrooms / 16 Guests
Villa Vittoria is an opulent Tuscan-inspired villa with five bedrooms and accommodates up to 18 fortunate guests. This beachfront Destin home features enchanting architecture and a classic Mediterranean ambiance that is combined seamlessly with modern 21st-century amenities. Breathtaking balconies with elegant spiral staircases interconnect three floors leading to a rooftop Observation Deck with views of the large beachside pool and sensational coastal scenery. You have the privilege of enjoying the wonderful views while listening to the murmur of the soothing surf at each level. The expansive patio encompasses the 12 x 28-foot swimming pool and 6 x 6-foot Soaking Tub that looks down upon the shimmering beach below.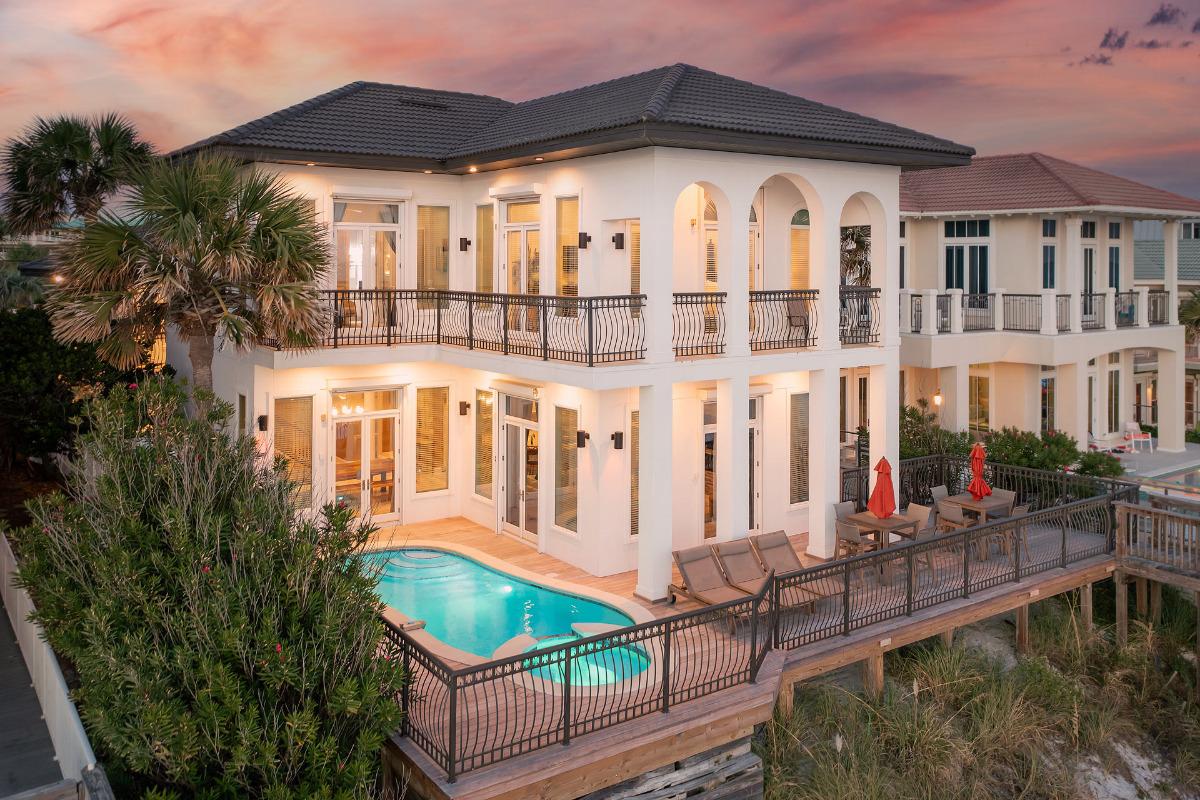 5 Bedrooms / 5 Full Bathrooms / 14 Guests
Perched high on the dunes along Miramar Beach, we find what, to some, would constitute the perfect vacation home. For starters, Paradis is beachfront, meaning you're never farther from seeing the brilliant Gulf of Mexico than a glance out the window. This 5-bedroom home accommodates 14 beachgoers in opulence by the shore. Sitting just between the house and the sand is a grand pool with an integrated soaking tub for year-round swim'ability! You'll love it here; everything you'll need while you're in Destin is just steps away, including restaurants, beach bars, and shopping!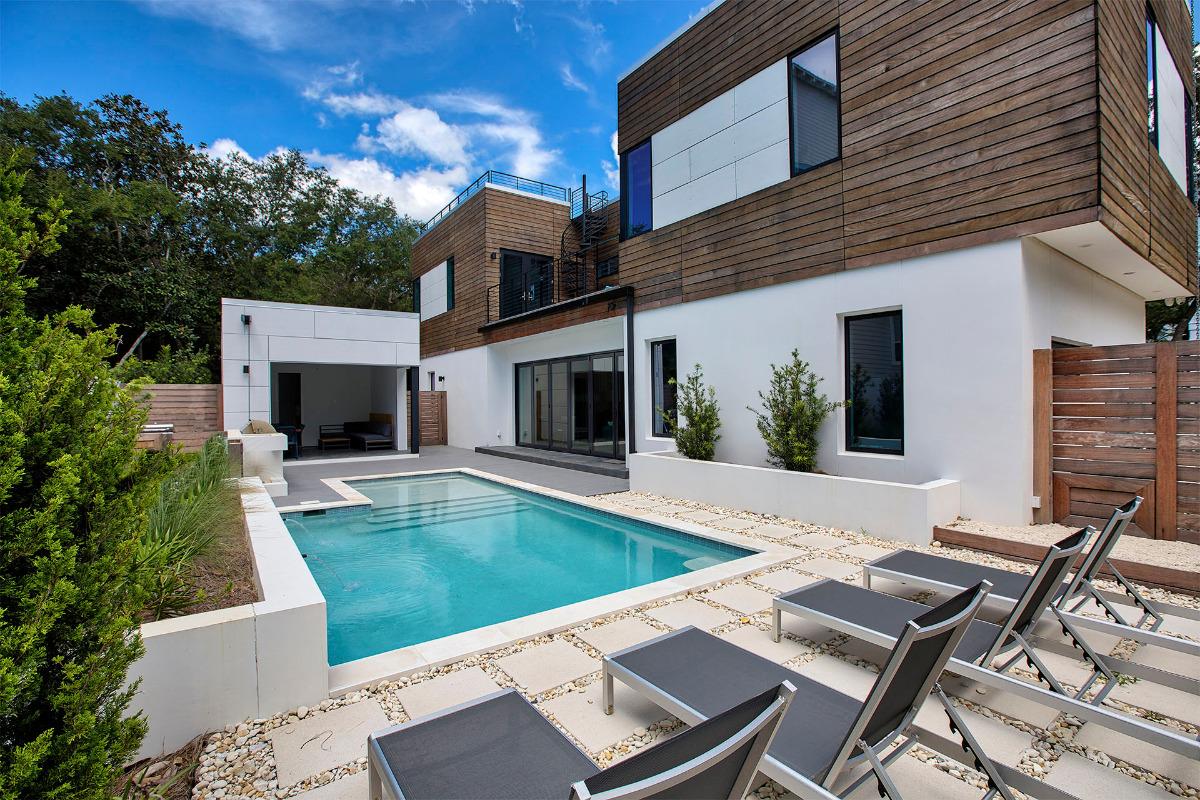 4 Bedrooms / 5 Full Bathrooms / 12 Guests
Just a short stroll down a sandy path from the New Urbanist town of Seaside, Florida, we find Day Dreamer. It's an architectural masterwork. The surfaces and textures at play in this home are a pleasure to the 12 lucky guests that can stay in 4 bedrooms. Simply being here has a calming quality. Interesting details, like the massive rooftop deck, abound in this Seagrove Beach vacation home. Along one wall of the living room, there is a glass wall that looks out onto the large blue pool and outdoor living area. The pool is calm and very private; it's the perfect place for entertaining or sipping champagne after dark.
Ocean Reef Vacation Rentals in Destin, Florida, offers the perfect combination of luxury and proximity to the beach. These vacation homes range in size and amenities, but all feature private swimming pools and are beachfront or just minutes away from the Gulf of Mexico. From large homes that can accommodate groups of up to 30 people to smaller, more intimate properties, there is a rental that will suit any beachgoer's needs. So why wait? Reserve one of these Destin vacation homes today.