Posted on 1/17/2023
Many of our Ocean Reef Resorts guests believe Destin is all about the bright, beautiful white sand beach. After all, it is truly unique since it is composed of pure white quartz crystal washed down from the Appalachian Mountains during the Ice Age eons ago and pulverized into powdery form. It's cool to the touch, never burns your feet, and sunglasses are a necessity due to its brilliant reflection. However, if you have ever been out on a boat here, you realize that Destin is really all about the water!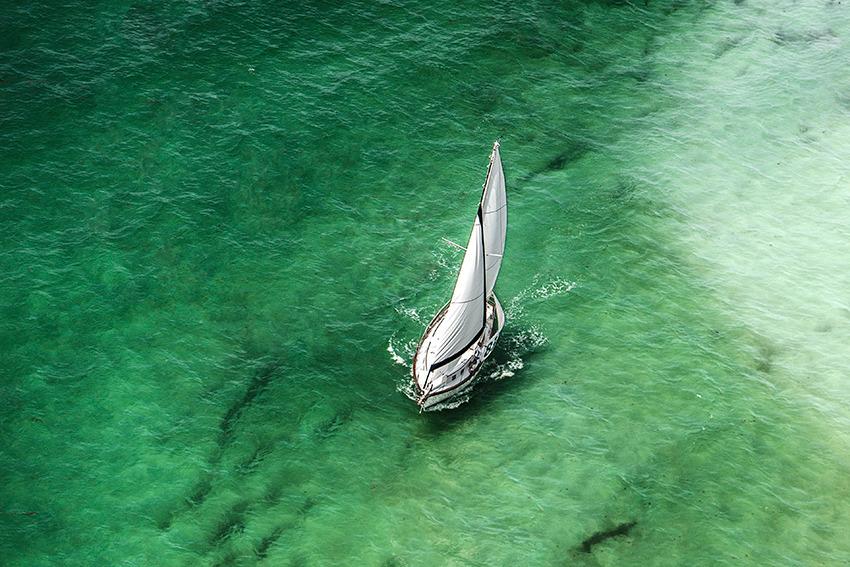 Destin is surrounded on three sides by water and the peninsula resembles an off-shore island since it is three to five miles from the mainland. Natural microscopic plankton in the usually crystal clear gulf is illuminated by sunlight casting a dazzling array of jeweled tones. The waters are blessedly flourished with abundant fish and marine life, making Destin home to the largest private charter fishing fleet in all of North America. Some folk have experienced the stunning views by renting a pontoon, engaging a charter boat, taking a sightseeing excursion, or just by bringing down their own boat during their stay here. For those who stay with us out on Holiday Isle, some are able to use docks behind private homes on a canal or harbor. The following is a brief description providing information on marinas located in Destin and Miramar Beach.
This is the original Destin marina, established over 150 years ago, which provides harbor to the famous private charter fishing fleet. It has a prominent position at the East Pass connection between the wide expanse of Choctawhatchee Bay and the open gulf. The street location is 66 Harbor Boulevard. It is adjacent to Destin's golden Americana-styled crown jewel, HarborWalk Village. This renowned destination includes many dockside restaurants with bars that play live music, specialty shops, outdoor concerts, and family amusements, including a long Zip Line. Fun festivals are held throughout the year, and vibrant firework displays are hosted on holidays. Ocean Reef Resorts guests received special reduced rates for pontoon boat rentals, other watercraft, fishing charters, dolphin sightseeing excursions, a sunset dinner cruise, and even a treasure hunt adventure on a pirate ship with a rollicking costumed crew.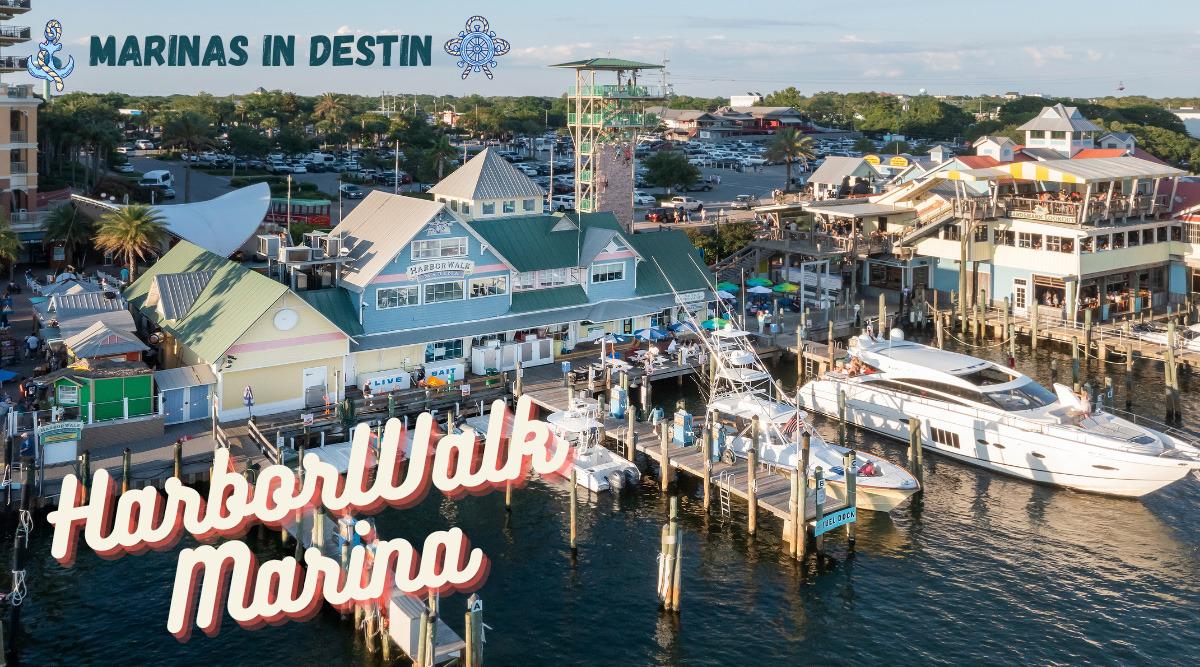 This full-service marina is open from 5:00 am to 10:00 pm during the season from March 1st thru October 31st. It is open from 7:00 am to 6:00 pm off-season from November 1st till February 28th. More information is available by calling 850-650-2400.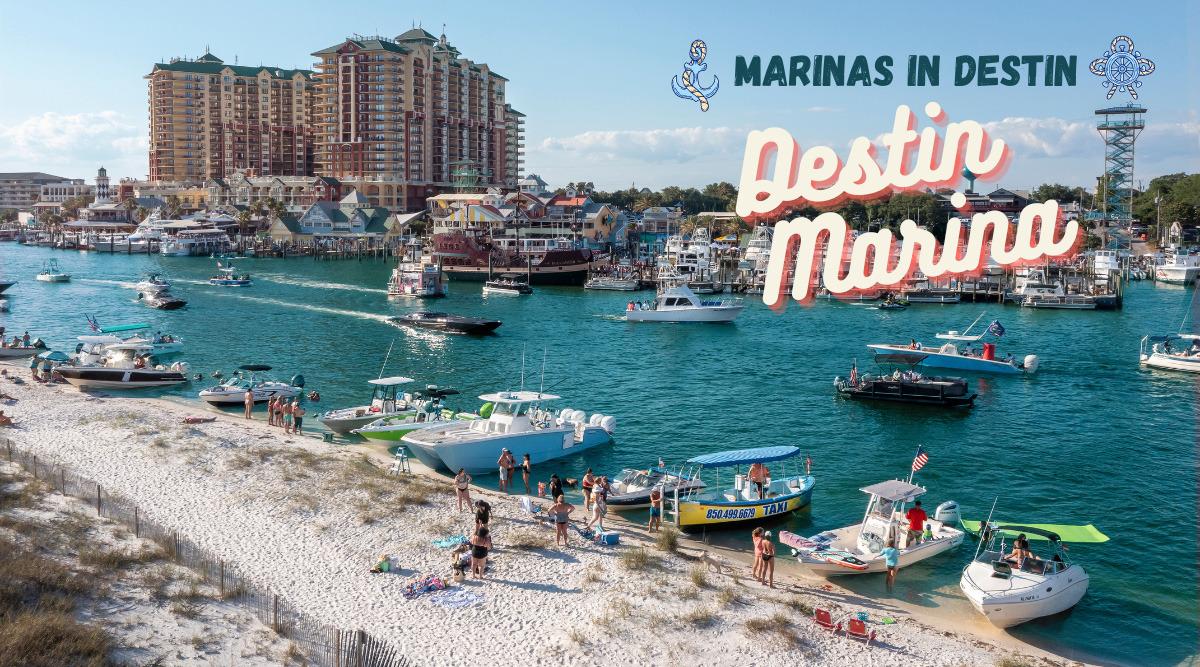 This marina is right on the bay just north of the Destin Bridge at 7 Calhoun Avenue. It is one of only two boat launch ramps open to the public in Destin. It is conveniently located right across from Crab Island, which is known for its giant anchored boat parties. A boat launch here costs $20, which includes parking for your vehicle and trailer. They also offer daily boat slip rentals, 87 Octane gas, fishing tackle, bait, ice, beer, beverages, and snacks. You may also boat over to one of the docks for these needs if you are en route to somewhere else. More information may be found by calling 850-837-2470.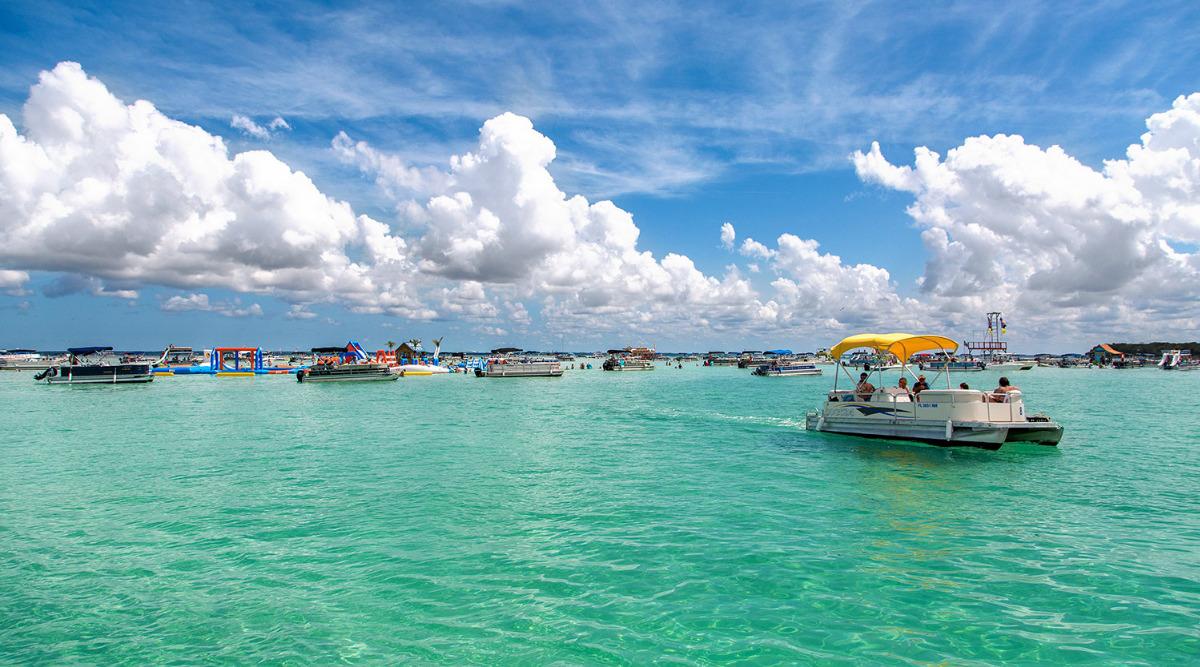 Some vacationers who are "not in the know" and perhaps visiting Destin for the first time want to know what it is, where it is, how to get there, how much it costs, when to go, as well as why it is so popular. Well, here's the complete scoop!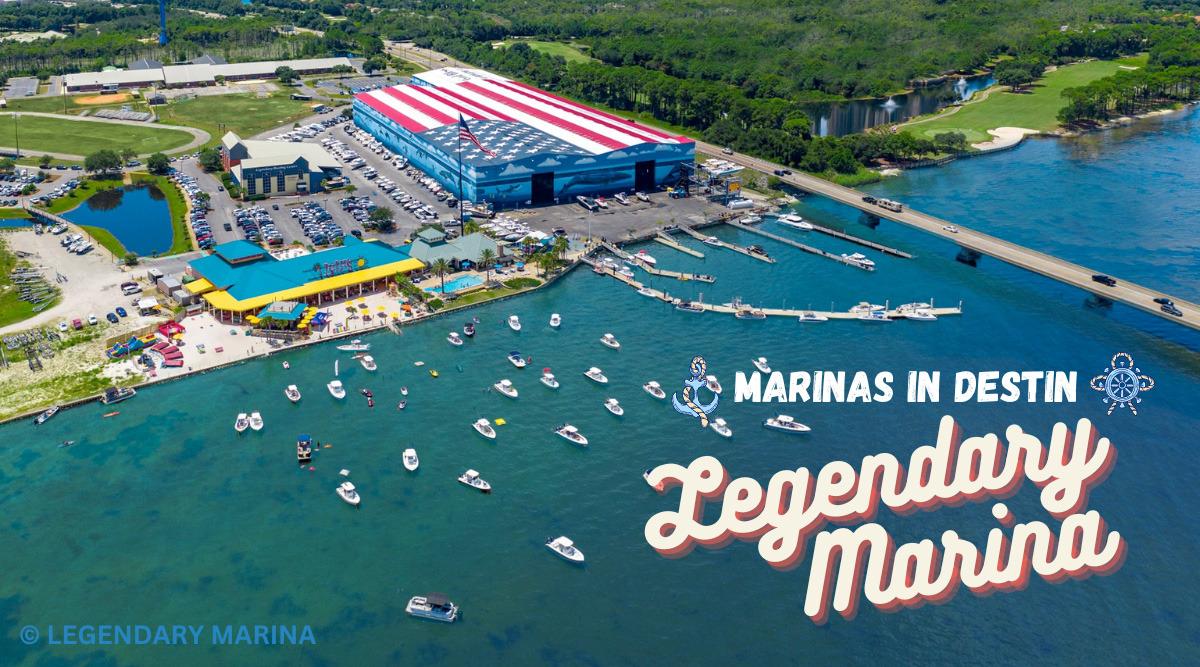 This marina is located on the bay at the foot of the Mid-Bay Bridge, and if you have ever entered Destin from this direction, you have surely seen it. In 2001 Wyland, the world-famous artist from Hawaii, painted a giant mural depicting whales on the sides of the big boat storage complex and an American flag on the top. Legendary is a provider of new and used boats, long or short-term boat storage, as well as full maintenance. They have a dock store with Non-ethanol 93 Octane gasoline, ice, refreshments, and necessities for a day out in a boat. The popular LuLu's Restaurant & Bar is located right at the marina with its own sandy beach. This iconic favorite was established by Jimmy Buffet's sister Lucy aka LuLu! It features a rollicking great time with regular live bands, great seafood, favorite drinks, and a beachy playground for the kids. This restaurant is open daily from 11:00 am to 11:00 pm. The Legendary Marina itself is open from 7:00 am to 4:00 pm. More information is available by calling 850-337-8200.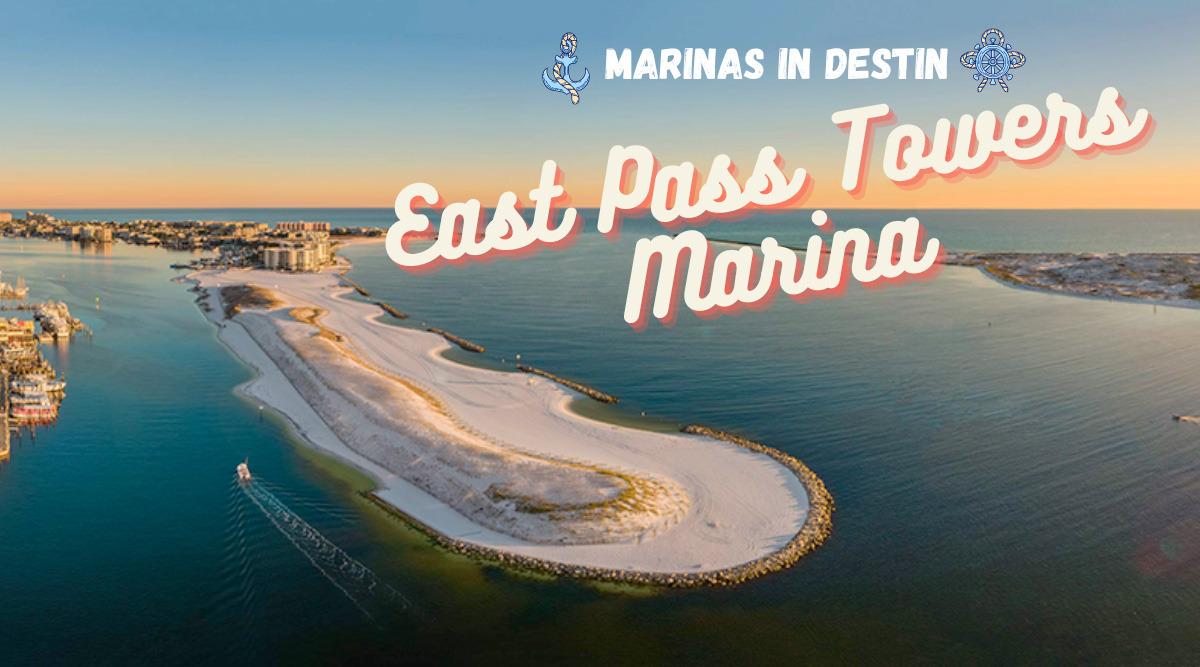 This unique Destin marina is located on the harbor side out on Holiday Isle at 110 Gulf Shore Drive. This private boat marina does offer daily boat slip rentals at the rate of $100 per day, and less expensive weekly rates are also available. Dock slips may berth 35' and 40' boats. More information may be available by calling 850-654-8855.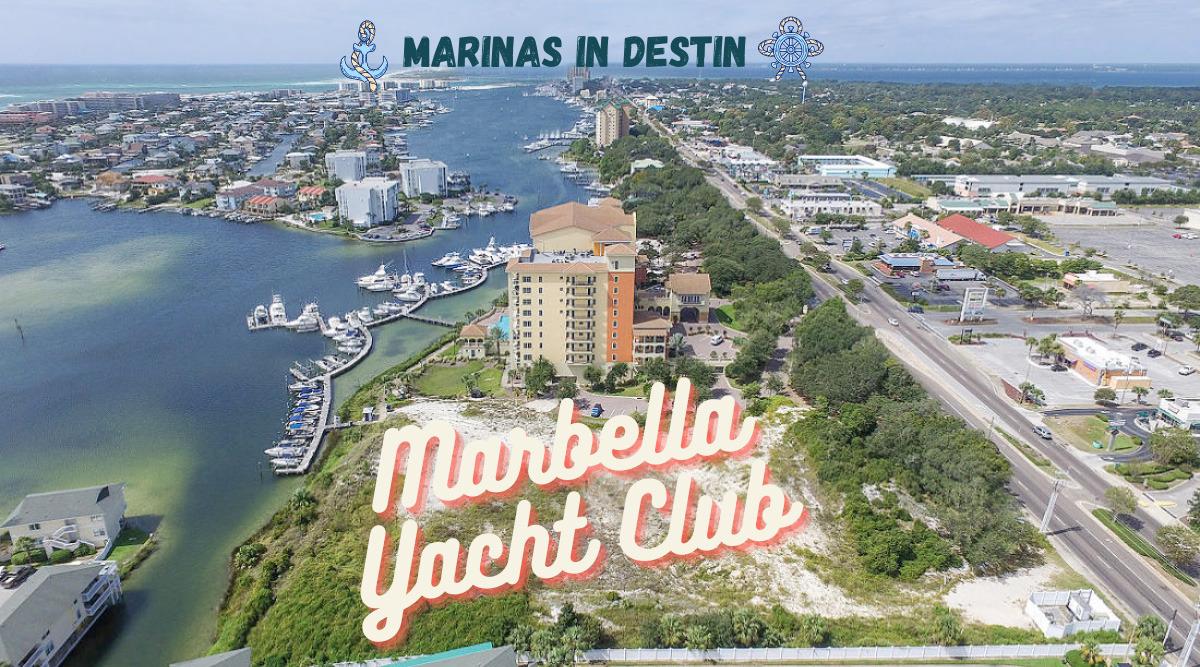 This marina has a prominent location on Destin's harbor at 770 Harbor Boulevard. Their dock includes boat slips that can berth large yachts which measure 28' to 70' in length with 30 to 50 Amp shore power. These are available for both short and long-term rentals with current slips available that can dock 30', 40', 55', and 65' boat lengths. They offer fish cleaning stations, restroom facilities with showers, and secure parking. A prestigious luxury residential tower on-site offers primary residency. More information is available by calling the Dock Master at 850-232-8337.
Sandestin's Baytowne Marina
The marina over in Miramar Beach is part of the Sandestin Yacht Club at this exclusively gated world-class resort. We have quite a few vacation rentals in the Sandestin Golf & Beach Resort, offering abundant amenities. They include the sugary white beach, four championship golf courses, a tennis center, a fitness club, and lots of delightful diversions. This marina is at the captivating and charming Village of Baytowne Wharf, which was created to resemble architecture found in the French Quarter of New Orleans. This pristine Disneyesque family-friendly version straddles a lagoon and has a long wharf that juts out into the expensive bay. Many folks head out there to experience magnificent sunsets that occur over the water during the summer months. The village includes restaurants with bars that play live music, specialty shops, unique family amusements, outdoor concerts, fun festivals, and exciting seasonal firework extravaganzas.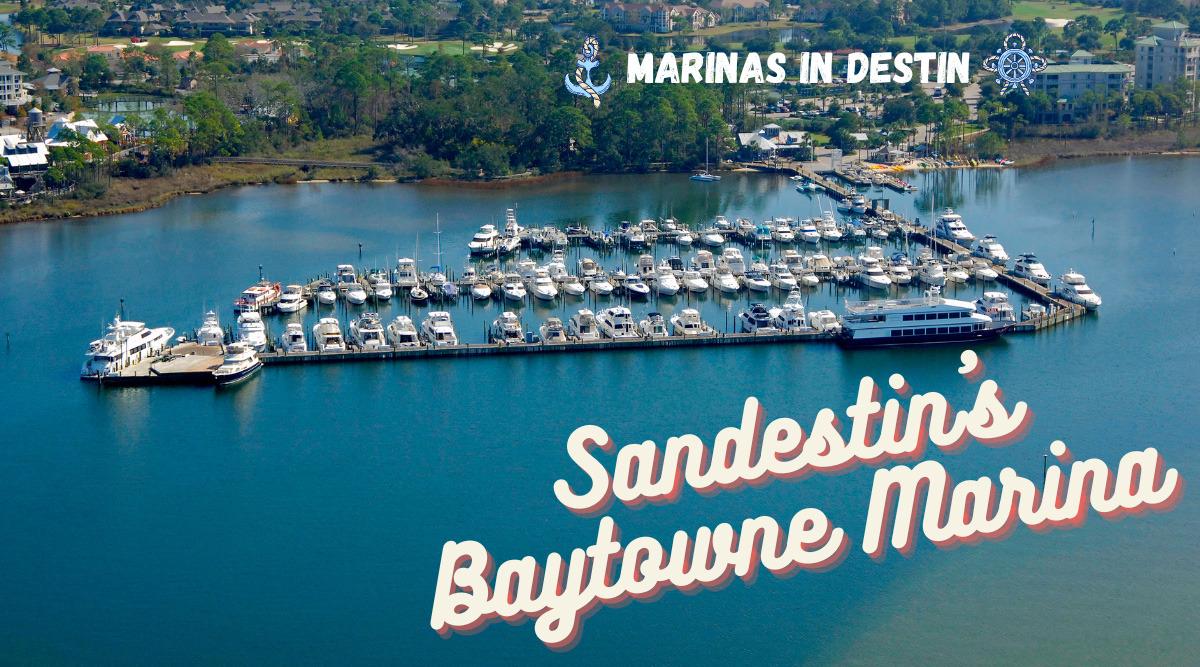 The full-service marina currently includes slips with 233 boat slips with plans for further expansion. Quite a few of them include big private yachts and some berth yachts as long as 140 linear feet. You can charter a number of different types of boats here for fishing trips and day adventures. Pontoon boats, paddle boards, jet skis, and other rental craft are also available. A shop sells tackle equipment, bait, ice, beverages, and other boat necessities. Short and long-term boat slip rentals are available. Daily short-term rates are $4.50 per linear foot, while monthly long-term rentals are $30 per linear foot. The vast majority of boat slips are open to the public and available on a first-come, first-served basis. More information is available by calling 850-267-7773.
Now that you know where to park your big boat, want to charter one, or take advantage of other options available at these marinas, take a look at our great Destin vacation rentals. Our state-of-the-art website can show you detailed property descriptions, satellite location views, seasonal rental rates, and calendar dates still available to make reservations. Bon voyage!