Posted on 2/7/2023
Destin is the perfect destination for football enthusiasts who want to catch all the action while enjoying the sun and the sand. Whether you're looking for a private gathering at a beach home, a lively sports bar atmosphere, or a more relaxed outdoor setting, Destin has got you covered!
Nearly all of our Ocean Reef Resorts vacation rentals include large TVs for that "must-see" game. State-of-the-art kitchens with wide granite-topped bars allow you to serve your favorite drinks and tasty snacks to enhance your enjoyment of the game. Some large luxurious homes even feature a big poolside TV with an outdoor kitchen, grill, bar, or Tiki Hut.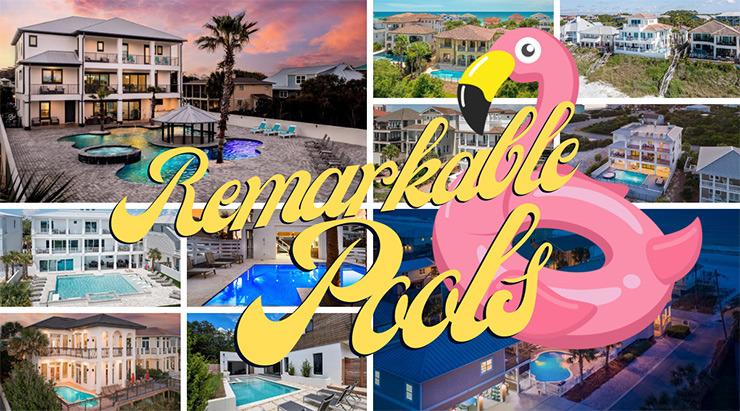 Looking for the ultimate beach vacation? Look no further! These 10 Ocean Reef Vacation Rentals have got you covered and offer the best of both worlds - a private swimming pool AND the beautiful beach just minutes away (or seconds, depending on the property).
Of course, many of our guests also like to hang out with a large crowd cheering or jeering (depending upon who's scoring!) at area restaurants and hopping bars. Here are the top 5 favorite spots to enjoy the football in Destin if you decide to go out and about.
AJ's Seafood and Oyster Bar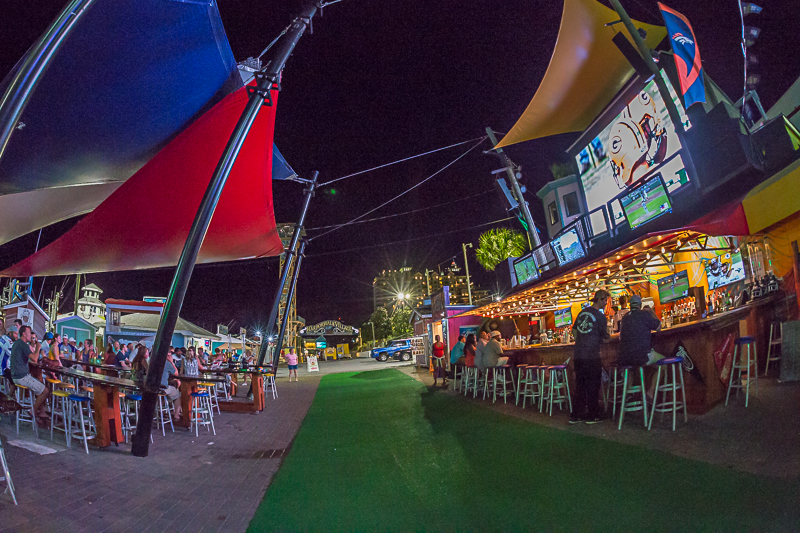 116 Harbor Blvd, Destin, FL 32541
The most established popular place to enjoy the game is the iconic AJ's Seafood and Oyster Bar above the docks, next to Harborwalk Village . An open observation dining and drinking deck with a giant palm thatched Tiki Bar overlooks the marina that harbors the largest private charter fishing fleet in the nation. The docks below are busy with boats providing avid autumn angling adventures especially throughout the month of October during Destin's famous Fishing Rodeo. AJ's provides panoramic views that include the bustling marina, Holiday Isle and the glorious gulf. TVs with extra big screens follow the games while plenty of oysters, beer and drink specials are being served. Half time may have some competition since the sun sets in spectacular fashion right into the glittering gulf this time of year. AJ's has specialties including oysters, fish sandwiches, shrimp, gumbo and lots of seafood. It is a popular rendezvous point for locals and visitors since they also feature live musical performances year-round till the wee hours of the morning.
Tailfins Seafood House, Oyster and Sports Bar
172 Harbor Blvd, Destin, FL 32541
A popular newcomer above Destin's harbor that has just opened and already receives high ratings from visitors is named Tailfins Seafood House, Oyster and Sports Bar. This rollicking establishment has three levels of decks overlooking the sensational scenery. Live music is featured on a regular basis on the top deck. Tailfins is located above the boardwalk just east of AJ's. Each level has a cool casual bar with 70" wide TVs serving drinks, craft beers, a wide assortment of appetizers. They also serve full dinners. Happy hour specials go from 10:30 am (Think Bloody Marys!) till 6:00 pm Mondays thru Fridays but they also have game specials with reduced prices for each sporting event. One of the key attractions at Tailfins is that the main game is shown on a gigantic LED lighted screen known as a Jumbo Tron. These are the types of screen you may have seen at football stadiums and other outdoor special events. They make you feel like "you are there!"
Harry T's Lighthouse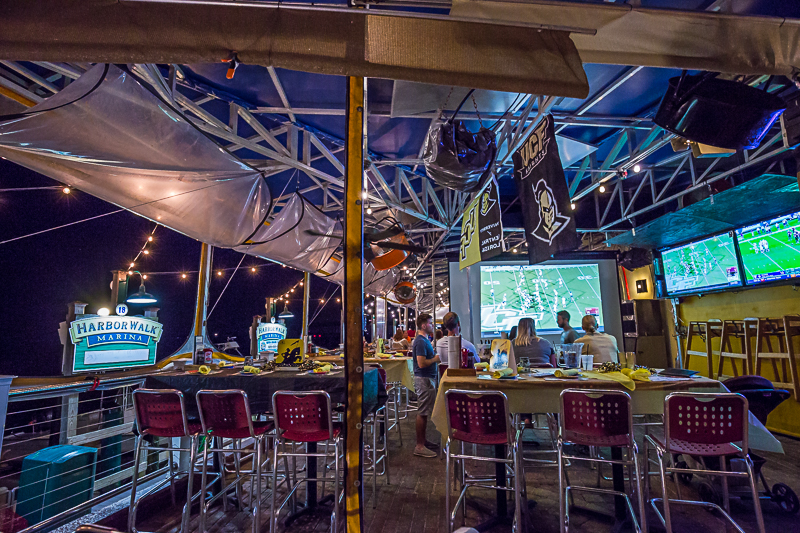 46 Harbor Blvd, Destin, FL 32541
Another great spot to watch the big game is right beside the water in Harborwalk Village at the locally renowned Harry T's which is known for "serving seafood, spirits and sunsets." They also provide a great place to watch the game! You can't miss this place, since it's located under the lighthouse at Harborwalk Village and is one of the first things you see when you come across the Destin Bridge. This coveted location near the point overlooking East Pass provides views of phenomenal sunsets year-round, whether it's over the gulf or bay. The whimsical playful décor features a circus theme complete with a giant giraffe as a tribute to the legendary original "Flying Harry T" who was a Destin native. It receives a four-star acclaim of excellence on TripAdvisor and is rated as among the top twenty restaurants in Destin out of over 300. They serve seafood, steaks, chicken and pasta dishes. So besides enjoying the game on their big screen TVs you may also relish the food and sunset views. The dining dock wraps around the waterfront level while the open porch upstairs includes a full bar, cold drinks, appetizers, entrees and of course – football!
Boshamps Seafood and Oyster House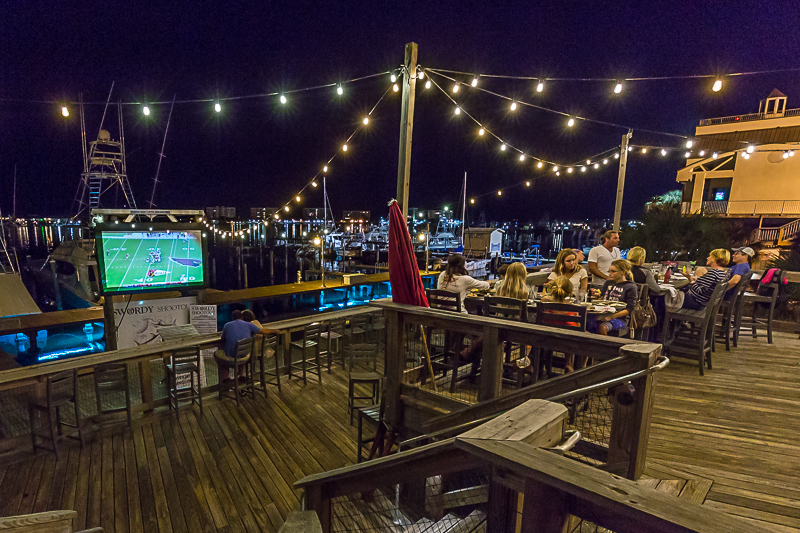 414 Harbor Blvd, Destin, FL 32541
A fairly new restaurant and bar which has received rave reviews is named Boshamps Seafood and Oyster House. It receives a 4.5 Star Acclaim of Excellence and is rated the 9th best restaurant in Destin on TripAdvisor. This casual locally owned establishment, which was named after their three beloved Labrador pups specializes in southern styled seafood and savory steaks. They are located at 414 Harbor Boulevard just east of Harborwalk Village. The indoor dining room has walls of windows providing views across the marina toward Holiday Isle and the gulf while a large open-air pavilion with a bar overlooks the same special scenery. A ramp meanders down to a sugar white beach with a huge hanging kettle that serves as a fire pit. Two full bars include big TVs for sporting events while drink specials, cold beers and delicious foods are being served.
O'Quigley's Seafood Steamer & Oyster Sports Bar
34940 Emerald Coast Pkwy #101, Destin, FL 32541
For our Ocean Reef Resorts guests staying down along Scenic Highway 98 in Destin or over in Miramar Beach, the closest place to enjoy a great game with others is at O'Quigley's Seafood Steamer and Oyster Sports Bar. They are located in the shopping center near Best Buy across from Destin Commons. Open from 11 am till 3 am daily, this rollicking place serves everything from seafood and steaks to chicken wings. They also feature live music but their main claim to fame was being named "Best Sports Bar" in the area by readers of Destin Magazine. They have 24 taps of top selling beers that include specialty craft brews. There are 64 HD TVs scattered throughout showing different games but the biggest sports event is shown on a giant 416 square foot HD projection screen.
Whether you decide to stay in at one of our wonderful Ocean Reef Resorts vacation rentals or join others going out with a fun crowd to experience an exciting game, now you know where to go. Have fun, stay safe and enjoy the game!