Posted on 10/1/2021
Destin is the premier family beach vacation destination in the summer but is a somewhat secret paradise during the fall. Many of our seasoned Ocean Reef Resorts guests will tell you that autumn is the best time to visit after the heat of summer has abated and the crowds have dispersed. There are several other reasons for this. The weather is sensational. Average warm daily highs are in the 70s, while evenings in late fall usher in nice sweater temps in the 50s. The heavy humidity is replaced by perfect crisp dry days, azure blue skies, and lots of sunshine. The Gulf temperature is still warm enough to enjoy a swim at the beautiful, wide-open beaches. Rental rates drop to nearly their lowest rates, and there are no lines at area restaurants or bars. In other words, it is the perfect time for a visit to the beach! Here are some of our best Destin condo rentals to check out for your own awesome fall getaway.
Majestic Sun
1-5 Bedrooms / 1.5-7 Bathrooms / 6-22 Guests
The Majestic Sun looks like a giant "majestic" sandcastle that faces straight out towards the "sun" and the Gulf of Mexico's sparkling jewel-toned waters. An arch goes right through the center of the interconnected towers. A big indoor heated swimming pool is perfectly acclimatized for chilly days. It includes a soaring cathedral ceiling and an entire wall of windows that look out onto the Gulf. It connects to an outdoor pool and bubbling hot tubs. An adjacent fitness center also overlooks the glistening Gulf and outdoor pool.
Ariel Dunes
1-3 Bedrooms / 1.5-3 Bathrooms / 6-12 Guests
Ariel Dunes I and II are urbane, sophisticated luxury towers near the Majestic Sun and share the bright white beach's 2,000 linear feet. Five gigantic swimming pools around their base encompass 23,000 square feet of glistening refreshment. One of them is heated during the chilly months with simmering hot tubs and a nearby fitness center. Ariel Dunes II faces out directly toward the southwest, which offers direct views of the spectacular sunsets that occur right over the Gulf from the fall thru early spring.
Surfside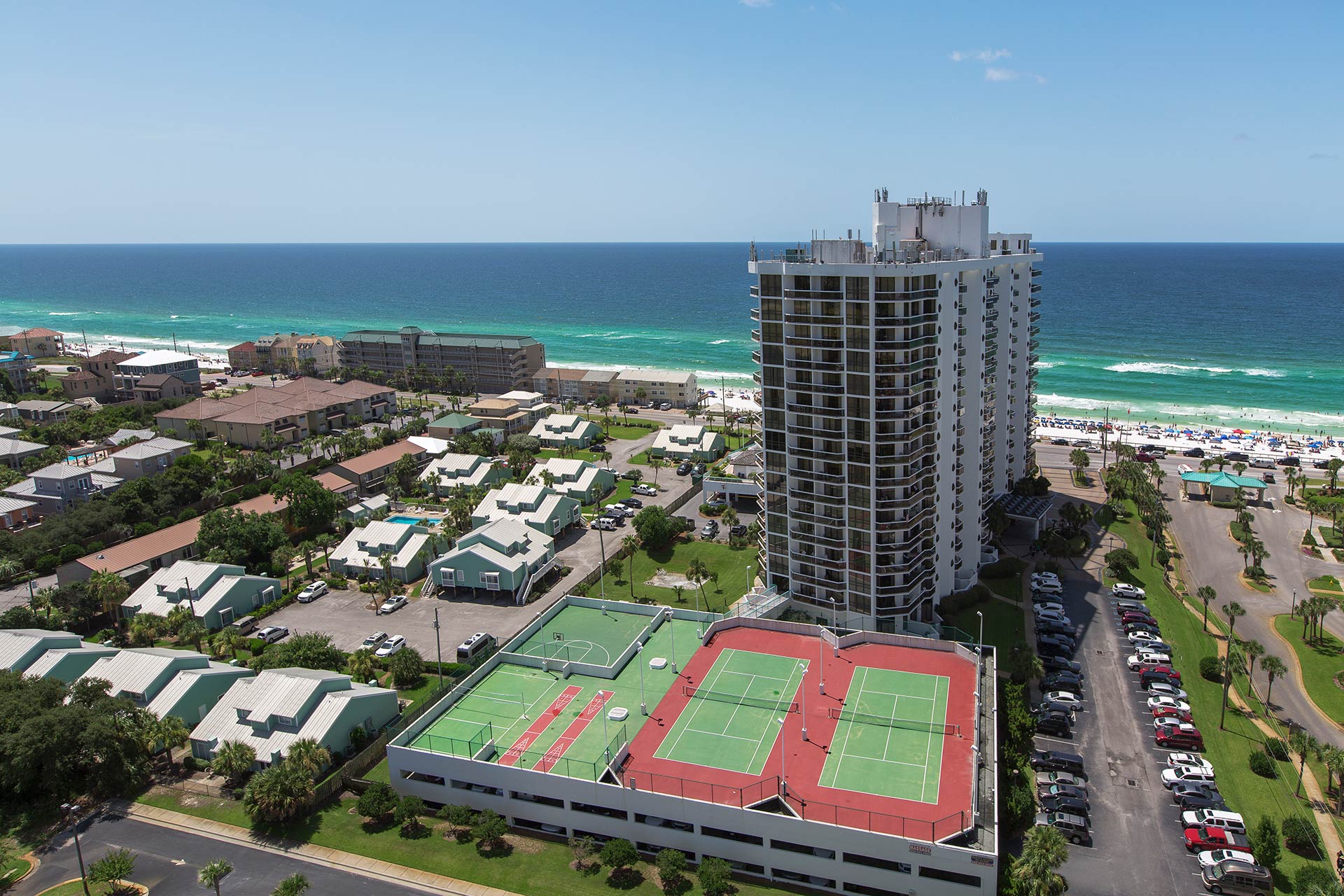 2 Bedrooms / 2 Bathrooms / 6-8 Guests
Surfside is at the same location on Scenic Gulf Drive and directly across the street from the sugary shoreline. This was one of the first luxury towers completed in Miramar Beach and also one of the tallest. It has large porthole windows that decorate its sides all the way up that give it a unique nautical look. Surfside has a heated swimming pool and two large hot tubs on a sunny patio that overlooks the Gulf and is connected by a pedestrian bridge for beach access. Tennis courts and shuffleboard are ready for play.
Amalfi Coast
1-3 Bedrooms / 1.5-3 Bathrooms / 5-10 Guests
The Amalfi Coast is a perennial favorite near the same splendid locale but sits on over eight acres of lushly landscaped grounds across from a sugary dune that leads down to the beautiful beach. A charming pedestrian bridge crosses over a lovely lagoon leading directly to the public beach access point. Two large side-by-side swimming pools adorned with palm trees overlook the sensational scenery, and one of them is heated for fall and winter use. There are also lighted tennis courts, a brand new fitness center, and barbeque grills near the pool.
Majestic Sun, the Ariel Dunes towers, Surfside and Amalfi Coast are all right next door to the Seascape championship eighteen-hole course that provides reduced rates for Ocean Reef guests to enjoy a round of golf this wonderful time of year.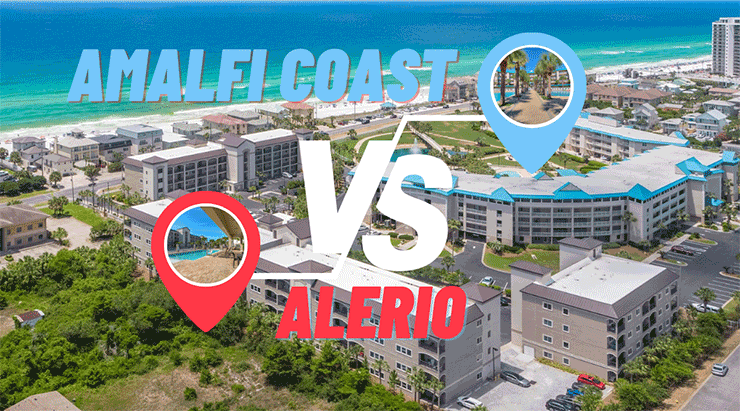 Edgewater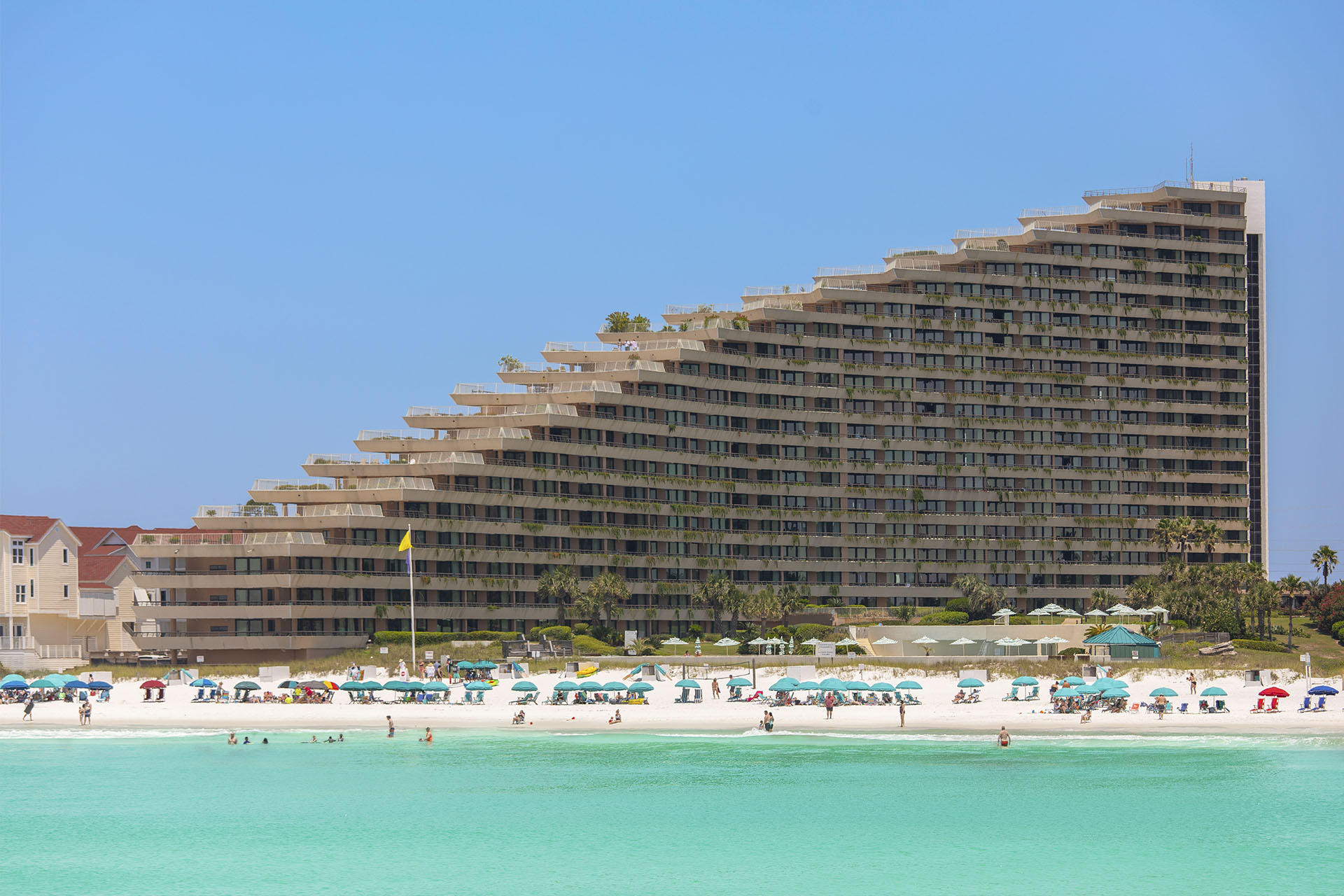 1-3 Bedrooms / 1-3 Bathrooms / 4-10 Guests
Edgewater is also located in Destin's Miramar Beach, and it looks like a gorgeous luxury lined that decided to dock on a particularly beautiful part of the crystalline beach. The curved exterior lines form a huge interior crescent that is nestled around a vast heated Gulf-front swimming pool. A hotel on the French Riviera and features unique step-like open terrace decks that overlook the glorious Gulf-inspired building. This resort also includes tennis courts, shuffleboard, basketball, a kid's playground, putting green, a fitness center, and an extra-large steaming hot tub.
Huntington by the Sea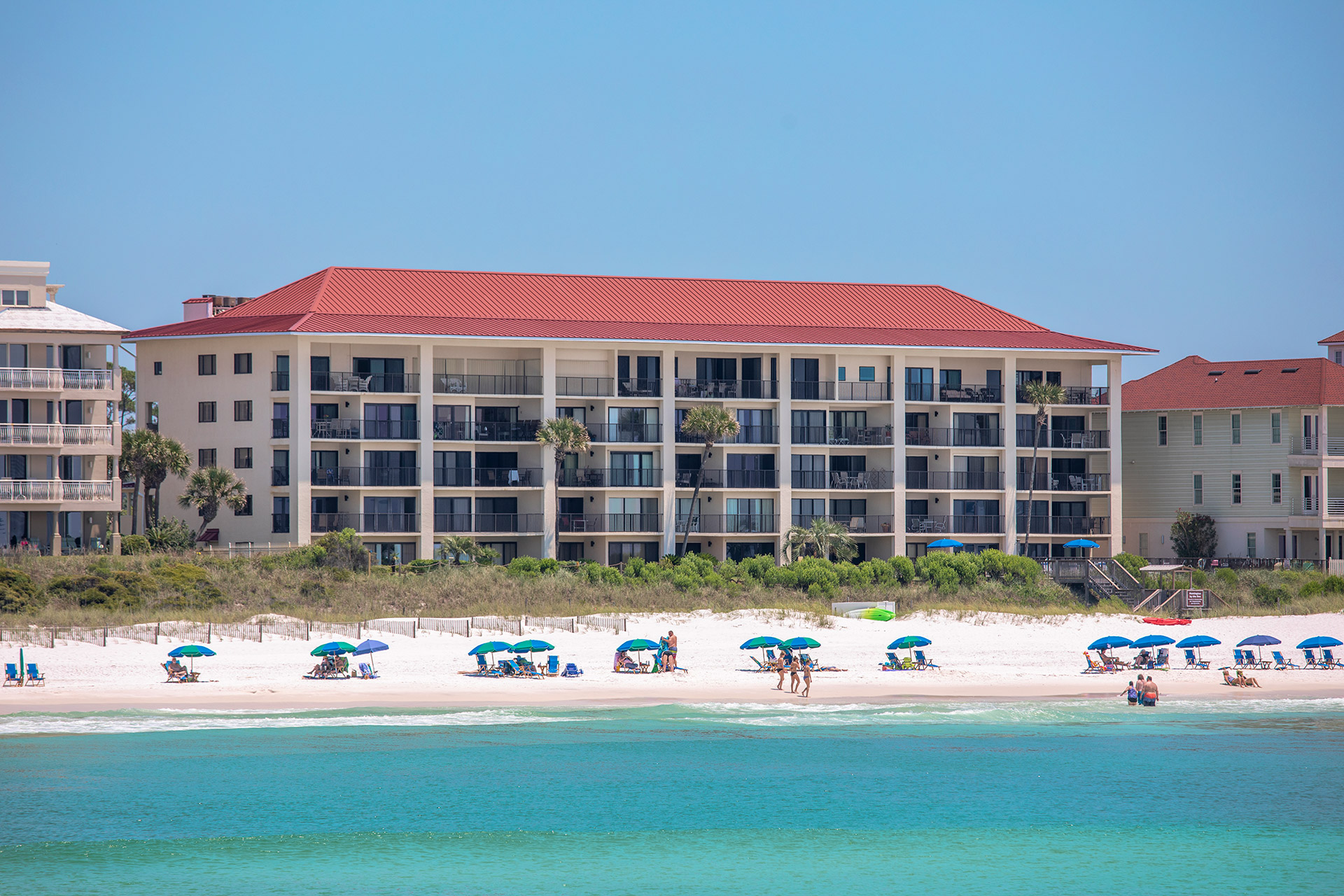 2 Bedrooms / 2 Bathrooms / 8 Guests
Huntington by the Sea is a low-rise beachfront building nearby that features a swimming pool and a lush lawn that overlooks the Gulf. Gas grills are available so that you may create your own special Surf n Turf meal while watching a sunset. Like the other Miramar Beach properties, this location places you near popular restaurants and friendly beach bars along Scenic Gulf Drive. Destin's Miramar Beach is also home to Silver Sands, which is one of the largest designer discount outlets in the nation. It provides the perfect place to go bargain Christmas Shopping for the upcoming holidays.
Westwinds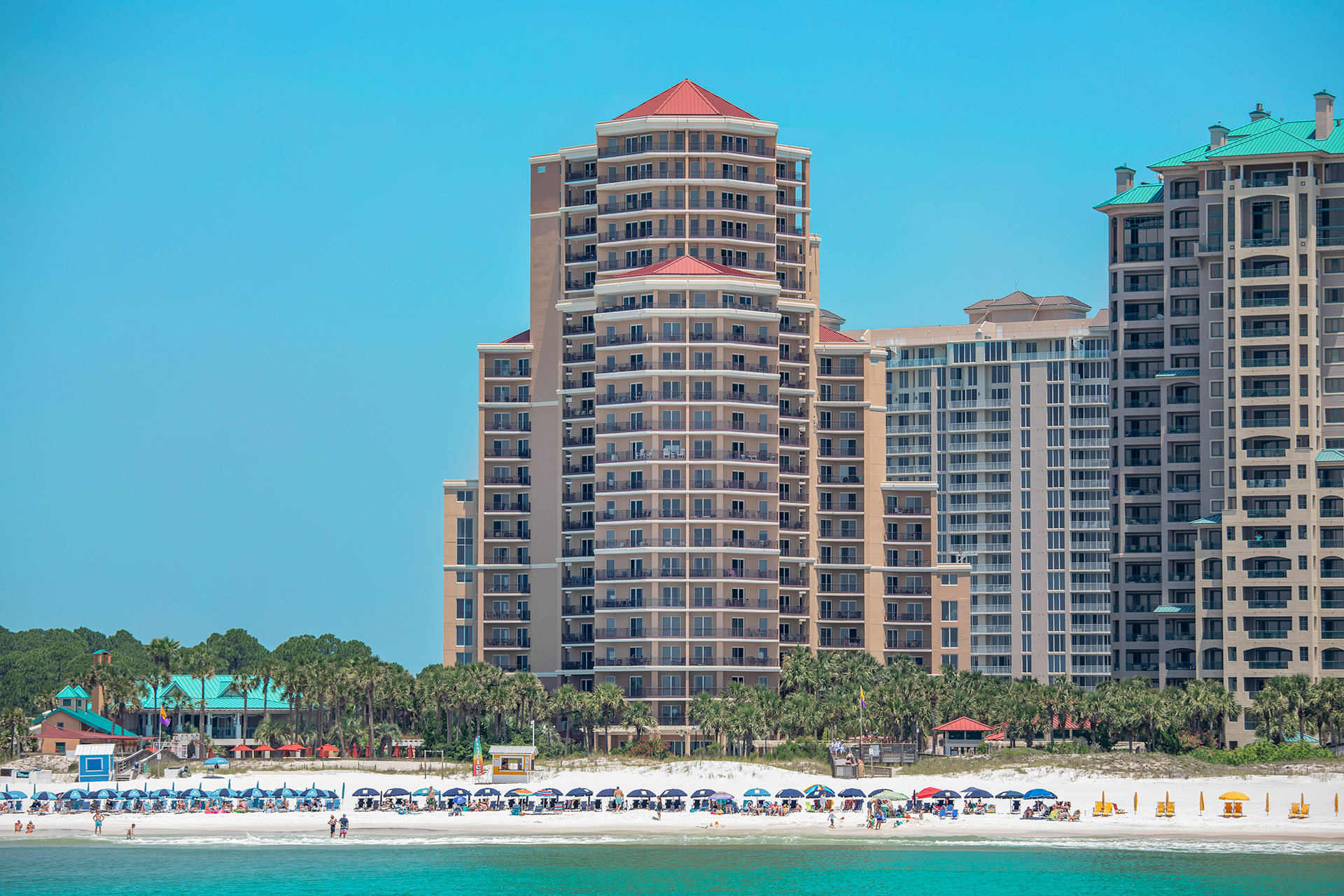 1-2 Bedrooms / 1-2.5 Bathrooms / 4-6 Guests
Westwinds is a luxurious beachside tower on the 1,400-acre grounds of the exclusively gated Sandestin Resort. This beachfront condominium also faces toward the southwest so that you may experience the sight of breathtaking sunsets right over the Gulf. There is a large heated swimming pool and big hot tub that overlook the sugar-white beach. The lovely landscaping includes cascading waterfalls and gardens. There is also a poolside fitness center. Sandestin is a beautiful world of its own with four championship golf courses spanning across from the Gulf to the bay. Abundant amusements, a variety of restaurants, lively bars, boutiques, seasonal festivals, and outdoor concerts are located on the grounds at the picturesque Village of Baytowne Wharf, as well as upscale Grand Boulevard.
Emerald Waters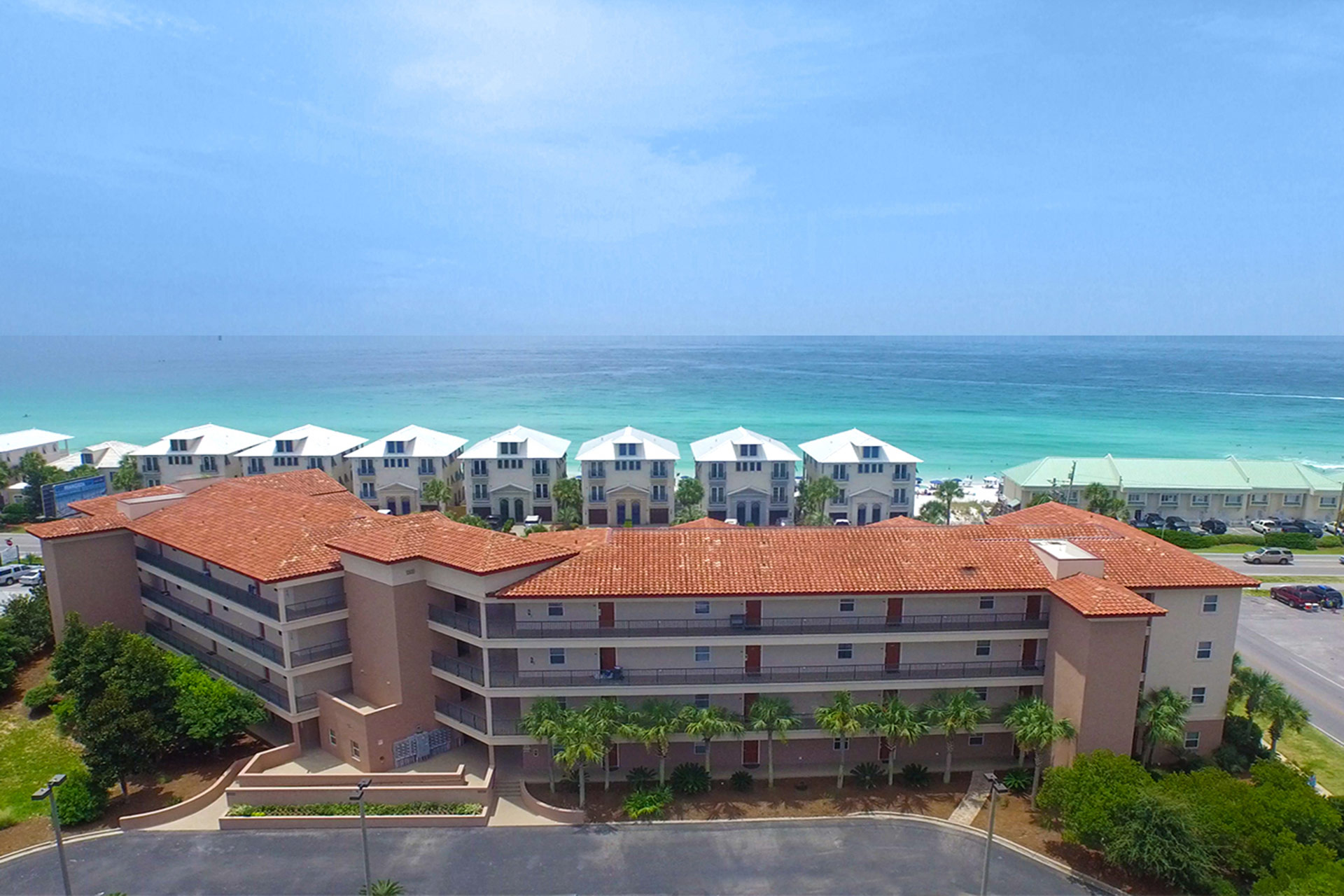 2-3 Bedrooms / 2-3 Bathrooms / 6-8 Guests
Emerald Waters is a three-story Mediterraneanstyled building that only has 36 vacation residences. It has a great location in prestigious Frangista Beach at the western end of Scenic Gulf Drive. A swimming pool and simmering hot tub span across the front. It is across from a gated access to its own beach. This location allows you to walk down the beach a short distance away to the popular Pompano Joe's restaurant and bar. Their friendly outdoor patio serves drinks during Happy Hour, providing a great place to enjoy the vibrant sunsets over the Gulf while sipping your favorite drinks.
Emerald Dunes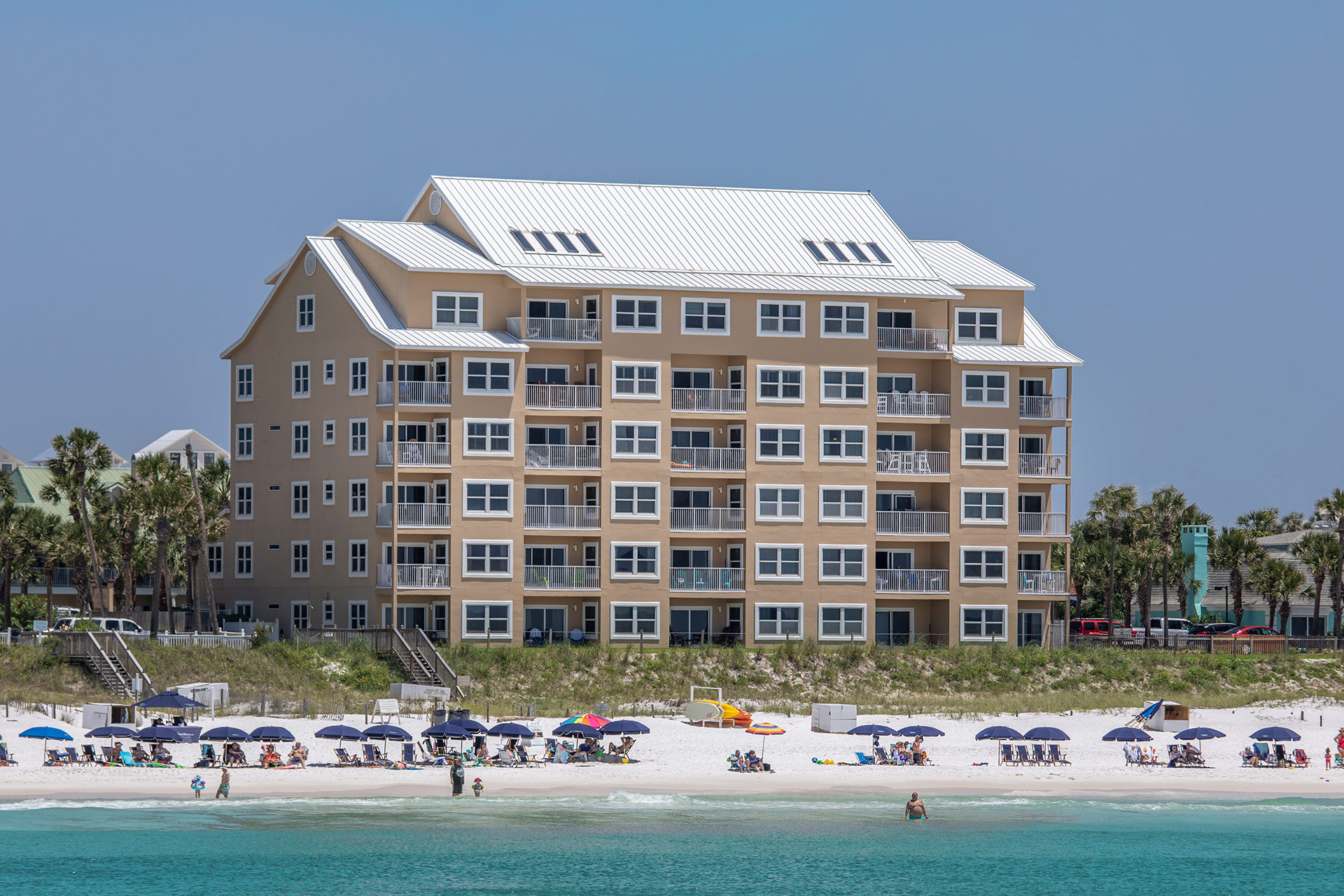 2-3 Bedrooms / 2 Bathrooms / 8 Guests
Emerald Dunes is a mid-rise condominium a little further west in and located in the heart of Destin's Crystal Beach. Balconies overlook the gorgeous Gulf in the back while a large heated swimming pool and sizzling hot tub face palm-studded front. It is within walking distance of Camille's and the Beachwalk Café, which are two romantic restaurants where you may enjoy a fantastic fall feast. This awesome beachfront location is only minutes away from Destin Commons, which has been voted Destin's Best Shopping Destination. This Disneyesque pedestrian-friendly center features specialty shops, restaurants, bars, and a large multi-screen cinema.
SunDestin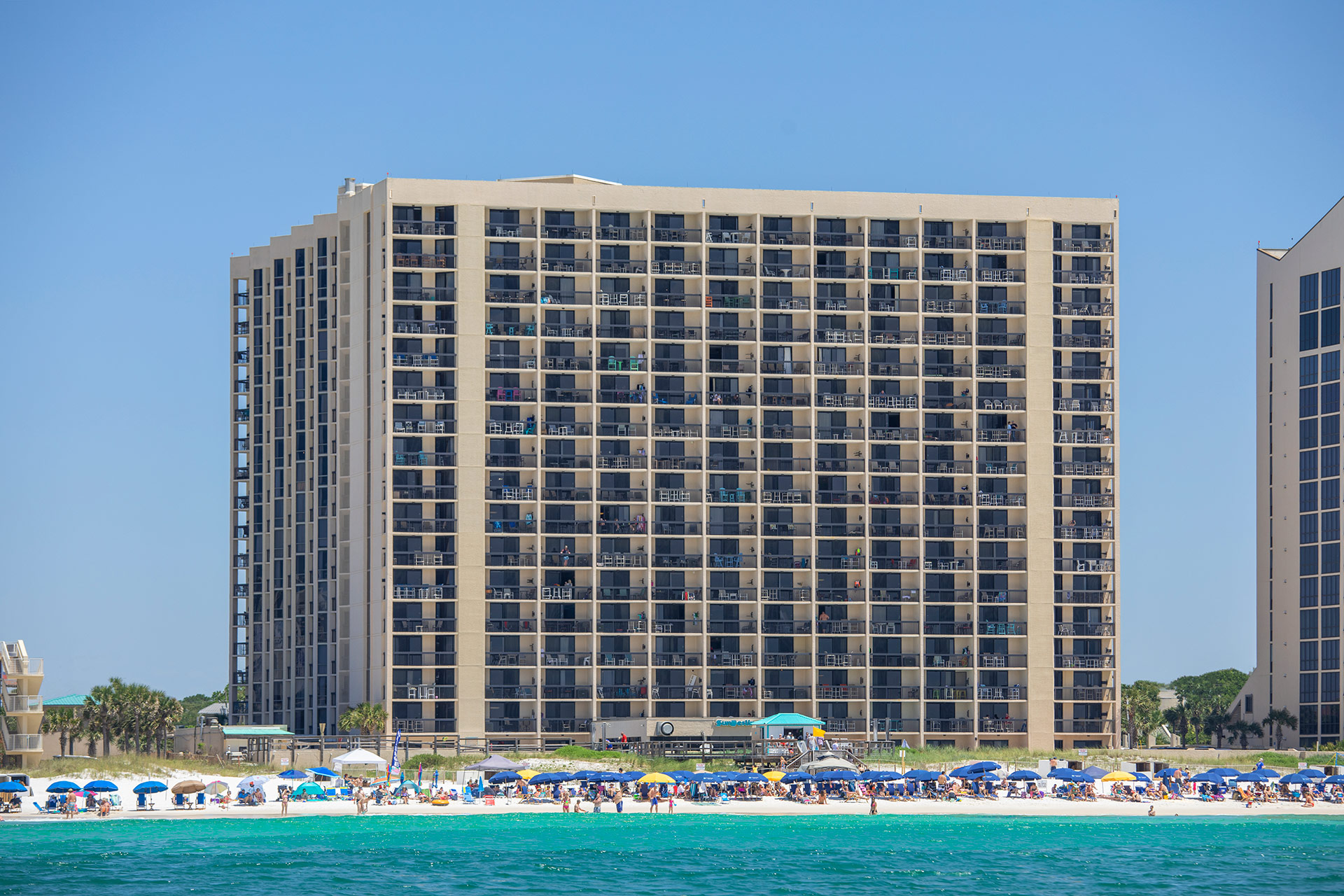 1 Bedroom / 1.5 Bathrooms / 4 Guests
SunDestin is located in Destin's heart, which makes it a great place to be during the fall since the Destin Fishing Rodeo goes throughout October. You are also close to Harborwalk Village with a wide choice of waterfront restaurants to choose from and relish heavenly fall sunsets over the Gulf. Sundestin has a heated indoor and outdoor pool, a bubbling hot tub, a fitness facility, an arcade, and shuffleboard courts.
Make your plans today for a fabulous Fall Vacation in Destin at any of these delightful destinations. You will love it this time of year!
More Fall Vacation Rental Options: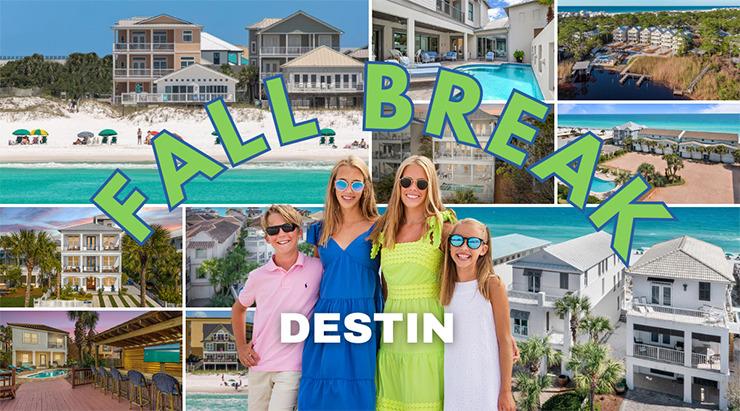 Whether you're a couple seeking a romantic hideaway, a family in need of multiple bedrooms, or a group of friends looking for the perfect retreat, we've got you covered. Read on as we unveil 10 hand-picked Destin vacation homes that promise to elevate your fall break to a whole new level.