Posted on 4/21/2023
As the weather warms up, it's time to start thinking about planning your ideal beach vacation on 30A!
When booking a beach vacation home, there are several features you might be looking for—comfortable bedrooms, spacious living accommodations, and convenient beach access, just to name a few. But one feature that can really elevate your 30A getaway is a private backyard.
If a backyard made your list of must-haves in a vacation rental, we've got you covered. Several of our 30A beach homes have super awesome backyards. Some of the amenities that make each backyard top-notch include private pools, lake access, large gathering space, yard games, curated landscaping, gorgeous views, and more!
Because we love a good backyard, and thought you might too, we compiled a list of the best backyards at our Scenic Highway 30A vacation rentals—just for you. Our staff weighed in as well, providing expert insight into which of our 30A rentals have the best backyards. Read on to discover one-of-a-kind backyards right here on the Emerald Coast!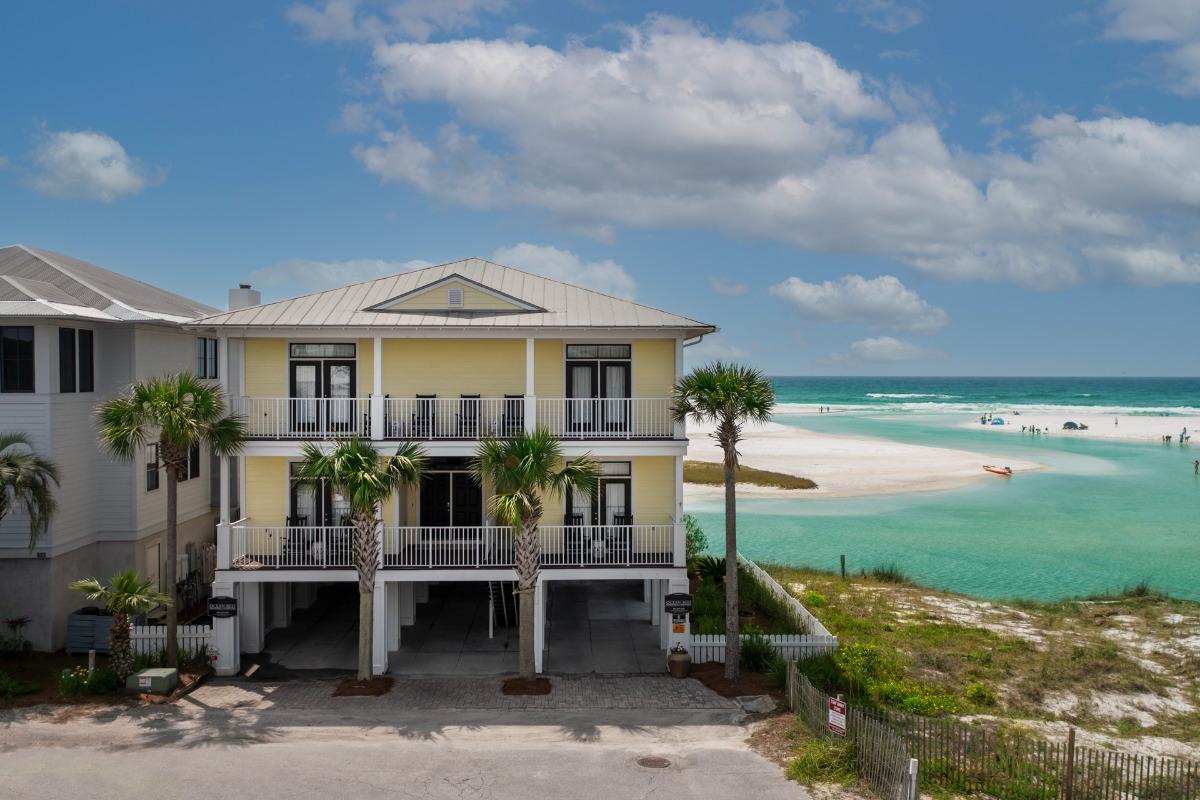 6 Bedrooms / 6 Full & 1 Half Bathrooms / 14 Guests
Abaco is a three-level beach house located right on the edge of Western Lake in Grayton Beach. Its picture-perfect location boasts incredible views not only of the lake, but of the white sandy shores of South Walton. This 30A home has six bedrooms and can accommodate up to fourteen vacationers. The interiors are spacious and sunny, featuring an open floor plan, high ceilings, large windows, and sliding glass doors. There will be no fighting over bedrooms, as five of the six bedrooms each have a king-size bed.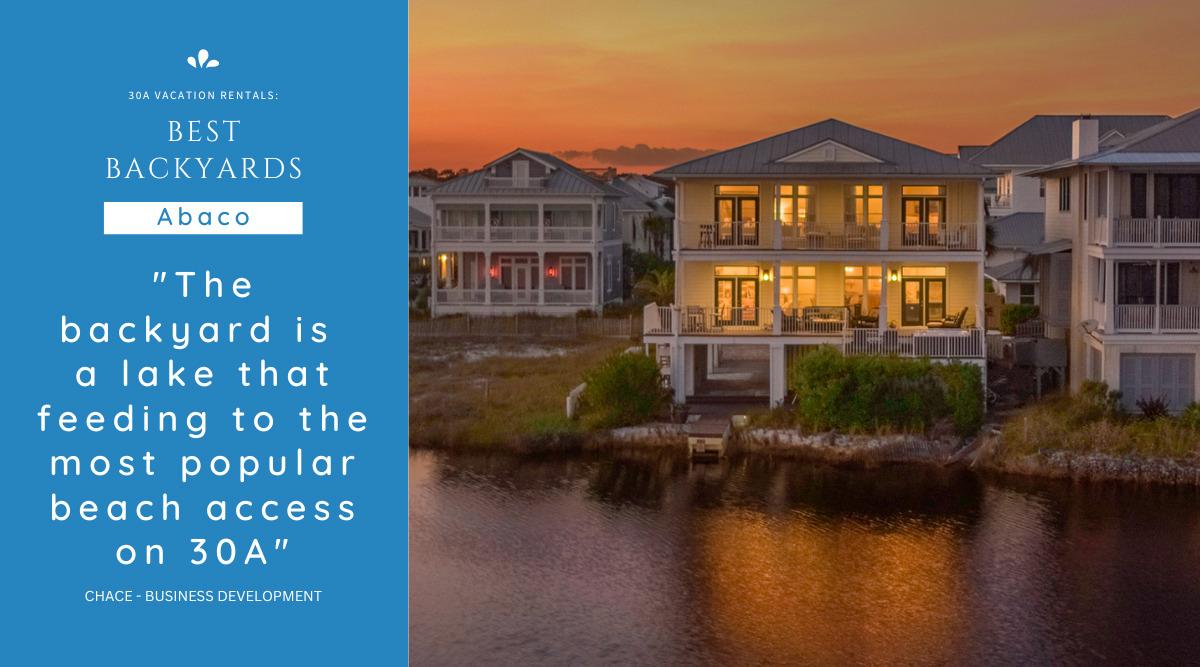 While the interiors are amazing, it's nothing compared to the home's backyard! When asked about what makes the backyard so unique, Chace (Business Development) said it best: "Abaco is a very special property because the backyard is a lake that feeds to the most popular beach access on 30A. Hop on your paddleboard and go!" He's right! The home literally sits on the shores of Western Lake and has a dock that leads to the water. Guests can swim, paddleboard, kayak, or fish directly from the backyard. Because the lake leads right to the beach, you can continue your paddling journey into the Gulf waves. Joan (Housekeeping) added her praise for the property, saying, "While Abaco does not have a backyard in the typical sense of the word, the back deck has a hot tub overlooking Western Lake and the Gulf of Mexico. What more could you ask for in a backyard?"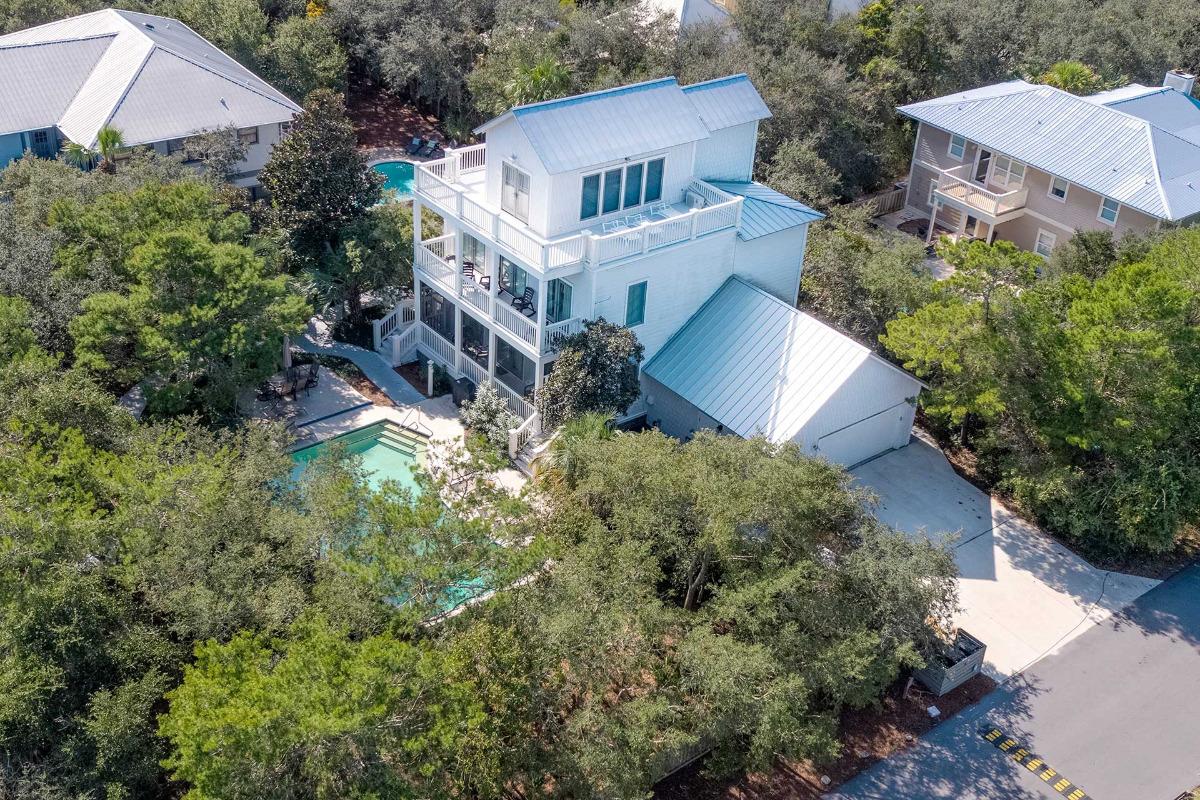 4 Bedrooms / 4 Full & 1 Half Bathrooms / 14 Guests
Nestled among tropical trees in Grayton Beach, Above the Dunes is a quiet and private oasis that radiates relaxation. This three-level vacation home features multiple levels of breezy balconies, sunlit interiors, and a splendid primary bedroom. With four bedrooms and extra sleeping accommodations, it can entertain up to fourteen guests. On the top floor, you'll find a bonus living room with windows on every side. From here, you can access a comfortably furnished rooftop deck with coastal views. The beach is also less than a three-minute stroll from the house.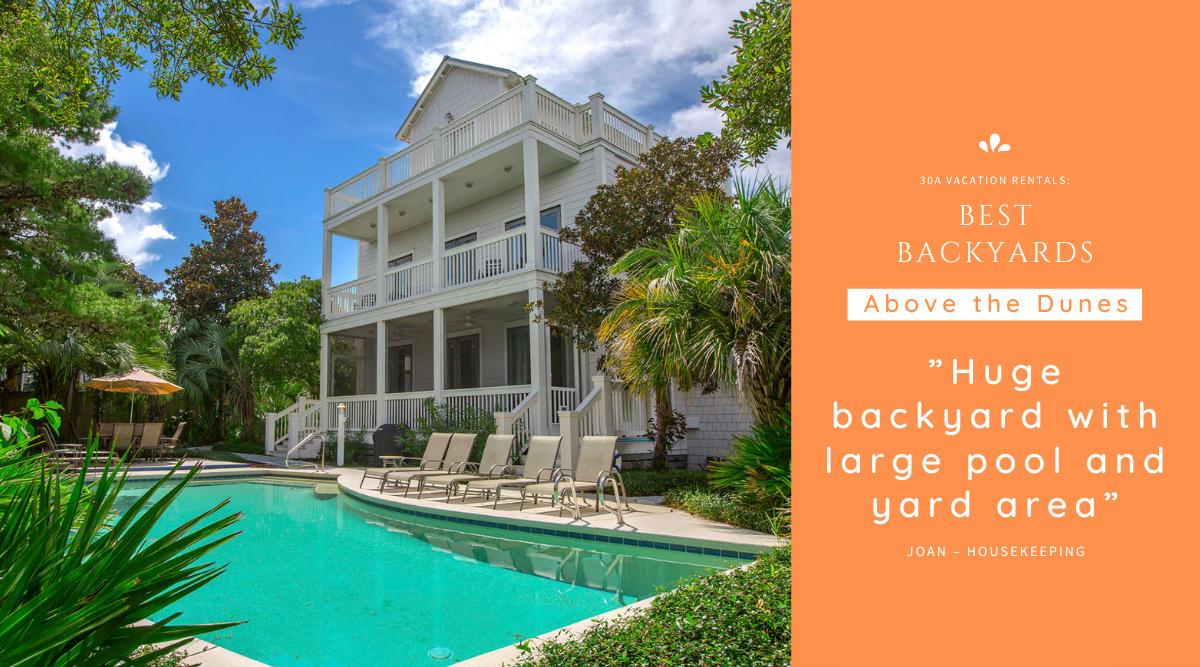 In addition to all this, the home's backyard is a paradise unto itself. As Joan says, Above the Dunes has a "huge backyard with large pool and yard area," which makes it the perfect place to relax with your fellow vacationers. The pool measures 37'x12' and is surrounded by a sun-soaked patio and several pool chairs. On one end of the pool, a cozy shaded area includes an outdoor table, chairs, and an umbrella. It's the ideal spot for al fresco dining. The entire backyard is surrounded by palm trees and coastal flora, giving it that private feel that many crave on vacation.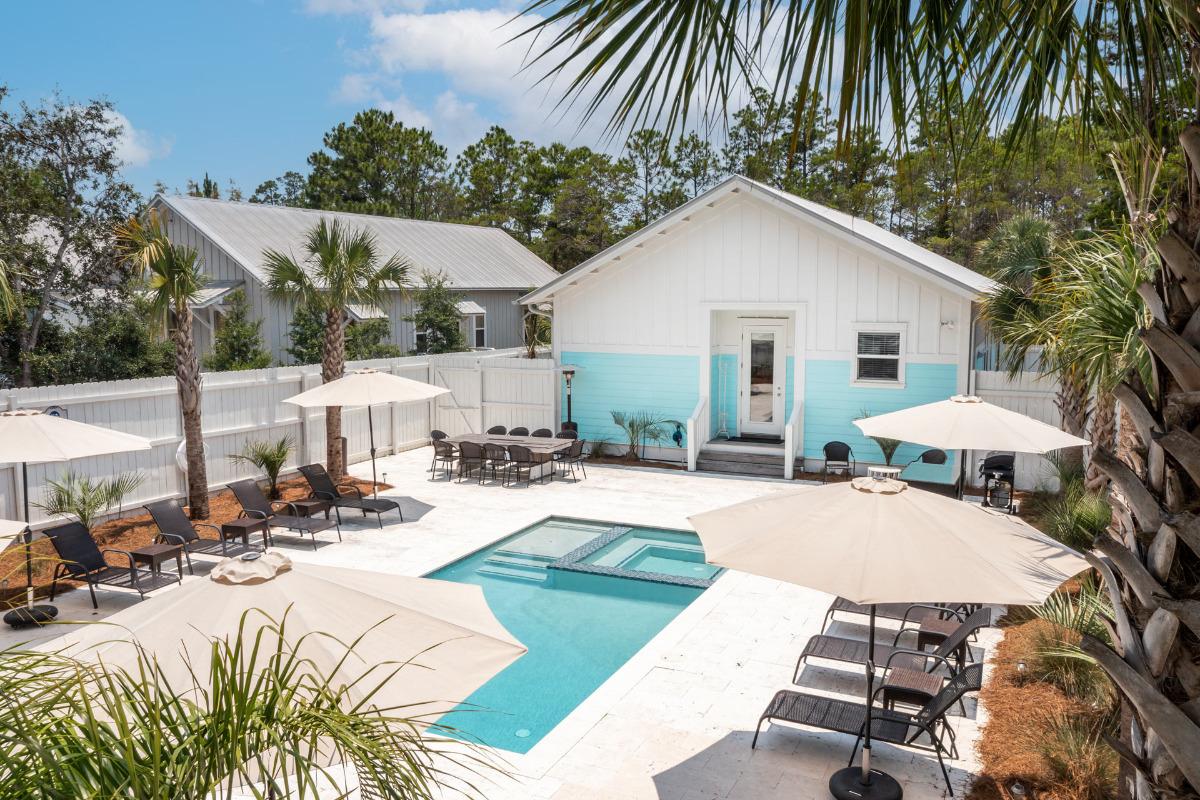 3 Bedrooms / 2 Full Bathrooms / 8 Guests
Grayton Beach is home to Backyard Bliss, the cutest three-bedroom beach cottage on the coast. It can host up to eight guests. Upon arrival, you're greeted with teal blue and white exteriors, a front porch with southern charm, and palm tree-studded landscaping. Inside, shiplap walls, white and cream furnishings, and coastal accents add to the beachy ambiance. The bedrooms are cozy and well-appointed, with different size beds in each room to accommodate your whole party.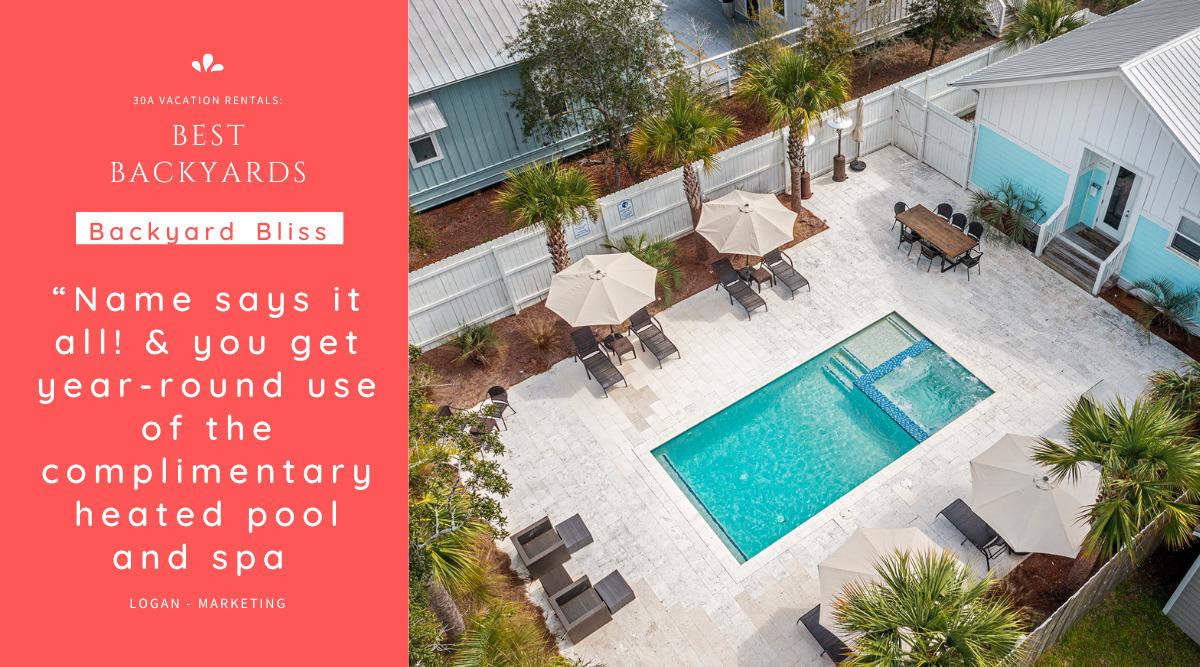 Of course, it's also no surprise that Backyard Bliss has an incredible backyard—it's in the name, after all! Three of our staff even claimed this was one of their favorite backyards on 30Aa. Joan loves the large backyard and pool. Logan (Marketing) added, "The name says it all! And you get year-round use of the complimentary heated pool and spa." And Justin (Management) was totally right in saying that "it feels like you are at a day club or something." A high, white fence encloses the entire backyard creating a feeling of privacy and ease. The pool is in the center of a large sundeck, which is furnished with lounge chairs and sun umbrellas. A BBQ grill is provided so you and your fellow guests can serve up delicious poolside meals anytime you want. To top it off, palm trees encircle the patio, enhancing the coastal vibe.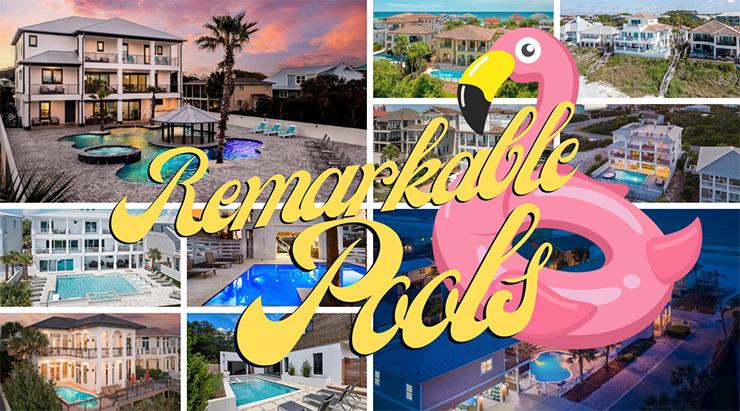 Looking for the ultimate beach vacation? Look no further! These 10 Ocean Reef Vacation Rentals have got you covered and offer the best of both worlds - a private swimming pool AND the beautiful beach just minutes away (or seconds, depending on the property).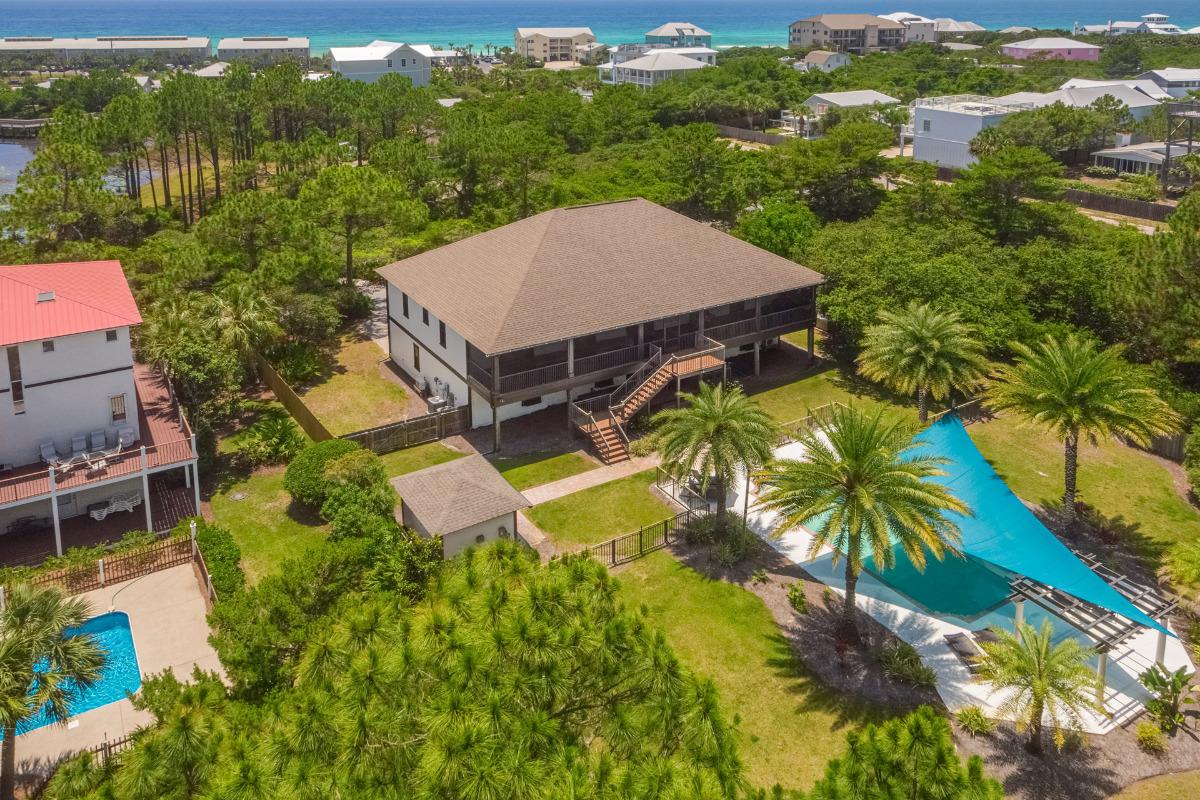 5 Bedrooms / 3 Full & 1 Half Bathrooms / 18 Guests
Welcome to Crawdaddy's Casa, a laidback beach home located in Dune Allen Beach just off 30A. This home is set among palm trees and tropical vegetation, creating a private paradise less than three minutes from the beach. The two-level home has five bedrooms. It can house up to 18 vacationers. The spaciousness makes it the perfect home for a large family vacation or multi-family and friend trip. The combination of high ceilings, an open floorplan, comfortable accommodations, and a breezy balcony is exactly what everyone needs to enjoy a beach vacation.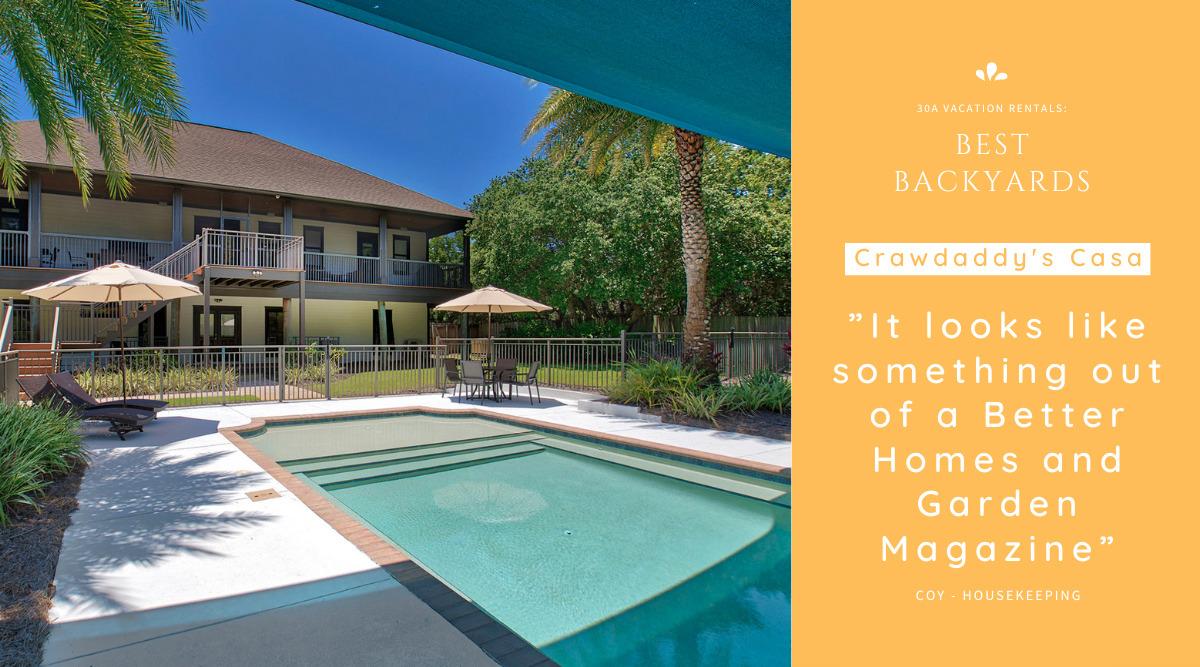 The backyard, though, is the crowning glory of this beautiful home. As Coy (Housekeeping) says, "It looks like something out of a Better Homes and Garden Magazine." It truly does! When looking out over the backyard from the second-level balcony, the scene is stunning. Grassy lawns, palm trees, and coastal plants surround a covered 35'x15' pool and sundeck. The deck is furnished with chairs, outdoor tables, and sun umbrellas. Use the provided gas grill to cook a tasty meal to enjoy al fresco. When you're not at the beach, you can bet you'll be spending most of your time in this backyard oasis!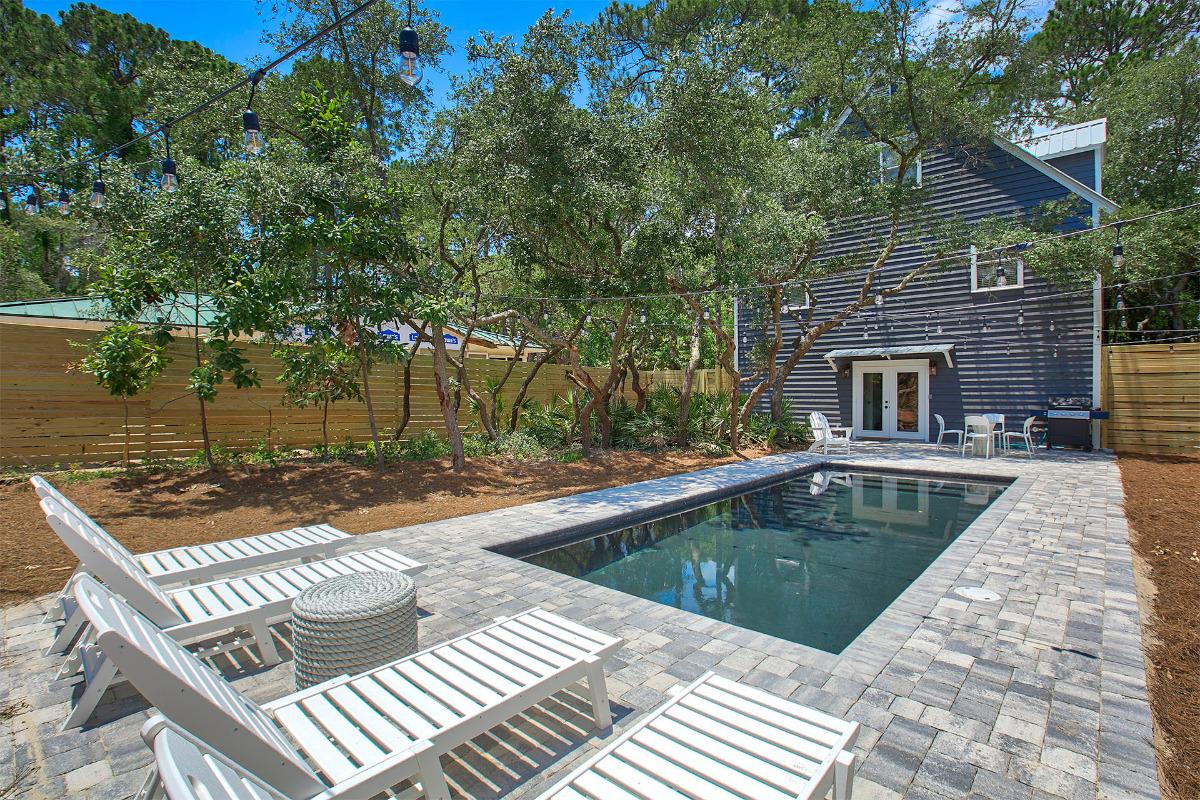 4 Bedrooms / 3 Full Bathrooms / 12 Guests
Pine Cove is a lovely three-level vacation home in Grayton Beach. With four bedrooms, it can accommodate up to twelve guests. Two levels of sunny balconies encircle most of the house, offering the perfect place to enjoy a cold drink and beachy breezes while chatting with your fellow vacationers. Inside, the open great room is naturally lit and features ocean-inspired décor. A plush blue wraparound couch, a glass-topped table with a driftwood base, and coastal art are a continual reminder that you've arrived in paradise. Other notable features include an enclosed balcony with a porch swing, spacious bedrooms, and a furnished hall that leads to the backyard.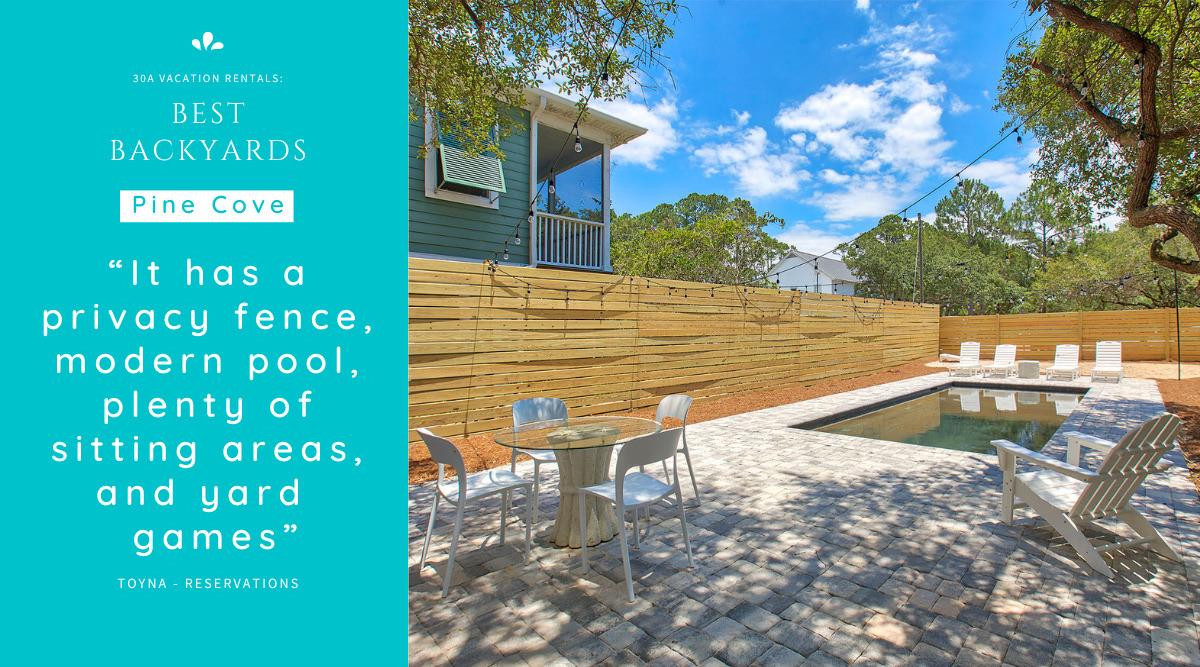 The backyard at Pine Cove is picture-perfect in every way. Tonya (Reservations) says she loves the backyard, adding that "it has a privacy fence, pool, plenty of sitting area, and yard games." All of these amenities combine to create an outdoor space that is primed for ultimate relaxation. A rectangular pool is set amid a paver patio, which is furnished with lounge chairs and an outdoor table. Yard games include both cornhole and giant Jenga. String lights are hung across the yard and pool area, so you can keep the fun going well into the evening and night.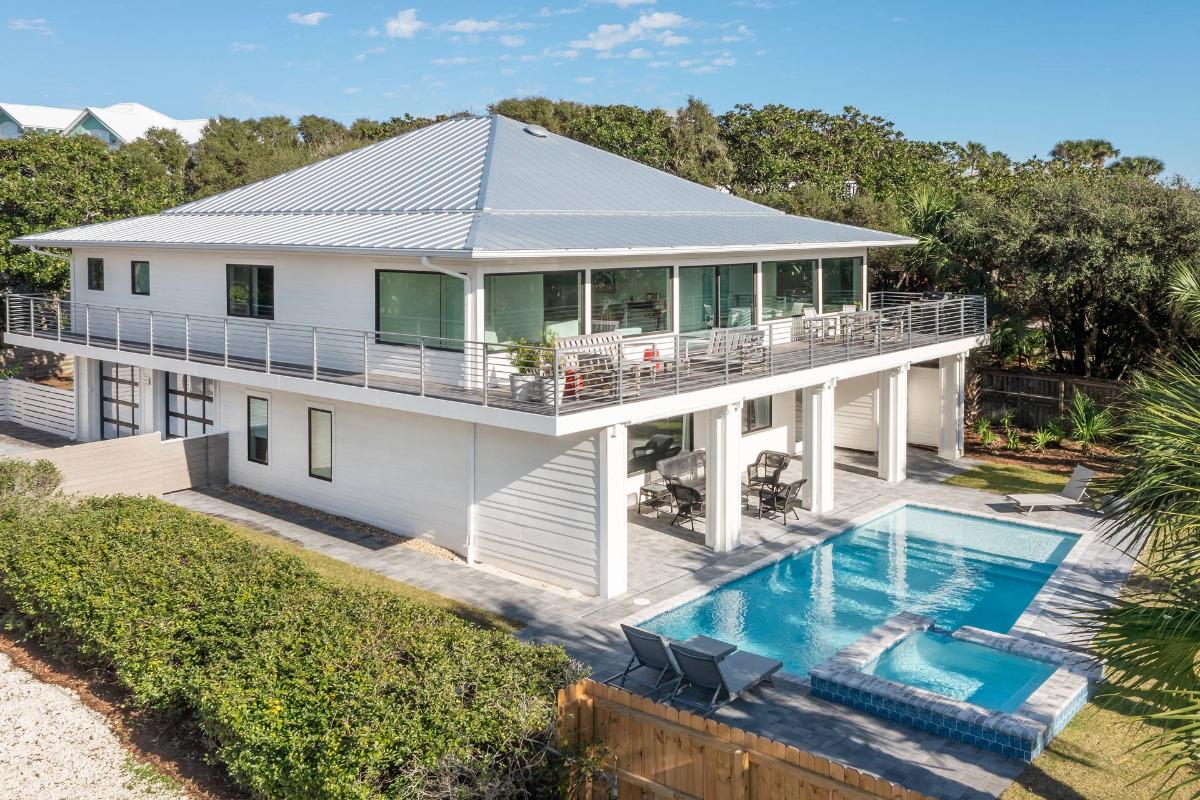 4 Bedrooms / 3 Full Bathrooms / 15 Guests
Laid-back luxury are the words we'd use to describe Seven Palms, a stately 30A beach home located in Dune Allen Beach. The two-level rental has four bedrooms and can comfortably host up to fifteen visitors. All of the bedrooms are well-appointed, and several include king-size beds. The first floor includes a bonus living area that doubles as a game room. The upper floor is dedicated to the home's open great room, which includes the modern-styled living room, kitchen, and dining area. From here, guests can access the balcony that wraps around the house. The balcony is furnished with a chic collection of outdoor chairs, couches, and umbrellas.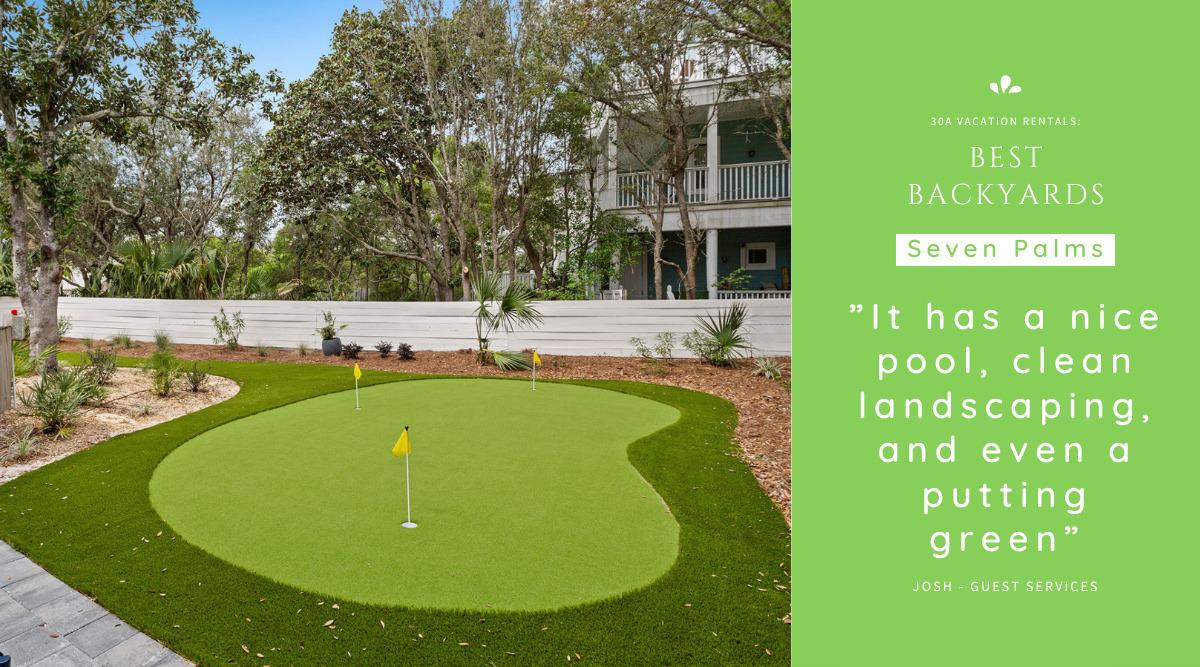 The balcony also overlooks the home's incredible backyard. Josh (Guest Services) says that Seven Palms is far and away a favorite when it comes to backyards on 30A. As he says, "It has a nice pool, clean landscaping, and even a putting green." A tiled deck surrounds the pool and hot tub. Next to the pool, a shaded patio is furnished with tables and chairs. Around the side of the house, you'll find the putting green, where you can practice your putts before hitting the championship golf courses in the area.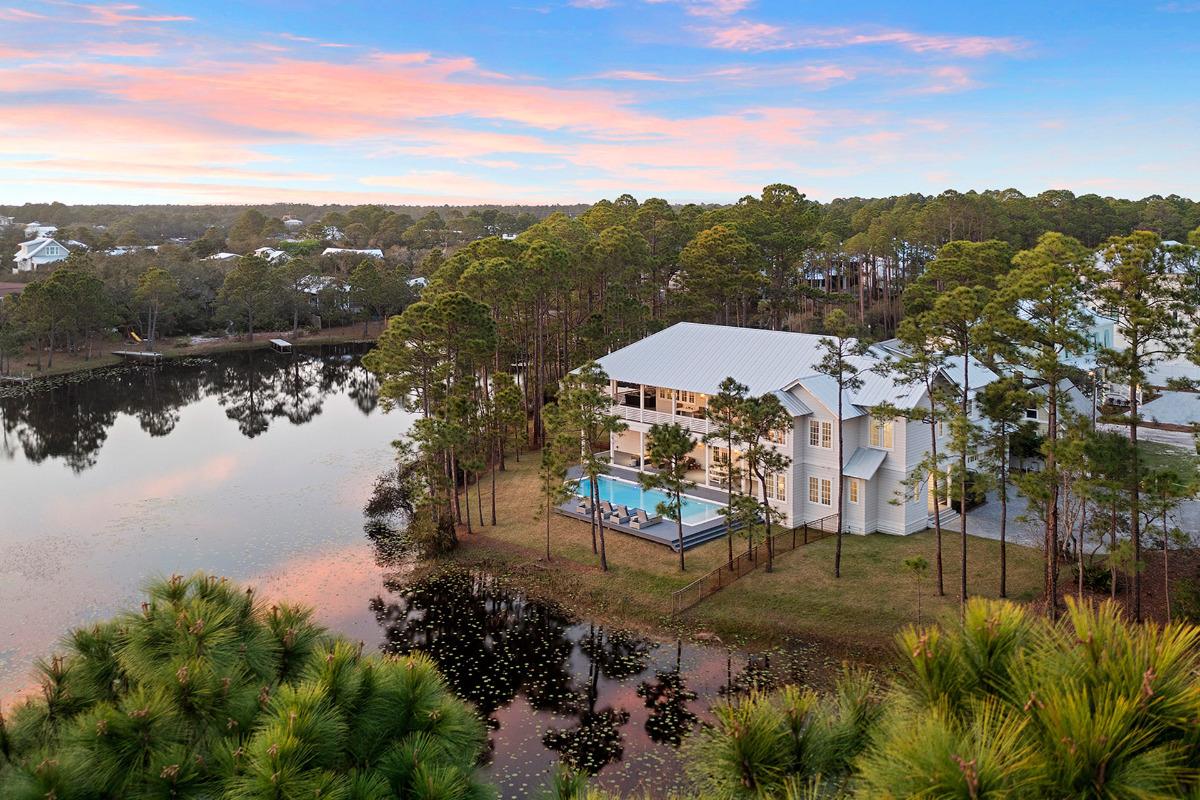 6 Bedrooms / 6 Full & 1 Half Bathrooms / 16 Guests
Tresca Pines is located in Seagrove Beach south of Scenic Highway 30A. This beautiful home is great for a large group of vacationers. It has six sunny bedrooms, a spacious great room, a luxury chef's kitchen, several well-furnished balconies, and a bonus den with a kitchenette. It can entertain up to sixteen guests. Visitors will love the number of casual gathering spaces in this home. The living room boasts an oversized wraparound couch, high ceilings, and bonus seating areas. The dining room and kitchen provide ample seating for both formal and casual meals. One of the balconies includes an outdoor wraparound couch that faces a mounted flatscreen TV for entertainment. The other overlooks a stunning coastal lake scene.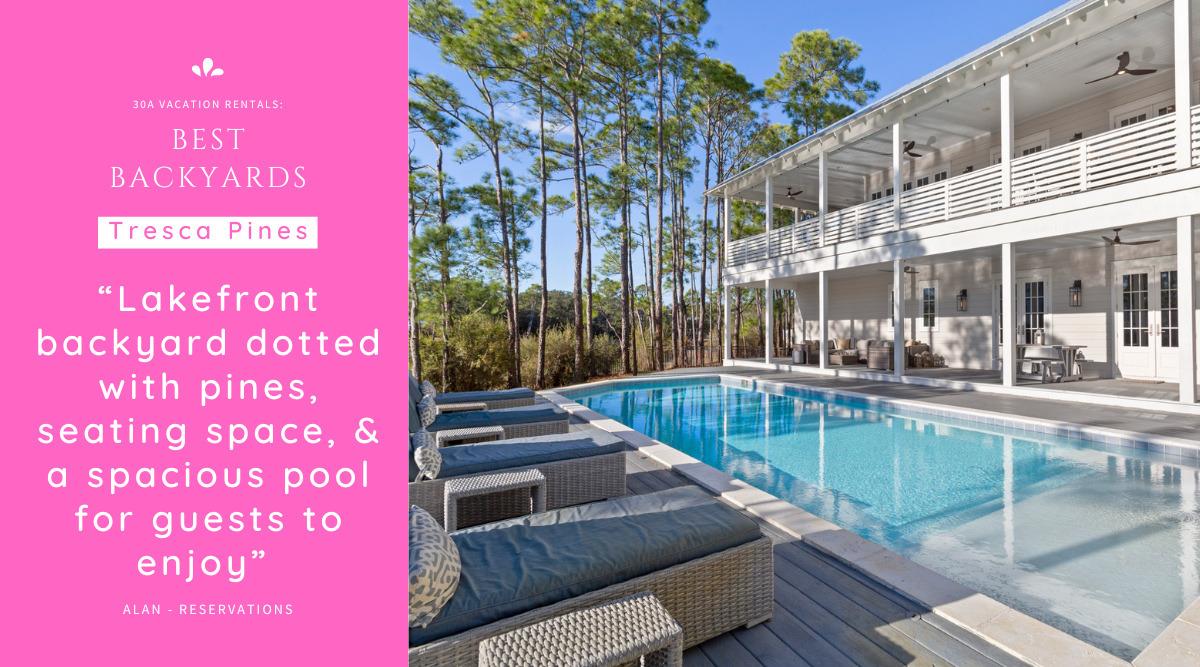 The lakefront backyard also enjoys views of the serene lake and provides guests with a one-of-a-kind outdoor gathering experience. As Alan (Reservations) says, Tresca Pines has a "beautiful lakefront backyard dotted with pines, tons of seating space, and a spacious pool for guests to enjoy." The large, rectangular pool is great for a refreshing swim or playing in the water. The surrounding wood deck is furnished with plush lounge chairs. The covered balcony that overlooks the pool includes an outdoor wraparound couch and a cottage-style picnic table.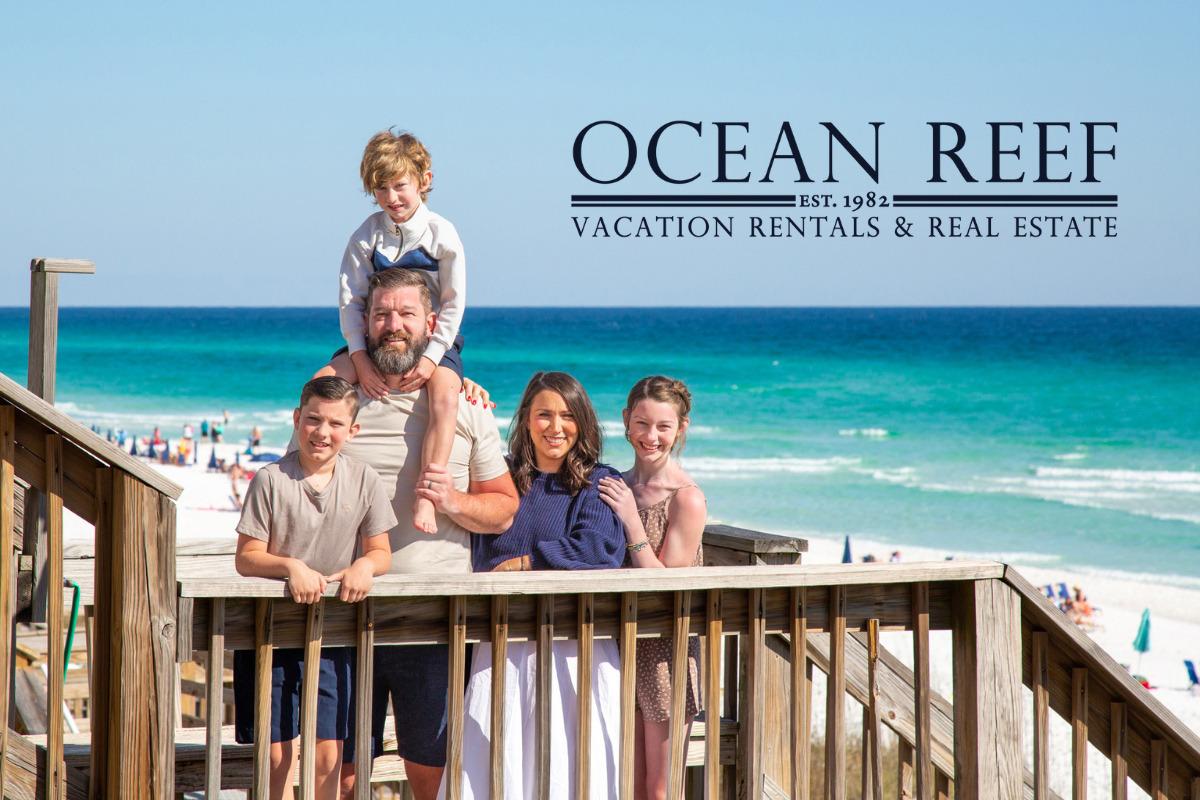 If you're planning a beach getaway and want a 30A vacation rental with a backyard, be sure to consider these properties! Take a look at each for additional details and available dates. Once you've made your decision, book your stay through our website or call our local reservation specialists at (800) 782-8736 for assistance!