Posted on 5/29/2020
Strolling through the historic (est. 1890) coastal enclave of South Walton's Grayton Beach, one's eye is met with an equal measure of art and nature. The homes and tree-lined drives create a tapestry that winds its way to the white sand beach. Just behind the famous Red Bar, all of that quiet luxury and brilliant nature coalesce into 80 feet of brightly decorated fence – something people around town are calling the Grayton Beach Art Wall. The origin of Grayton's art wall goes back to the original owner of the home, Jerry Cloutier. He is the guy who painted the original: "Grayton Beach Nice Dogs, Friendly People" sign, which was later changed to "Grayton Beach Nice Dogs, Strange People" – an inside joke that's a shred of truth, as the people of Grayton have always danced to the beat of their own drum, stood out from others along 30A, and though what some may call strange, others could interpret as unique. Jerry created all of the original art along with his daughter Kylie who still has a piece hanging there presently. Along the wall, there are several pieces crafted by heavy hitters in the thriving local art community as well as budding artists, and even 3-year-old Finn Townsend. Not to mention, the curation/arrangement is a work of art in itself. The collection is truly organic with over 12 pieces already, just showing up on their own. The art wall continues to grow and evolve, so you'll want to pop by every time you come to town.
View Adjacent Rentals: Grayton Place 4 | Grayton Place 6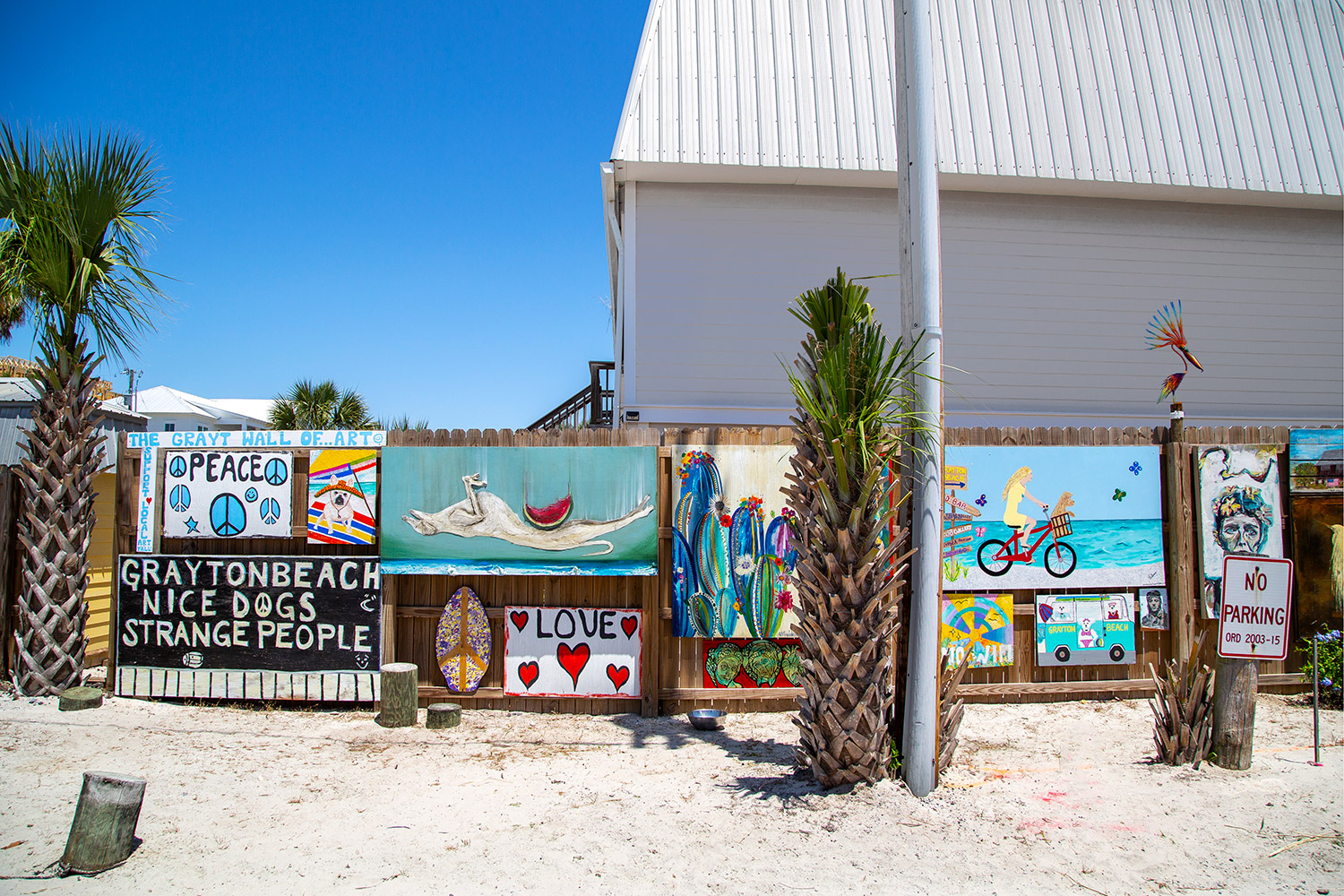 Sitting on the corner of Hotz Ave and Garfield St., this outdoor art gallery hangs upon a fence owned by Joyce Levey. A former Alabama educator and all-around Grayt woman, who once said, "Grayton has a very free-loving spirit, and is a very artistic community." At the time of this writing, two more locations are being added to the Grayton art wall, along the local pumping stations, one just across from the original and one just a block or so away on Defuniak Street. Local tree lover, and a man handy with a smile, Allen French, is one of the walls original organizers, and a featured artist on the wall, himself. He has been blown away by the outpouring of local support and a very strong response from the art community.

The wall features work by local favorites Justin Gaffrey Allison Wickey, Kathleen Broaderick, Donna Burgess, Matt Lyons as well as other artists featured include Kayla Burleson, Deborah Pittman, Julia Kate Mace, Victoria Hughes, Dana Carley Spradlin, Debbie Bowman-Cornett, Clint Eagar, Brooks Roberts, Lee Clark, and Sean Merideth, and those are just the ones we know about! Moving north to south here is a full review: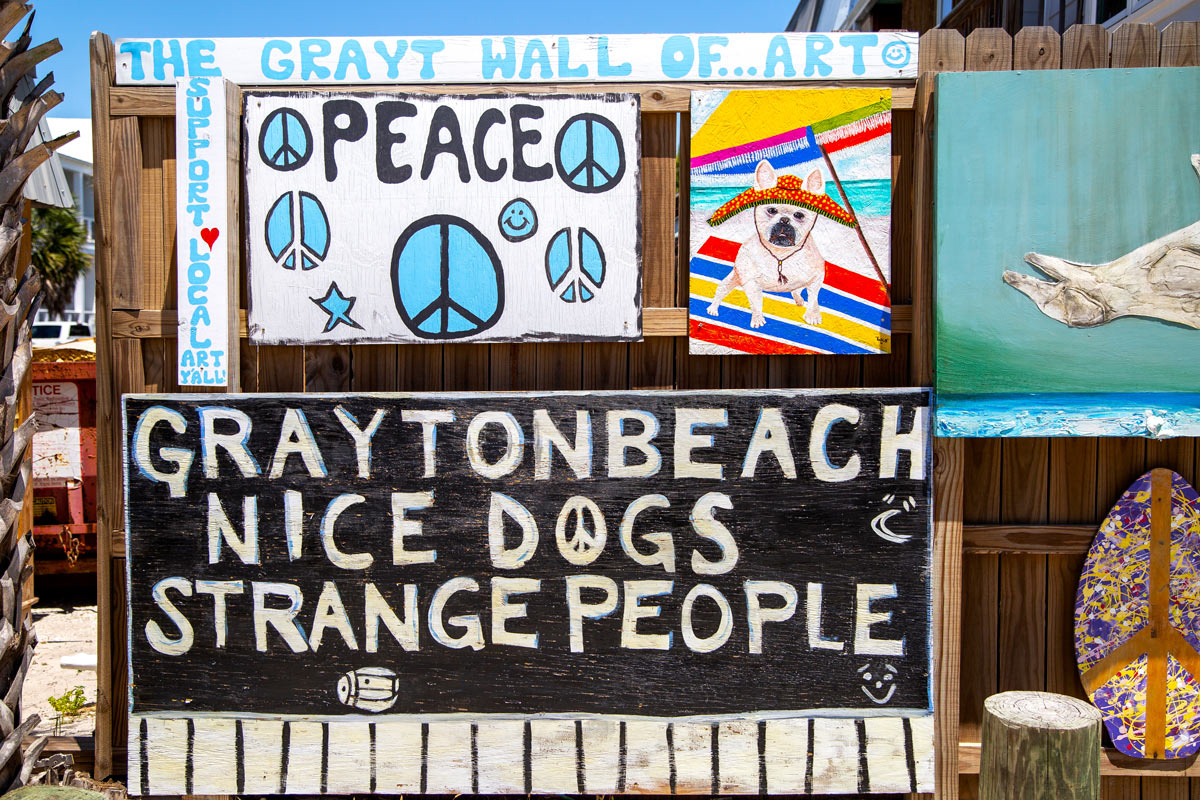 Anchoring the North of the wall is the remake of the original Grayton beach sign, and it is accurate, the dogs here are nice, generally well behaved and very good looking. The Peace sign is work in progress by Allen French, a refresh over and nod to the original signs on the Wall. In the top right, a little Mexican Pug breaks the fourth wall from a colorful beach blanket.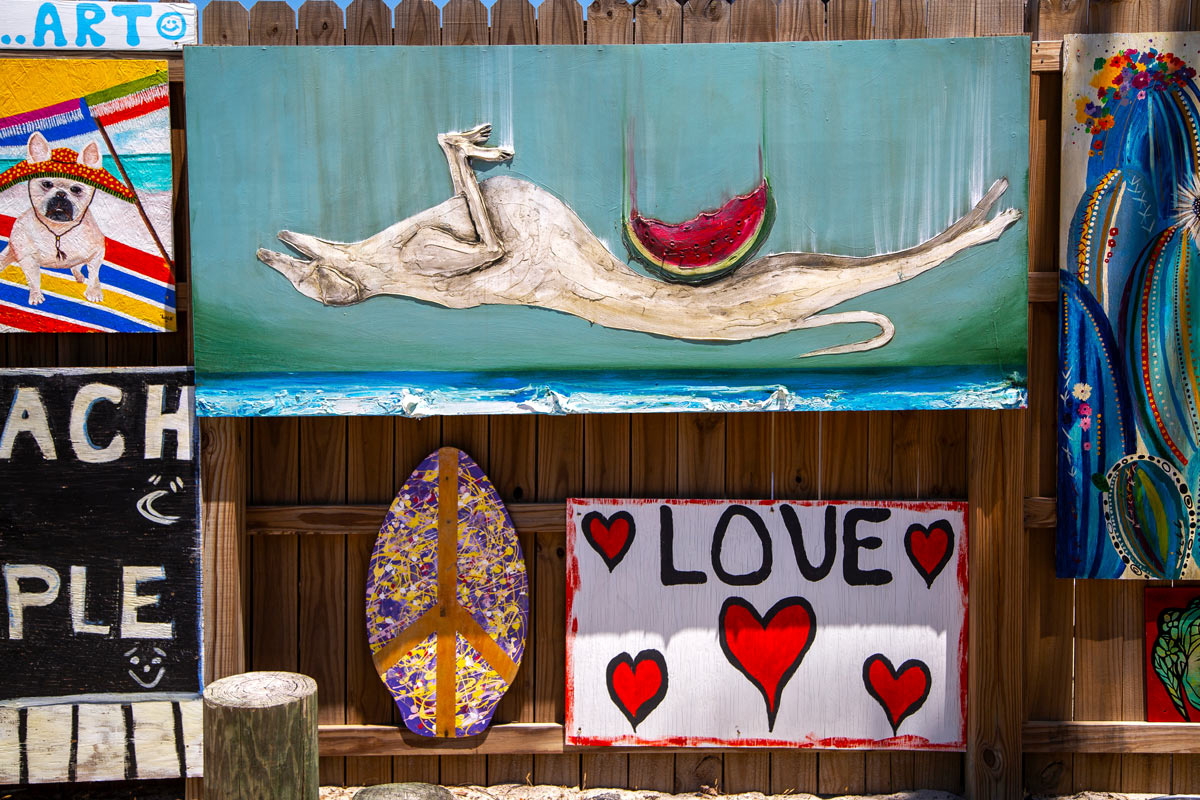 Ever the thought provoker, Justin Gaffrey's "Falling Dog + Watermelon on the beach," displays mood and movement over the popular blue-green waters of the Gulf. Here we also find a skimboard emblazoned with a peace symbol and Allen French's second work, simply titled "Love."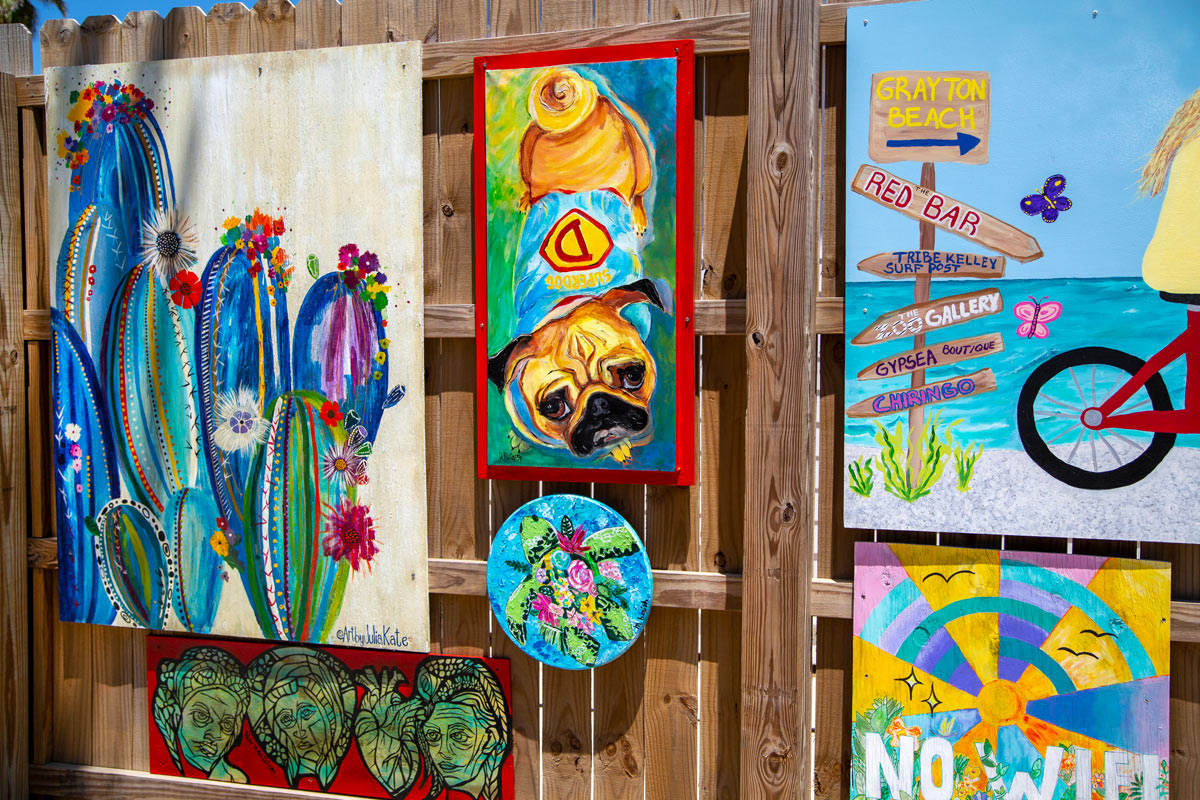 Next along is a bright rainbow-colored cactus work, over some rather serious Aztec Warriors. Super Dog looks more than a little hungry above a flowery sea turtle.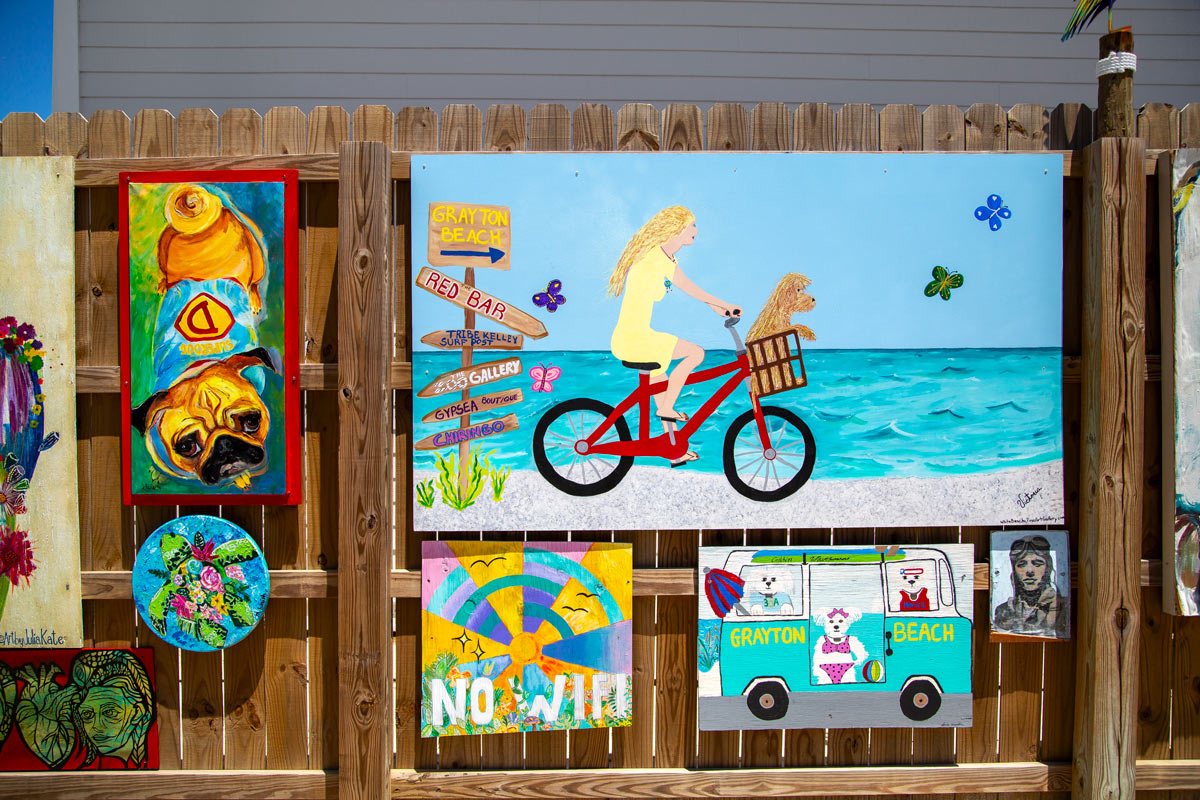 A woman with lots of places to go rolls by in this whimsical piece, replete with butterflies and a rather amused puppy. Below a mismatched triptych of No Wifi (Nature in Bloom), Bichon Frise Freeze, Doggie powered ice cream truck (is this a theme developing), and finished with a WWII flyboy for good local measure.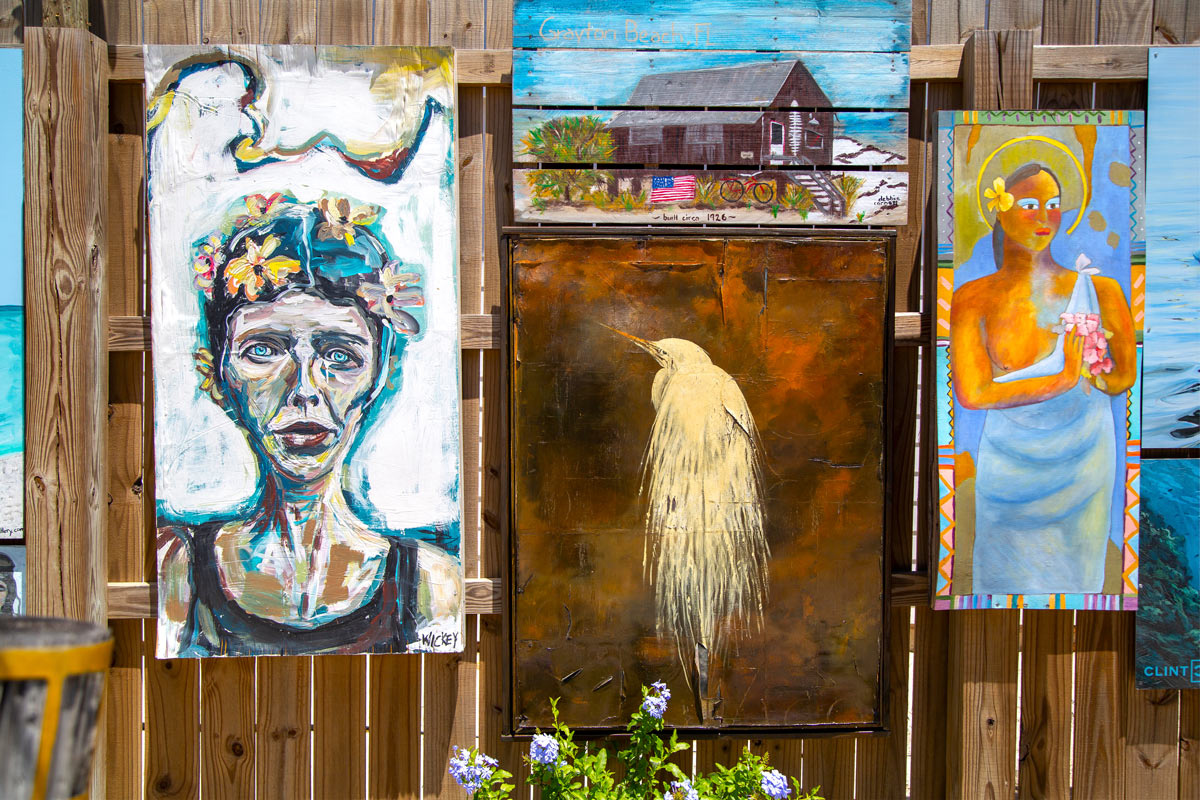 Wickey's beachgoer features piercing blue eyes married with a seasoned look, thick brush strokes. The OG vacation rental painted upon pallet boards harkens back to a simpler time, 1926, specifically. A white heron appears over a faux bronze relief and feels stark and natural. On the right, there is a beautiful Polynesian, if Gauguin'esque gal.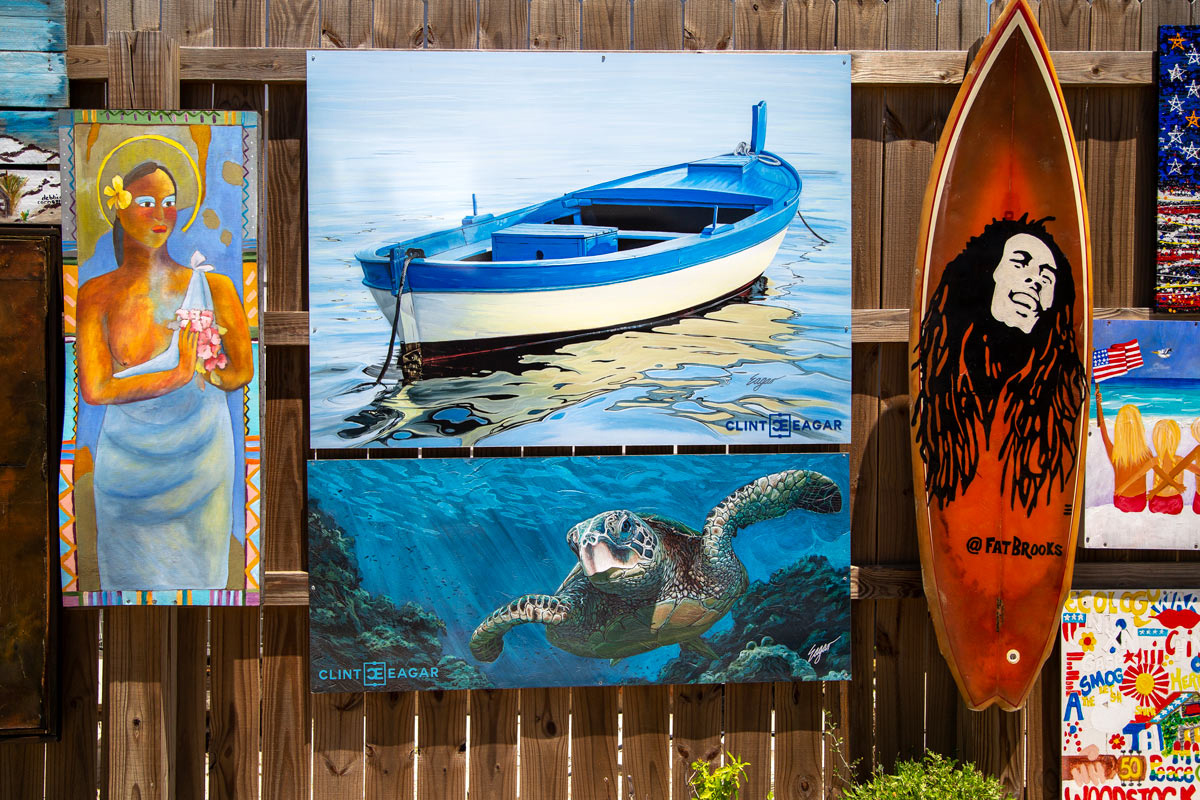 A duo of Clint Eagar's stacks a bright blue rowboat over loggerhead turtle. Fat Brooks serves up a Bob Marley painted Surfboard, in browns and golds.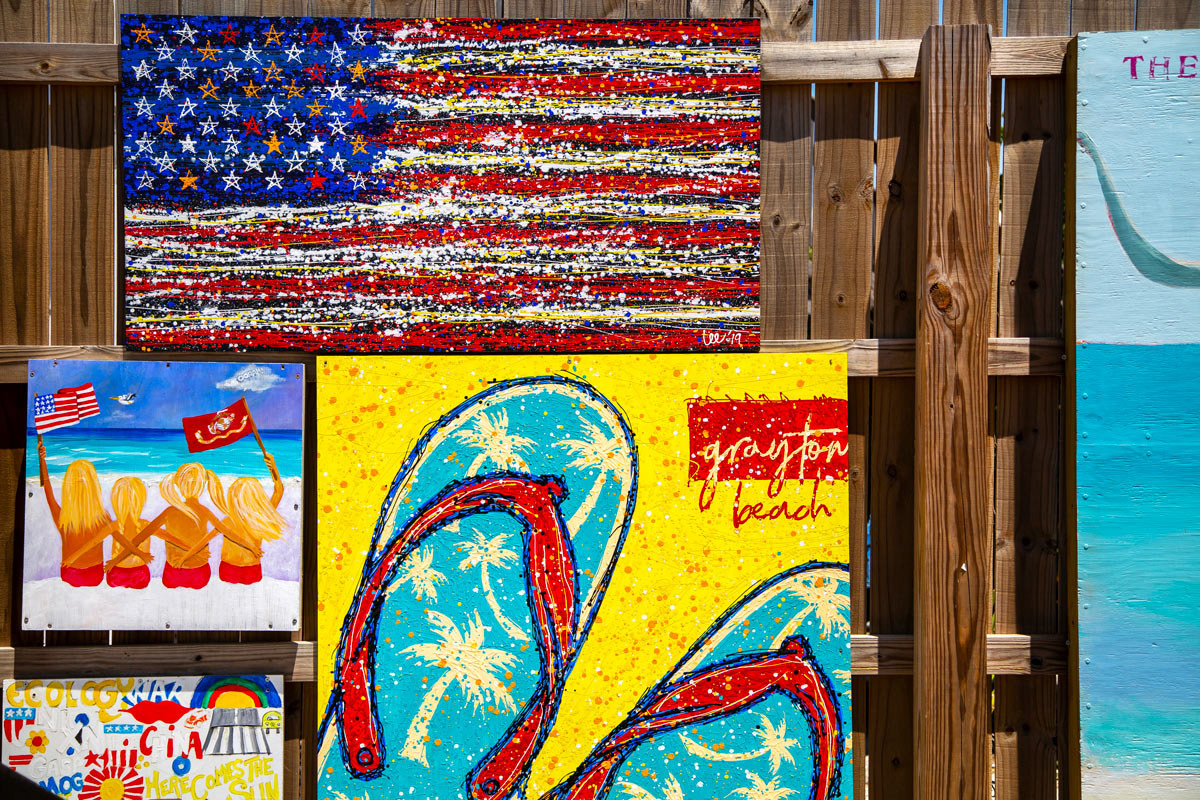 Four little blonde Marine-supporting gals start off this cell and sit above a 60's typographical happening style piece. On the right, there are two very bright paintings, completed by a local artist that was once a mucky-muck in Disney World.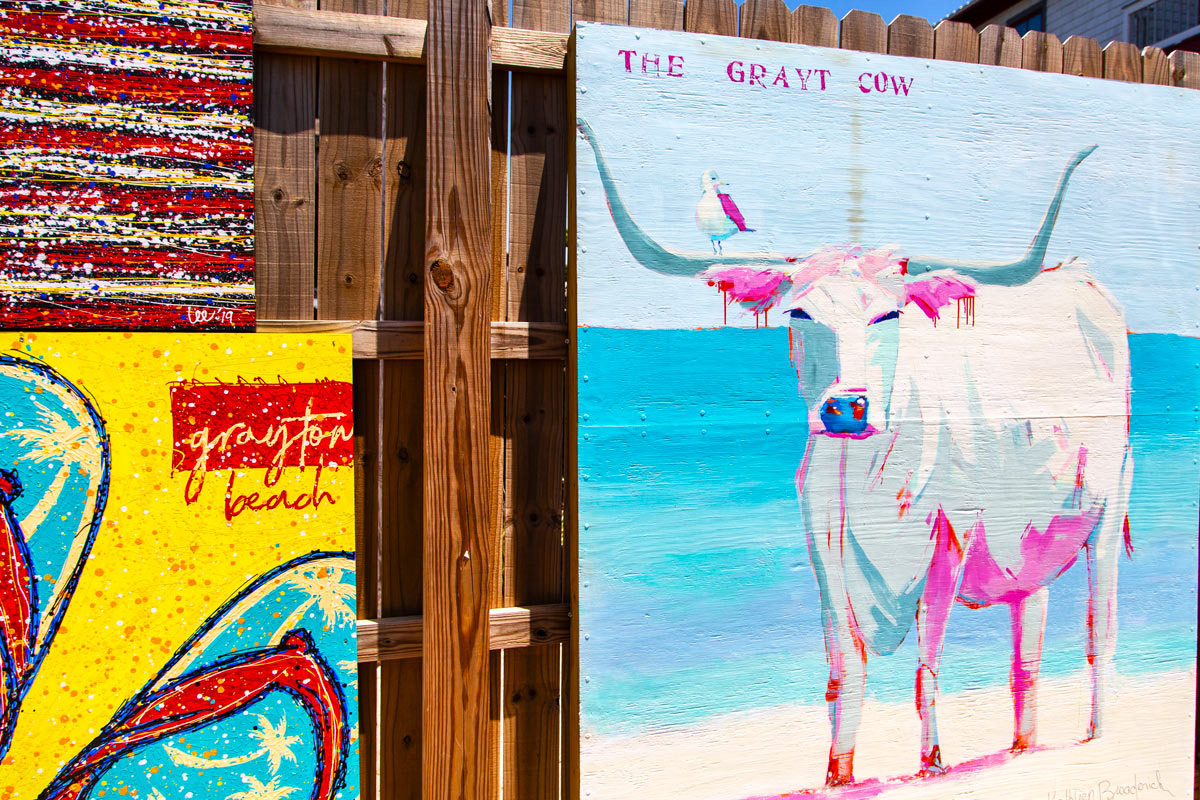 The Grayt Cow is visually the largest single piece on the Grayton Art Wall. The pinkness cuts out the form from the white sand and soft blue water. A single dove sits upon one horn, fully placing this cow on Grayton beach, where the Cows are apparently strange.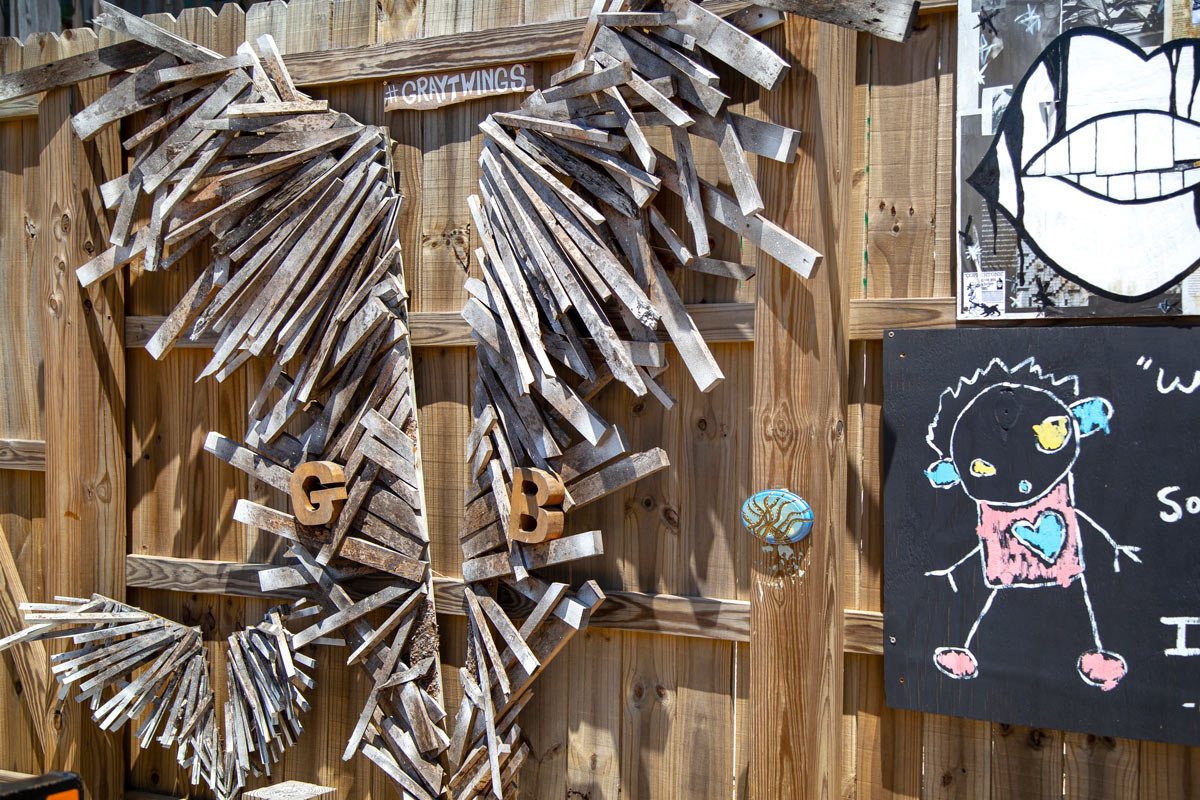 Clearly, the finest use of scrap wood this side of LA, these GB #Graytwings have been featured on tens of 1000s of Instagram feeds, and they even come with a smaller set for the toddlers!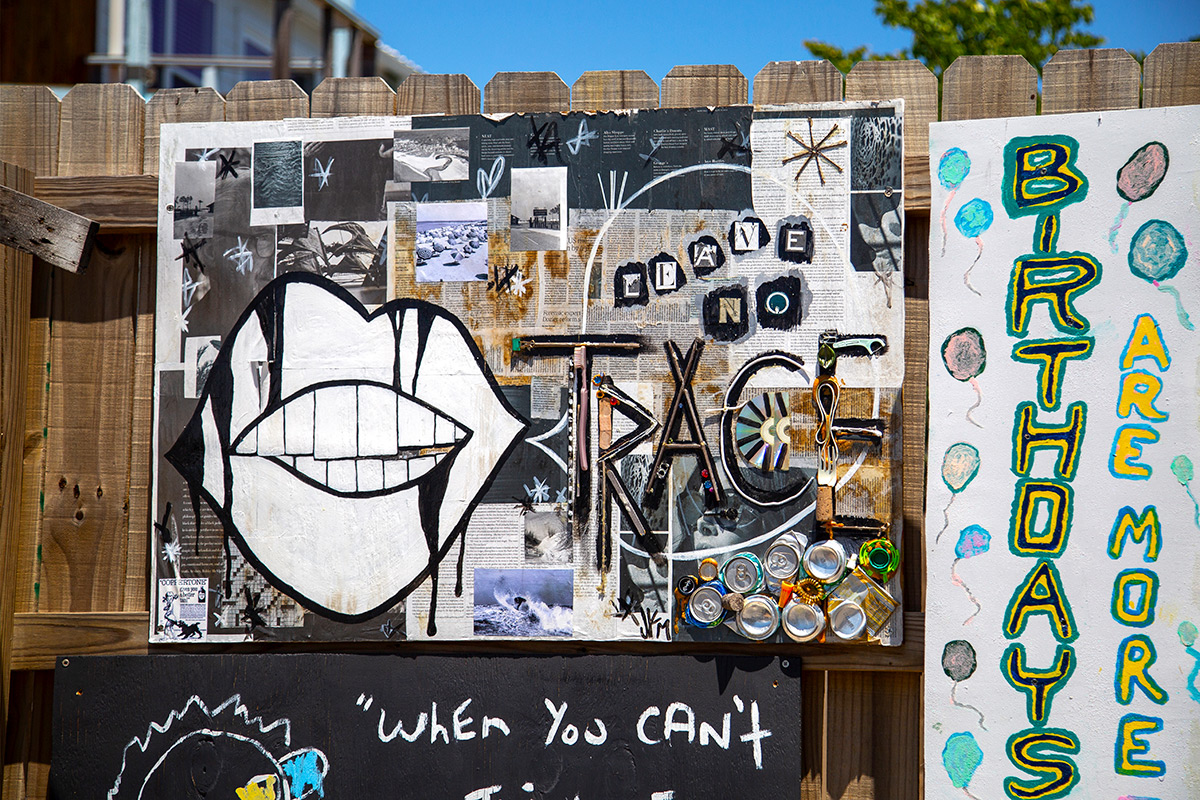 Mixed Media or Eco Statement, either way, this "Leave No Trace" harkens back to the movement by the same name to clean our shores, and as such, incorporates a nice collection of human debris for a 3D effect that stays with you.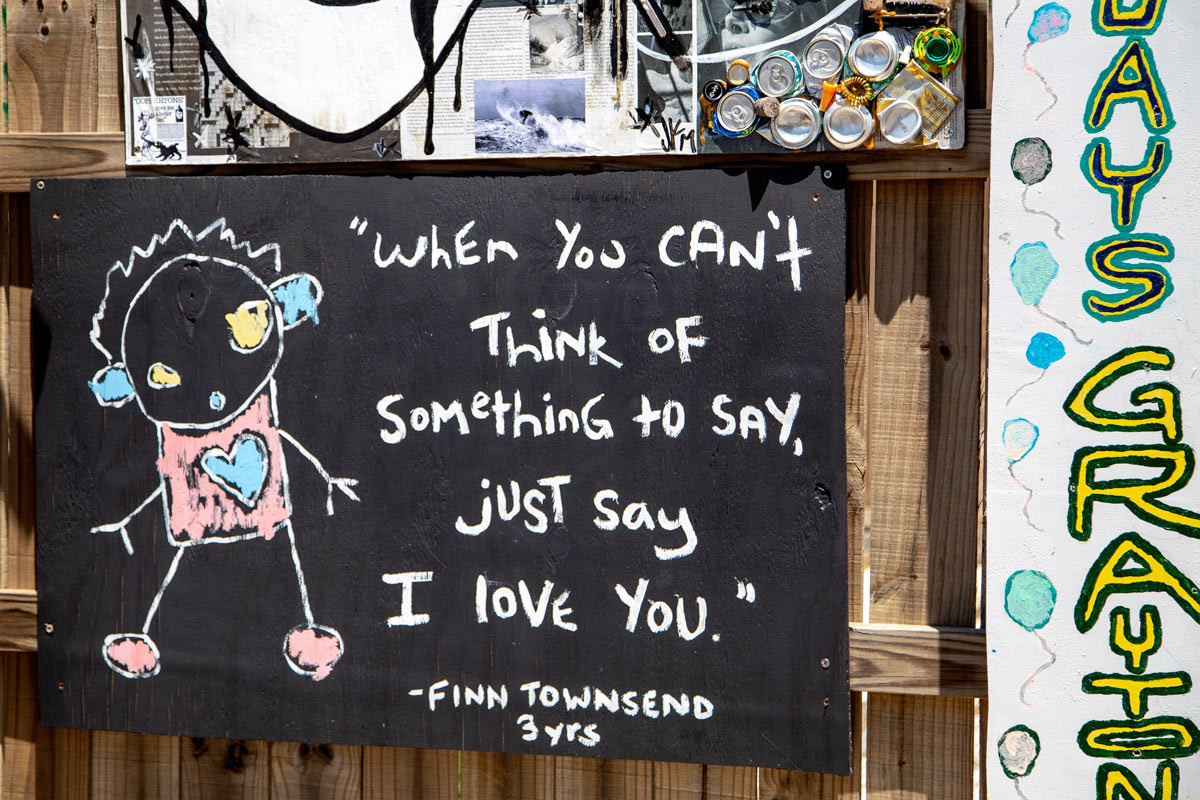 Here we have Finn's sage advice. Finn, now 13 years old, still stands firmly by his statement, and the stick figure motif still stands strong.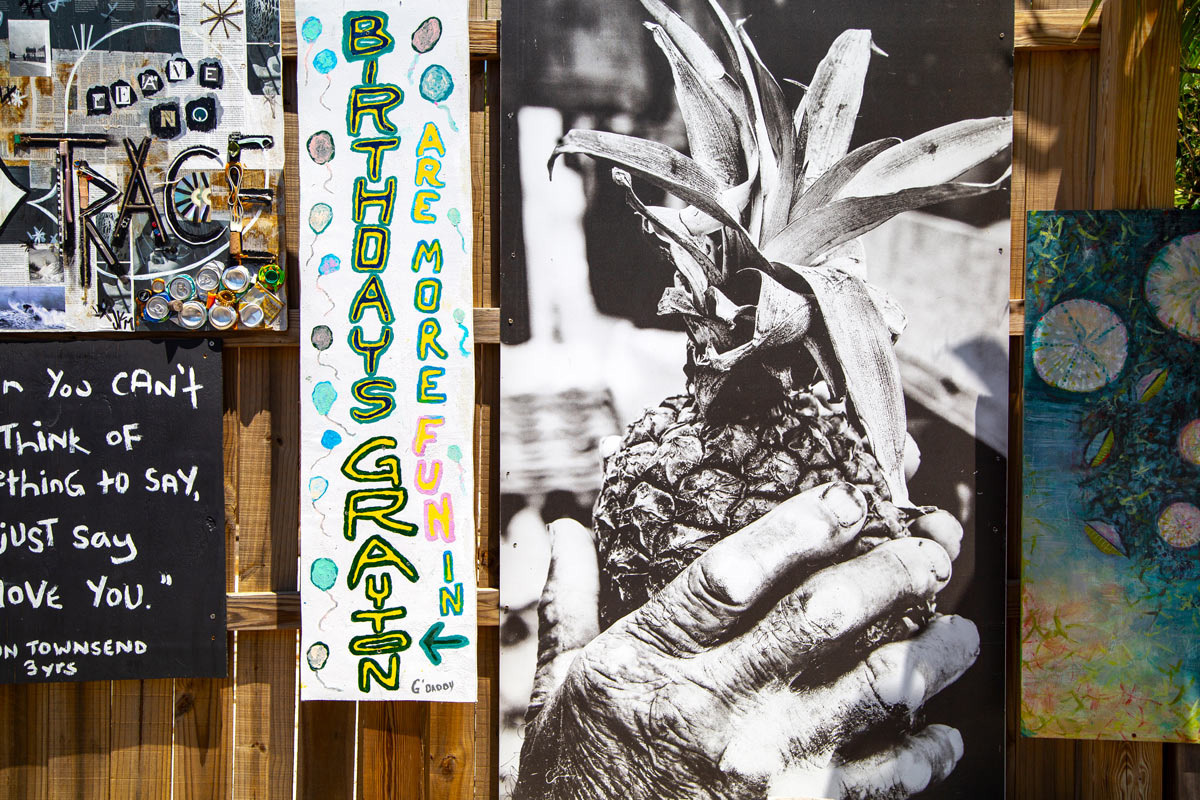 G'Daddy's "Birthday's are more fun in Grayton" is a vertical, type-based piece and slots in nicely next to Moon Gallery's B&W Pineapple, bookended by some very moody Sand Dollars.
Related Article: Rosemary Beach Sculpture Exhibition

Taking the perfect 30A vacation is like creating a work of fine art. In this case, the canvas is 26 miles of pristine dune-kissed, white-sand beaches. The subject matter is the beach property of your choice, and the medium is all the memories you paint along the way. When you're ready to create your own masterpiece vacation, keep in mind, Ocean Reef is the largest vacation rental provider in Grayton Beach and offers the best homes and condos from one side of 30A to the other!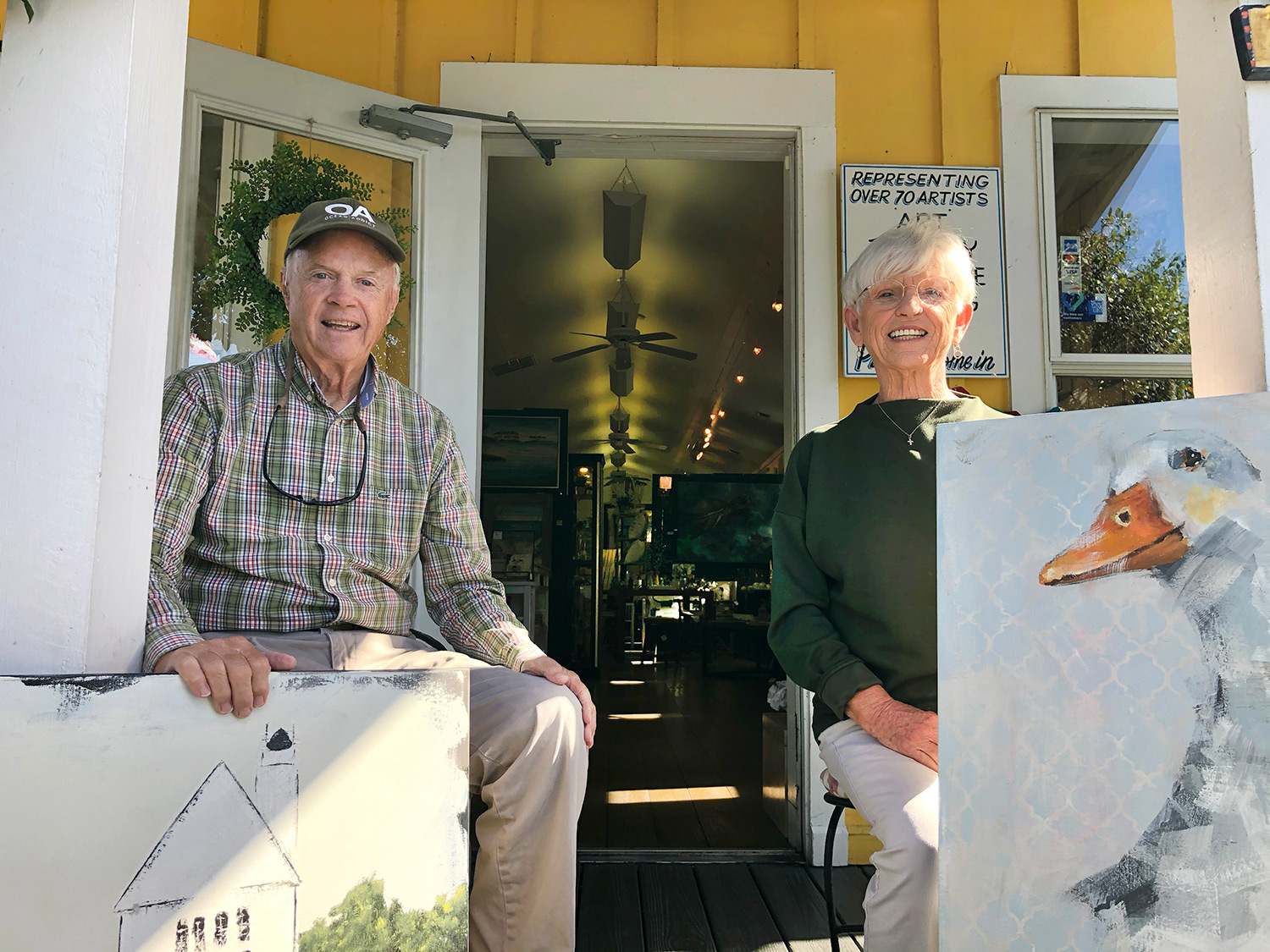 Keep Reading: Shops of Grayton