Posted on 5/23/2023
Bask in the unparalleled beauty of Destin's sun-kissed shores this June, the enchanting start of the high summer season. Our esteemed guests at Ocean Reef Resorts have made it an annual family tradition, returning like sea turtles to our sandy beaches, year after year. As the emerald waves lap against the pure quartz crystal sands, Destin unfurls a mesmerizing tapestry of activities and adventures in June, appealing to first-time visitors and returning vacationers alike. For those yet to have the sand between their toes, this article is your ticket to the dazzling experience that awaits you in the summer wonderland of Destin.
What to Expect in Destin in June
As June dawns in Destin, the city bursts into vibrant life, unveiling a stunning kaleidoscope of summer activities, each more alluring than the last. An endless banquet of delightful diversions beckons, promising to satiate your wanderlust and thrill your senses.
Festivals bloom like wildflowers, infusing the city with an infectious sense of celebration and camaraderie. Free outdoor concerts echo through the balmy air, their melodies becoming the unforgettable soundtrack to your summer adventure. Each week, the city's skyline is painted with the dazzling colors of fireworks, a tribute to the joy and wonder of summer nights in Destin.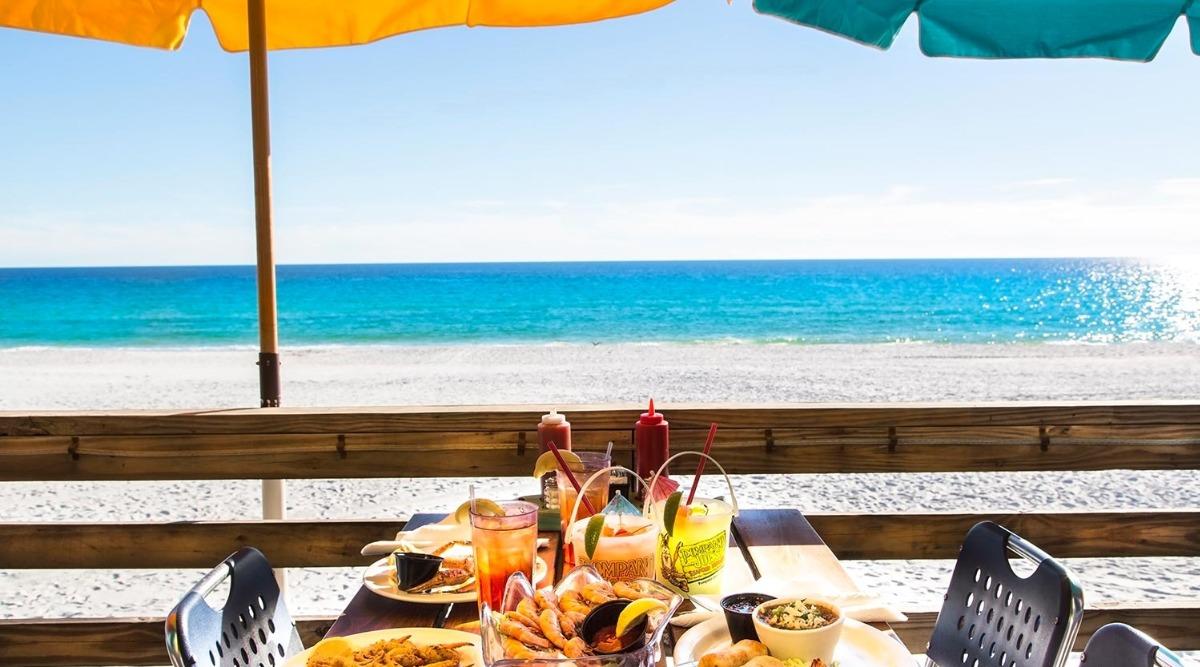 Food connoisseurs will find themselves on a culinary journey, sampling exquisite meals at local restaurants, each plate an explosion of flavor and a testament to Destin's culinary prowess. Lose yourself in the harmonious melodies that cascade from local bars, their live music offerings providing the perfect accompaniment to a refreshing summer cocktail. For those with an appetite for retail therapy, Destin offers an abundance of shopping adventures. Browse boutiques filled with unique finds, scour premium outlets for unbeatable bargains, and uncover the joy of discovering that perfect item, a tangible reminder of your incredible summer in Destin.
So prepare yourself for a month filled with vibrant experiences, exciting activities, and unforgettable moments. Destin in June is more than just a holiday; it's a symphony of joyous experiences, an ode to the magic of summer, and an invitation to make memories that will be cherished long after your footprints have faded from the sand.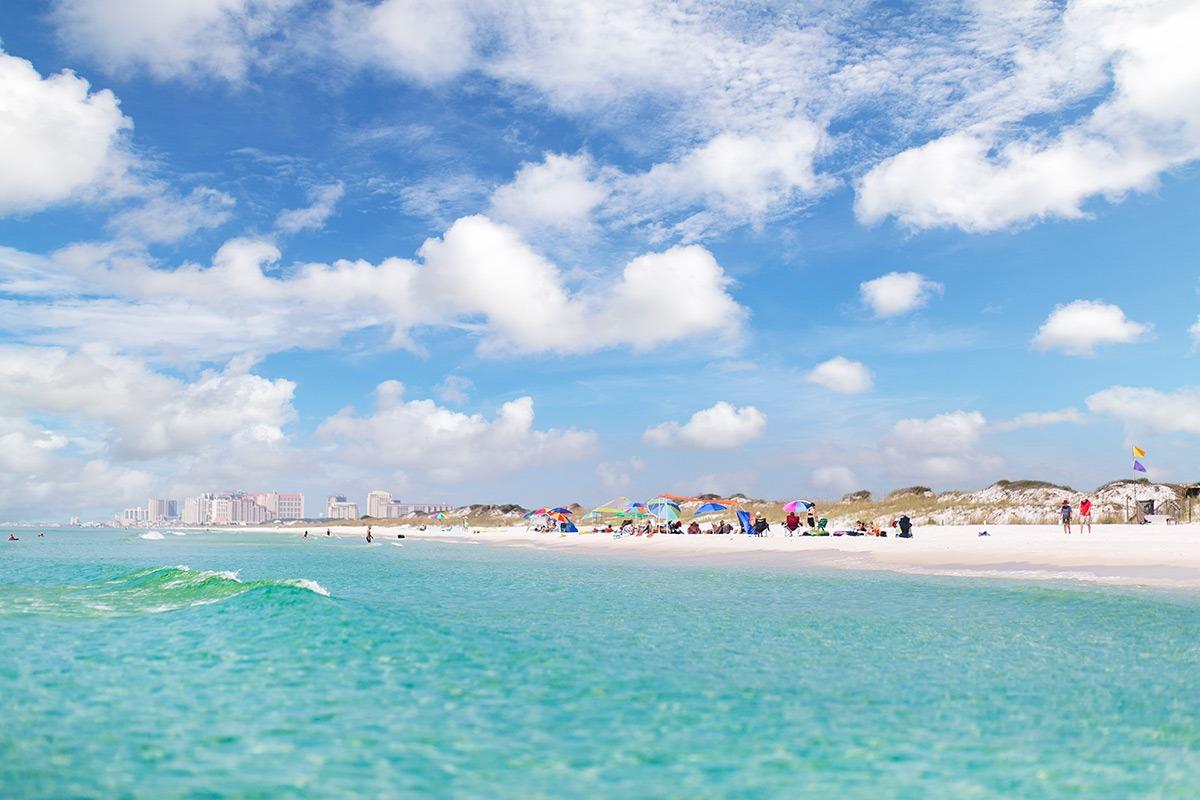 As the calendar flips to June, Destin awakens into a tropical dream. The weather mellows into the summer rhythm, with day-time temperatures soaring to the energetic highs of around 90 and, as the sun dips, simmering down to a comfortable 70 by night. With the gulf water cradling a pleasant 78 degrees at the onset of June, and creeping up to nearly 84 by the arrival of July, it's no wonder that Destin's radiant, sun-kissed beaches become an irresistible magnet for all.
Despite the warmth, a soothing gulf breeze often dances through the air, taming the heat and offering a delightful contrast to the radiant sun. Walking along Destin's beaches is a unique pleasure. Their pure, powdered white sand, made from quartz crystal, scatters light rather than absorbing heat, allowing you to stroll barefoot without the searing burn that summer sands often bring.
Don't forget your sunglasses, though; they are a necessity here. Such is the brilliance of the sand's reflection that it rivals the sun itself. This spectacle is further amplified as the sand refracts off the gulf water's sugary white bottom, leading to a scintillating glow from the microscopic natural plankton. Witnessing the everchanging palette of the water, from shades of emerald green to lime peridot and even turquoise, is akin to watching a hypnotic dance of colors.
Relaxing on the beach and drinking in this mesmerizing seascape is an experience in itself. But don't be surprised if you find yourself irresistibly drawn to luxuriate in the jewel-like gulf waters, their luminescent allure inviting you to dive into the heart of Destin's tropical summer bliss.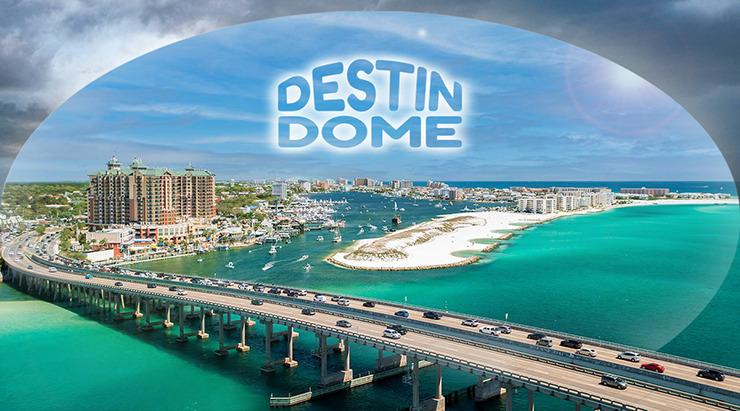 Destin is known for its unique weather, especially during the summer months. Locals often speak of a rare phenomenon called "The Destin Dome" or "The Destin Bubble."
What to Do in Destin in June
As June paints Destin in its vibrant summer hues, the town bustles with a variety of exciting activities, each with its unique appeal. This quaint fishing village, tucked snugly near the verdant Choctawhatchee Bay and the deep azure of the Gulf, has long been a hub for an incredible bounty of marine life. Today, it proudly hosts the largest private charter fishing fleet in all of North America, cementing its status as a premier destination for fishing enthusiasts.
June particularly stands out as it brings the renowned Emerald Coast Blue Marlin Classic, a grand fishing tournament that transforms the Sandestin Yacht Club Marina into a hub of vibrant activity. Nestled in the enchanting Village of Baytowne Wharf, this event is just one of the many captivating experiences June has to offer in Destin.
From testing your swing on Destin's lush golf courses to exploring the charming HarborWalk Village, from basking in the unadulterated fun at Crab Island to soaking in the picturesque beauty of Scenic 30A, and from indulging in retail therapy with Destin's unique shopping experiences, there's never a dull moment in Destin this time of year. Join us as we embark on a tour of what to do in Destin in June.
The Emerald Coast Blue Marlin Classic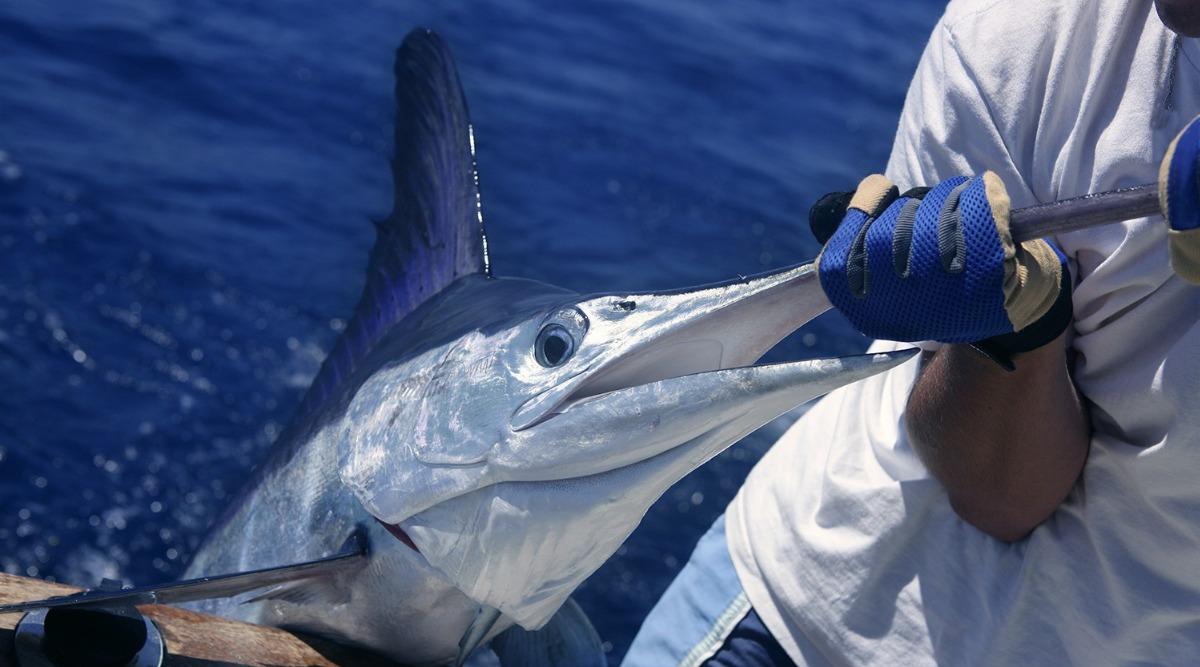 As the pinnacle of the annual fishing calendar, the Emerald Coast Blue Marlin Classic enters its 21st year, commanding awe and anticipation. Last year's riveting event saw over twenty-two teams triumphantly landing in the Winner's Circle with a stunning total of 68 catches. Among them were 43 Blue Marlin, 17 White Marlin, and 8 Sailfish, showcasing the diverse marine bounty. Additionally, a rich haul of 75 gamefish, including 27 Mahi-Mahi, 28 Yellow Fin Tuna, and 20 Wahoo, added to the tournament's grandeur. As a testament to the event's high stakes, almost $2,000,000 in prize money was handed out. The champions "A Work of Art" Viking 92, "Quantified" Spencer Yachts 64, and "Salt Shaker" Viking 58 walked away with $545,681, $254,500, and $168,308, respectively, their hard-fought victories etched in the annals of the tournament's history.
This year's iteration is set to commence on the summer solstice, Wednesday, June 21st, promising a delightful mix of sport, revelry, and camaraderie. The tournament will run through Sunday, June 25th, kicking off with a vibrant party at Hotel Effie's Juniper Ballroom for participant registration. After the boats set sail on Thursday, June 22nd, spectators can watch the majestic spectacle from the Highway 98 Destin Marler Bridge at HarborWalk Village. The adrenaline-charged weigh-ins begin on Friday, June 23rd, at Baytowne, culminating in the grand finale on Saturday, June 24th. The event concludes with an Awards Brunch and Presentation on Sunday at the Baytowne Conference Center's Magnolia Ballroom.
Beyond the thrill of the tournament, spectators can indulge in the charm of Baytowne Wharf, a village that draws inspiration from New Orleans' French Quarter. Featuring enticing restaurants, vibrant bars offering live music, and an array of specialty shops, this spot is also known for its mesmerizing sunsets over the bay. "Boomin Tuesdays," a summer highlight, light up the skies with their vivid firework displays, rounding off an exhilarating day of sport and leisure. Immerse yourself in the delight of the Emerald Coast Blue Marlin Classic and the enchanting village it calls home this June.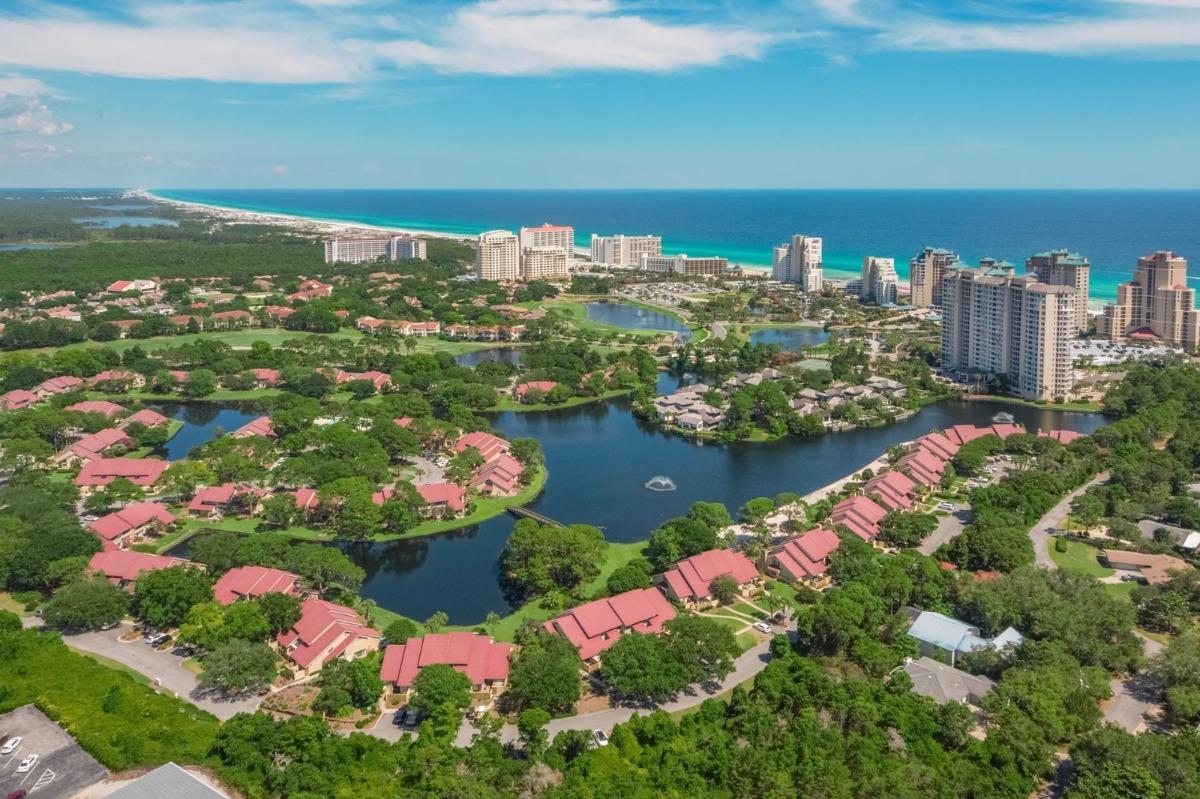 Ocean Reef offers an impressive assortment of Sandestin rentals, from beachfront high-rises to modern, Tudor-inspired villas. With our diverse options, we're dedicated to helping you find the perfect accommodations for a truly memorable beach vacation.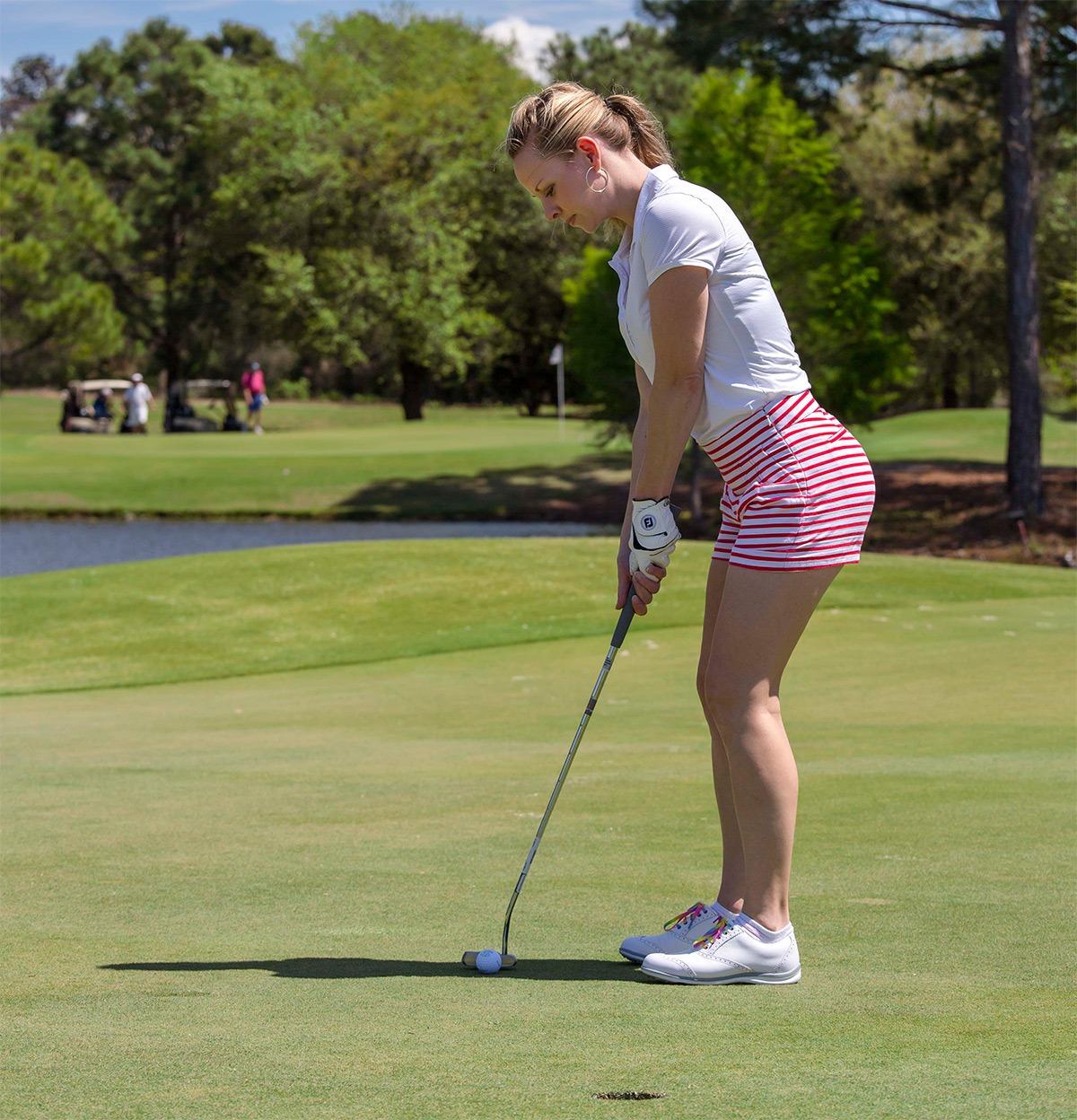 For golf enthusiasts, the month of June offers a verdant paradise in Destin and Miramar Beach. These locations house a variety of award-winning championship golf courses tucked within exclusive gated resorts. Each course offers its own unique blend of challenge and charm, seamlessly merging the sport with the breathtaking beauty of the coastal landscape. From the lush green fairways that gracefully meander past the mesmerizing bay, to the strategically placed bunkers and water hazards that test every golfer's skill, these courses promise an unforgettable experience.
Two courses of note offer exclusive privileges to guests of Ocean Reef Resorts, reinforcing the sense of luxury and exclusivity. The Emerald Bay Golf Club in Destin stands as a testament to the harmony of sport and nature, inviting players to a uniquely immersive golfing experience. Likewise, the Seascape Resort in Miramar Beach offers a remarkable blend of golf and scenic beauty, as it adjoins the awe-inspiring gulf, creating a captivating backdrop to each swing of the club.
Beyond the fairways, Seascape also boasts a professional tennis center. Here, guests of Ocean Reef Resorts can enjoy discounted access, offering the perfect alternative or complement to the golfing adventures. Whether you're an experienced player looking to improve your game or a beginner hoping to learn the ropes in a spectacular setting, Destin in June provides the perfect blend of leisure and luxury for every golf and tennis aficionado.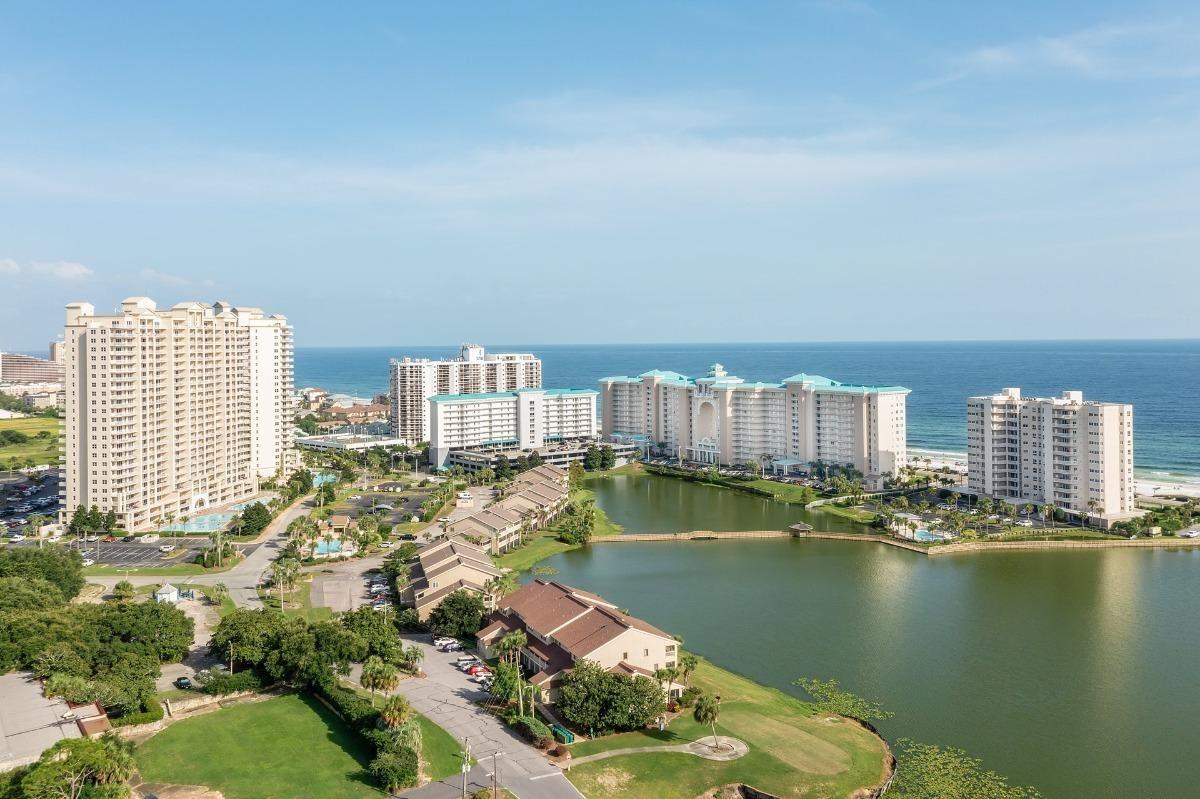 Nestled near the beautiful gulf's sugary shoreline, Seascape Resort is an expansive and lush haven of over 300 acres, offering guests a variety of recreational activities such as golfing, tennis, and beach sports. The resort is home to luxurious high-rise towers, including Ariel Dunes I, Ariel Dunes II, Majestic Sun, and Empress, each providing a unique blend of comfort and style.
HarborWalk Village in June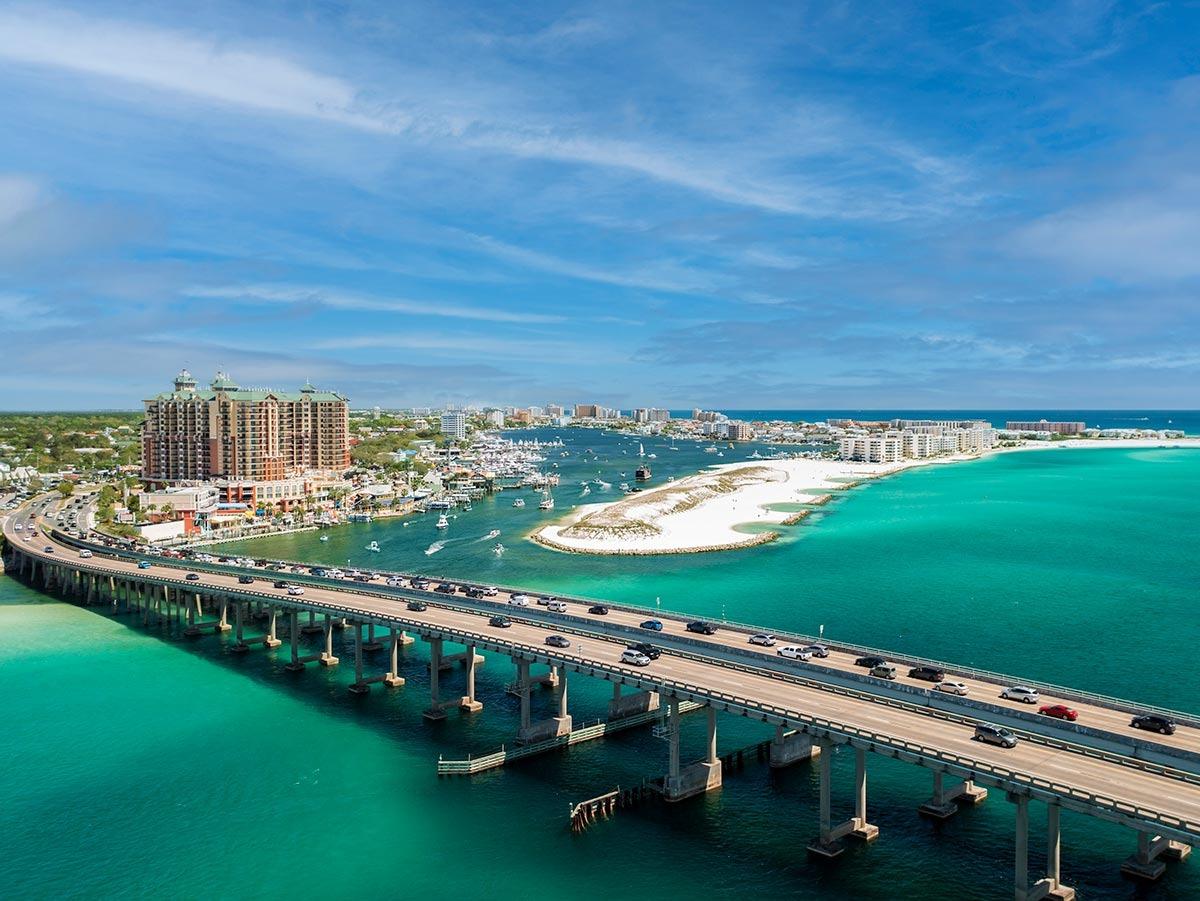 June is a fantastic time to explore Destin's charming hub of fun and frolic, known as HarborWalk Village. This gem, styled with an appealing touch of Americana, sits elegantly on the large Destin marina. It presents an outstanding vista over the distant gulf and the East Pass, forming a tranquil maritime connection to the stunning bay.
HarborWalk Village comes to life with dock-front restaurants serving delectable meals to the rhythm of live music. Bars catering to diverse tastes, specialty shops teeming with unique finds, family-friendly amusements, and even a thrilling zip line add to the unique charm of the village. Embrace the festive spirit with weekly firework displays on Thursday evenings and free outdoor concerts every Saturday night to set your foot-tapping.
For those with a taste for adventure, a cornucopia of activities awaits. Dive into deep-sea fishing charters, relish sunset dinner cruises, spot playful dolphins on sightseeing excursions, or embark on a memorable treasure hunt adventure. This unique quest unfolds aboard a replica of an antique mast sailboat, helmed by a boisterous, costumed crew of pirates. Guests of Ocean Reef Resorts enjoy the benefit of reduced rates on many of these exciting endeavors as part of our complimentary Reef Rewards program.
Pontoon boat rentals present another opportunity for fun and exploration. Available for half or full-day rental, these boats can comfortably host up to a dozen members of your group, providing an economical outing when costs are shared. Each boat features comfortable wraparound seating, two captain's chairs beneath a partially covered top, and a stereo system to set the mood. As novice-friendly as they are fun, pontoon boats come with thorough instructions for first-time captains.
So, pack your cooler with your favorite beverages, prepare a picnic basket with delightful treats, bring towels, and don't forget the sun tan lotion. June at HarborWalk Village promises an unforgettable blend of relaxation, adventure, and camaraderie under the vibrant summer sun.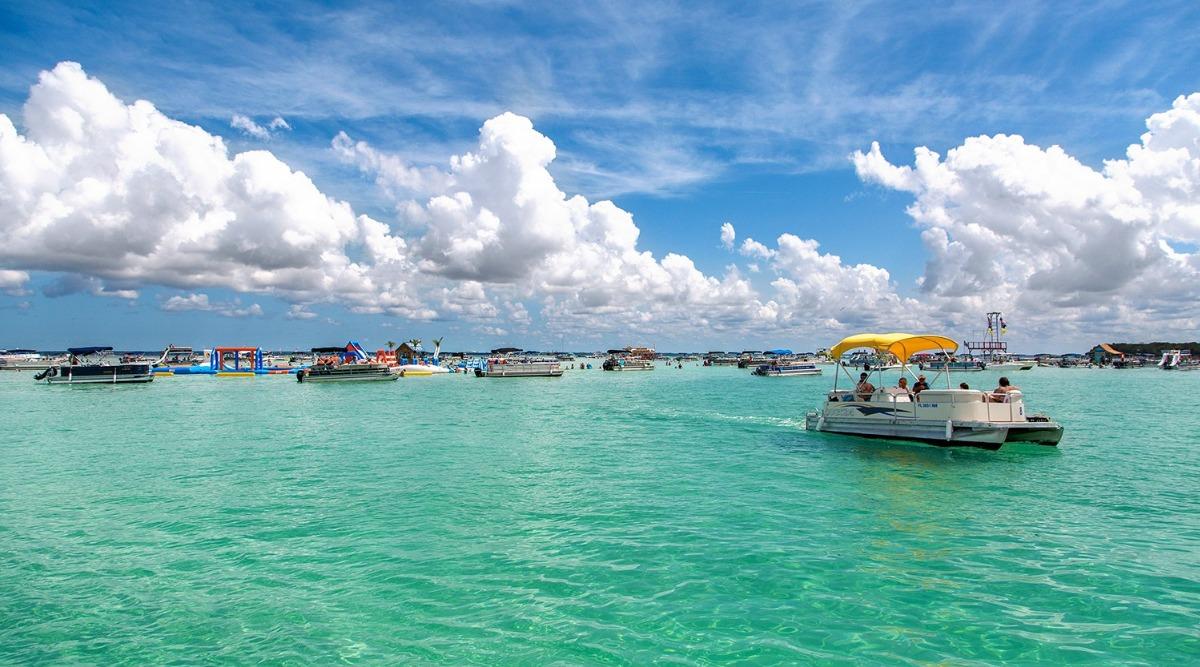 The pinnacle of Destin's Pontoon Boat adventures awaits at the unique and lively Crab Island. What was once a prominent sandbar, a haven for crab hunters with handheld nets during low tide, has evolved into a submerged playground due to tidal changes over the decades. While the crabs have moved on, the island's name remains a fond reminder of its past. Now, this submerged sandbar, with depths ranging between two and four feet, sets the stage for enormous ongoing boat parties.
A summer visit to Destin would be incomplete without witnessing the daily spectacle on Crab Island. As you traverse the Highway 98 Marler Bridge, you can't miss the view of hundreds of anchored boats and frolicking visitors in the bay. It's an easy endeavor to anchor your boat, join in with friends, and mingle with the jovial crowd in the shallow, inviting waters.
Crab Island is most enchanting when the tide is on the rise, revealing the crystalline clarity that mirrors a pristine swimming pool. As the tide recedes, seagrass from the bay gives the water a cloudier, yet still beautiful, appearance. Beyond simply reveling with friends, this aquatic wonderland invites relaxation in an astonishingly beautiful setting. Float alongside your boat, test your snorkeling skills at the deeper water edges, splash around with others, toss a Frisbee, or challenge new acquaintances to a game of water volleyball.
In recent years, floating Tiki Hut-type vendors have added to Crab Island's allure, offering cold drinks, sandwiches, and other tasty treats for those who come unprepared. Adding to the festive ambiance is a concert barge, anchored here throughout the summer. Live music accompanies special events, and some performances are even simulcast on local radio stations. DJs on stage liven the atmosphere with water sports games and entertaining antics during musical intermissions.
In June, Crab Island truly becomes a symbol of summer fun in Destin, offering a unique blend of relaxation and excitement in a picturesque natural setting.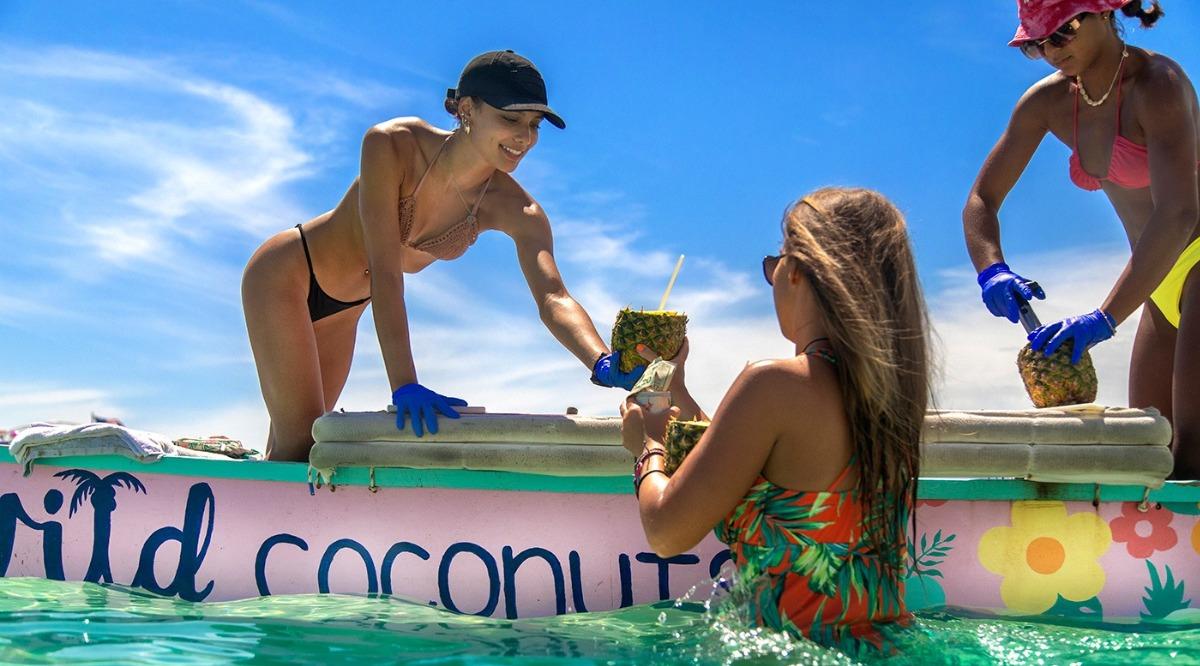 There's nothing like fresh coconuts on the water to remind you that you're in paradise. Fortunately, the Crab Island Wild Coconut girls have you covered. These girls deliver fresh coconuts and pineapples right off their boat in Destin Harbor, creating an immersive tropical experience.
June ushers in a flurry of vibrant activities along the picturesque coastal corridor of Scenic 30A. The area transforms into a festive playground, hosting a variety of free events and attractions that cater to every visitor's delight. Expect to find a delightful blend of festivals, live music performances at the local bars, and open-air concerts at the amphitheaters or picturesque lawns.
Along this idyllic stretch of coast, discover perfectly curated villages nestled between the gleaming gulf waters and thousands of acres of forested state parks. These natural expanses are speckled with rare and intriguing coastal dune lakes that provide sanctuary to a diverse range of wildlife. The crystalline white shoreline of Scenic 30A, with its vibrant natural and cultural offerings, is a true gem waiting to be explored.
A comprehensive schedule of these enthralling activities and events along Scenic 30A is readily available on the region's dedicated website, sowal.com. This resourceful site ensures that you won't miss a single moment of fun during your June visit, helping you make the most of this stunning coastal destination. Experience the unparalleled charm of Scenic 30A in June and create memories that will last a lifetime.

June in Destin also offers an exceptional shopping experience for those in search of beach attire, sunglasses, or just looking to enjoy some retail therapy. Two noteworthy shopping destinations are the Destin Commons and the Silver Sands Premium Outlets in Miramar Beach, both providing an exquisite mix of style, convenience, and value.
At Destin Commons, you'll find yourself transported to a European-style retail village, lined with Royal Palms, and designed with pedestrian-friendly avenues. The atmosphere here is nothing short of charming, with a classic water fountain and a geyser plaza where kids can enjoy a refreshing dash through the spray. A diverse selection of stores interconnects through the Commons, including the expansive Bass Pro Shop, a Belk's Department store, a collection of fashion boutiques, high-quality clothiers, shoe shops, and jewelers, along with specialty shops. And after an indulgent shopping spree, you can relax at one of the many casual restaurants and bars, or catch a movie at the AMC Multiplex Theater.
Meanwhile, the famed Silver Sands Premium Outlets in Miramar Beach stands as one of the nation's largest outlet malls, housing over 100 world-class designer stores. Here, you can find everything from fashion and accessories to homeware, all at discounts of up to 65% off. For any avid shopper, the Silver Sands Premium Outlets is a veritable Mecca that promises an enjoyable, value-filled shopping adventure. No matter your shopping desires, Destin in June caters to all, ensuring a memorable retail experience.
Where to Stay in Destin in June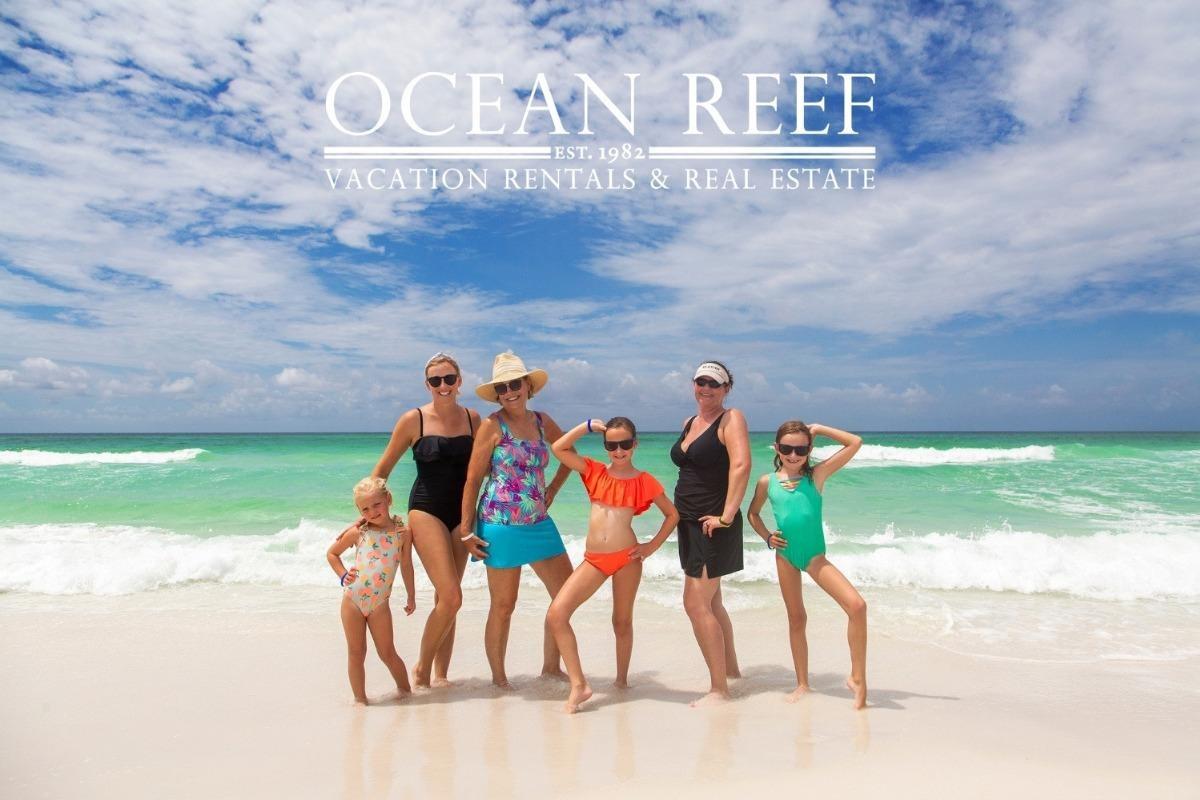 Where to stay in Destin in June is as much a part of the adventure as what to do, and Ocean Reef Resorts has you covered. We provide a wide array of premium vacation rental accommodations throughout Destin, Miramar Beach, and along the picturesque Scenic 30A. Our portfolio includes privately owned gulf-front villas, condominiums, and quaint cottages, offering a varied selection to suit different preferences and needs.
Among our exquisite properties, you'll find accommodations nestled in exclusive gated resorts, some of which feature world-class golf courses, such as the Sandestin Golf & Beach Resort. This renowned resort stretches from the captivating gulf shores to the breathtaking bay, epitomizing luxury and comfort in a natural setting.
Our vacation rentals are designed to accommodate groups of varying sizes, sleeping anywhere from two to several dozen guests. This adaptability ensures we can cater to both intimate getaways and grand family reunions with equal aplomb.
We offer rentals in popular beach destinations throughout the area. Consider Holiday Isle, Destin's version of an island paradise, or Downtown Destin, conveniently located near the bustling HarborWalk Village. Crystal Beach is another great choice, a trendy locale in close proximity to Destin Commons, while Miramar Beach boasts the Silver Sands Premium Outlet, Sandestin, Seascape, and luxury residential towers lining the beachfront. Last but not least, is the breathtaking Scenic 30A, known for its tranquil beauty and vibrant coastal communities.
No matter where you choose to stay, Ocean Reef Resorts ensures a lavish, comfortable home away from home that places you at the heart of all that Destin has to offer in June.
Reserve Your Vacation Today
If you haven't yet solidified your plans for a beach vacation in June, worry not. There's still time to secure your dream vacation rental, but we recommend acting swiftly to ensure you get your ideal dates. Our intuitive and user-friendly Ocean Reef Resorts website is at your service, providing you with comprehensive property descriptions, captivating visuals, aerial satellite views of each location, and a clear overview of seasonal rental rates and available reservation dates.
So why wait? Dive into our array of offerings and start planning now. The thrill of anticipation is part of the journey, and it's high time you started looking forward to an enchanting, fun-filled, and unforgettable beach getaway with Ocean Reef Resorts. After all, magical memories await on the sun-drenched shores of Destin this June.