Posted on 7/11/2019
Chances are you come down to enjoy the sugary white sand beach – but why not have it all? You can rent a fabulous vacation home at an affordable price that's minutes away from the gulf and also comes with a private pool! Within minutes you may go from taking a plunge in the pool to luxuriating in the glistening gulf. Our vacation rental homes are already a great deal compared to staying at a hotel. Properties with multiple bedrooms provide a huge savings since guests may split the cost per person. You may also save when you decide to dine in since these accommodations include full kitchens. For a fraction of the price of a fancy restaurant you may create a fun family feast and enjoy it in your own "home away from home."
The following 10 vacation homes feature a private pool just a short distance from the beach and can accommodate between eight to fourteen fortunate guests. They range in price from $2,649 to $5,536 per week during the peak rates of summer. Note that all of them may be rented for reduced rates at other times of the year with the lowest rental rates available from November until March. Even peak rates are reasonable when you divide by the number of guests sharing the cost since they come with multiple beds and bunks. For example, ten guests equally sharing the expense of this rental range would come in between $264 to $553 for the entire week or just $37 to $79 per night for each guest.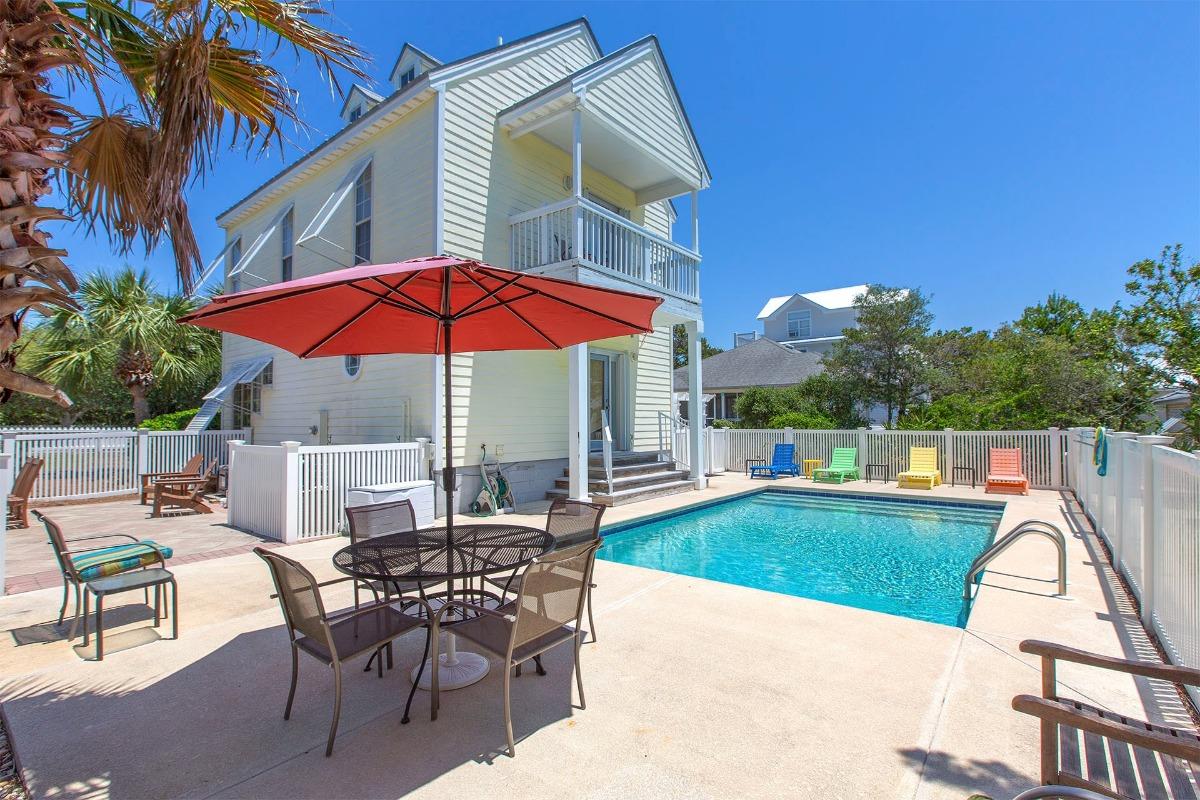 Lemon Fish in Crystal Beach is a cheerful three bedroom home that sleeps up to eight guests. It is tastefully decorated with comfortable furnishings. The rectangular pool out back can be directly accessed from a downstairs Guest Bedroom. The Master and Guest Bedroom upstairs both have their own breezy balcony, and one of them looks down on the pool below while the other resembles a tree house with a trio of towering palms. The weekly summer rate average is $2,649.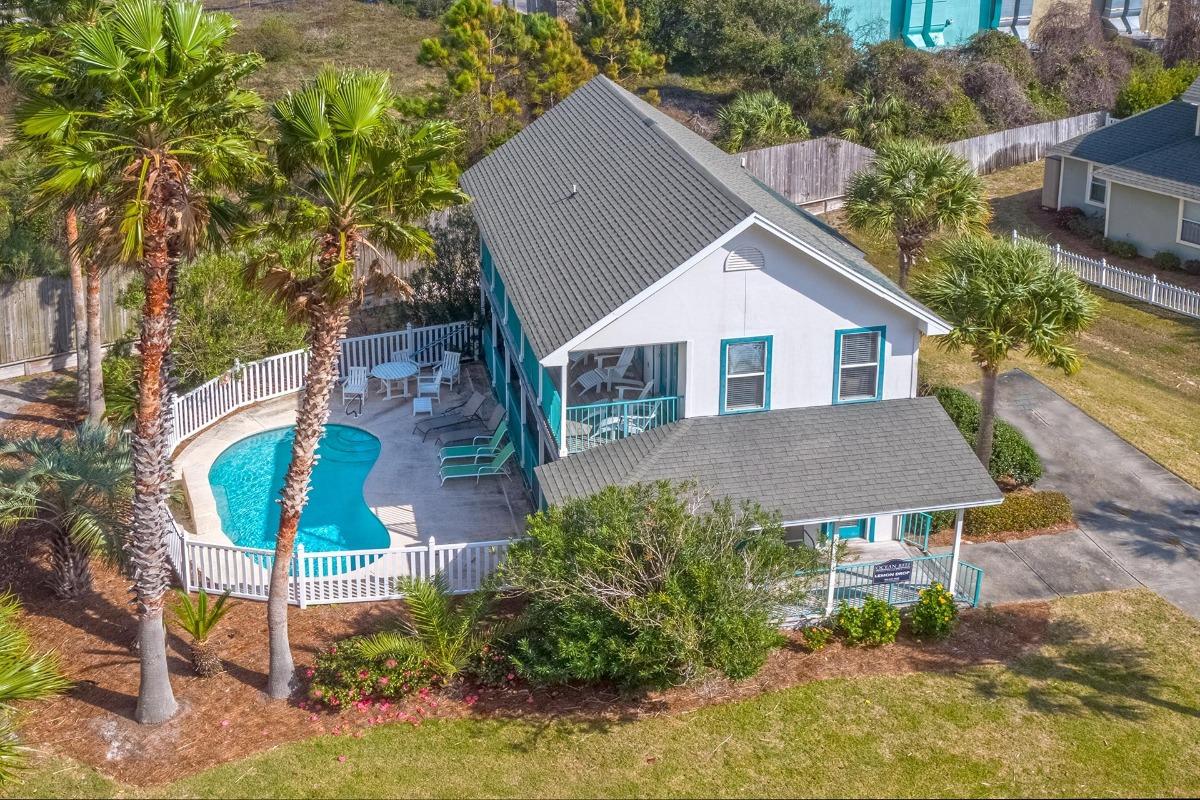 Lemon Drop is located at the Windancer Cottages in Miramar Beach and guests here have two pools to choose from. The lovely lagoon shaped private pool comes with the house, but a seasonally heated community pool is just a short two-minute walk away and overlooks the gorgeous gulf. This vacation home has two bedrooms and can sleep up to six guests since the downstairs has a queen-sized sleeper sofa which would be perfect for the kids. The Master Bedroom and Guest Bedroom upstairs each have a full en-suite bath with access to a balcony overlooking the pool. A wrap-around covered porch and patio downstairs is beside the sparkling pool. The weekly summer rate average is $3,360.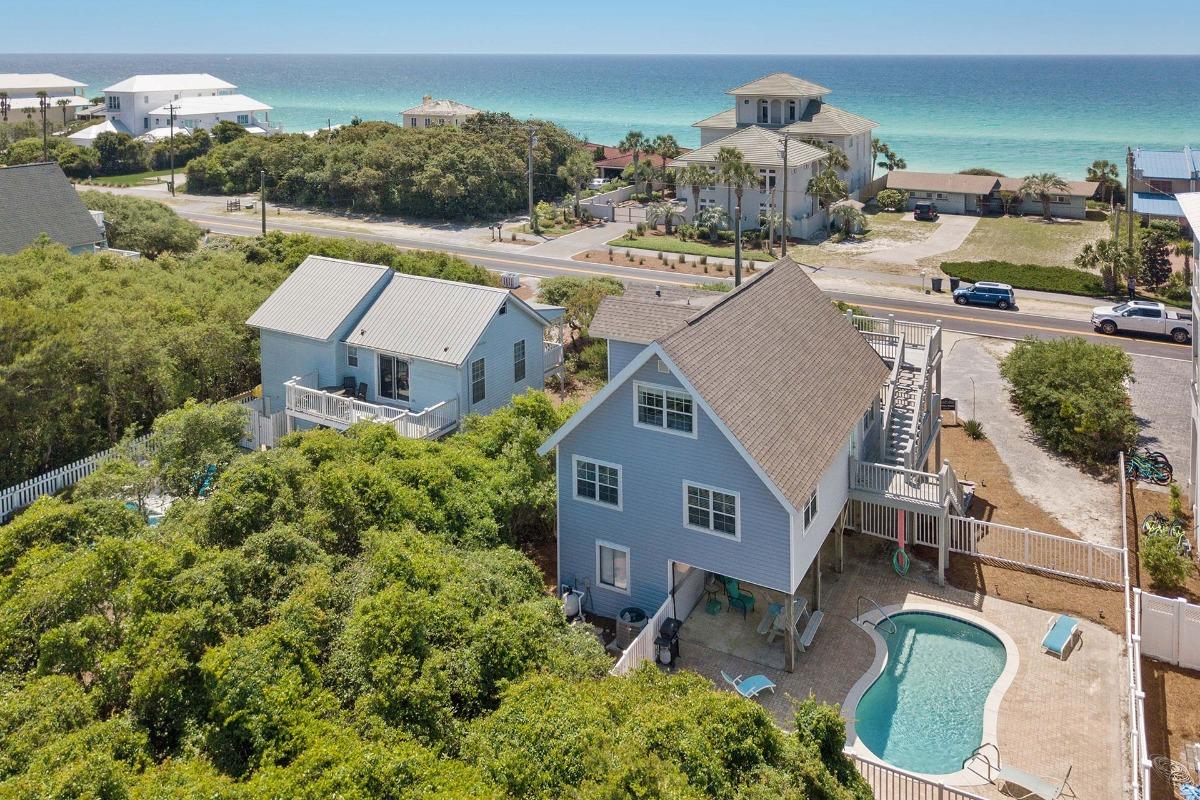 Coral Rose is a three bedroom home that sleeps ten down in Seacrest Beach on Scenic 30A in South Walton. This iconic A framed home has double level sundecks that overlook the gorgeous gulf across the street. The Master Bedroom on the third floor has a private gulf view balcony. A large covered porch opens out upon the private pool. The weekly summer rate average is $3,377.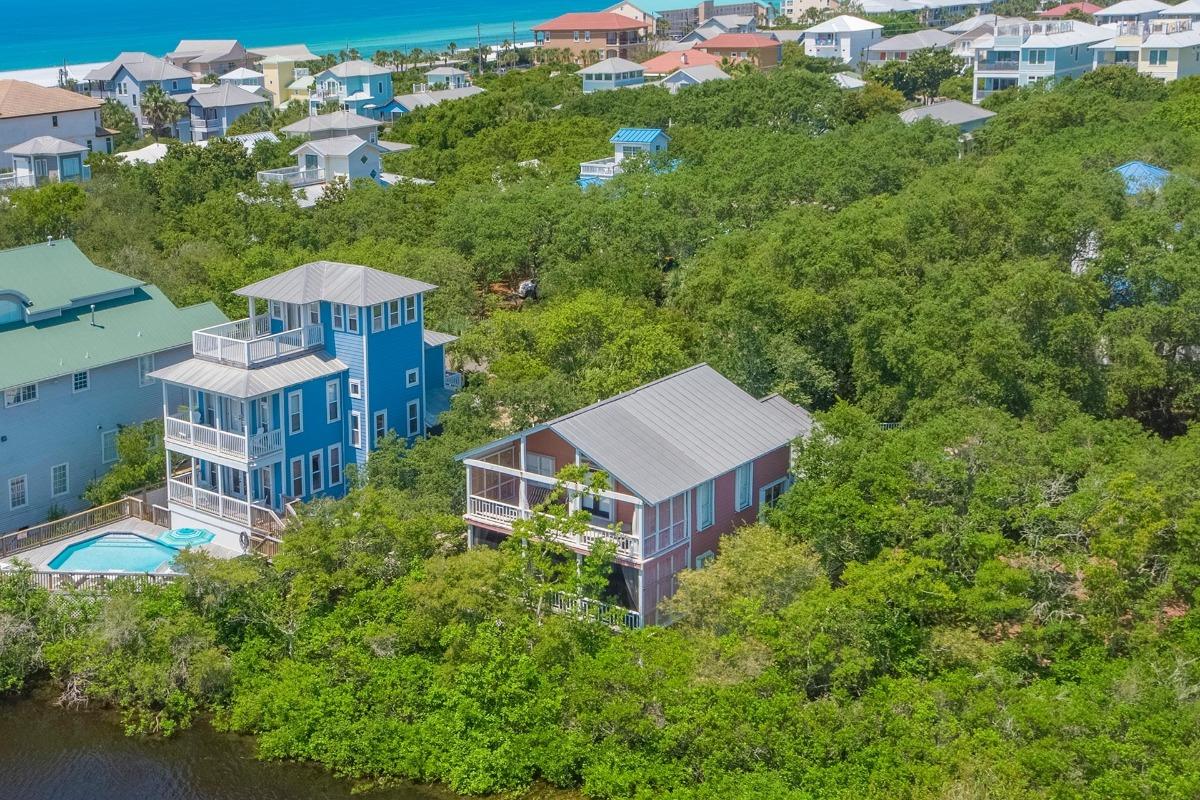 Islamorada has a presence. As soon as you pull up to this hospitable three bedroom vacation home – you are captivated by the gracious laid-back setting that seems to be in a wonderful world of its own. A sparkling swimming pool with an attractive arbor graces the front of the house creating a private oasis like setting with indigenous Live Oak trees and Tropical Plants. A wide front porch graciously faces these views, and wicker rocking chairs beckon you to enjoy some leisurely lounging. The weekly summer rate average is $3,881.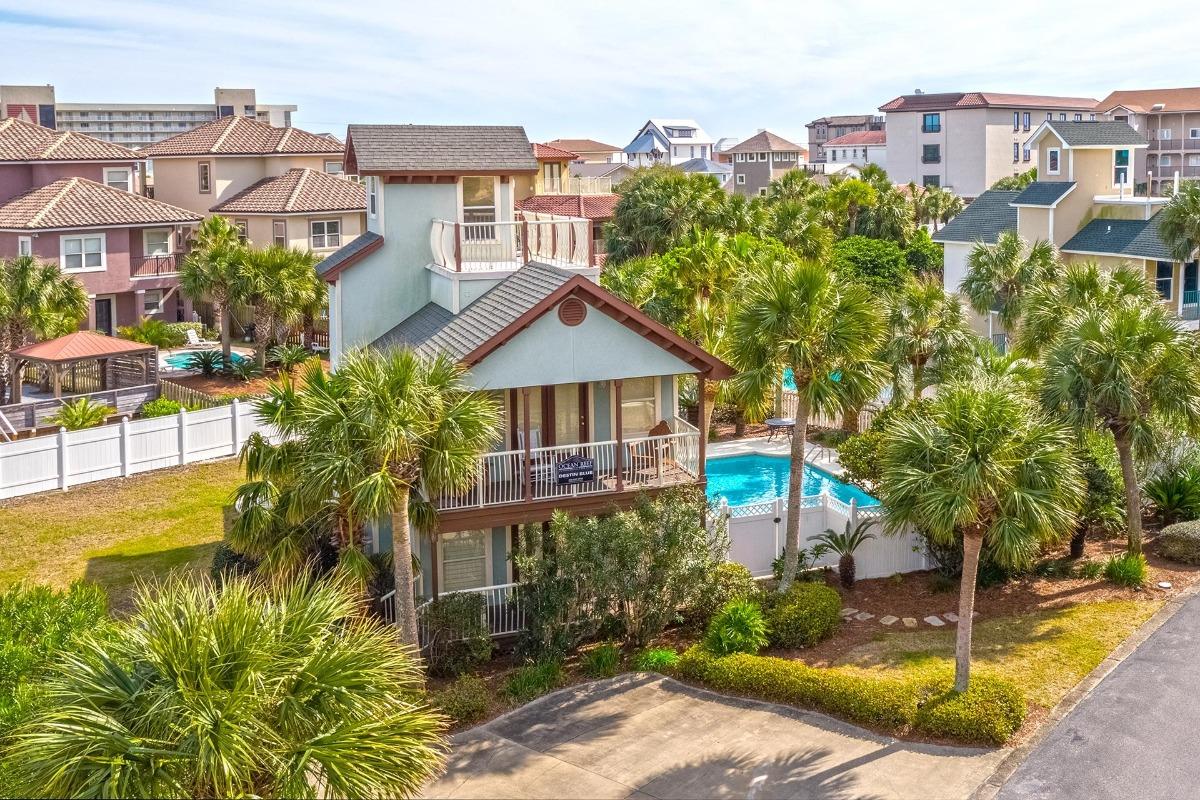 Destin Blue is a lovely home that has three bedrooms and resembles a charming chalet with a golden Old Florida look. Besides being only a short stroll away from the beach, it also includes a large 32' x 16' private swimming pool. The swimming pool has a pristine patrician look, surrounded by lavish landscaping and an assortment of palm trees that create a private paradise. The patio has seating where you may enjoy favorite drinks and snacks poolside. Overlooking this extraordinary scene is an open sun deck on the rooftop where you may soak up the rays while relishing the sensational scenery. This home also has access to a large lagoon shaped neighborhood pool that overlooks the emerald toned gulf. The weekly summer rate average is $3,898.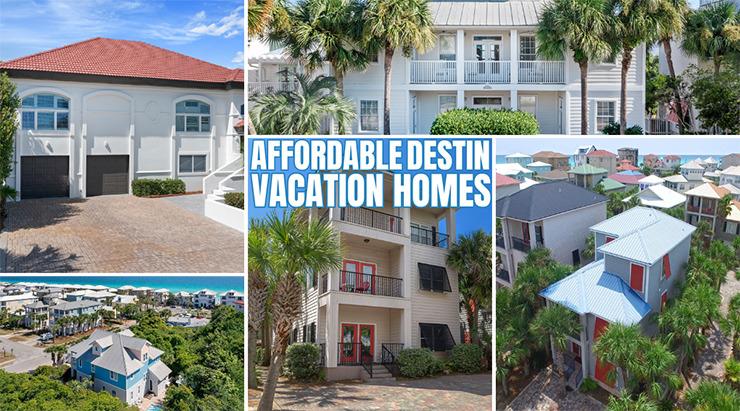 These welcoming abodes can sleep between 12 to 21 lucky guests and are a stone's throw from the beautiful beach. But act fast—two of these homes are only available for one week each, so secure your reservation before they're all snapped up!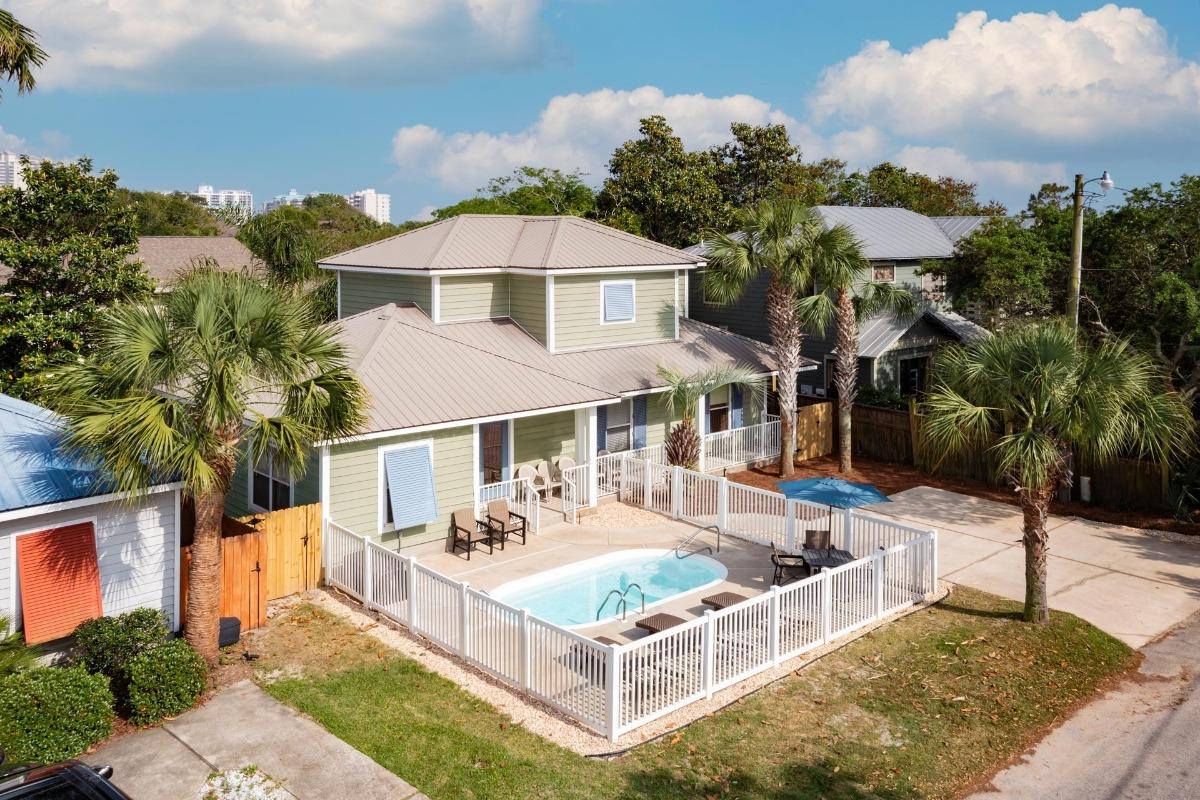 Emerald Ayes is a striking three bedroom hideaway home in Frangista Beach that sleeps up to eleven guests. The oval swimming pool is right out front is complete with lounge chairs and a grill to create your own poolside barbeque. The family room comes with a large flatscreen TV for the big game or a fun family movie night. Four other flatscreen TVs are scattered throughout the home for added entertainment. The weekly summer rate average is $4,120.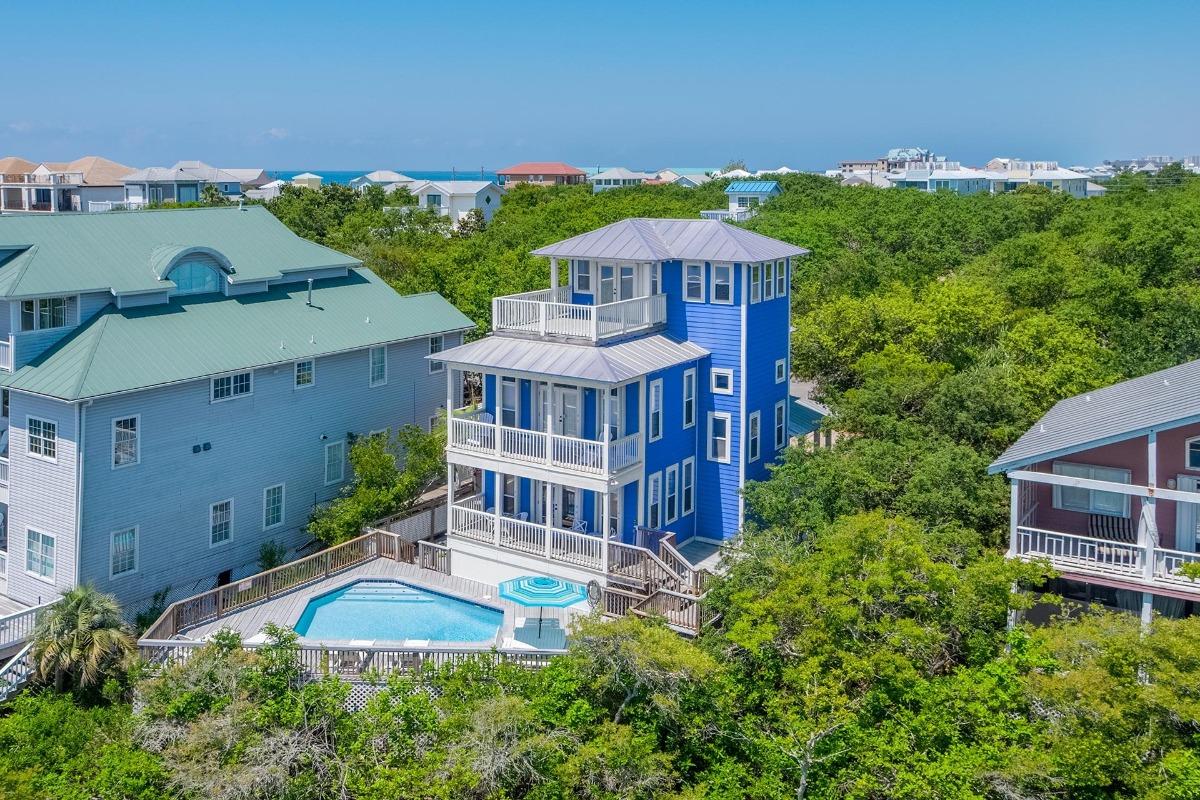 Destin2bHere is a stylish three bedroom lakeside vacation home that sleeps ten guests in Kokomo Kove and is just a short stroll away from the white sand beach. Multiple windows, balconies, and decks provide vivid views of another lovely lake. An open rooftop observation deck also overlooks this sparkling panorama. The Tommy Bahama inspired furnishings are chic, comfortable and decidedly upscale. The pentagon angled pool sits on a large open sun deck overlooking the lake. The weekly summer rate average is $4,331.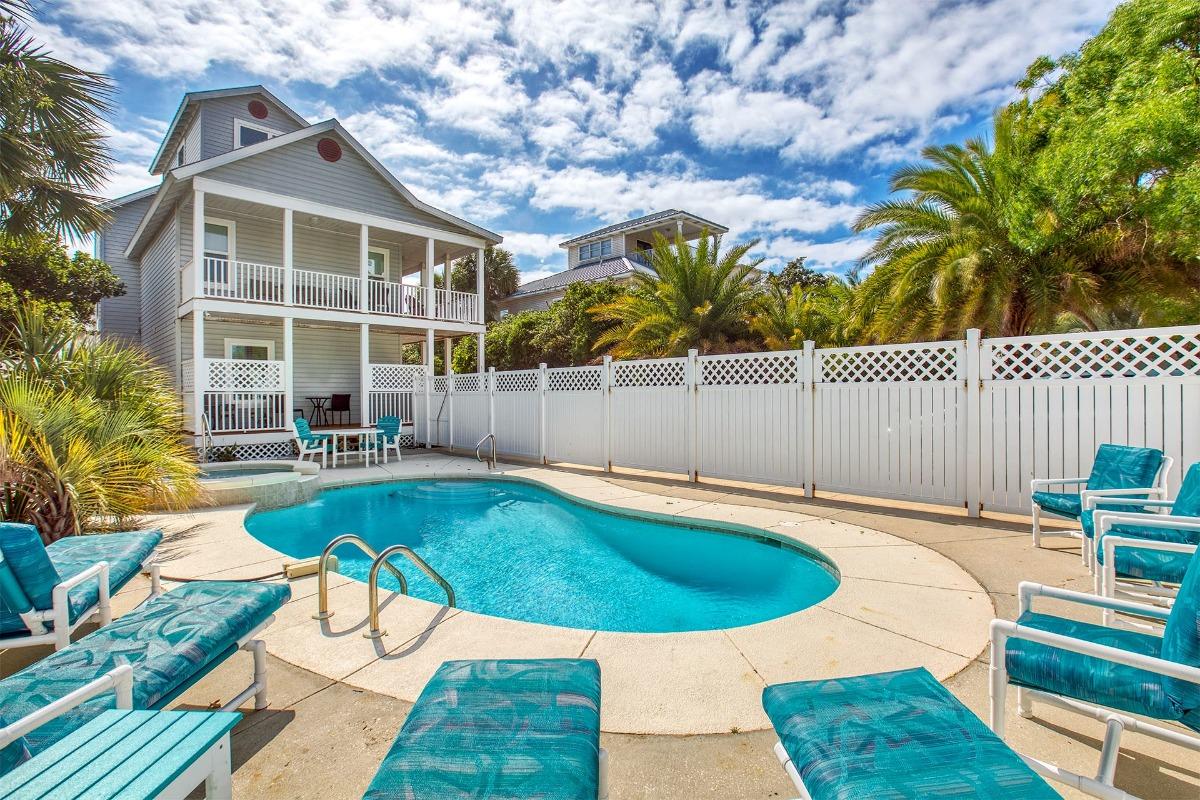 At Ease is a three bedroom vacation home accommodating up to 12 guests located in Crystal Beach. It exudes charm with Old Florida architecture that includes covered porches wrapped around three sides of the house on the first and second floors. The lovely lagoon shaped pool sits beside a soothing hot tub. One of the Guest Bedrooms has access to a full bath that also serves as a convenient dressing room next to the pool patio. The weekly summer rate average is $4,436.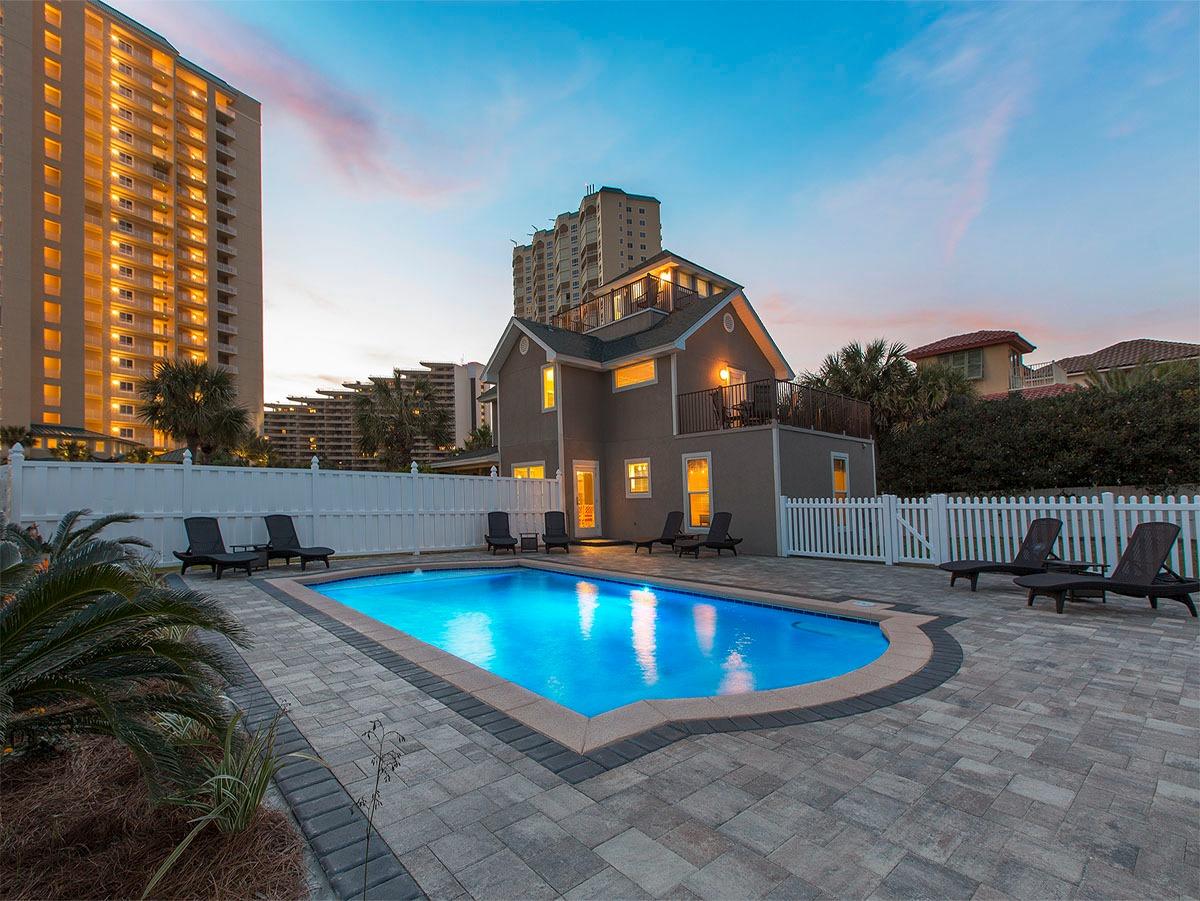 Panorama has three bedrooms and you may enjoy panoramic views while sipping your favorite drink from the third story rooftop Observation Deck. The premier "panorama" includes the palm-studded neighborhood and glittering gulf. This hospitable vacation home has a spacious yard, and the new sparkling swimming pool is a short distance from the beautiful beach. You may plunge into the pool out back and minutes later be floating around in the luminescent glowing gulf. You also have the option of taking a dip in the large lagoon shaped community pool nearby that overlooks the bright white beautiful beach! The weekly summer rate average is $5,090.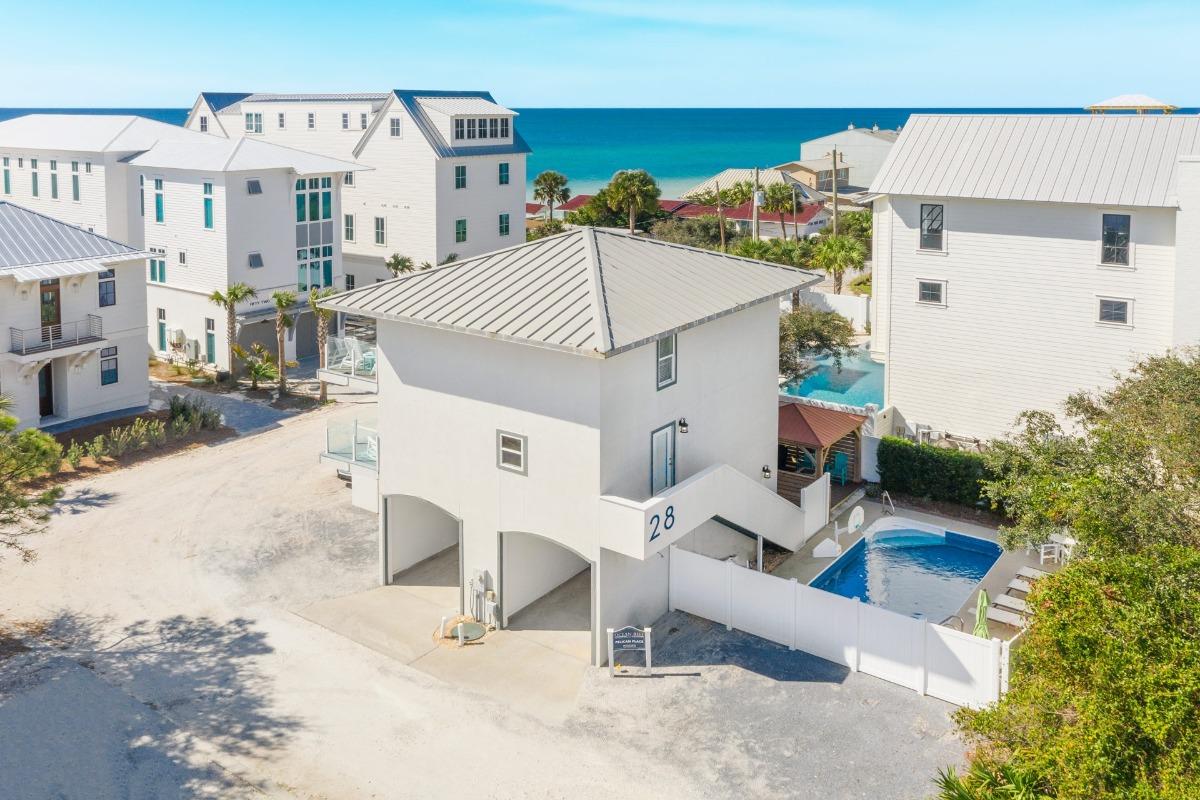 Pelican Place is a modern three bedroom home that sleeps up to eleven happy beachgoers located in Seagrove Beach on the gulf side of Scenic 30A. The colorful furnishings are vibrant and decorated with a distinct Floridian flair. It's just an arrow's shot away from the sugary shore with private community access so you may go from the pool to the glittering gulf in about a minute. The large rectangular pool measures 12' x 26' with plenty of room for freshwater fun. The weekly summer rate average is $5,536.
Enjoy looking at each of these wonderful highly sought after (and affordable) vacation homes with pools and reserve your own for refreshing frolic and fun times!