Posted on 11/10/2023
Imagine waking up to the soothing sound of waves gently crashing against the shore, the warm glow of the sun rising over the vast, sparkling Gulf of Mexico, and the luxurious comfort of a home that is yours, if only for a while. Welcome to Ocean Reef Resorts, where every stay is more than just a vacation—it's a plunge into paradise.
Our collection of Gulf-Front Homes with Full-Size Heated Pools is where unparalleled luxury meets the untamed beauty of Florida's Emerald Coast. From the sun-kissed terraces of Villa Vittoria to the majestic splendor of Seaspray 9, each vacation rental home is a doorway to an experience that transcends the ordinary. Dive into the elegant surroundings of Destin & 30A, indulge in the exclusivity of your private pool, and let the tranquil waters of the Gulf become the backdrop to your most cherished memories. Join us on a journey through these captivating beachfront vacation homes where grandeur and comfort dance to the rhythm of the sea, and every moment is a treasure waiting to be discovered.
Welcome to your next chapter of adventure, relaxation, and pure bliss with Ocean Reef Resorts.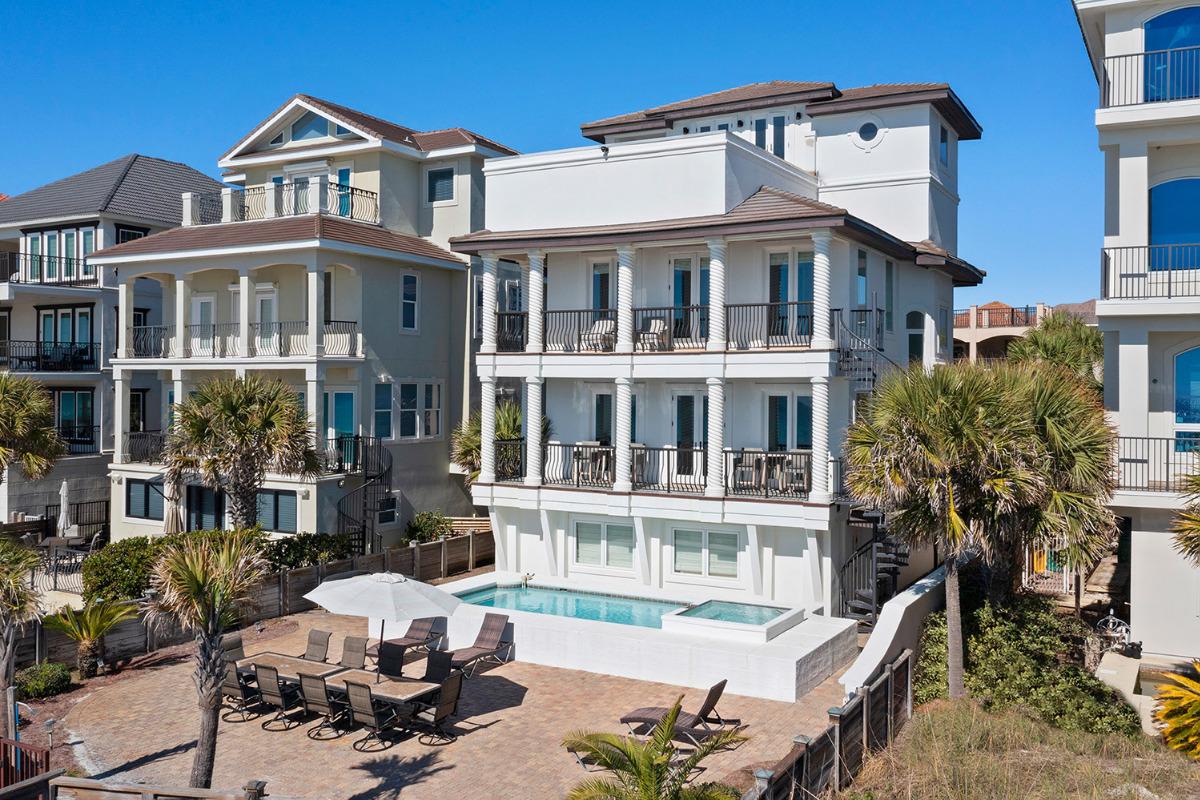 5 Bedrooms / 4 Full Bathrooms / 16 Guests
Villa Vittoria is a jewel nestled within the Dunes of Destin, a sanctuary of luxury with a private full-size pool that serves as its centerpiece. This five-bedroom beachfront vacation villa can luxuriously house up to 16 guests, ideal for families and groups seeking an exquisite escape. Recently renovated, the villa exudes opulence with its elegant Mediterranean-inspired architecture and chic interior furnishings. Guests can enjoy al fresco dining by the poolside, with two dining tables set under a large umbrella, perfect for enjoying the coastal breeze and the stunning views of the Gulf. The interior is just as impressive, with various luxurious suites spread across three floors, including a primary bedroom with breathtaking beach views. Villa Vittoria offers more than just a prime beachfront location; it is an experience of serene splendor, a short distance from Destin's finest attractions.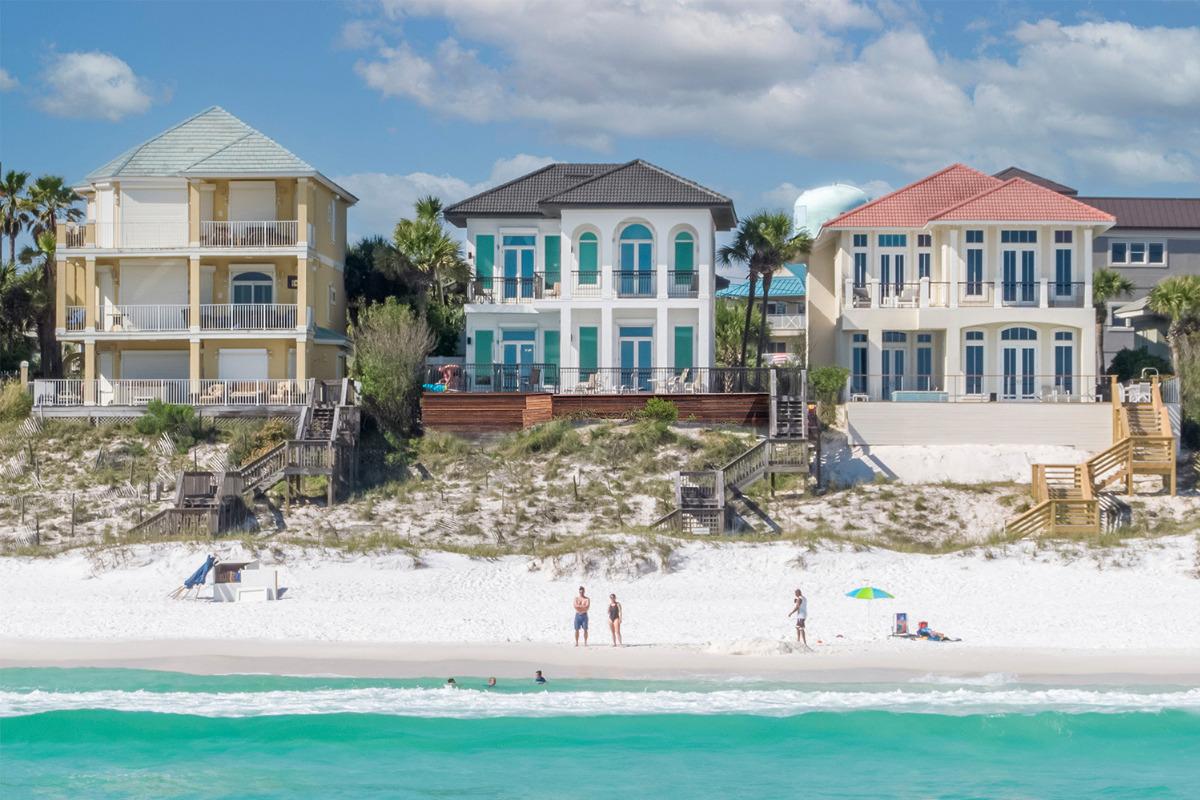 5 Bedrooms / 5 Full Bathrooms / 14 Guests
Paradis lives up to its name as a slice of heaven on Miramar Beach, offering a grand retreat for 14 guests with a luxurious main house and charming guest house. This beachfront vacation marvel captivates with its chic interiors and stunning Gulf views, especially from its curvaceous pool perched above the sugary dunes. Inside, the estate boasts contemporary elegance, with wall-spanning windows, marble accents, and a primary suite that commands views from a regal beachfront balcony. Guests are treated to state-of-the-art amenities and plush furnishings, making every room a tranquil haven. Just steps from Destin's finest attractions, Paradis merges serene beachfront living with the excitement of the Emerald Coast.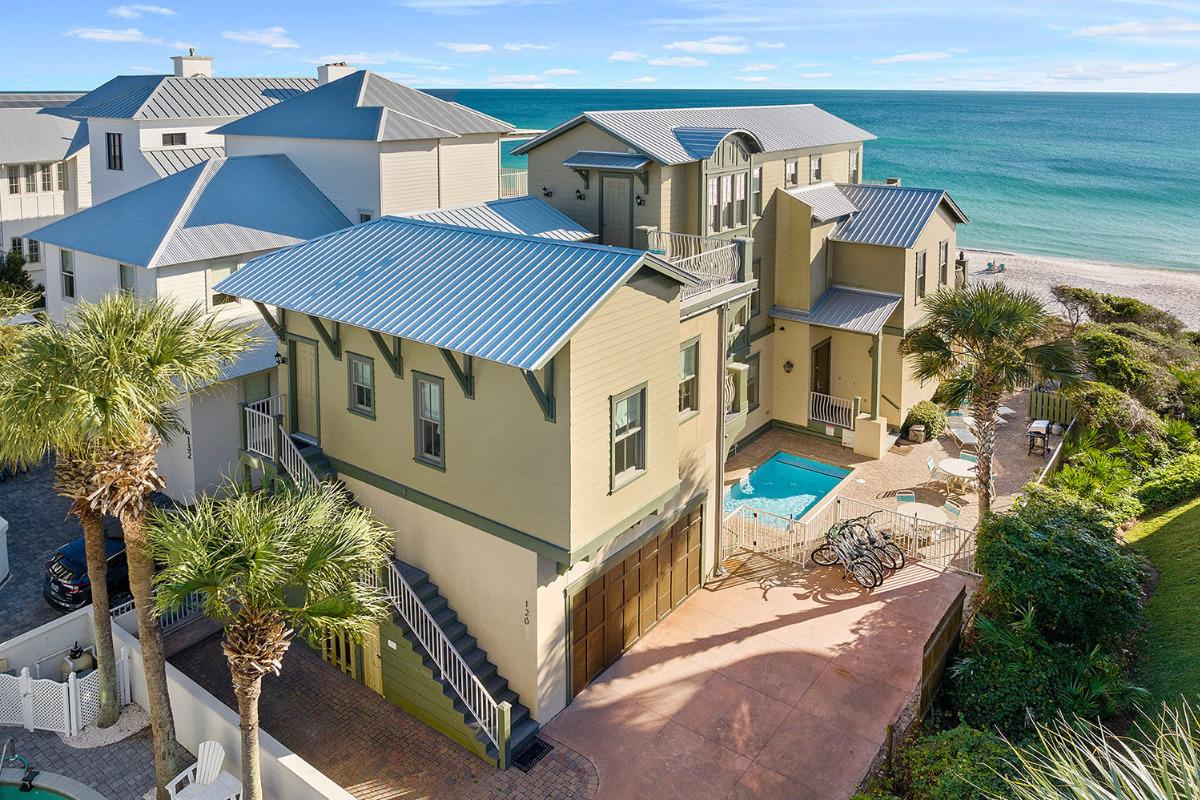 6 Bedrooms / 6 Full & 3 Half Bathrooms / 24 Guests
Seabourn, a splendidly renovated Dutch Colonial-style beachfront compound in the exclusive gated Waters' Edge community of 30A, offers luxurious privacy for up to 24 guests. Six elegantly appointed bedrooms and multiple powder rooms are spread across three floors and an attached carriage house, each providing serene beach views. The rental home pairs coastal charm with relaxed beach elegance, featuring a game room, a pool table, and beach balconies that invite the sea breeze in. The open living spaces are bathed in natural light and accented with creamy beamed ceilings and panoramic vistas, and the kitchens are equipped for festive gatherings. The entire top floor is a private sanctuary for the primary suite, complete with a kitchenette and stunning viewing deck. Outdoors, a private heated pool awaits, just steps from the soft sands, and the charm of Rosemary Beach, with its restaurants and shops, is just a stroll away. This beach haven promises a luxurious, carefree stay with the best of Florida's 30A at your doorstep.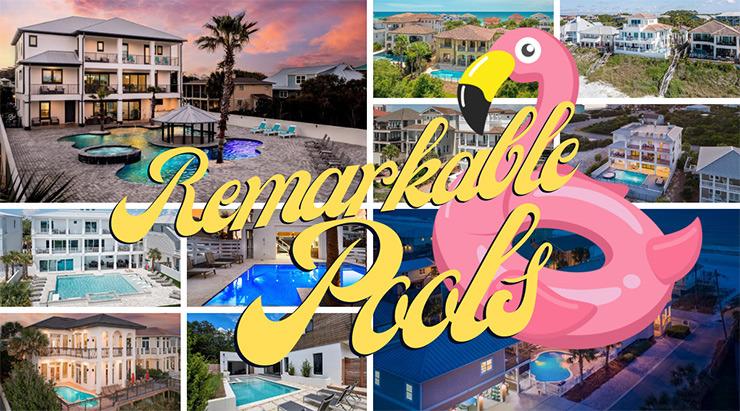 10 Destin Vacation Homes With Remarkable Pools
Looking for the ultimate beach vacation? Look no further! These 10 Ocean Reef Vacation Rentals have got you covered and offer the best of both worlds - a private swimming pool AND the beautiful beach just minutes away (or seconds, depending on the property).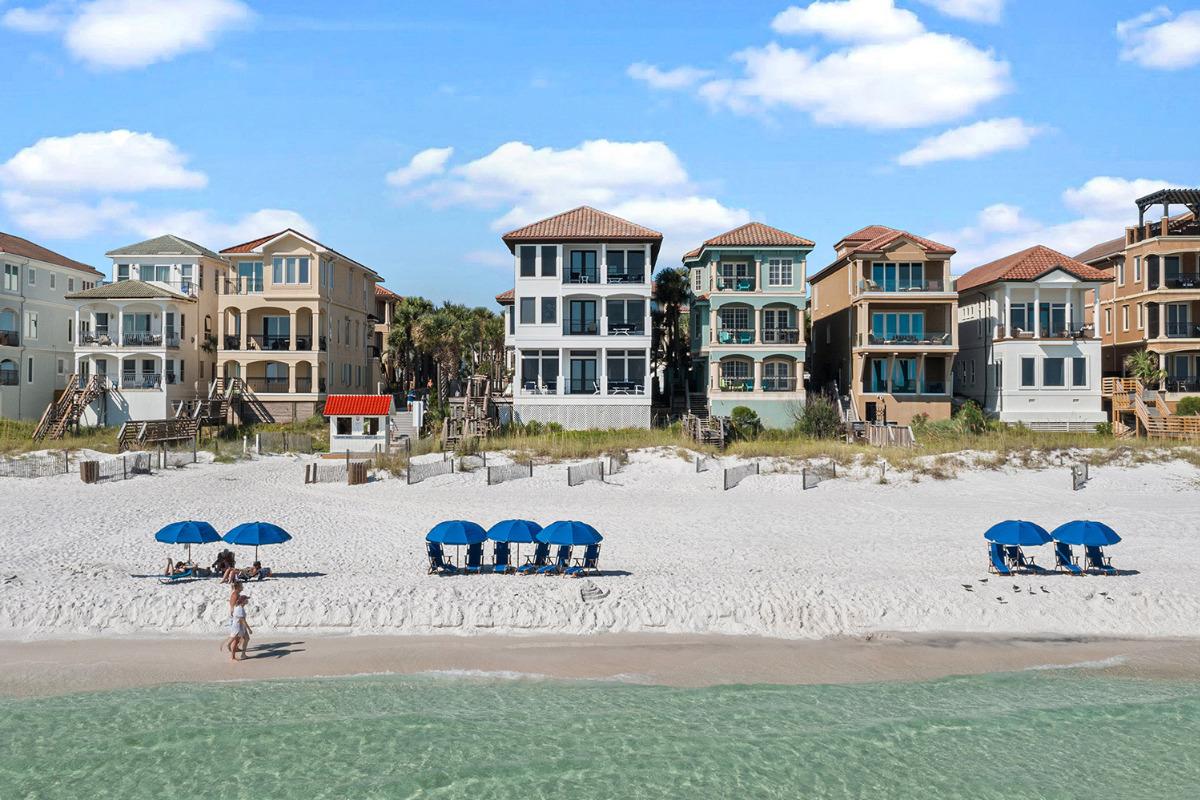 7 Bedrooms / 6 Full & 1 Half Bathrooms / 18 Guests
Nestled in the exclusive Destiny by the Sea neighborhood, Tuscany is a majestic beachfront vacation haven offering seven bedrooms, multiple baths, and space for 18 guests to revel in Destin's coastal charm. This property not only features a private sandy stretch and complimentary seasonal beach service but also boasts a private heated pool, set in a picturesque landscape of lush tropical flora. It's the perfect spot for year-round swimming and relaxation. The property's lagoon-shaped community pool, complete with a hot tub and a pavilion for poolside relaxation, adds to the aquatic luxury. The home itself exudes Tuscan elegance, featuring a grand entrance with travertine marble, an ornate wrought iron-adorned staircase, and a first-floor living space that merges comfort with luxury. Panoramic Gulf views and natural light flood through three walls of windows, leading out to a beachfront veranda perfect for sipping drinks against the backdrop of the sea. The gourmet kitchen with top-of-the-line appliances, a regal dining area, and a bar counter promises convivial dining experiences. The opulent primary suite, along with well-appointed guest rooms, graces the second floor, while a separate top-floor suite includes additional living quarters, complete with a pool table, full kitchen, and a Gulf-view balcony. This Destin gem is moments from renowned restaurants, upscale shopping, and vibrant nightlife, offering an unforgettable escape complete with all the indulgences for a luxe beachfront retreat.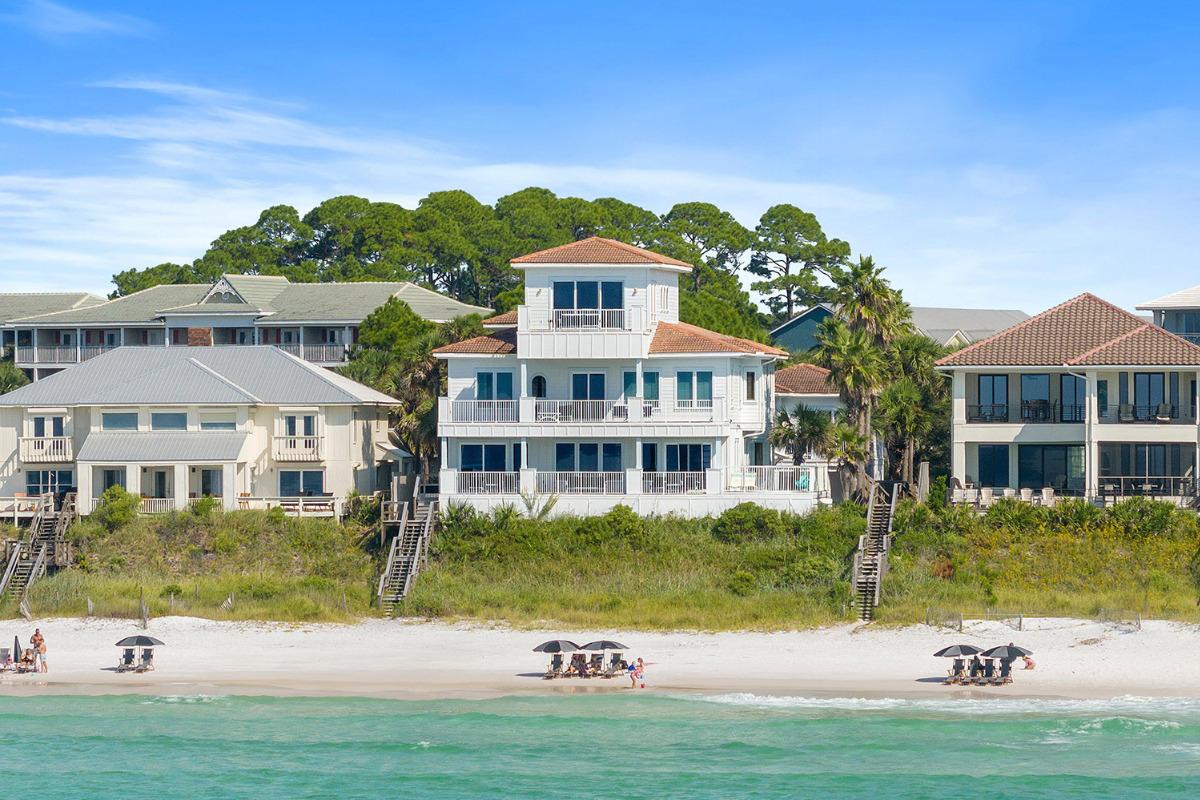 7 Bedrooms / 8 Full Bathrooms / 28 Guests
Experience the epitome of 30A luxury at Casablanca, a majestic beachfront estate in Santa Rosa Beach with a Mediterranean flair boasting an impressive 7,300 square feet of sophisticated living space. This rental property comfortably hosts up to 28 guests and features a separate Guest House, perfect for family gatherings. The heart of the home is the Great Room, which leads out to a stunning beachfront balcony with panoramic Gulf views and is complemented by a sun-drenched pool deck for ultimate relaxation. The gourmet kitchen is a chef's dream, while the formal dining area adds a touch of elegance. The grand primary suite is a lavish retreat with a private balcony, and additional guest rooms offer sumptuous accommodations. A unique feature, the Guest House, offers additional entertainment with a game room, further enriching the stay. The pool area, a serene escape, can be heated upon request, ensuring a comfortable swim any time of the year. Casablanca is not just a residence but a slice of paradise near the quaint boutiques and eateries of Gulf Place, ensuring every moment is filled with luxury, comfort, and style.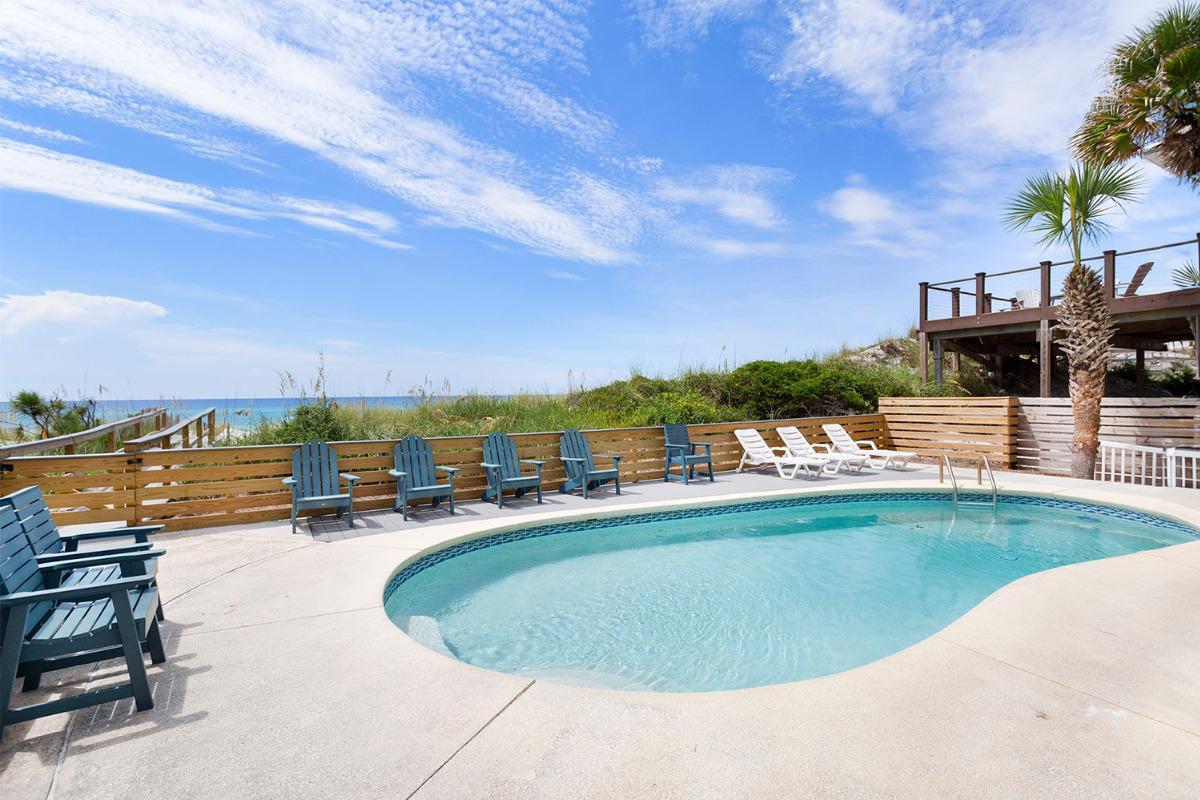 9 Bedrooms / 7 Full & 1 Half Bathrooms / 29 Guests
Seaspray stands as a beachfront gem with nine bedrooms, offering a serene escape where the gentle Gulf breezes carry the ocean's mist right to your doorstep. Ideal for grand family reunions, this Miramar Beach estate comfortably houses up to 29 guests across a primary residence and a charming guest house. The six-bedroom central abode features two primary suites with king-size beds and direct views of the stunning lagoon-shaped pool that mirrors the coast's curve. Each bedroom, adorned with unique decor from vibrant to tranquil hues, ensures a personalized experience for every guest. The living spaces are crowned by honey-toned hardwood floors and vaulted ceilings, framing the Gulf's splendor through expansive windows. With a wraparound bar and a nearby dining area, the open kitchen becomes a hub of hospitality. The quaint guest house adds to the allure, providing cozy accommodations and a lofty living space. The pool, a centerpiece of the retreat, can be heated for year-round enjoyment. Plus, Seaspray sweetens the stay with three complimentary seasonal beach setups, ensuring a seamless beachfront experience. This oasis is more than a stay—it's a multi-sensory delight designed for making lasting memories by the sea.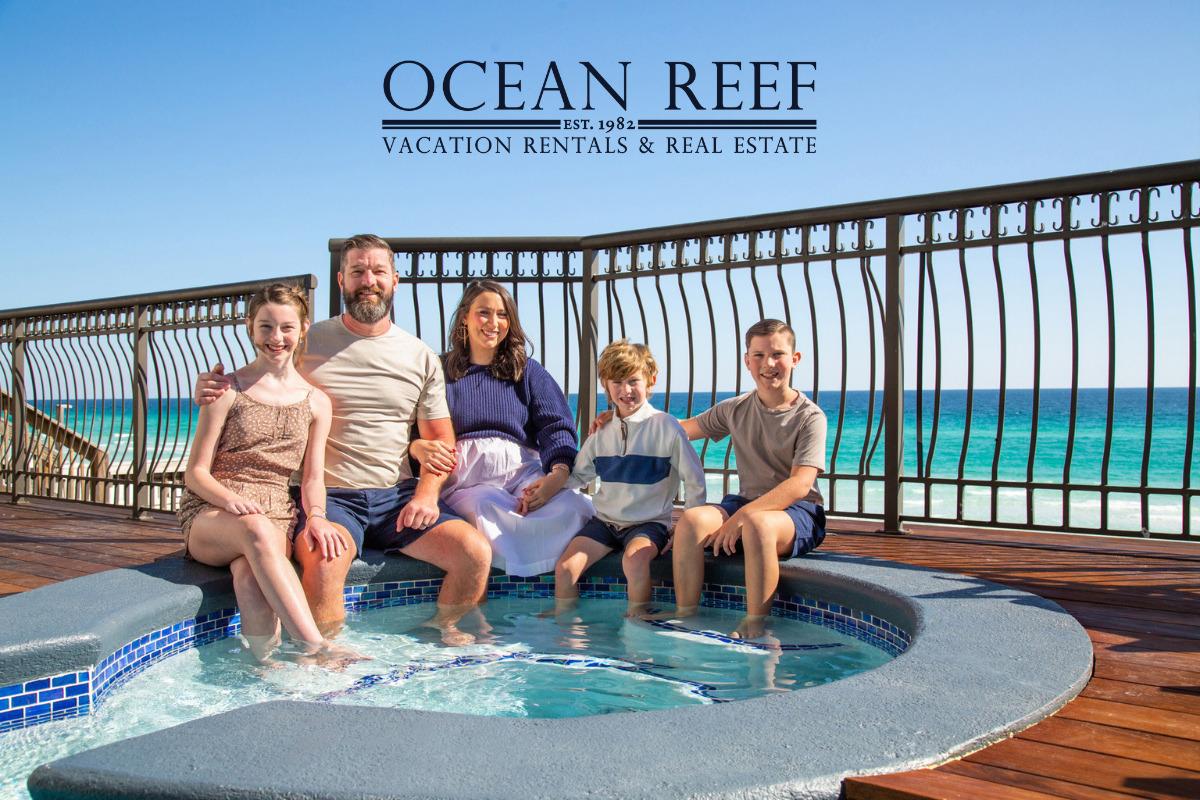 As the sun sets on another perfect day along the Emerald Coast in Destin and along 30A, the question isn't if you should experience the splendor of these Gulf-front homes, but when. Seize the opportunity to immerse yourself in the luxury that awaits at Ocean Reef Resorts. Whether you're dreaming of a romantic getaway, a family reunion, or a lavish retreat with friends, our meticulously curated properties are poised to make your dream vacation a reality. Don't let another moment slip by. Book your stay where the sand is your seat, the horizon is your guide, and the waves play the sweetest melody. Dive into the elegance, embrace the tranquility, and make your reservation today. Your beachfront sanctuary, complete with a full-size heated pool and the caress of the Gulf breeze, awaits your arrival.
At Ocean Reef Resorts is not just a stay—it's where your luxurious coastal fantasy comes to life.