Posted on 9/15/2023
When it comes to creating unforgettable family memories, the setting is just as important as the story. At Ocean Reef Resorts, we believe that every family, whether large or small, deserves a space where every member can find their own corner of comfort. As the largest locally owned vacation rental company in Destin & 30A, our portfolio boasts everything from intimate studio condos to expansive beachfront estates. But this particular selection shines a spotlight on our "right-sized" homes. While many of these featured vacation homes are spacious enough to accommodate up to three families comfortably, they're especially ideal for a single-family or two small families, ensuring everyone has their own cozy nook. These homes are more than just places to stay; they're experiences waiting to be had. So, delve into our curated list of Single-Family Destin & 30A Vacation Homes and discover the perfect backdrop for your family's next cherished chapter.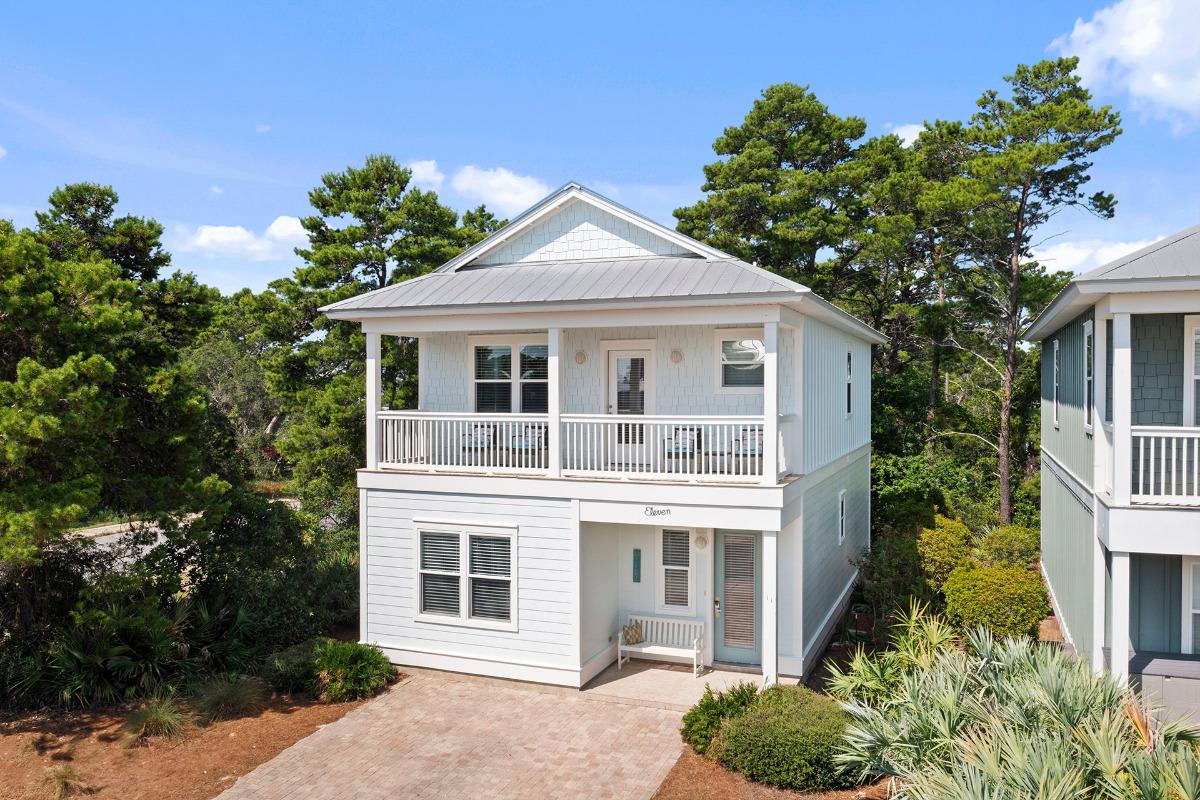 4 Bedrooms / 4 Full & 1 Half Bathrooms / 12 Guests
In the tranquil Gulf Reflections community in Santa Rosa Beach, Oceans 11 emerges as a beacon of 30A's beach allure. With its sunlit Old Florida design, this two-story rental haven invites families to a coastal dream, accommodating up to 12 guests. The interiors, adorned with nautical decor and soothing colors, radiate a seaside ambiance. The open living space seamlessly integrates with the dining and kitchen areas, creating an inviting family-friendly atmosphere. A plush king bedroom on the first floor ensures relaxation, while the second floor houses the serene primary bedroom and two guest rooms. Located just three blocks from the pristine sands and near the vibrant Gulf Place, "Oceans 11" is a tapestry of cherished family memories.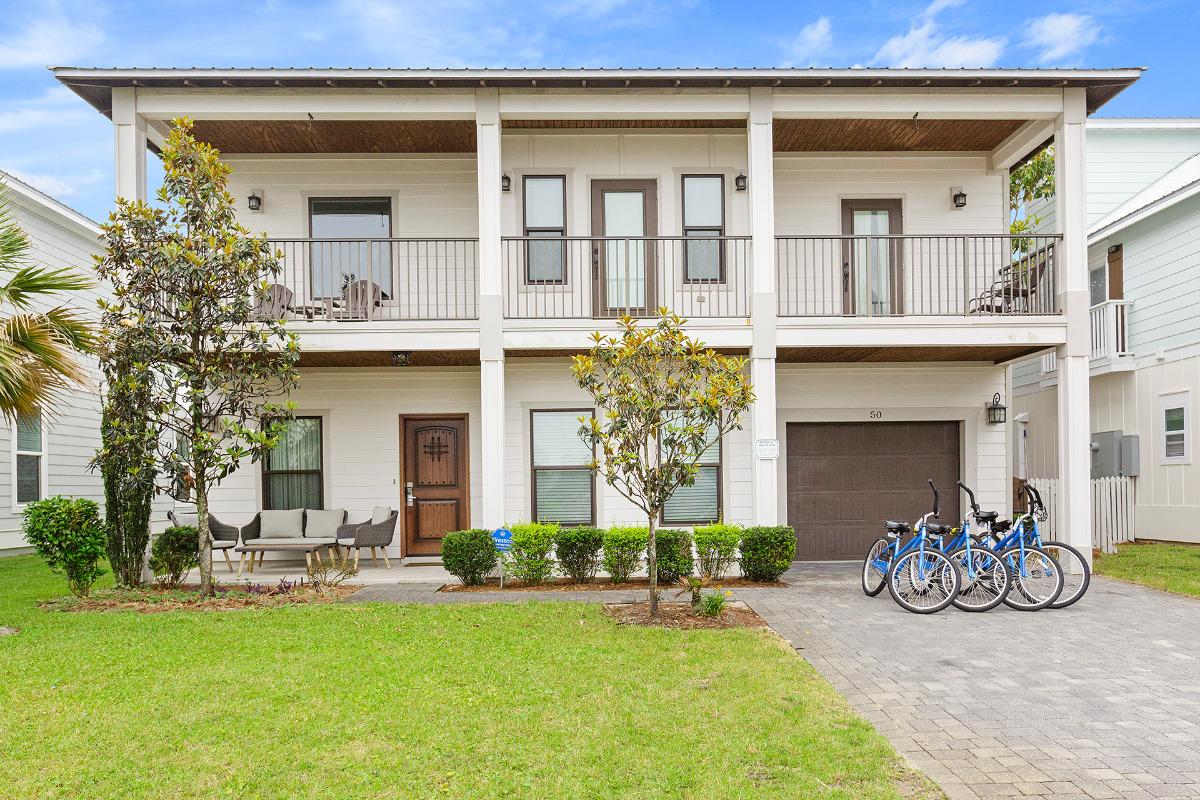 4 Bedrooms / 3 Full Bathrooms / 12 Guests
Boots at the Beach, located in the heart of the Villas of Frangista Beach, is a blend of comfort and style. This two-story vacation rental gem boasts four spacious bedrooms, welcoming up to twelve guests. As you enter, the grand two-story foyer leads you to a sunlit open living space, where elegance meets warmth. The upstairs houses the serene primary suite, complete with a private balcony for tranquil reflections. Additionally, there are two more guest rooms, ensuring ample space for all family members. The first floor also features a delightful guest room, bathed in natural light. Complimentary bikes beckon family adventures, with the shimmering Gulf and popular eateries just a short ride away. "Boots at the Beach" is a canvas of family memories, where every moment transforms into a cherished beachside narrative.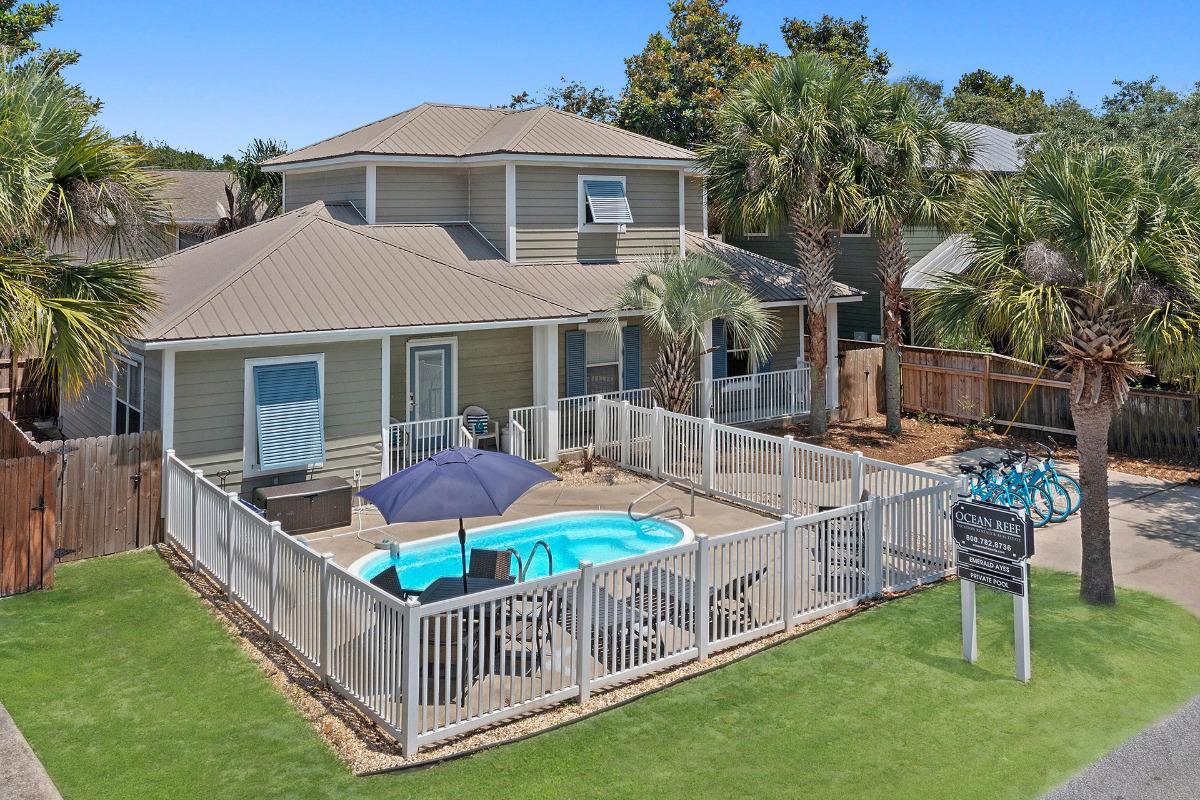 3 Bedrooms / 2 Full & 1 Half Bathrooms / 11 Guests
Well-located in Frangista Beach, Emerald Ayes is the epitome of coastal serenity. This three-bedroom rental sanctuary, just a short stroll from the Gulf's crystalline waters, promises a dreamy beach escape for up to eleven guests. A private pool beckons sun-drenched relaxation, while the interiors, awash in soothing blues, exude a calming beachside ambiance. The open living space is perfect for family gatherings, and with four complimentary bicycles, exploring the scenic surroundings becomes a delightful daily ritual. "Emerald Ayes" is not just a Destin vacation home; it's where cherished Frangista Beach memories begin.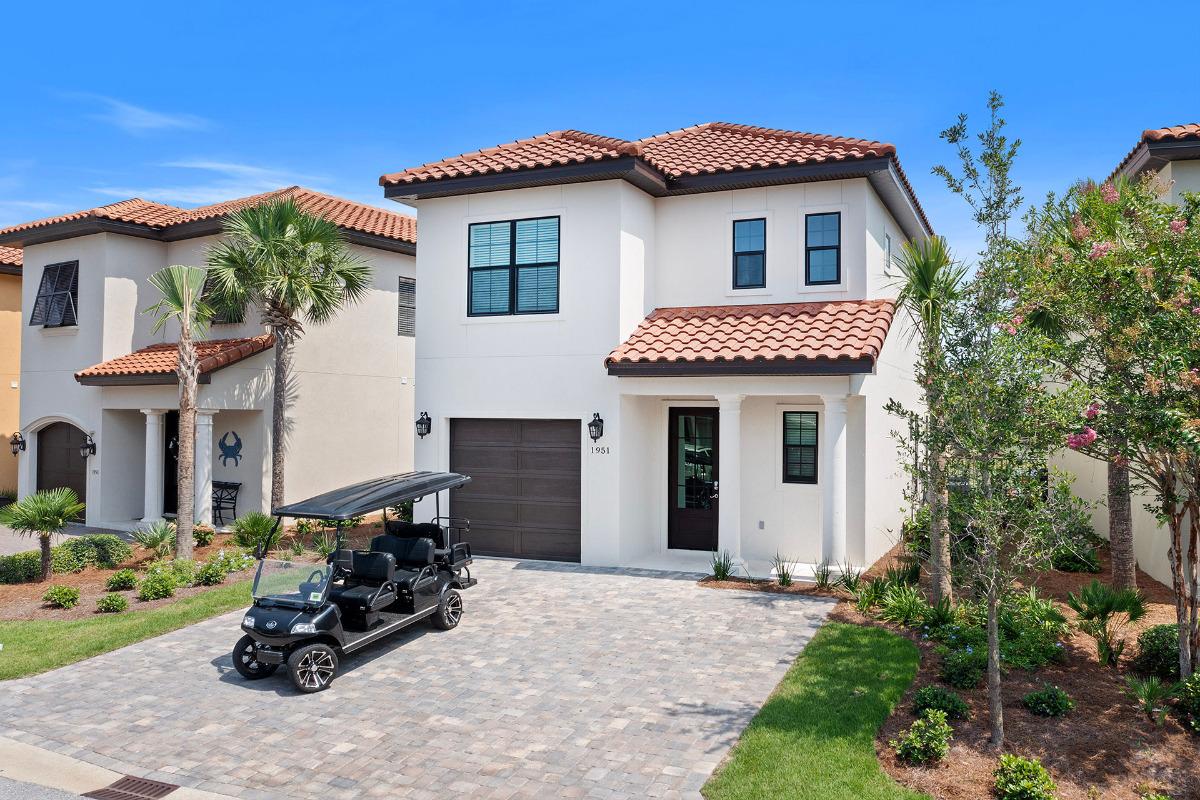 4 Bedrooms / 4 Full Bathrooms / 10 Guests
Within Sandestin Golf & Beach Resort's Villa Lago community, Villa Lago 1951 offers a Tuscan-inspired haven. This two-story vacation villa seamlessly blends luxury with comfort. The interiors, from the open living space to the gourmet kitchen, exude elegance. A private patio overlooking a tranquil lagoon promises alfresco dining, while a complimentary golf cart beckons exploration. "Villa Lago 1951" is the heart of Sandestin, where cherished family memories come to life.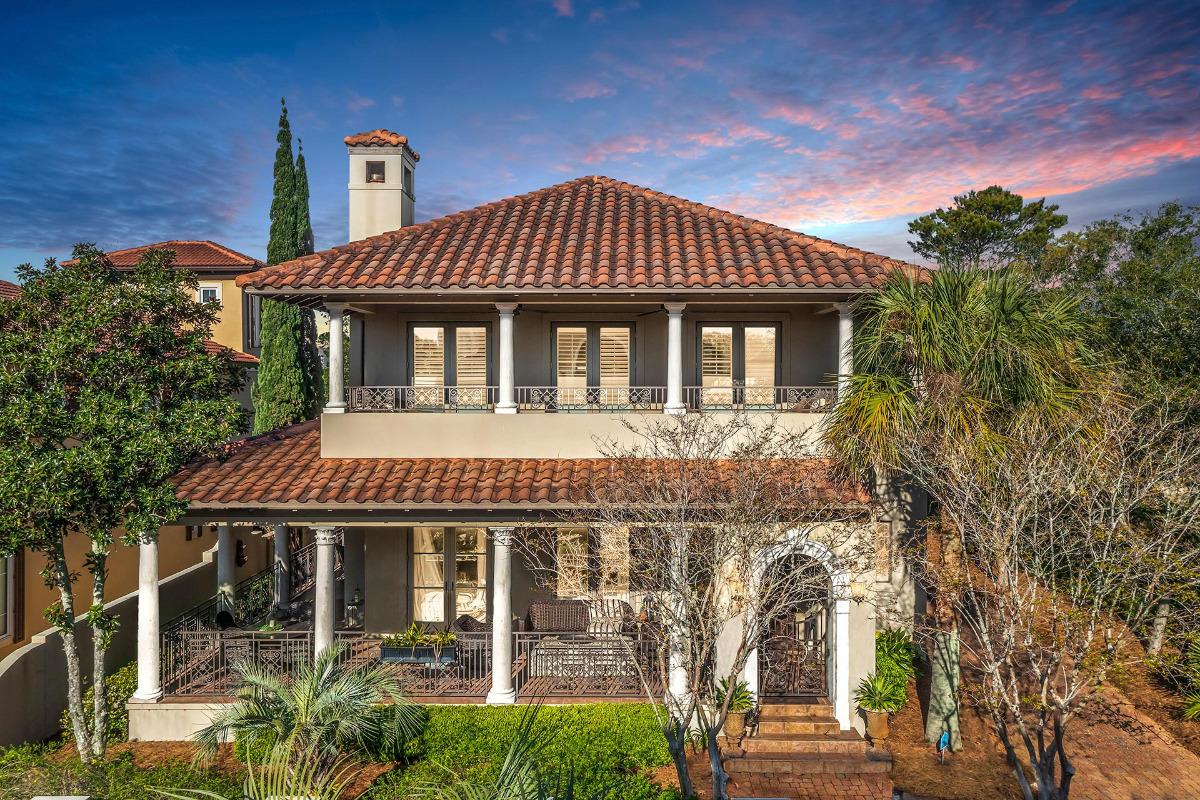 4 Bedrooms / 3 Full & 1 Half Bathrooms / 8 Guests
Situated in the exclusive gated community of Caribe, Shore Beach Working stands as a testament to Mediterranean elegance. This four-bedroom Destin villa, just a leisurely stroll from a private beach, effortlessly accommodates eight guests. Guests can enjoy the two community pools, offering a refreshing escape under the sun. Inside, the villa's interiors, from the spacious living area to the regal primary bedroom, exude warmth and luxury. "Shore Beach Working" is where family memories are crafted amidst the comfort and elegance of Miramar Beach.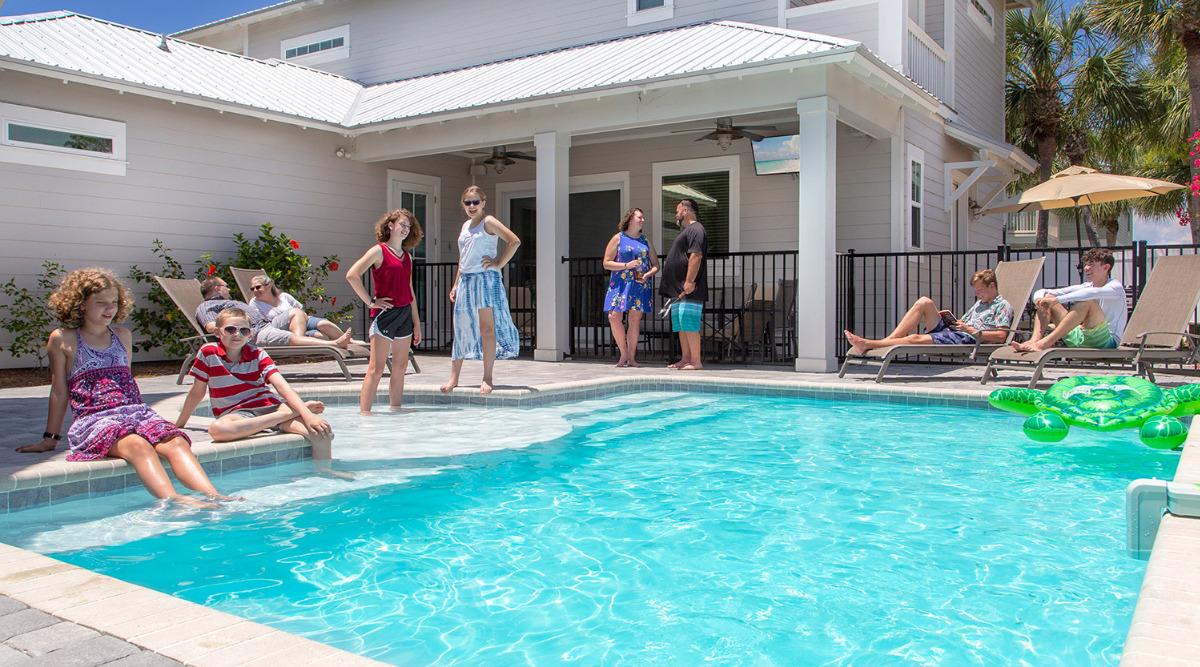 Single-family vacation homes with two or three bedrooms near the sugary shore are more affordable than larger residences. They are also a favorite since, surprisingly enough, they can accommodate six to a dozen carefree beachgoers.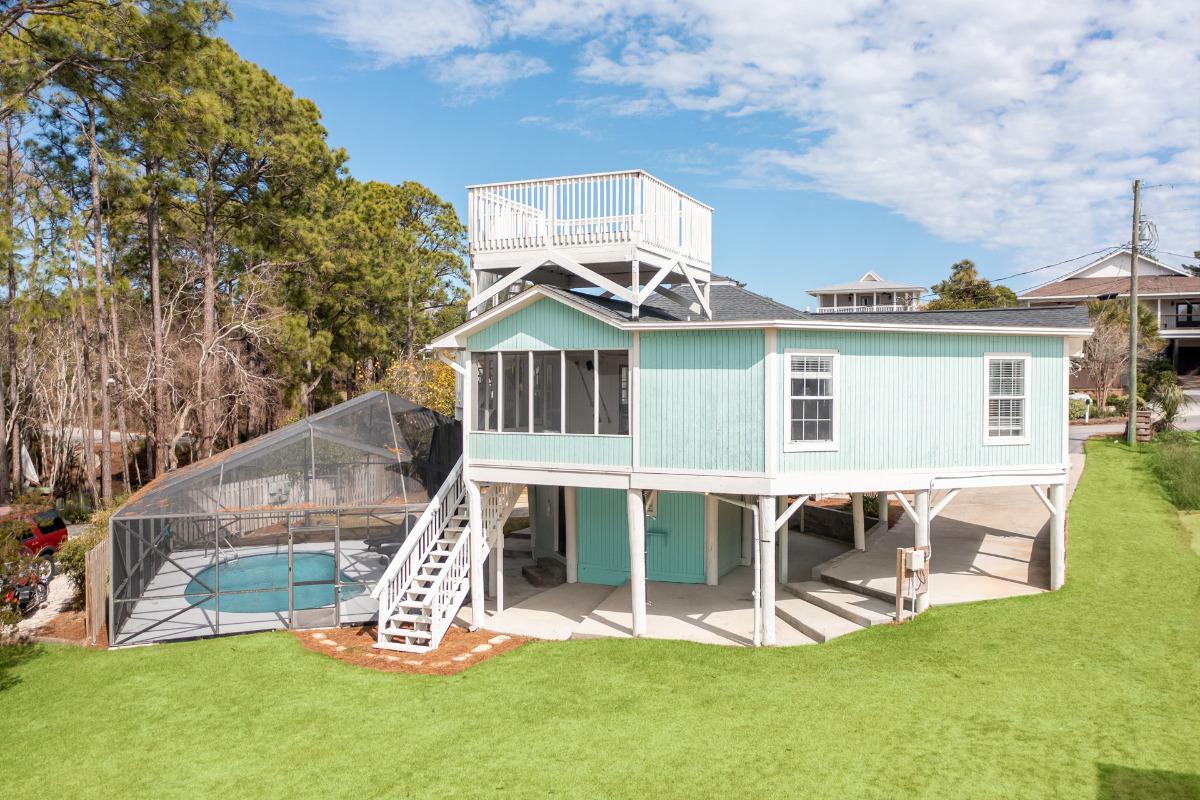 3 Bedrooms / 3 Full Bathrooms / 10 Guests
In 30A's Dune Allen Beach, Amor Fati stands as a coastal sanctuary for families. This three-bedroom rental retreat, mere moments from the shimmering shoreline, comfortably accommodates up to ten guests. The allure of its private screened-in lagoon-style pool is undeniable, promising sun-drenched days and starlit evenings. Inside, the interiors radiate coastal serenity, with plush seating in the sunlit living area and a contemporary kitchen ready for family feasts. A rooftop deck offers elevated views, making it the perfect spot for evening reflections. With its prime location, "Amor Fati" ensures that dining, shopping, and entertainment are just moments away. Dive into a world where family memories are crafted amidst the charm of 30A.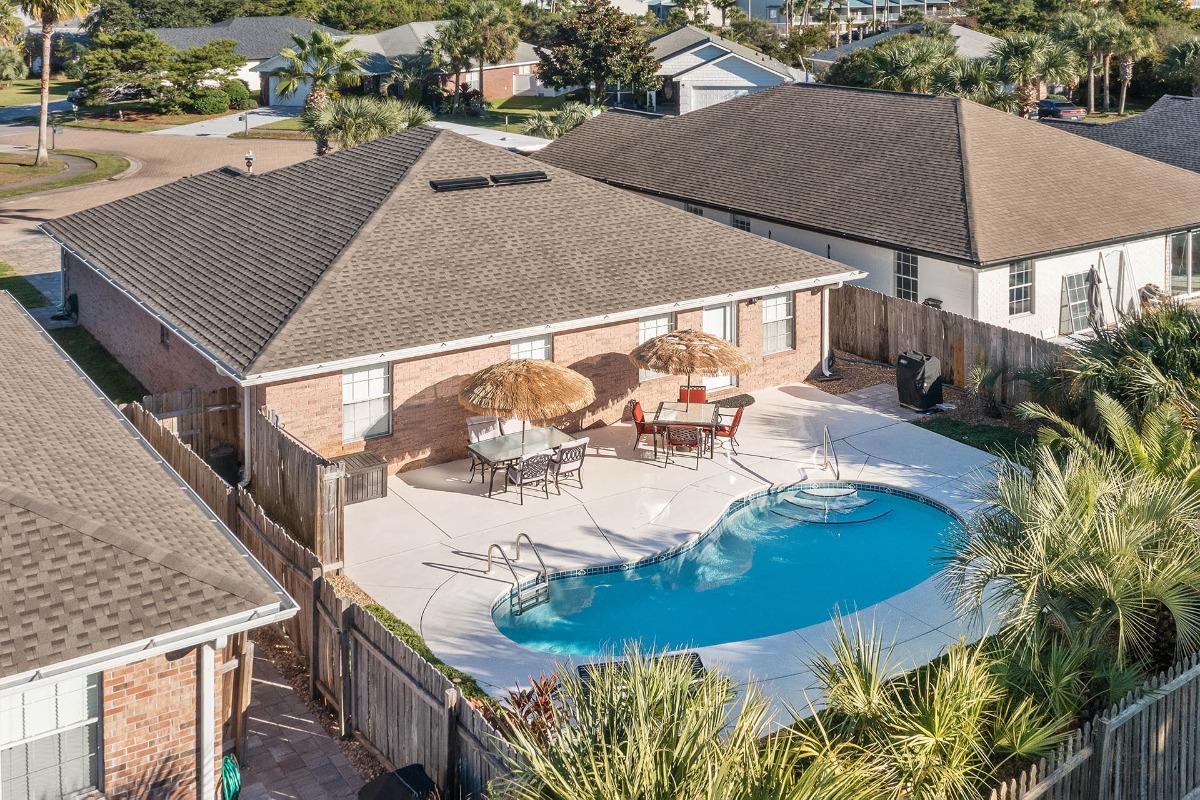 3 Bedrooms / 2 Full Bathrooms / 8 Guests
Situated within the gated Paradise Retreat community of Destin, Palm Breeze II is a tropical haven in Miramar Beach. This three-bedroom Destin vacation home, accommodating eight guests, boasts a sparkling lagoon-shaped private pool surrounded by a sun patio and tropical palms. Inside, the spacious living area with its vaulted ceiling sets the tone for relaxation. The dining and kitchen areas, with their modern amenities, promise delightful family meals. The primary bedroom offers cottage-style furnishings, while additional guest rooms ensure comfort for all. Located a short walk from Seashells by the Sea beach and minutes from popular eateries, "Palm Breeze II" is a tapestry of cherished beach memories.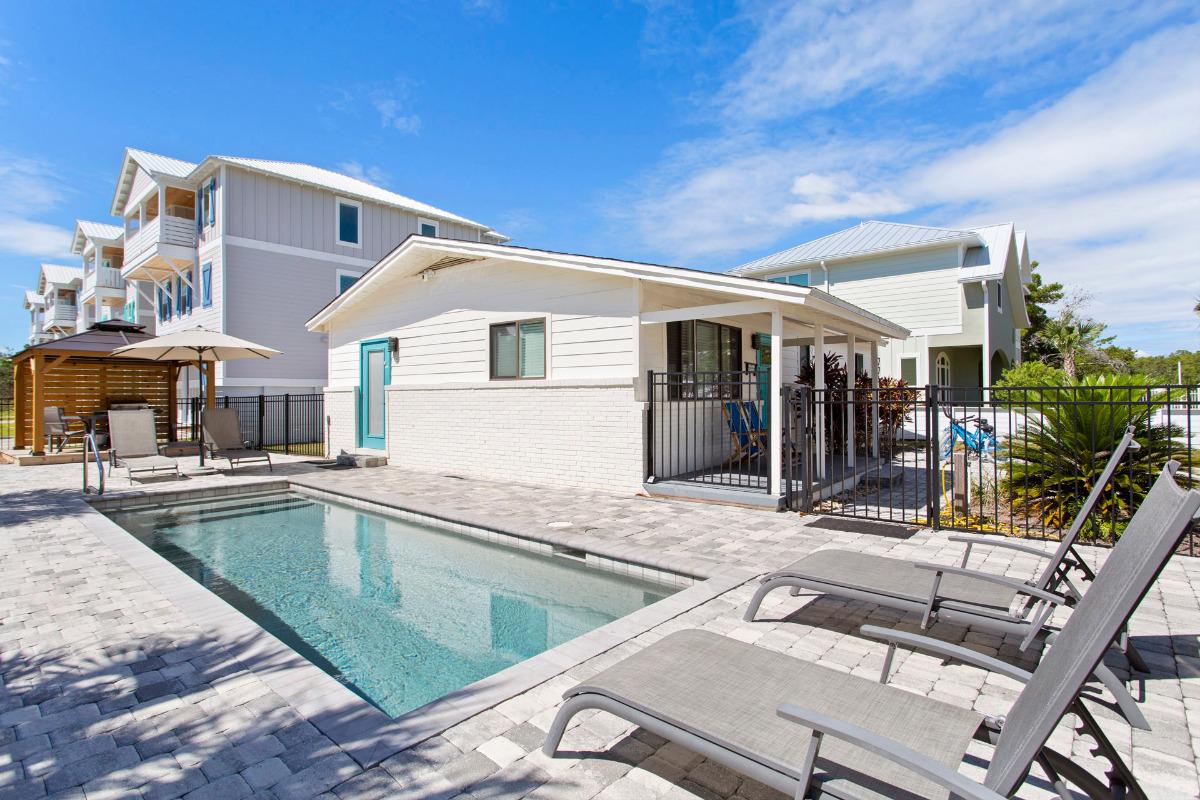 3 Bedrooms / 2 Full Bathrooms / 7 Guests
In Frangista Beach, Painted Porch offers a blend of classic charm and modern comforts. This three-bedroom rental home, not far from the shoreline, promises a memorable Destin beach vacation. The private plunge pool and patio beckon relaxation, while the interiors, adorned with Vintage Modern furnishings, ensure comfort. "Painted Porch" is where family memories are woven into coastal charm.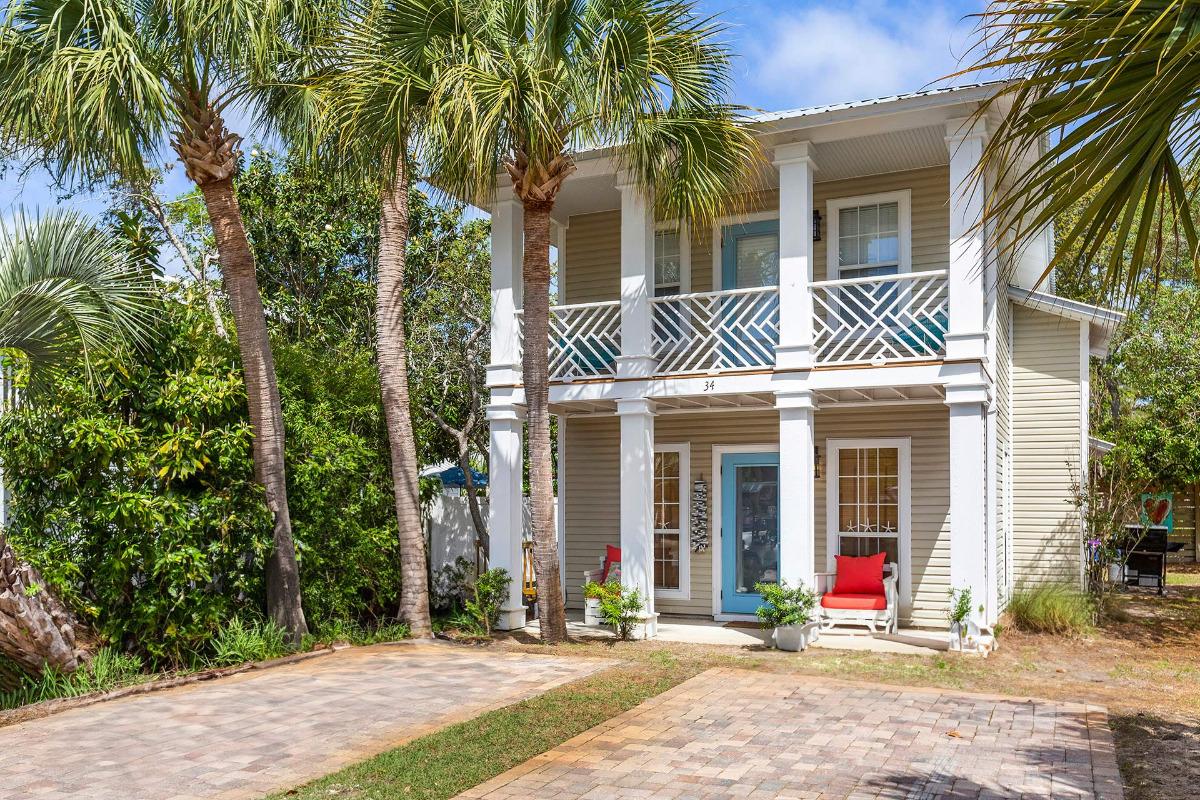 2 Bedrooms / 2 Full Bathrooms / 6 Guests
In Blue Mountain Beach, Tipsy Marlin stands as a testament to 30A's appeal. This two-bedroom beach house, with its dual porches, offers a tranquil retreat. The interiors, awash in soft whites, exude a relaxed beachside elegance. The open living space invites relaxation, while the second floor offers serene bedrooms. "Tipsy Marlin" encapsulates the best of South Walton in a right-sized package.
Destin & 30A Coastal Bliss with Ocean Reef Resorts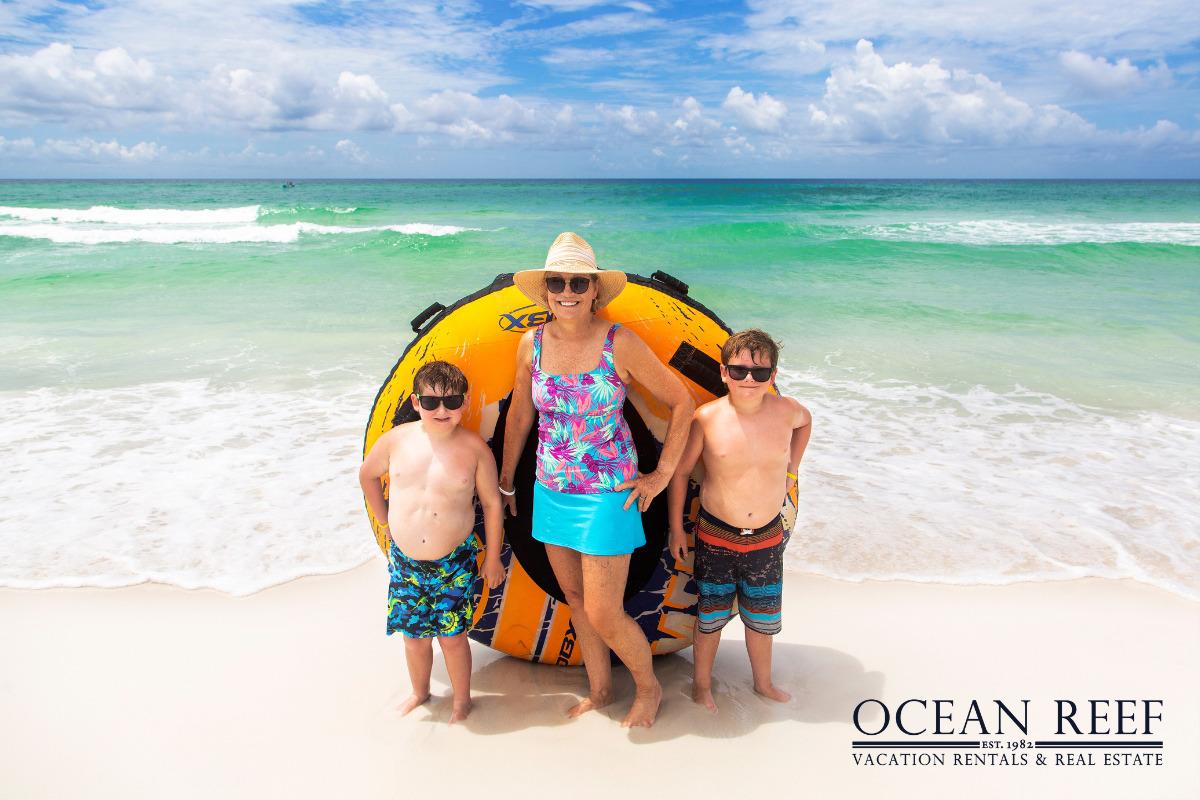 Every family deserves a getaway that lingers in memories, where every moment is a story waiting to be told. At Ocean Reef Resorts, we don't just offer vacation homes; we offer exceptional experiences. From the sun-kissed shores of Santa Rosa Beach to the vibrant charm of Miramar Beach, our properties are more than just houses; they're homes waiting to be filled with laughter, joy, and cherished moments. So, why wait? Dive into the world of Ocean Reef Resorts and craft your family's next unforgettable chapter. Book your dream vacation home and let the magic of the Emerald Coast envelop you.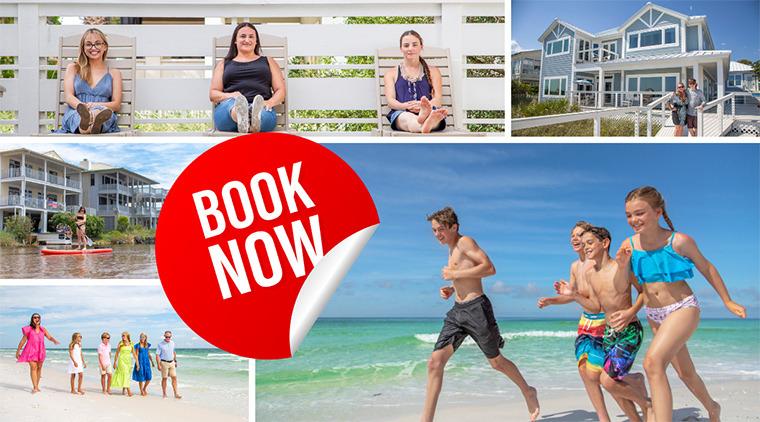 The following ten vacation homes are the most quickly reserved, so we wanted to give you a "heads up" so you may have a chance to reside in one of them. It should be noted that all of these homes are large, with the ability to sleep 14 to 29 fortunate guests.