Posted on 9/12/2023
We are proud to announce that Ocean Reef Vacation Rentals & Real Estate is a sponsor of the 75th annual Destin Fishing Rodeo, taking place October 1st through the 31st. It's a good fit, as many angler visitors turn to us for accommodations at our fine Destin vacation rentals during this wonderful time of year. This popular Destin event annually attracts tens of thousands of participants and audiences, so now is the time to make your reservations for October. This is a gorgeous time of the year to visit because daytime temps are in the 70s, there is very little humidity, the Gulf is still warm enough for swimming, and rental rates are off their summer peak.
The Destin Fishing Rodeo History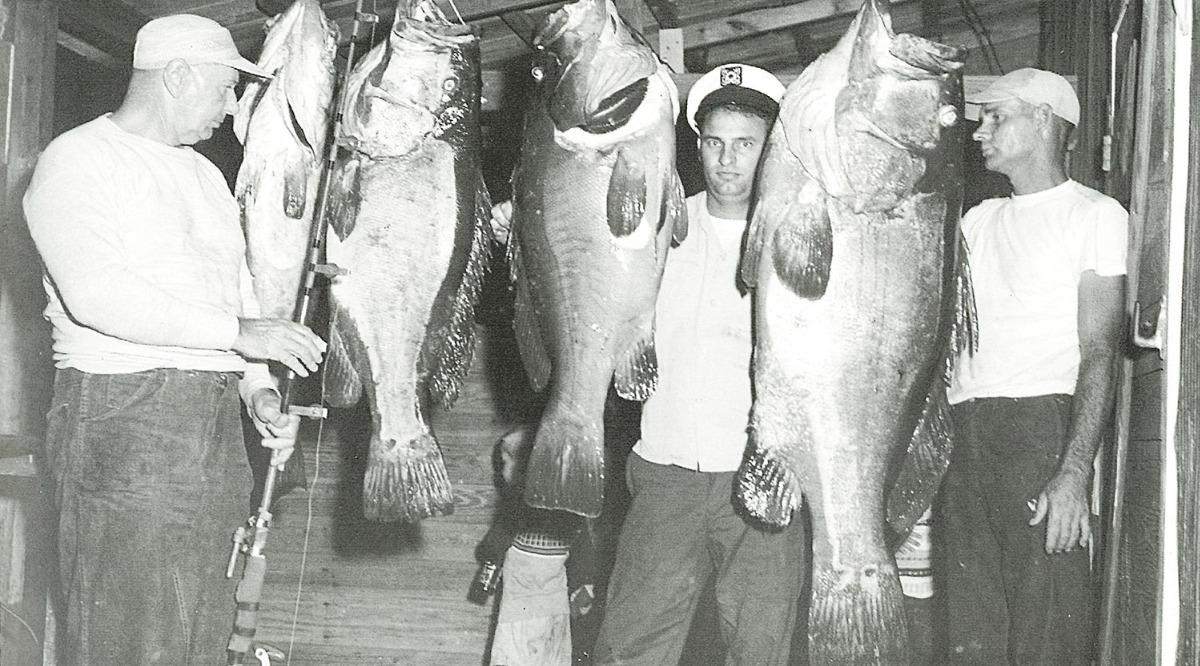 The first Destin Fishing Rodeo began in 1948 with cash prizes for the largest fish caught in different categories. It was quite an event back then and continues to be so to this day! Of course, this shouldn't come as a surprise. After all, there's no better place to hold a fishing rodeo than right here in Destin, which has long been known as "The Luckiest Fishing Village in the World." The town was founded by fishermen in the mid-1800s by namesake Captain Leonard Destin. The near proximity of the 100-fathom curve offshore allows anglers to have the closest access to deep-sea fishing on the entire Gulf of Mexico.
What Can You Catch in the Gulf?
On the Gulf, you may catch Amber Jack, Cobia, Grouper, King Mackerel, Mahi Mahi, Pompano, Red Fish, Sea Trout, Snapper, Spanish Mackerel, Scamp, Shark, Tarpon and Trigger Fish. Trophy fish include Swordfish, Blue Fanned Sailfish, Mako Sharks, and Blue Marlin. Choctawhatchee Bay on the north side extends five miles across from the mainland, making Destin resemble an offshore island. It includes a cornucopia of Bass, Bluefish, Croaker, Flounder, Sheephead, Speckled Trout and White Trout. Today, Destin boasts the largest private charter fishing fleet in the entire nation.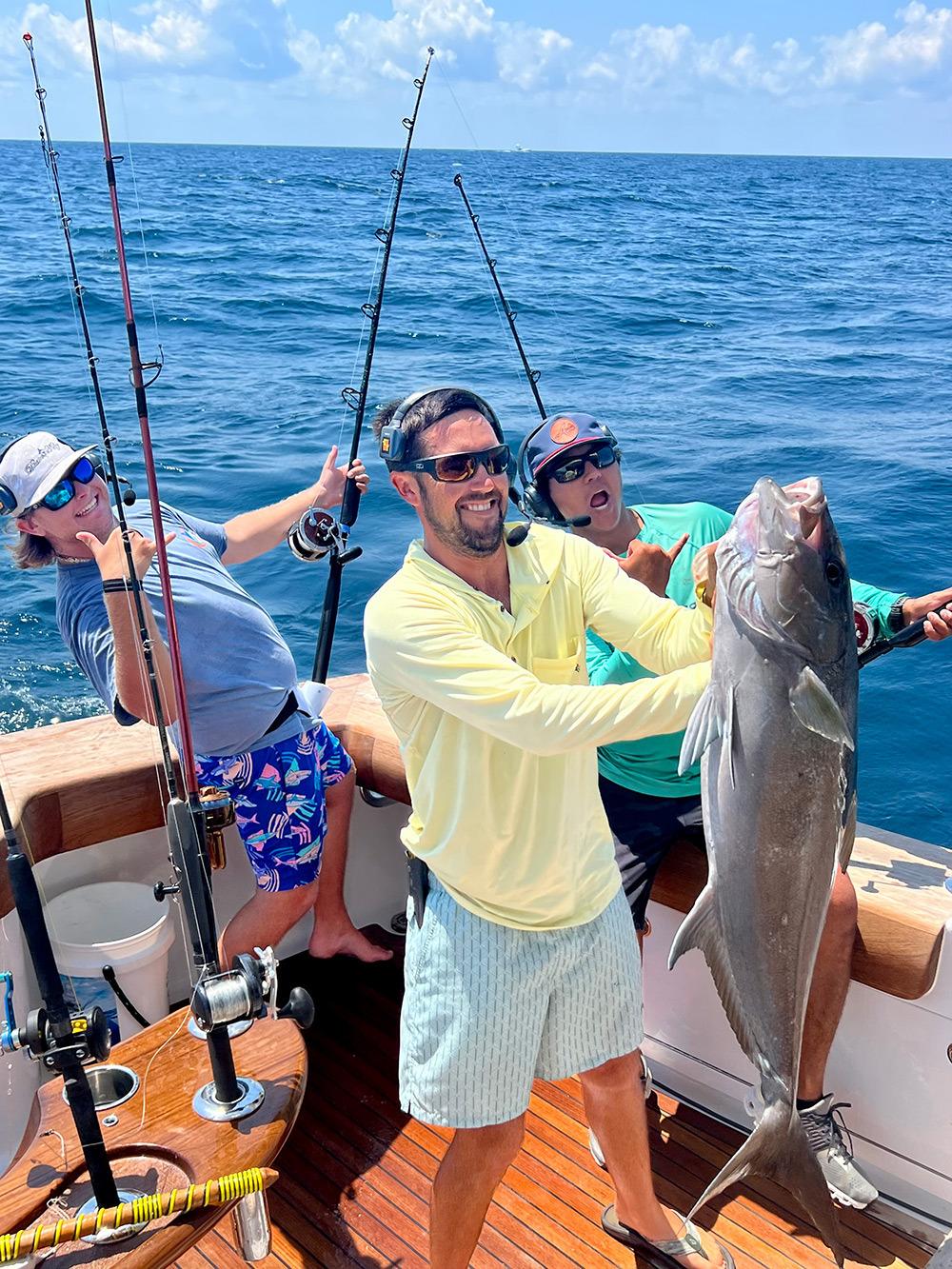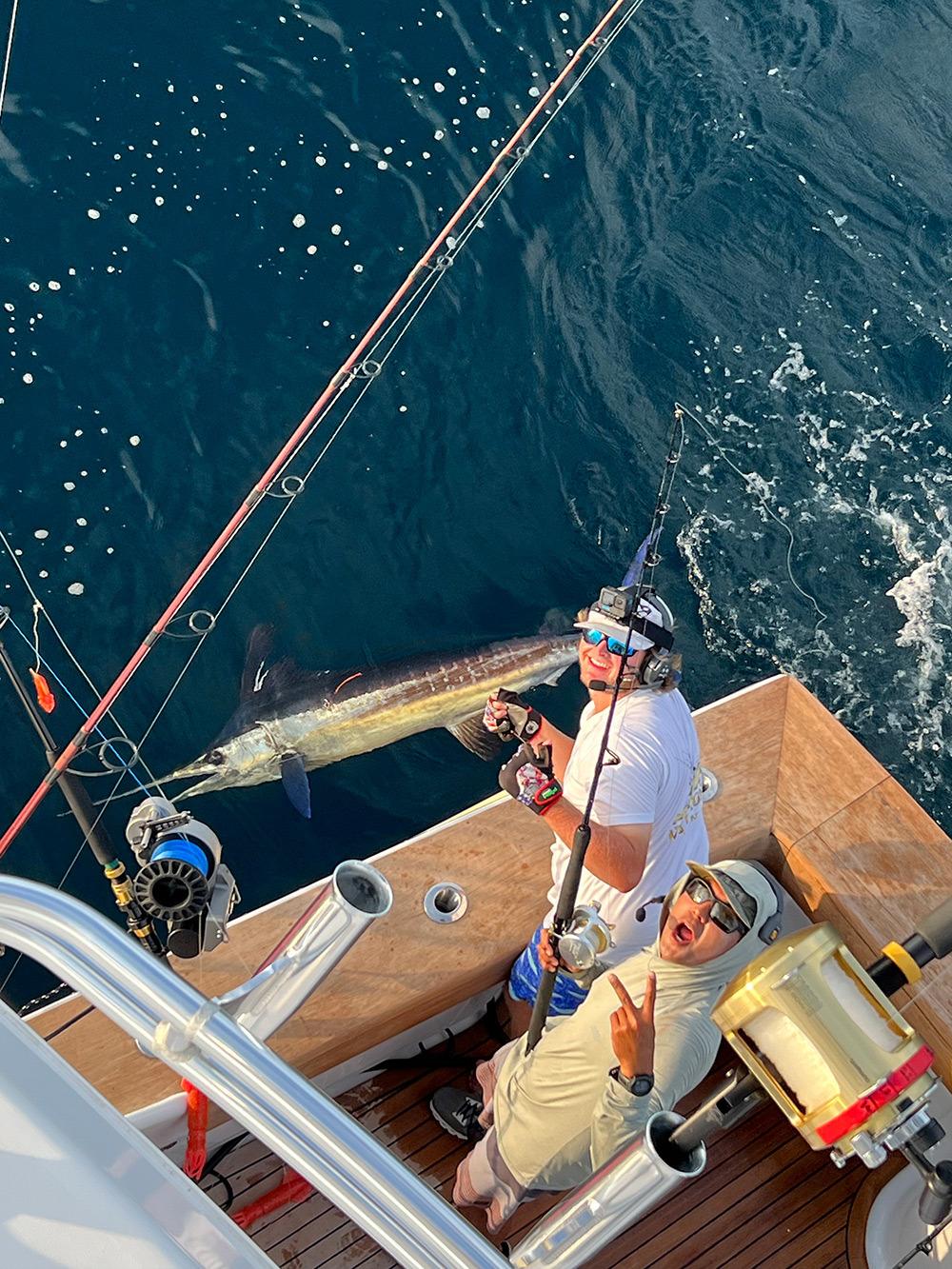 The Destin Fishing Rodeo runs throughout October, and daily catches are recorded. These are unloaded and weighed on the harbor while photos are taken of the happy crews. It's an adventure to witness the abundance of fish offloaded and cleaned before weigh-ins. Interested in participating in this one-of-a-kind event? Visit destinfishingrodeo.org for more information.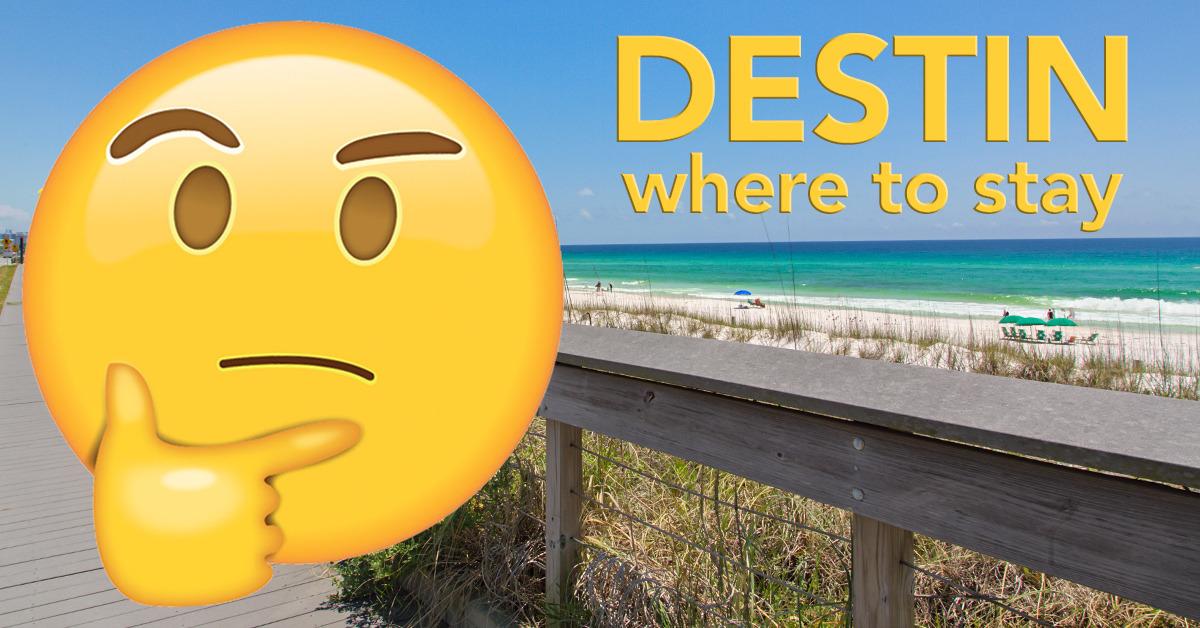 From tranquil sandy shores to bustling downtown areas, your choice of location will shape the adventures you embark on off the beach. Let's explore the distinct parts of Destin to help you pinpoint the perfect place...
Stay Close to the Action: Our Vacation Rentals
Whether you're participating or spectating, you'll want to get a vacation rental that's close to the action! We recommend Holiday Isle, which is conveniently located near the Destin Fishing Rodeo fun. Holiday Isle itself is a wonderful oasis, nestled between the Gulf and Destin Harbor and boasting incredible seascape views. It is minutes away from Harborwalk Village, the marina, a host of waterfront restaurants with lively bars, seasonal festivals, and water recreational vehicles that are available to Ocean Reef Resorts guests at a discount.
Take a moment to browse our amazing Holiday Isle vacation rental homes and condos to see if there's one for you! For guests booking a stay for the fishing rodeo, use the code RODEO at checkout to save 15% on your rental*. Some of these homes come with docks, so you may anchor your own boat while you're here or rent one for use at nearby Harborwalk Village.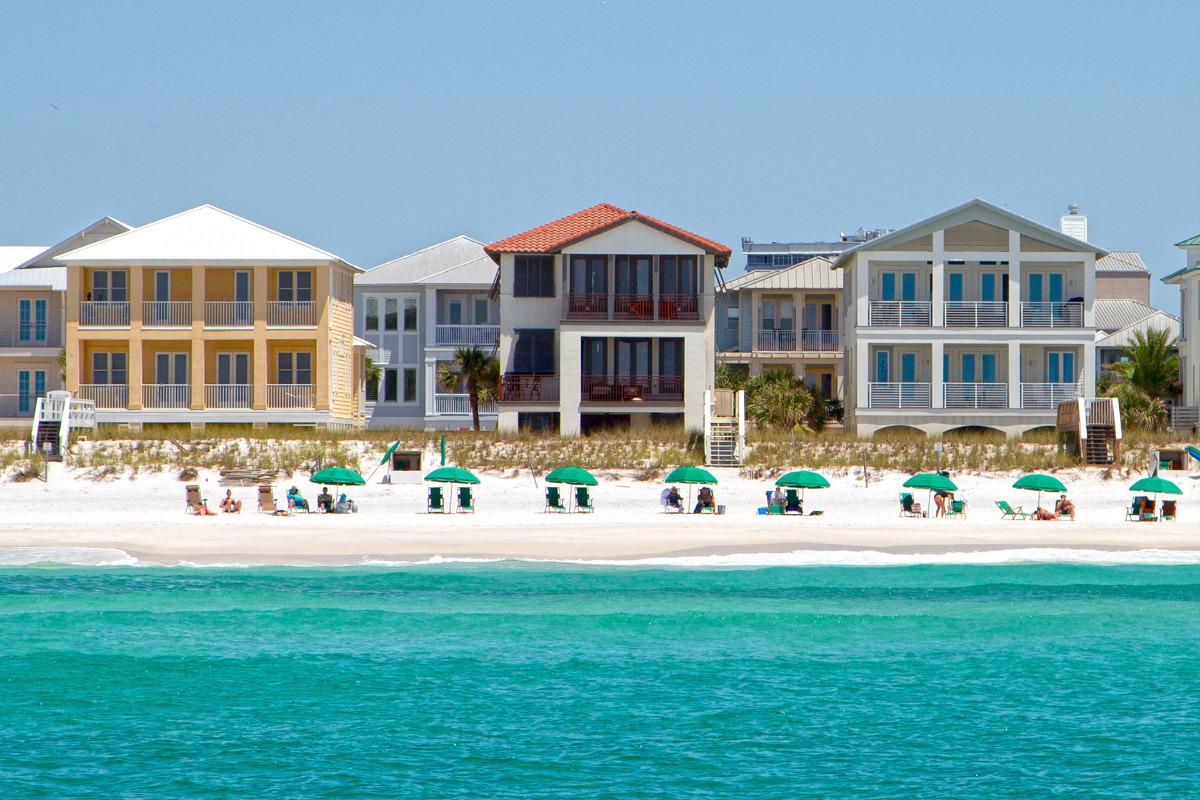 7 Bedrooms / 6 Full & 1 Half Bathrooms / 18 Guests
Paradise Pointe is indeed a tropical paradise, perched directly on the sugary shores of the Gulf Coast. The three-level home has seven bedrooms and can host up to eighteen guests—so all your family and friends can enjoy the Destin Fishing Rodeo with you! The home features multiple levels of furnished balconies overlooking the beach, making it the perfect spot to enjoy an ice-cold drink and good views. A private boardwalk leads directly to the crystal white shoreline. Guests also have access to the Destin Pointe community amenities, including swimming pools, tennis, shuffleboard, basketball courts, and a splash pad.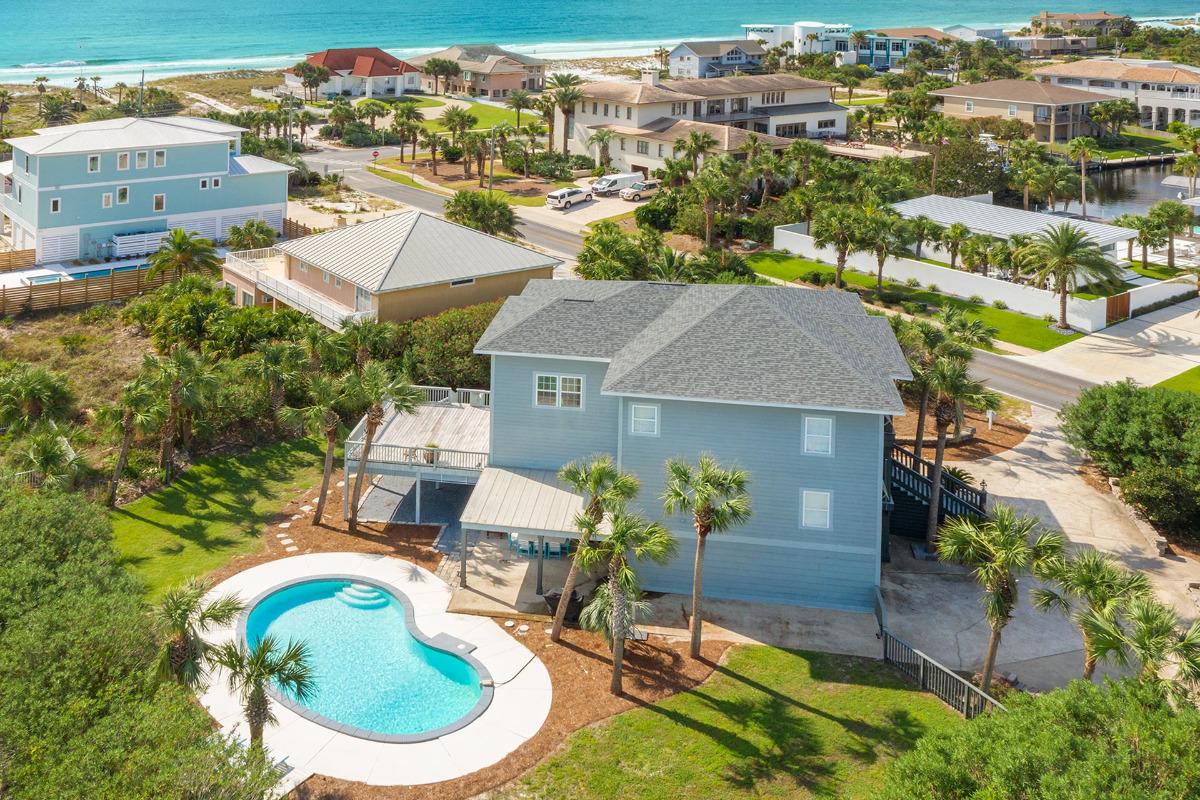 7 Bedrooms / 5 Full Bathrooms / 16 Guests
Holiday Isle Serenity is everything its name would suggest. Tucked among a curated landscape of palm trees and tropical flora, the seven-bedroom vacation home radiates serenity. Its lagoon-shaped swimming pool is the perfect spot to relax and soak up the Florida sun. When not at the rodeo, the large game room with a pool table, air hockey, a poker table, and a flatscreen TV offers plenty of fun for the whole group. The beach is less than a four-minute stroll from the property, though you can get there faster by using the complimentary golf cart.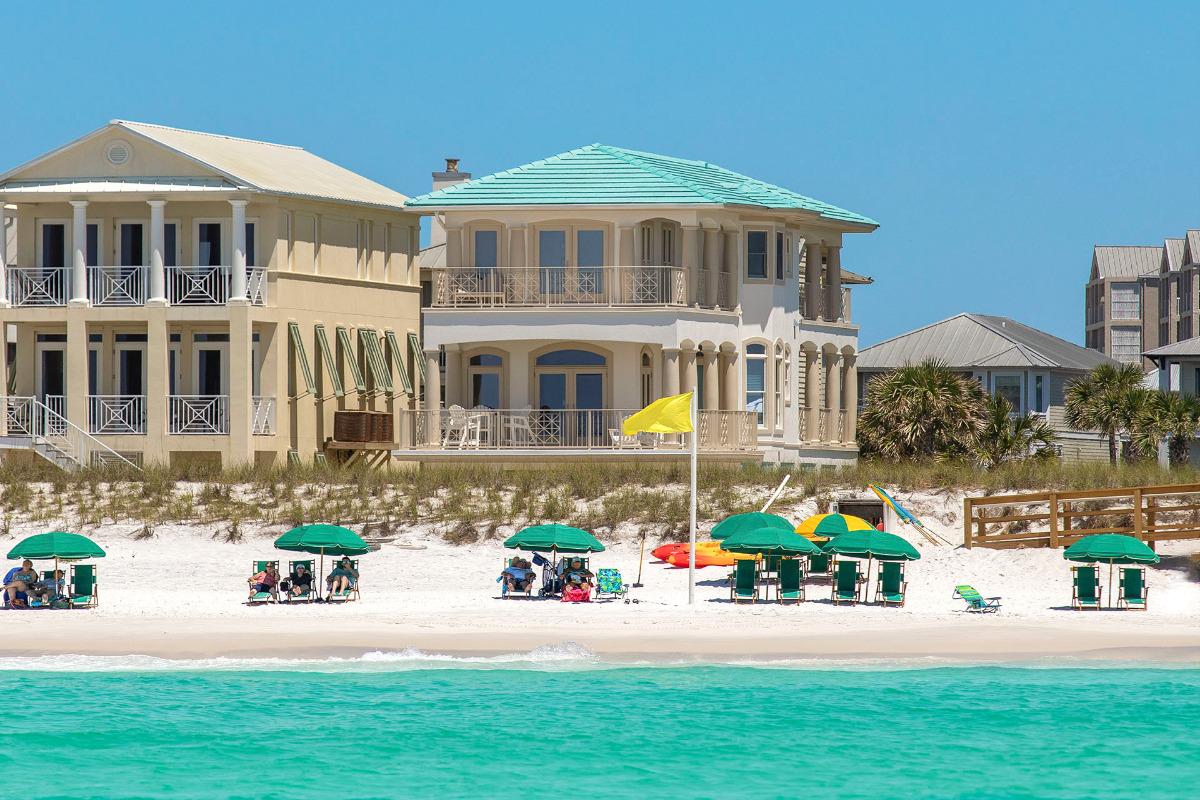 5 Bedrooms / 4 Full Bathrooms / 14 Guests
Land Zen is a luxury beachfront vacation home on the western edge of Holiday Isle in Destin Pointe. This stunning five-bedroom home can accommodate up to fourteen guests. The interior boasts an open-concept floorplan in the main great room. Hardwood floors, shiplap walls, and coastal décor throughout radiate coastal elegance. With multiple Gulf-front balconies, you can enjoy beach views from sunrise to sunset every day.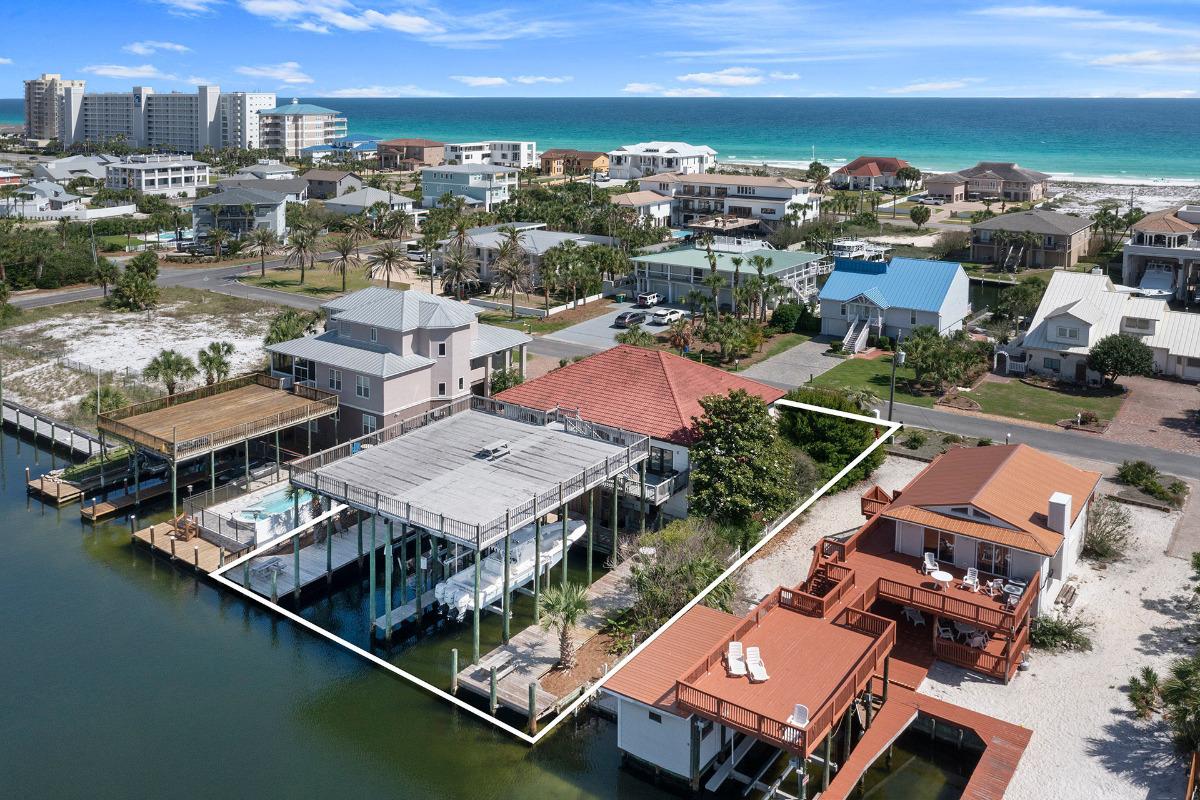 5 Bedrooms / 4 Full Bathrooms / 14 Guests
Magnolia Dreams is a stately and lushly landscaped home with six bedrooms, spacious accommodations, and a canal dock for your boat. It can sleep up to 14 boat-loving guests. The open living area has a wall of windows that faces the canal and provides a sunny, bright ambiance. Comfortable contemporary furnishings have a unique beach-chic style.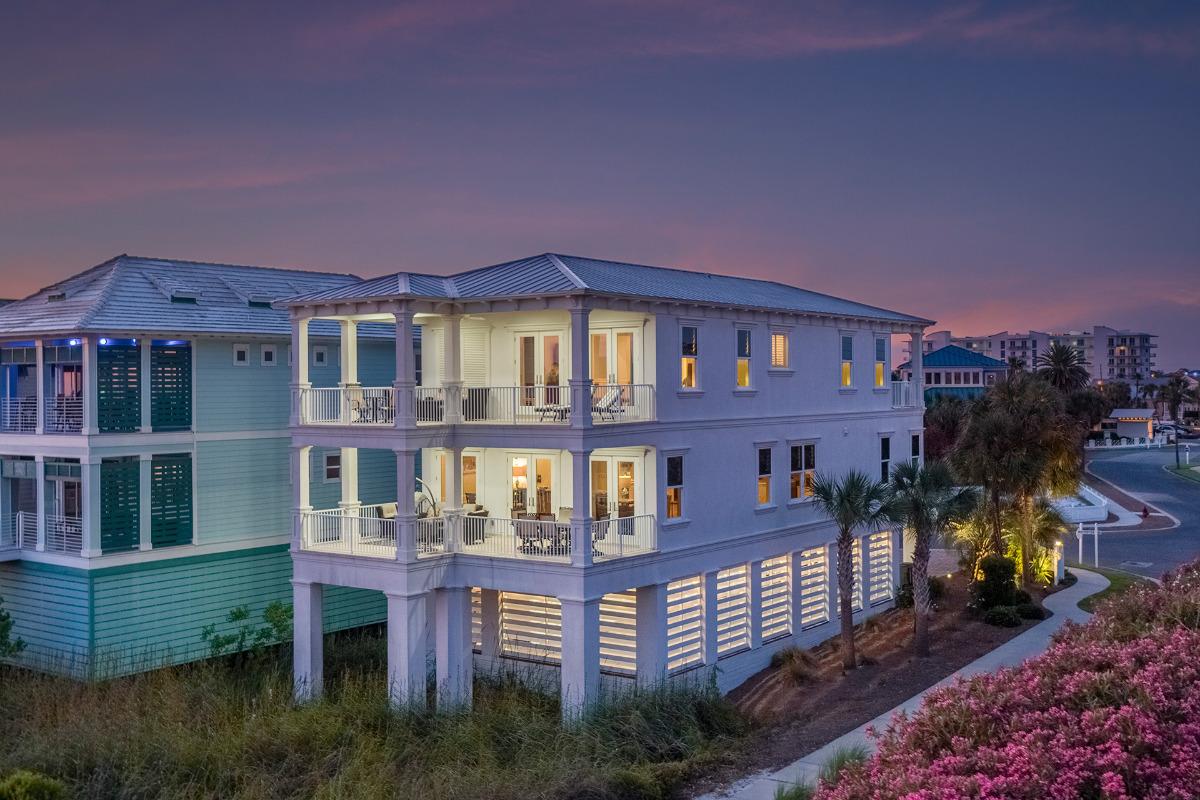 5 Bedrooms / 4 Full Bathrooms / 12 Guests
The Lonestar Sandcastle is a contemporary home at the exclusively gated Destin Pointe and can accommodate up to 12 privileged guests. The house sits near two coastal dune lakes, 3,000 linear feet of shoreline, and rock jetties for fishing or snorkeling. The beach, several parks, bike paths, tennis courts, a large pool, and playgrounds make this home a very family-friendly delight.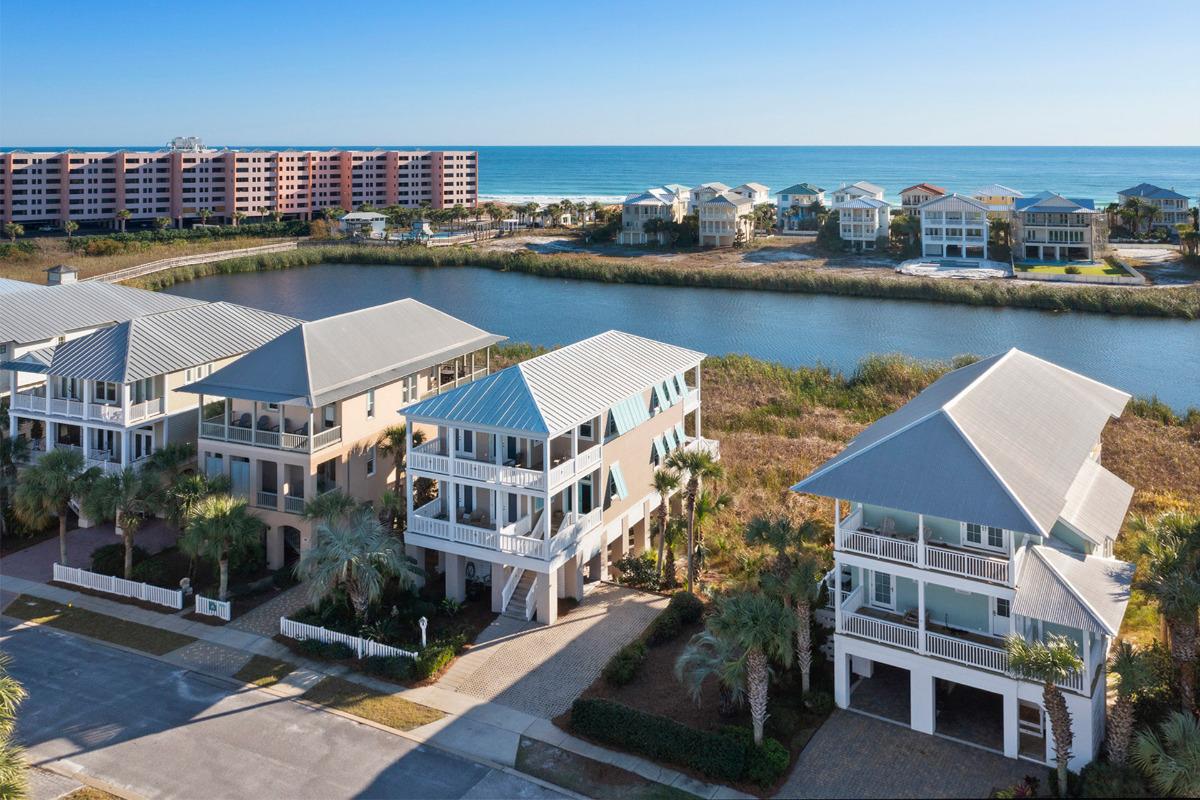 3 Bedrooms / 3 Full Bathrooms / 8 Guests
Aqua Easy is a lovely Holiday Isle vacation home with a distinct coastal feel, nestled against palm trees, coastal plants, and a serene dune lake. The house has three bedrooms and can accommodate up to eight vacationers or anglers. Guests have access to free seasonal beach service at the beach, which is less than a four-minute walk from the property. Additional amenities include a community pool, hot tub, and tennis court.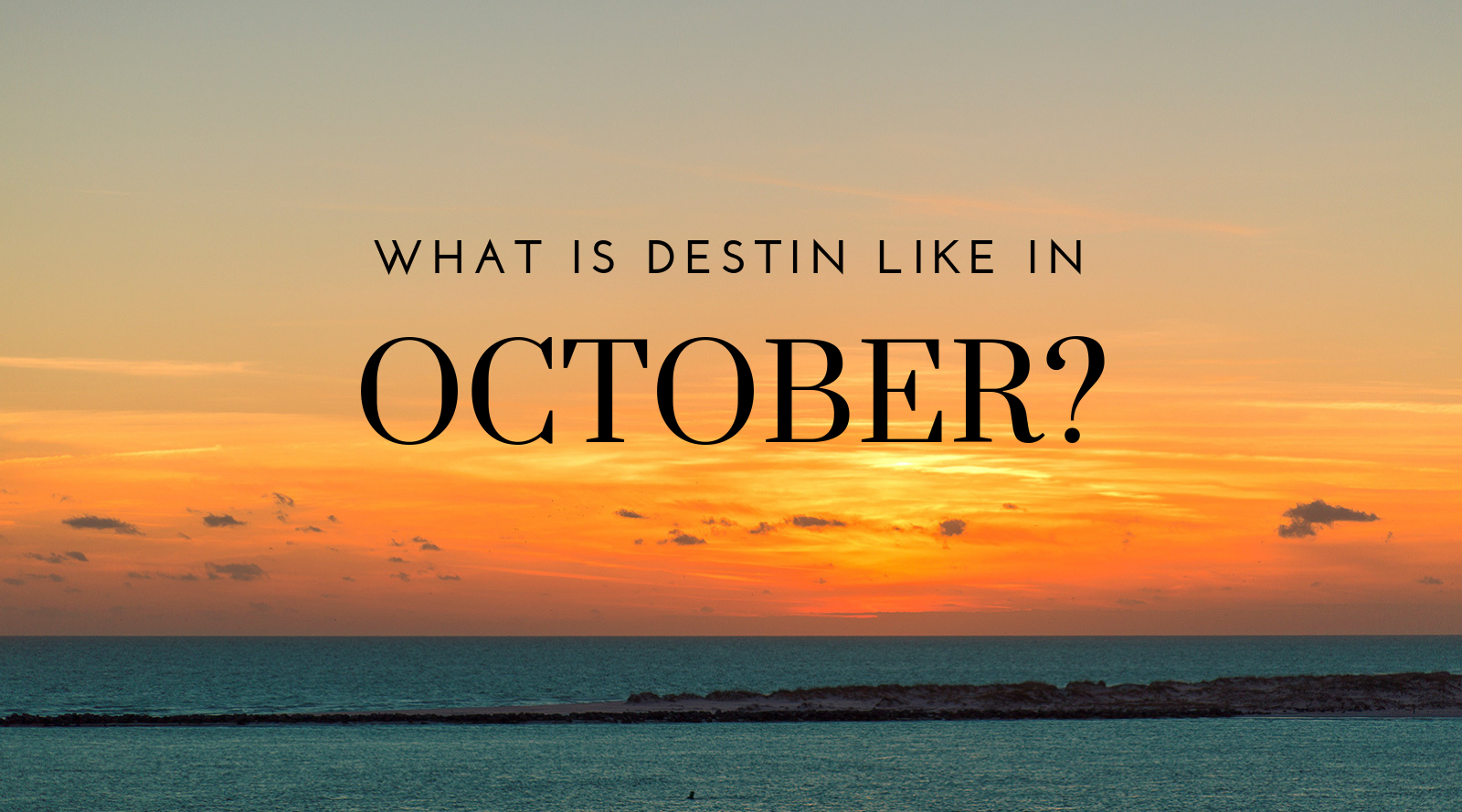 One word – Heavenly! Many consider this the "off" time of the year, but it is actually very much "on" for a delightful experience without a crowd. This is a happening time of the year and only the locals and savvy Ocean Reef Resorts guests...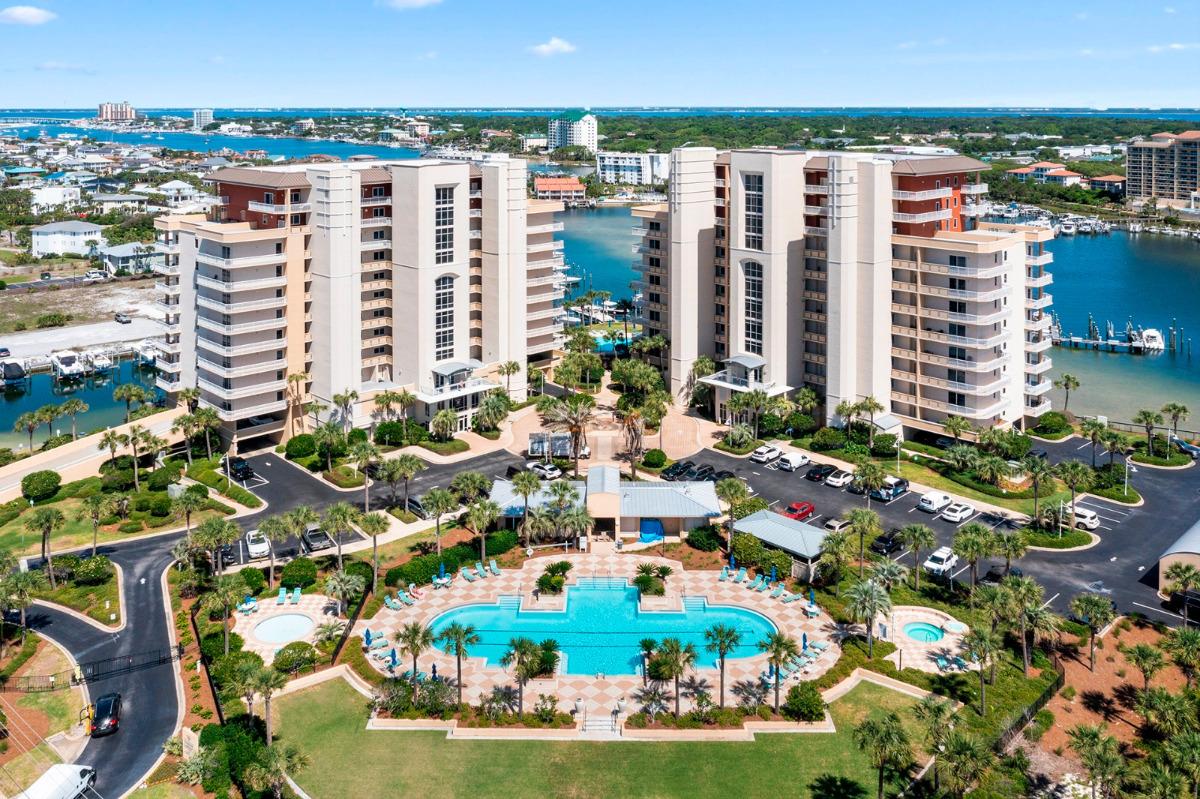 3 Bedrooms / 3 Full Bathrooms / 8 Guests
Harbor Landing is a luxury condo tower in Holiday Isle, featuring two eight-story residential towers. Our available three-bedroom Harbor Landing unit has three bedrooms and can entertain up to eight Destin Fishing Rodeo participants. The unit is spacious and includes access to great vacation amenities. These include swimming pools, hot tub, and exercise room. Access to the Destin water taxi makes it easy to cruise across the harbor to HarborWalk Village whenever you want.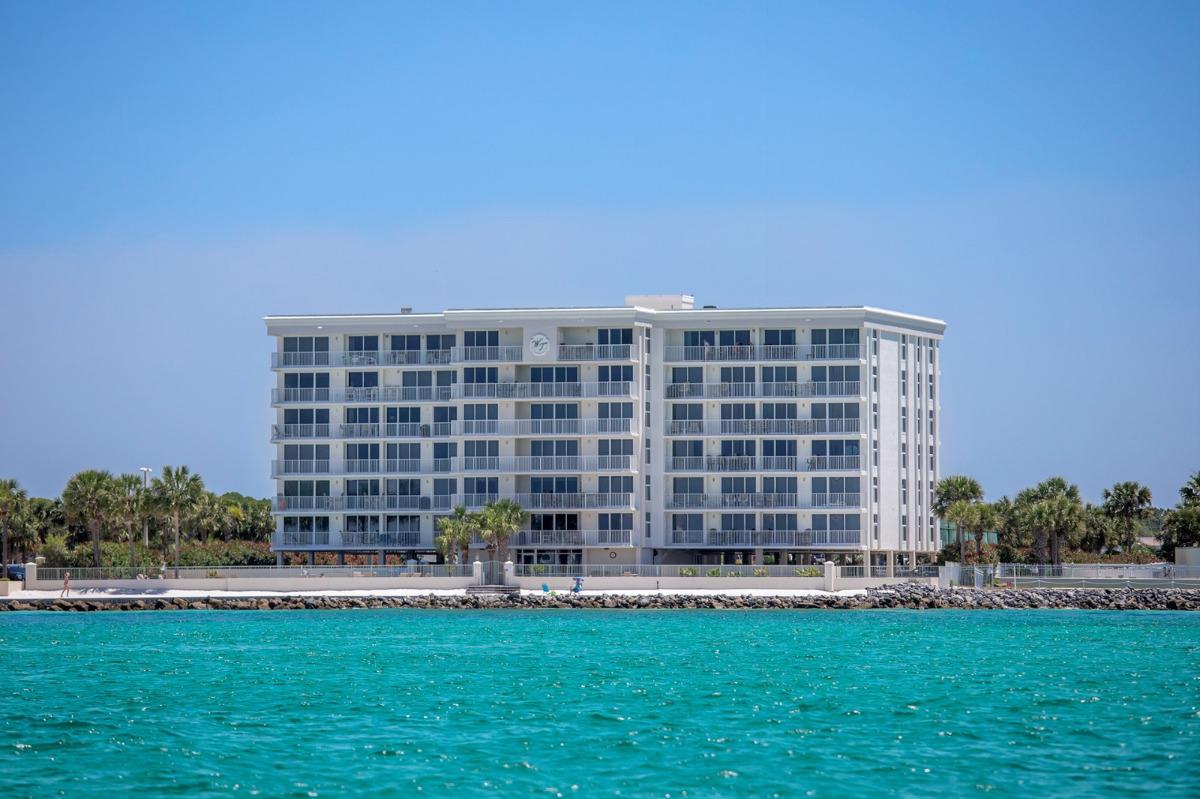 3 Bedrooms / 2 Full Bathrooms / 6-8 Guests
Waterview Towers is a Destin condo complex with three-bedroom rental units that can host between six and eight guests. The condo offers unparalleled views of the Gulf, East Pass, and Harbor. Watch the boats go to and from the Gulf all day and experience unsurpassed spectacular sunsets. Vacationers also receive access to the beach, a waterfront pool, hot tub, an onsite fitness center, and tennis courts.
We can't wait to welcome you to Destin for the Fishing Rodeo. Whether you're an angler, a spectator, or just looking for a relaxing vacation, we have the perfect Destin Vacation Rental for you. Book now and experience the magic of the coast!